Recipe: $1.66 | Per Serving: $0.14 | Yield: 12 (small)
I have done a lot of bun-baking in my time.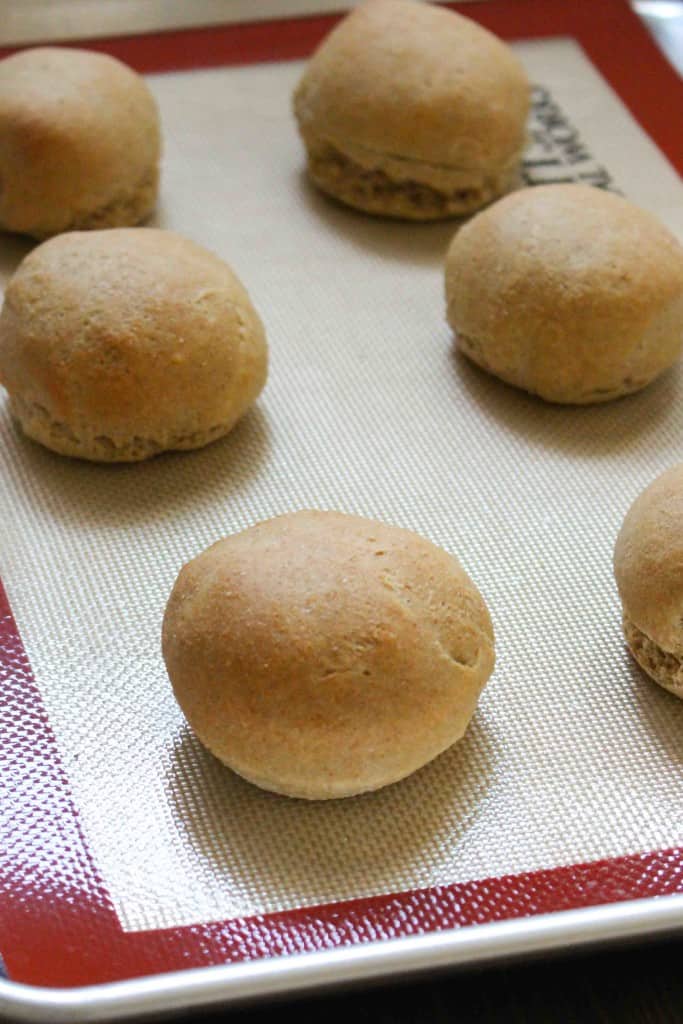 As in, I've tried to make whole wheat buns at least 15 times over the last couple of years (sorry, ma, not that kind of bun). Requirements: whole wheat flour, no vital wheat gluten (who even buys that stuff??), manageable dough, non-crumbly finished product. I wanted them to be sturdy enough for burgers and Sloppy Joes, but soft enough to go with my favorite caramelized onions, figs, & kale dish.
Things I learned: eggs make them taste great, but too crumbly. Letting them rise after forming them only results in airy and unstable buns. Working the dough too much definitely makes them tougher and chewier, which is a great texture, but terrible for serving with things like burgers and Hawaiian Lentil Sloppy Joes.
I just want you guys to know that I've been working on this for a long long long time. Since the first time I made Hawaiian Lentil Sloppy Joes back in 2013.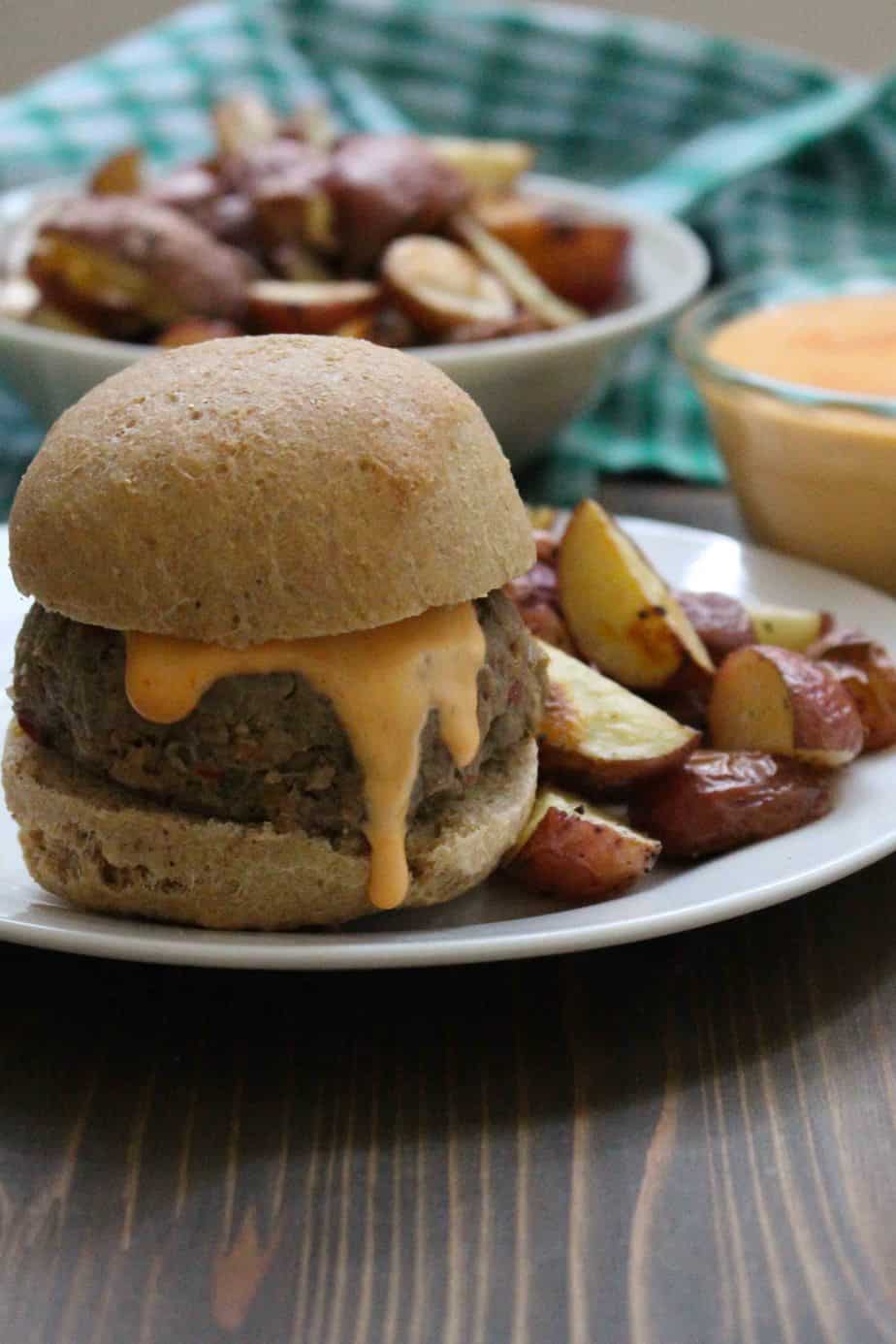 I think this final iteration is the winner in terms of the input:output ratio. Really easy, not fussy at all, and perfectly simple buns as a result. Also, when I was calculating the cost of making these I nearly lost it. FOURTEEN CENTS A BUN. I haven't seen bread that cheap since we would buy delicious little buns for 30 centimos in the local bakery in Peru. Now, remember, this is for 12 relatively smaller buns. So if you want to make them huge, then they're more like 28 cents each. Which is still insanely cheap, and would also be too big for most situations.
Vegetarian: Yes
Paleo: No - but you could use Portobello mushrooms as your bun, or try these Paleo Hamburger Buns.
Whole Wheat Buns For Burgers & Sandwiches
Homemade whole wheat hamburger buns are great to make at home to save money and for freshness!
Ingredients
1

cup

warm water

2

tablespoons

honey

2

tablespoons

olive oil

1

tablespoon

3tsp yeast (you can get by with 1 packet, which is 2 ¼ teaspoons)

½

cup

warm milk

3

cups

flour + about 2 Tablespoons more for kneading

½

teaspoon

salt
Instructions
Warm the cup of water until it's just a little warm to the touch. You're looking for about 110ºF, but not too hot or the yeast will die. Stir in the honey and the oil and add the yeast. Give it one more quick stir and set aside to proof.

In a large bowl, stir together the flour and salt.

When the yeast concoction has doubled in size, stir in the milk, then combine the wet ingredients with the dry ingredients. Stir with a fork or wooden spoon until you can't stir it anymore, then dump it out onto a dry surface and knead, adding a little flour as necessary, for about 5 minutes. Return to bowl, cover with a damp towel or plastic wrap and let rise until doubled in size, about 1 hour.

When the dough has doubled, preheat the oven to 350ºF. Punch down the dough and form into 12 equal tall, tight buns. I made 12 small ones to go with my Lentil Turkey Burgers, but I've made various sizes.

Let rest about 5-10 minutes, then bake on 350ºF for 15-20 minutes. Let cool, and enjoy!
Nutrition
Calories:
152
kcal
Carbohydrates:
27
g
Protein:
4
g
Fat:
3
g
Saturated Fat:
1
g
Polyunsaturated Fat:
0.4
g
Monounsaturated Fat:
2
g
Cholesterol:
1
mg
Sodium:
103
mg
Potassium:
54
mg
Fiber:
1
g
Sugar:
3
g
Vitamin A:
16
IU
Vitamin B1:
0.3
mg
Vitamin B2:
0.2
mg
Vitamin B3:
2
mg
Vitamin B5:
0.2
mg
Vitamin B6:
0.03
mg
Vitamin B12:
0.1
µg
Vitamin C:
0.02
mg
Vitamin D:
0.1
µg
Vitamin E:
0.4
mg
Vitamin K:
2
µg
Calcium:
18
mg
Copper:
0.1
mg
Folate:
65
µg
Iron:
1
mg
Manganese:
0.2
mg
Magnesium:
9
mg
Phosphorus:
46
mg
Selenium:
11
µg
Zinc:
0.3
mg
Choline:
5
mg