Recipe: $6.76 | Per Serving: $1.69 | Yield: 4 | Jump to Recipe
THIS. Guys. I am really loving this whole vegan soup week thing, but this soup is so bomb diggity that I'm wondering if I'm actually more of an herbivore than previously thought. That balsamic is so perfect. Garlic, Tomato, & Balsamic White Bean Soup with Spinach - it might be my new favorite vegan soup.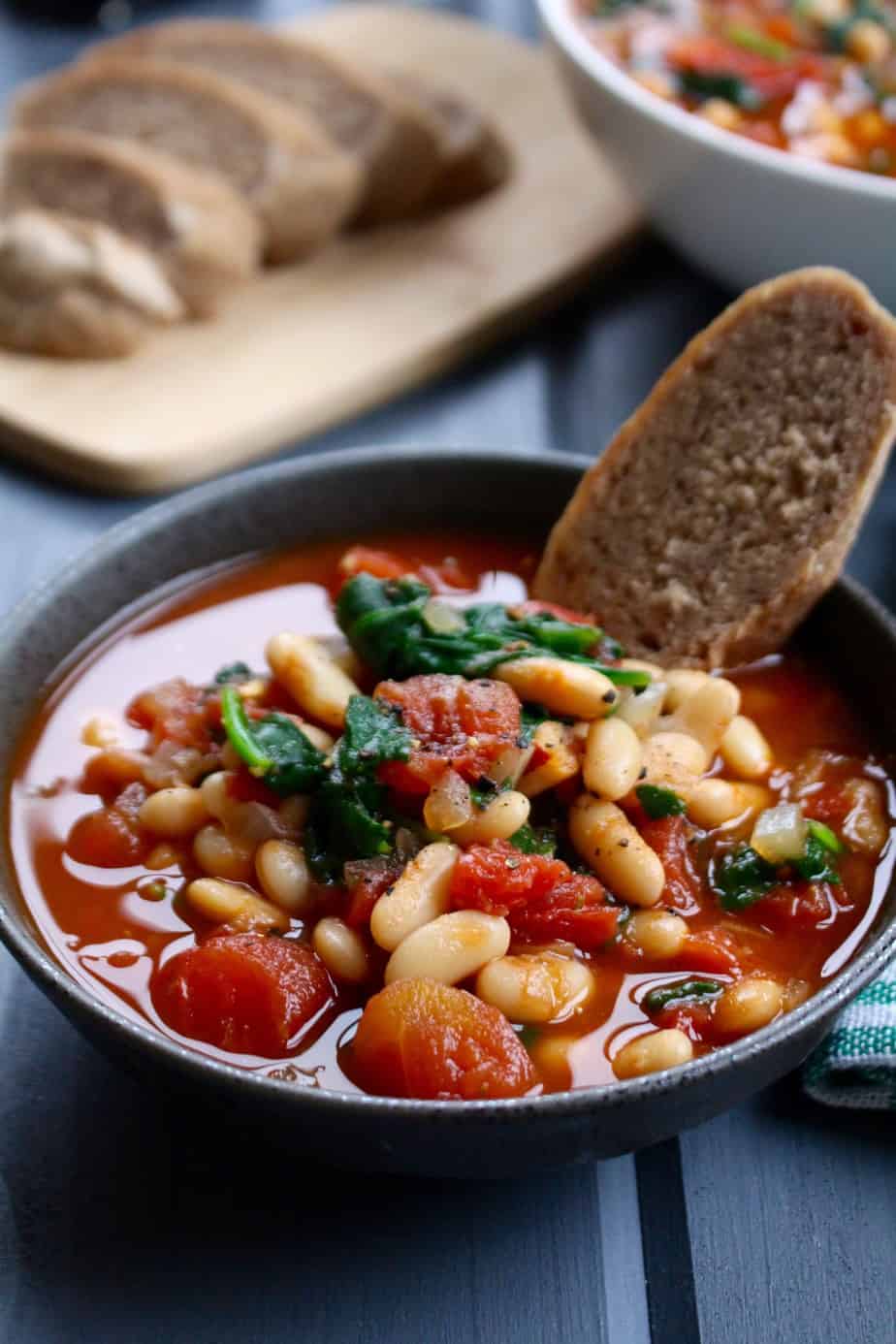 I know I said yesterday's carrot-ginger was my favorite, but this one is definitely also my favorite. The little touch of rosemary and balsamic makes this simple vegetable and white bean soup have so much more flavor than you would ever expect! As much as I love creamy pureed soups, a broth-based soup with excellent flavor is always the way to go. This is that!
This recipe is actually based (loosely) on these Garlic Toasts by Budget Bytes, but basically made into soup form. I used the same basic flavor profile of tomatoes / white beans / garlic / balsamic, and made it gluten-free, vegan, and in soup form, with spinach for #health. I almost never blanch greens because it's not worth using up a tray's worth of ice, but the final product with bright spinach actually might have been worth it this time around. I was so pleased with the colors and the flavors and it felt like it was totally worth the ice. (Please note that I live in MD now, not CA, so water is a less important commodity right now.)
So you're going to be happy with this soup because the flavor is incredible, it comes together in like 35ish minutes, and you get pretty large bowls of soup for just $1.69 each. These soups are the recipes that make me sit back and think, hmm, this vegan thing might not be so bad after all. ;)
More delectable vegan soups from around the web:
Vegetarian: Yes!
Paleo: No! Skip the beans and sub with a little homemade sausage and I'm sure it would be excellent.

Garlic, Tomato, & Balsamic White Bean Soup
A simple vegetarian white bean soup made with tomato, balasamic, and spinach.
Ingredients
1

Tablespoon

olive oil

1

medium

onion

diced or minced

8

cloves

garlic

1

Tablespoon

tomato paste

¼

teaspoon

rosemary

½

teaspoon

salt

28

ounces

diced tomatoes

or puree

1

Tablespoons

balsamic vinegar

8

cups

broth

3

cups

white beans

cooked

5

ounces

fresh spinach

see optional blanch below
Instructions
In a large sauce pot, warm the olive oil. Add the onions and sauté for about 5 minutes. Add the garlic, tomato paste, rosemary, and salt, and sauté another 30-60 seconds.

Add remaining ingredients - diced tomatoes, balsamic vinegar, broth, and white beans - and bring to a boil, then reduce to a simmer. Simmer for about 30 minutes.

Taste and adjust seasoning, adding more salt, balsamic, or other seasonings as desired and serve! (I didn't add anything extra and it was AWESOME.) If you're not blanching your greens, now's the time to stir them in. Once wilted, remove the soup from the heat and serve.

Optional Blanch:

If you would like your greens to stay bright and vibrant, you can quickly blanch them before adding them to the soup. To do this, fill a big bowl with ice and 1-2 cups water. Bring a large pot of water to a boil. Drop the greens into the boiling water and let cook for about 5-30 seconds, then quickly strain / scoop out and place in the bowl of ice water. Stir until greens are cool, then immediately remove and drain before adding to recipe.
Nutrition
Calories:
310
kcal
Carbohydrates:
55
g
Protein:
17
g
Fat:
4
g
Saturated Fat:
1
g
Polyunsaturated Fat:
1
g
Monounsaturated Fat:
3
g
Sodium:
2261
mg
Potassium:
1433
mg
Fiber:
12
g
Sugar:
12
g
Vitamin A:
4618
IU
Vitamin B1:
0.3
mg
Vitamin B2:
0.3
mg
Vitamin B3:
2
mg
Vitamin B5:
1
mg
Vitamin B6:
1
mg
Vitamin C:
33
mg
Vitamin E:
4
mg
Vitamin K:
184
µg
Calcium:
237
mg
Copper:
1
mg
Folate:
199
µg
Iron:
8
mg
Manganese:
1
mg
Magnesium:
141
mg
Phosphorus:
228
mg
Selenium:
4
µg
Zinc:
2
mg
Choline:
72
mg
Nutrition Label is for ¼th recipe.