This asparagus goat cheese pasta salad is filling and flavorful, combined with creamy goat cheese and fresh spring vegetables, making it the perfect spring pasta salad!
Recipe: $12.38 | Per Serving: $3.10 | Yield: 4
Pasta salad is sometimes the most satisfying thing in the world. It is filling, but also sort of fresh and light because of the abundance of raw or lightly cooked vegetables. It is the epitome of warm weather food in one bowl, and this asparagus goat cheese pasta salad is no exception!
The perfect accompaniment to a picnic or potluck. Versatile and customizable and super duper easy! This asparagus goat cheese pasta comes together with just 6 ingredients (plus olive oil, salt, and pepper).
This post was originally published in June of 2017. Photos are mostly new, instructions have been updated for clarity, and adjustments have been made to the ingredients list to make this gluten-free. Thank you for supporting me and my blog!
Why This Recipe Works:
Goat cheese pairs beautifully with spring asparagus, sun dried tomatoes, and fresh lemon juice. We are sort of melting half of the goat cheese, and then dolloping the rest on top for serving. This makes the dish a bit creamy, but also provides tangy contrast.
What Goes Into This Recipe:
For this pasta salad, we are using high-flavor ingredients, which keeps the ingredient list relatively short.
Asparagus: get yours in season from spring to early summer! You can use thick or thin asparagus spears here.
Goat Cheese: I like the US-style goat cheese logs (as shown below), or my favorite non-dairy cheese is Spero Foods Goat Cheese (made from sunflower seeds, tastes like goat cheese)
Sun-dried Tomatoes: can be dry or in olive oil, these pack a ton of rich umami flavor in this dish!
Walnuts: these are nice and fatty, and we're toasting them to bring out even more flavor. Typically a dish like this would have pine nuts, but walnuts are fatty and nutty and much cheaper. Other nuts would also work here, such as those pine nuts, or even almonds. If you're nut-free, go for pumpkin seeds!
Pasta: nearly any pasta will work here! My originally recipe used whole wheat pasta, but I've replaced that with my favorite red lentil rotini. Whichever pasta you choose, be sure to salt the water and rinse the pasta afterwards to remove the surface starch.
WARNING: I would not use cassava flour rotini for this dish unless you're 100% sure you will eat it all right away, with no leftovers. As soon as cassava pasta hits the dressing, it starts to absorb all the liquid and ends up bloated and mushy after a night in the fridge.
This recipe was inspired by a pasta salad I had over 10 years ago in San Diego. After developing my own version a few years ago, I make this every sping!
Video: How to Make Asparagus Goat Cheese Pasta Salad
I recently made this recipe over on my YouTube Channel, and I've included the video for it below! Check it out for visual tips for making this recipe! (And I'd love for you to subscribe to my channel!!)
If you like this recipe, or you're looking for more inspiration for potlucks, cookouts, and barbecues, check out these delicious quinoa salads.
Dietary Modifications and Substitutions
Vegetarian: Yes, vegetarian as written. Vegan if you use Spero goat cheese and replace the honey with maple syrup.
Paleo: No. You can make this gluten-free by skipping the pasta and adding some greens to make an actual salad, and replacing the goat cheese with dairy-free goat cheese.
Low FODMAP: this recipe is moderate in FODMAPs due to the asparagus and the lentil pasta. You may tolerate it well!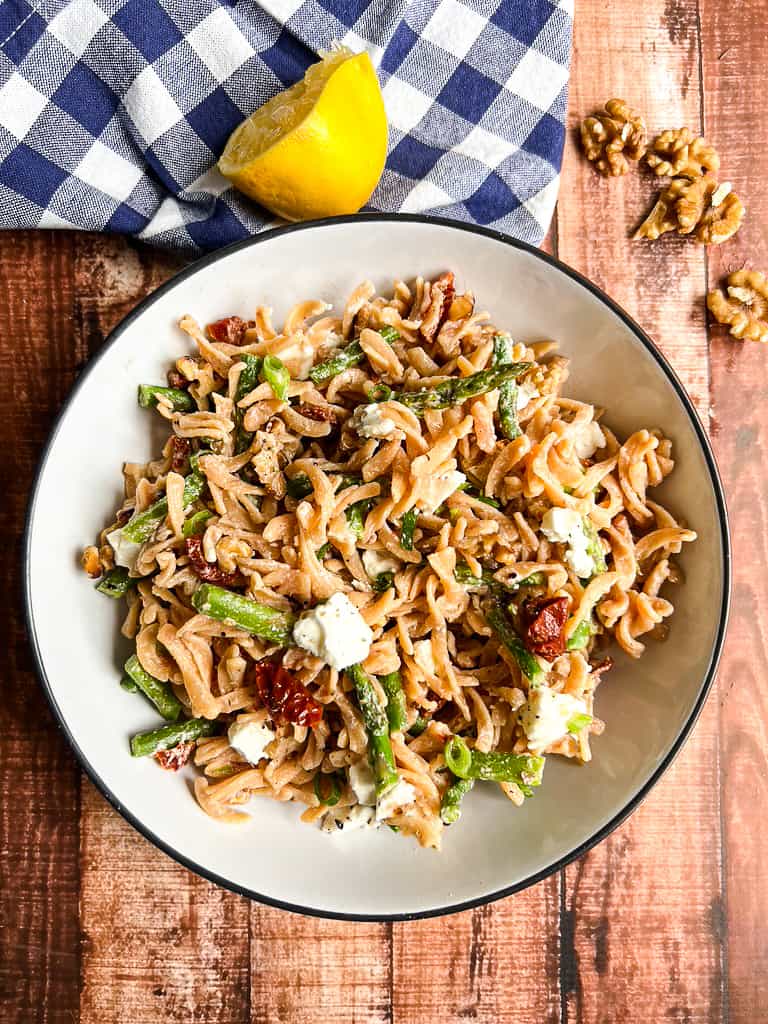 Asparagus & Goat Cheese Pasta Salad
This asparagus goat cheese pasta salad is filling and flavorful, combined with creamy goat cheese and fresh spring vegetables, making it the perfect spring pasta salad!
Ingredients
8

ounces

uncooked legume pasta

100% red lentil fusilli / rotini used here

salt for pasta water*

8

ounces

asparagus

fresh, or more if desired

½

cup

sun-dried tomatoes

chopped

2

ounces

walnuts

or walnut pieces, about ½ cup chopped

4

ounces

goat cheese

log, divided

2

Tablespoons

olive oil

more to taste

2

Tablespoons

lemon juice

more to taste

1

teaspoon

honey

optional, but recommended

½

teaspoon

fine sea salt

more to taste

½

teaspoon

freshly ground black pepper

herb

for garnish, scallions, chives, basil, parsley, etc.
Instructions
Bring a large pot of water to a rapid boil.

Meanwhile, prepare your ingredients: Chop the sun dried tomatoes. Remove the woody ends of the asparagus and chop into pieces that are about as long as your pasta. 

When the water comes to a rapid boil, add the pasta. Set a timer for about 2-3 minutes LESS than what your package recommends (so about 4-6 minutes). 

When your timer goes off - add the asparagus to the pot to boil / blanch for the last 2-3 minutes of cooking time.  (It might not come back to a boil, but that's okay.)

If using dry sun-dried tomatoes (as opposed to those packed in oil), toss them in the pot as well for about 10 seconds before you drain the pasta. If using SDT packed in oil, skip this step.

After draining, rinse the pasta and asparagus to remove the surface starches. Set aside the pasta and asparagus to cool a bit while preparing the remaining ingredients. 

Prepare the walnuts: if you have walnut halves, chop them into smaller pieces. Then toast in a dry skillet over medium heat for about 2-3 minutes, or until they start to get toasty on the outside, but before they burn. (Don't walk away - nuts can burn quickly!) 

Prepare the dressing: in a large bowl (or jar), combine the dressing ingredients - olive oil, lemon juice, honey, salt, and pepper - and whisk together or shake in a jar.

When the pasta is cooled close to room temperature, stir in the dressing, sun-dried tomatoes, walnuts, and about half of the goat cheese (2 ounces). We will save the rest for garnishing when it is time to serve.

Stir well, and taste. Adjust seasonings and flavors as desired. 

When it's time to serve, crumble the remaining goat cheese on top. Squeeze over a bit more fresh lemon  juice if desired, top with fresh herbs of your choice, and serve cold or at room temperature!
Video
Notes
I have also made this with 3.5 cups whole wheat rotini pasta.
You can also stir in some baby spinach if you want this to be a slightly more salad-y pasta salad.
Nutrition Label: as always, this is merely a loose estimate. Salt in the pasta water has not been included in the Nutrition Label below.
Nutrition
Calories:
494
kcal
Carbohydrates:
56
g
Protein:
18
g
Fat:
24
g
Saturated Fat:
6
g
Polyunsaturated Fat:
8
g
Monounsaturated Fat:
8
g
Cholesterol:
13
mg
Sodium:
415
mg
Potassium:
795
mg
Fiber:
6
g
Sugar:
10
g
Vitamin A:
846
IU
Vitamin B1:
0.3
mg
Vitamin B2:
0.3
mg
Vitamin B3:
3
mg
Vitamin B5:
1
mg
Vitamin B6:
0.3
mg
Vitamin B12:
0.1
µg
Vitamin C:
12
mg
Vitamin D:
0.1
µg
Vitamin E:
2
mg
Vitamin K:
35
µg
Calcium:
96
mg
Copper:
1
mg
Folate:
68
µg
Iron:
4
mg
Manganese:
1
mg
Magnesium:
93
mg
Phosphorus:
308
mg
Selenium:
39
µg
Zinc:
2
mg
Choline:
34
mg
What Goes With Pasta Salad?
BBQ chicken is a classic pairing, and one of my favorites! Pasta salad also pairs with other cookout foods like grilled vegetables, hot dogs, and hamburgers.
What Mistakes to Avoid with Pasta Salad?
1 - Don't forget to RINSE your pasta! We want to remove the starch that can contribute to soggy pasta salad.
2 - Don't forget to SALT your pasta water! Pasta absorbs flavor best when it is hot, but you're serving this cold. That means salting the pasta water is crucial!
3 - Don't forget to DRESS your pasta salad while it is warm or at room temperature. If you wait until it is cold, it will not absorb the dressing as well.
What is the Sauce for Pasta Salad?
Pasta salad sauce really varies, but I think we all agree that the sauce / dressing should be tangy and fresh, which is what you get with this lemon and goat cheese pasta salad!