Recipe: $5.90 | Per Serving: $1.18 | Yield: 5
This Cherry Balsamic Quinoa Salad is full of that sweet, slightly tart summer cherry flavor we all love. This easy quinoa salad is best when cherries are at their best - ripe, juicy, and decadent.
Once you make the cherry balsamic dressing for this salad, you'll never buy a bottle of fruit-flavored vinaigrette again! It's so simple and so good!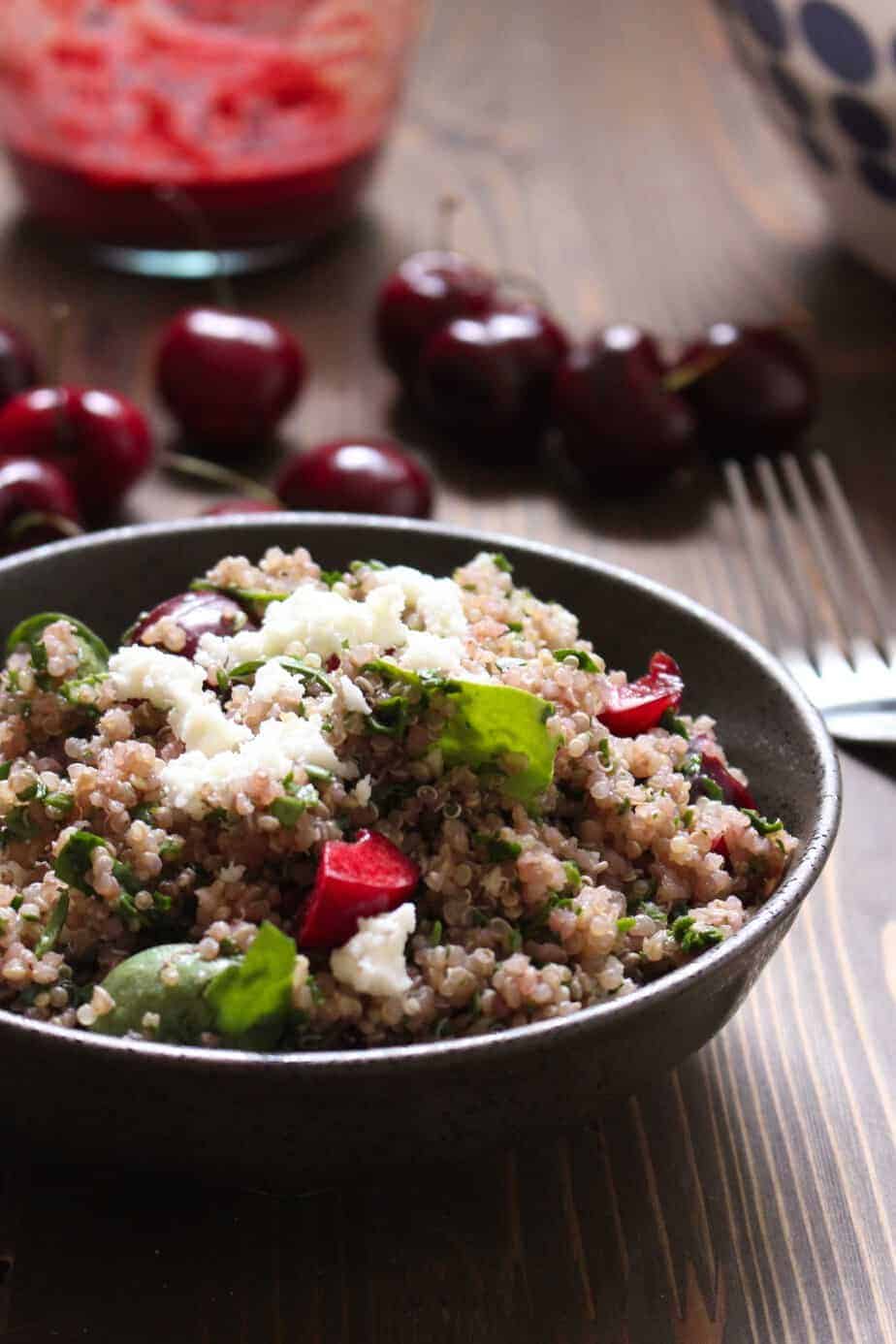 There are so many cherries everywhere! I've already bought cherries three times in the last week, and they're so super delicious right now. They're sweet and just a touch tart, and perfect for making salad dressing!
While they're on sale, you should DEFINITELY grab a big bag and make this Cherry Balsamic Quinoa Salad.
I'm so happy to post something so light and healthy right now because I feel like I've been vacillating between HANGRY and uncomfortably full for like two weeks.
That's kind of what happens as a teacher though, and since we've been ramping up our running miles/days/speed, I think my body is not sure how to keep up. If anybody is feeling the post-summer BBQ bloat, then this salad is your new best friend!
And highly recommended as your new summer BBQ addition, because it's the perfect vegetarian option to offset allllll the meat. I bet you could even make extra dressing and put it ON the meat. I could eat this dressing for DAYS.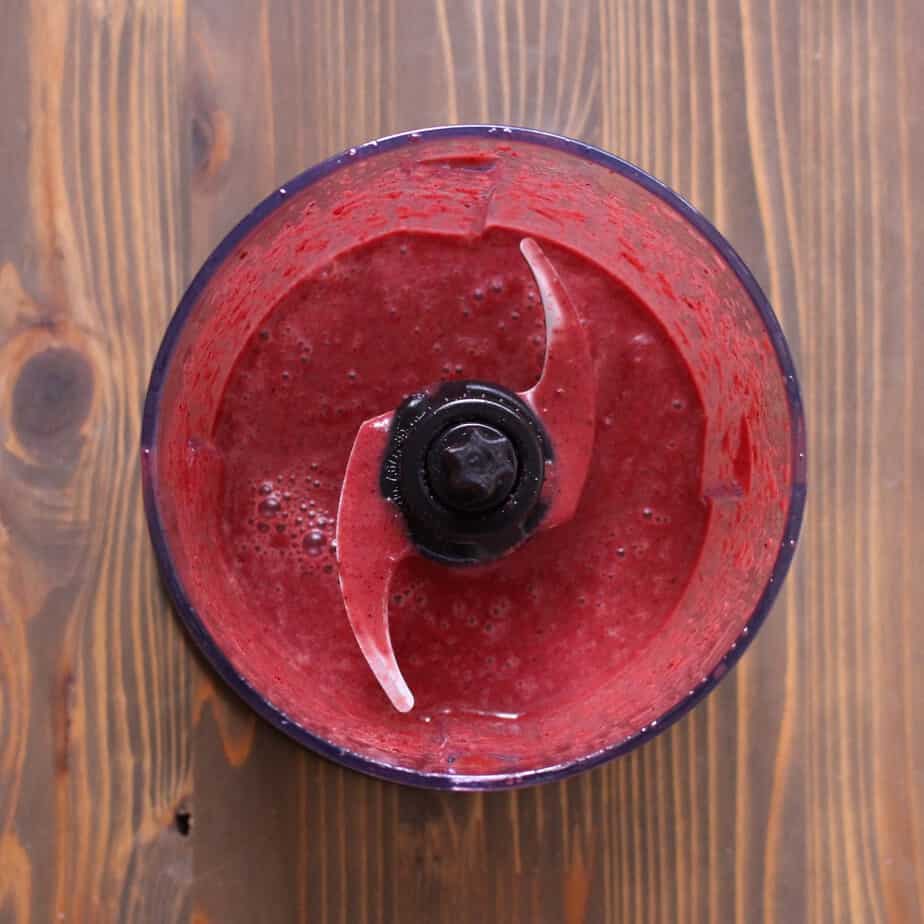 Additionally, I know that 5 is always a strange number for a recipe to feed, but if you're serving this as a main dish, I do think it's about 5 servings. If you're serving this as a side, or you're mixing in some shredded chicken (highly recommended), then this is closer to 6-8 servings.
If you decide to chop up the spinach, you should have about equal parts chopped spinach and quinoa, which to me is about 5 servings worth of grains & veggies.
I actually made this last weekend for us, and then again a few hours later to take to my friends' place when our dinner reservations were canceled. We had bacon-wrapped chicken, some leftover crab legs, and this delicious salad. A really perfect summer meal. Make this salad & tell me what you think!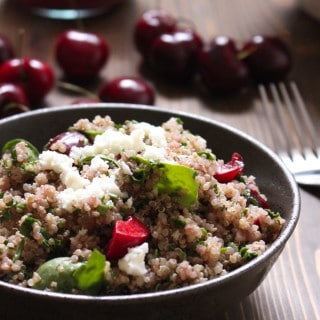 Cherry Balsamic Quinoa Salad
When cherries are in season and abundant, whip them up into this amazing summer quinoa salad with cherry-spiked balsamic vinaigrette!
Ingredients
1

cup

uncooked quinoa

6

cups

fresh spinach

¼

cup

feta cheese

1

cup

dark sweet cherries
For the Dressing:
12

dark sweet cherries

about 1 cup

1 ½

Tablespoons

balsamic vinegar

2

Tablespoons

olive oil

¼

teaspoon

salt
Instructions
Make the Quinoa: Rinse the quinoa 2-3 times until the water runs mostly clear, then place in a large saucepan. Toast over medium heat to dry it out a little, and add a toasted flavor. Add 2 cups water and cook on a low simmer for about 15 minutes. Fluff, remove from heat, and let cool.

Make the Dressing: Remove the pits from 1 cup of cherries and place in blender or food processor. Blend until chopped up, then add 1.5 tablespoons Balsamic vinegar and 2 Tablespoons olive oil. Blend until smooth, then taste and add salt as needed. Set aside.

Make the Salad: Remove the pits from the remaining 1 cup of cherries and cut into eighths. Wash and dry the spinach, then finely chop it or mince most of it in a food processor. I left a few larger pieces in mine just for variety. Stir the spinach together with the cooled (mostly) quinoa, the cherries, and the dressing. Top with the feta cheese and stir just to combine. Enjoy!
Nutrition
Calories:
236
kcal
Carbohydrates:
32
g
Protein:
7
g
Fat:
10
g
Saturated Fat:
2
g
Polyunsaturated Fat:
2
g
Monounsaturated Fat:
5
g
Cholesterol:
7
mg
Sodium:
233
mg
Potassium:
506
mg
Fiber:
4
g
Sugar:
7
g
Vitamin A:
3442
IU
Vitamin B1:
0.2
mg
Vitamin B2:
0.3
mg
Vitamin B3:
1
mg
Vitamin B5:
0.5
mg
Vitamin B6:
0.3
mg
Vitamin B12:
0.1
µg
Vitamin C:
13
mg
Vitamin D:
0.03
µg
Vitamin E:
2
mg
Vitamin K:
178
µg
Calcium:
96
mg
Copper:
0.3
mg
Folate:
137
µg
Iron:
3
mg
Manganese:
1
mg
Magnesium:
103
mg
Phosphorus:
209
mg
Selenium:
4
µg
Zinc:
1
mg
Choline:
35
mg