Recipe: $3.63 | Per Serving: $0.33 | Yield: ~11 Tablespoons
Can we all agree that chorizo sausage is the best sausage? It's a little smoky, with a little heat, packed with spices, and generally agrees with breakfast, lunch, and dinner. This Chorizo Sausage Seasoning is all of those things but in a very easy non-perishable format!
I didn't learn to like sausage until I was an adult, and less than 2 years after finally deciding sausage was delicious, I was attending sausage-making workshops and making my own homemade sausage seasoning blends. I converted to heavily spiced meat very very hard. 😁
The best thing about making your own sausage seasoning is that you can use it for a lot more than just sausage. Chorizo-spiced cauliflower rice? Chorizo-spiced roasted veggies? Chorizo-spiced tofu scramble? Yep, yep, and yep!
I started making chorizo sausage seasoning when I realized:
a) how limited the sausage selection was at my local grocery store and
b) how many fillers most sausage contains.
I didn't eat much sausage for most of my life. One, as I said, I didn't like sausage (I think it was the fennel), and two, I was scared of nitrates and nitrites. I didn't like anything cured except pancetta, and even then only in small doses.
My friend Kim, who used to run a healthy meal delivery service, had a way of changing my palate and turned me from a sausage-hater into a sausage-craver. Shortly thereafter I moved to Japan, which is certainly not known for sausage - so I started making my own!
Homemade Sausage Recipes:
Chorizo Sausage Seasoning (this one!)
Benefits of Homemade Sausage Seasoning
I am not in the business of telling you NOT to eat something that you love (yes, even as a functional clinical nutritionist). But if you're open to making a version of certain things at home, you'll get so many benefits. Here are some of the pros of this homemade chorizo seasoning.
Lower sodium content - you can control how much salt you add, making it much more versatile
No curing or additives - the government loves to keep telling us that cured and processed meats are carcinogens, so whether you agree or not, you can rest easy knowing that your homemade sausage is simply a souped up version of ground meat, without the additives.
VERSATILITY: let me tell you, I love using this on my scrambled eggs. It's delicious, and flavorful, and makes you think you've got a little sausage on your plate.
This can also be added to a variety of vegetables, plant-based dishes, and nearly any meal that needs a boost of flavor.
Non-perishable! This dried sausage seasoning may not be the traditional way of making chorizo, but it will last for months in your cabinet so you can easily have that chorizo flavor anytime you want it.
If I were a person who gave out food presents, this chorizo seasoning would 100% be on the gift list!
Paleo: Yep!
Vegetarian: Sure. Try it on ground tempeh or in a tofu scramble!
Low FODMAP: just skip the garlic! I do that all the time. :)
PIN THIS RECIPE FOR LATER!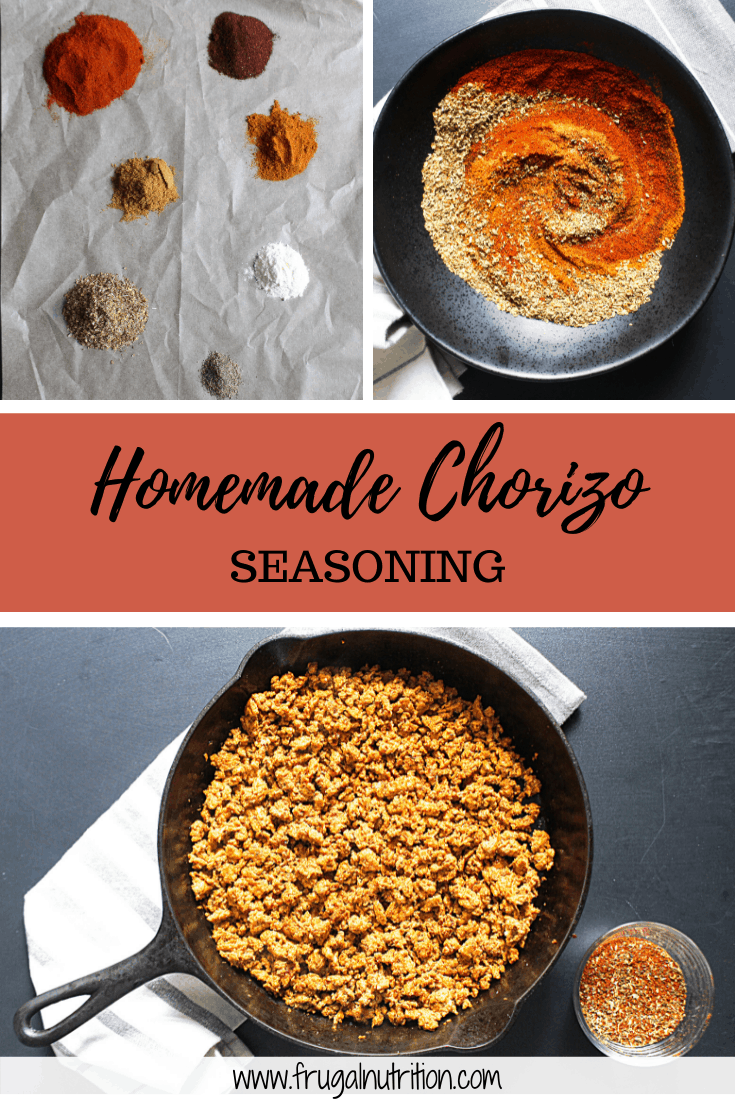 Nutrition Label: please note that a nutrition label does not equal complete nutrition information. This label includes salt and assumes 1 tablespoon of seasoning will equal 4 servings (44 servings total).
Print
Chorizo Sausage Seasoning
---
Author:

Caitlin

Total Time:

5 minutes

Yield:

~ 11 Tablespoons

Diet:

Gluten Free
Description
Make everything taste like Mexican-style Chorizo with this Easy Chorizo Sausage Seasoning!
---
3 Tablespoons

smoked paprika

2 Tablespoons

salt (optional - can wait to add until cooking time)

1 Tablespoon

ground ancho pepper (or can sub with more cayenne)

1 Tablespoon

ground cayenne

4 teaspoons

garlic powder

4 teaspoons

ground cumin

4 teaspoons

dried oregano

1 teaspoon

freshly ground black pepper
---
Instructions
Add all ingredients to a small glass container or spice jar and stir well too combine. Optional: I often leave the salt out and add it during cooking instead.
Use this to season a wide variety of foods!
To Make Chorizo: In a large bowl, combine 2 Tablespoons Chorizo Seasoning with 1 pound ground pork. Cook in a skillet as ground sausage or form into patties and fry each side until cooked through.
Notes
This recipe, with the salt, yields about 11 Tablespoons of Chorizo Sausage Seasoning. I recommend 1-2 Tablespoons per pound of ground pork.
If you do not have ancho chili powder, you can double the cayenne instead.
Ground coriander, the seed of the cilantro plant, is another commonly used spice in Mexican chorizo. This is not as readily available (to me) and is not included in this recipe. I encourage you to experiment with it when you have it on hand!
Prep Time:

5

Category:

Condiment