Recipe: $16.24 | Per Serving: $4.06 | Yield: 4 
Friends, let's get into some pineapple chicken lettuce wraps! We've got fajita-ish chicken thighs, paired with strips of bell pepper, chunks of sweet pineapple, and tons of delicious spices.
This recipe comes together in about 30 minutes. While things are roasting in the oven, you can wash and dry lettuce wraps, or prepare rice, potatoes, or warm up tortillas of your choice (cassava, whole wheat, corn, etc.).
It starts with a few simple ingredients - I prefer chicken thighs to breasts (always), but especially here because it's too easy to overcook chicken breasts. If you do use breasts, I recommend putting the chicken and some pineapple on their own sheet tray so you can take them out before the peppers if necessary.
What You Need For This Recipe:
chicken thighs
bell peppers
fresh or frozen pineapple
spices/herbs - cumin, paprika, oregano, cayenne
lime juice
lettuce wraps!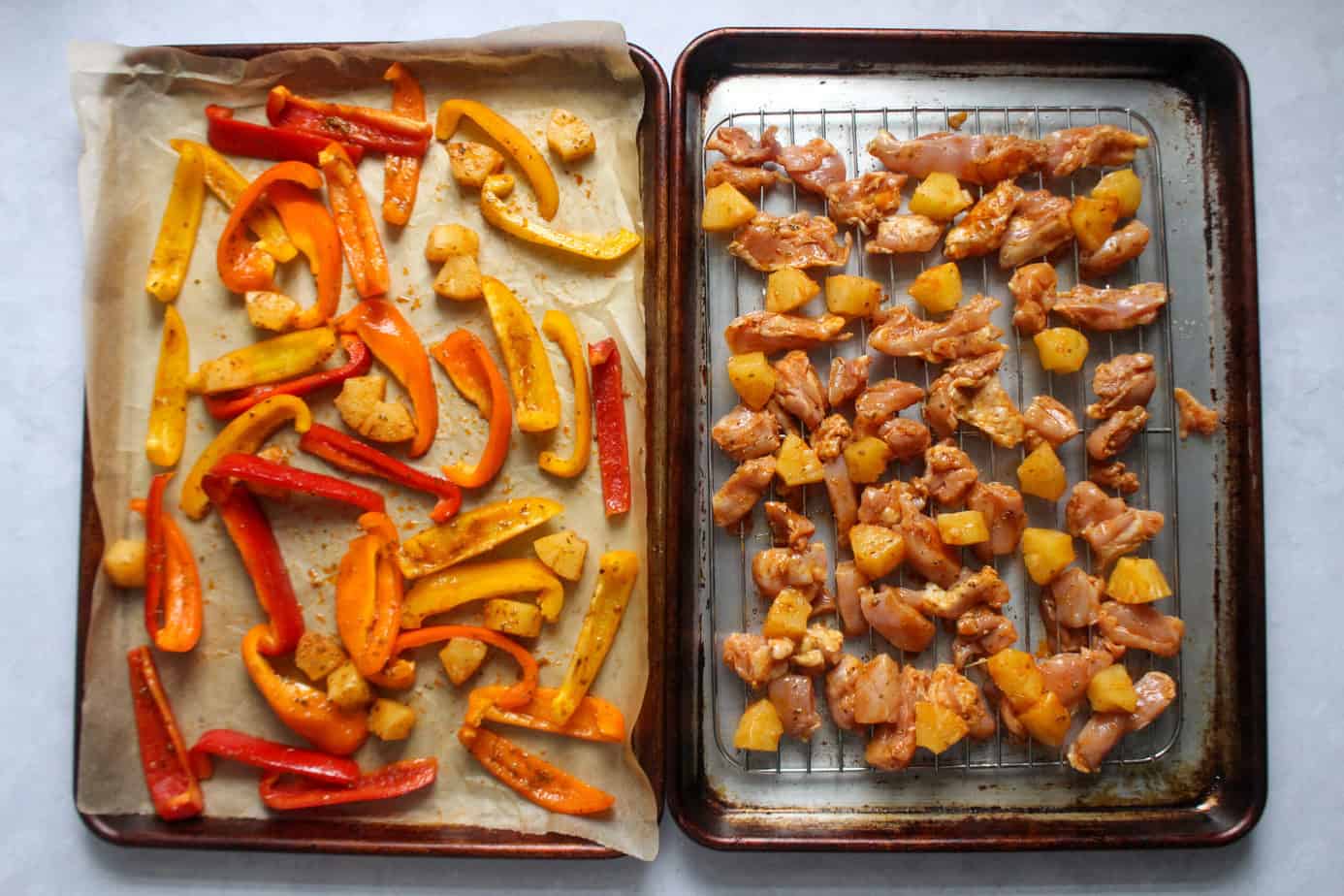 What kind of Lettuce is Best for Lettuce Wraps?
There are a lot of lettuce wrap options out there, but they're not all created equal!
Butter Lettuce: perfect tender little cups that are about the size of small corn tortillas; these are my personal favorites
Cabbage: awesome for hearty fillings, or those that are really warm and *moist* like a sloppy-joe style filling
Romaine Lettuce: it can work, but you typically want to cut the leaves in half
Red Leaf Lettuce: probably my second favorite! It's like a smaller, more tender version of romaine. There's a green leaf version too.
Swiss Chard: sturdier than butter lettuce, but can be hard to bite through when completely raw. I recommend blanching first and removing most of the stem.
Collards: Similar to chard, it can work, but I would definitely blanch collards and remove most of the stem before using for lettuce wraps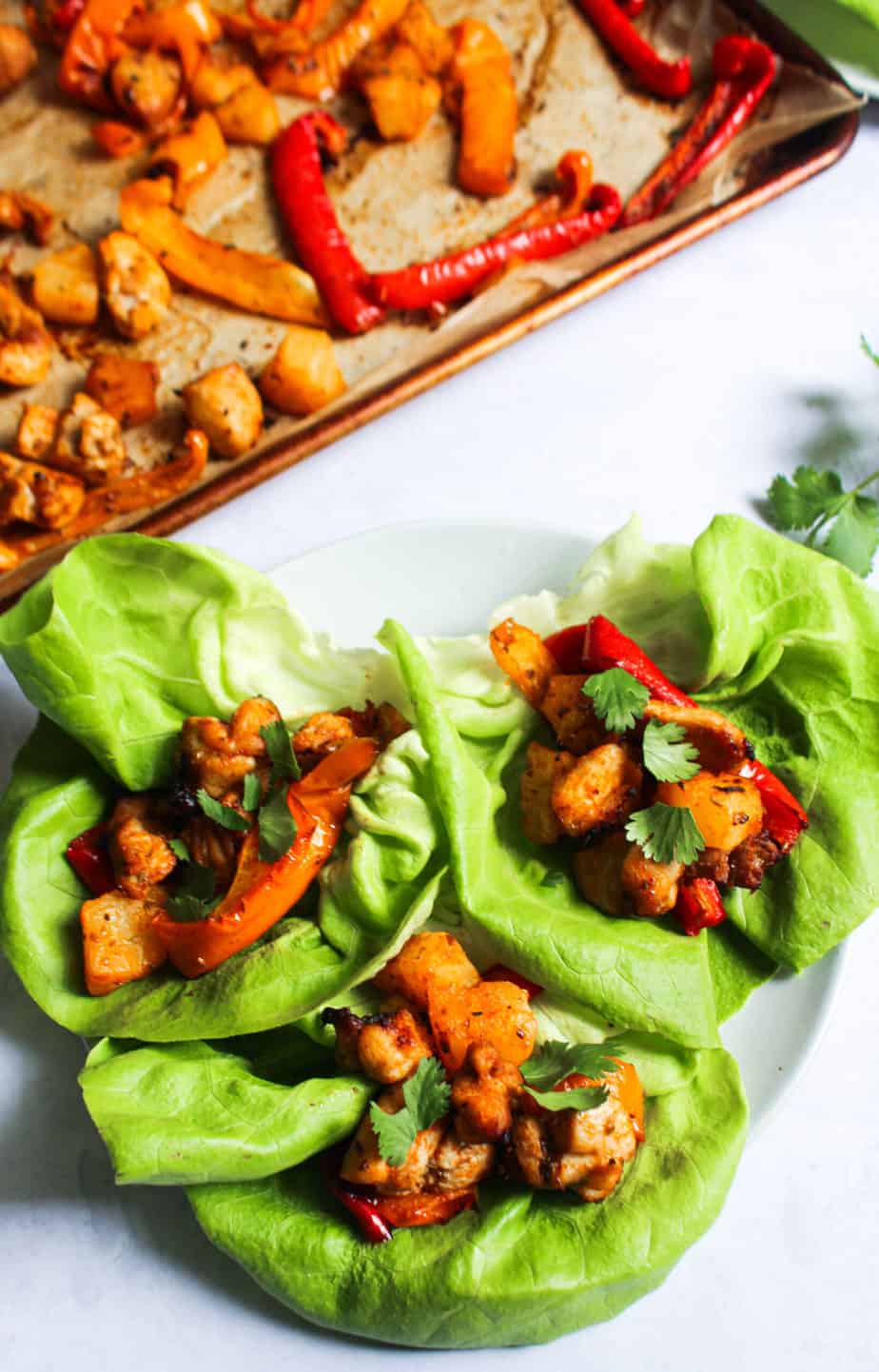 Looking to bulk this up? Here are some of my favorite ways to add bulk and stretch this meal further:
Best Bean Dip (not Low FODMAP) or black beans
Rice or roasted potatoes
Tortillas or tortilla chips with guacamole
And, before we go, check out some other fun lettuce wrap recipes:
What is Low FODMAP?
This refers to a diet low in certain types of fermentable carbohydrates that can worsen symptoms associated with SIBO, IBS, and other digestive disorders. It is not recommended to follow a Low FODMAP protocol for more than 4-8 weeks, and not at all if you have a history of eating disorders/disordered eating. Many people find success by simply reducing FODMAPs in the diet for a period of time, rather than following the full dietary protocol. Please only do so under the care of a trained practitioner as a long-term Low FODMAP diet can damage the microbiome of your large intestine. ❤️ XOXO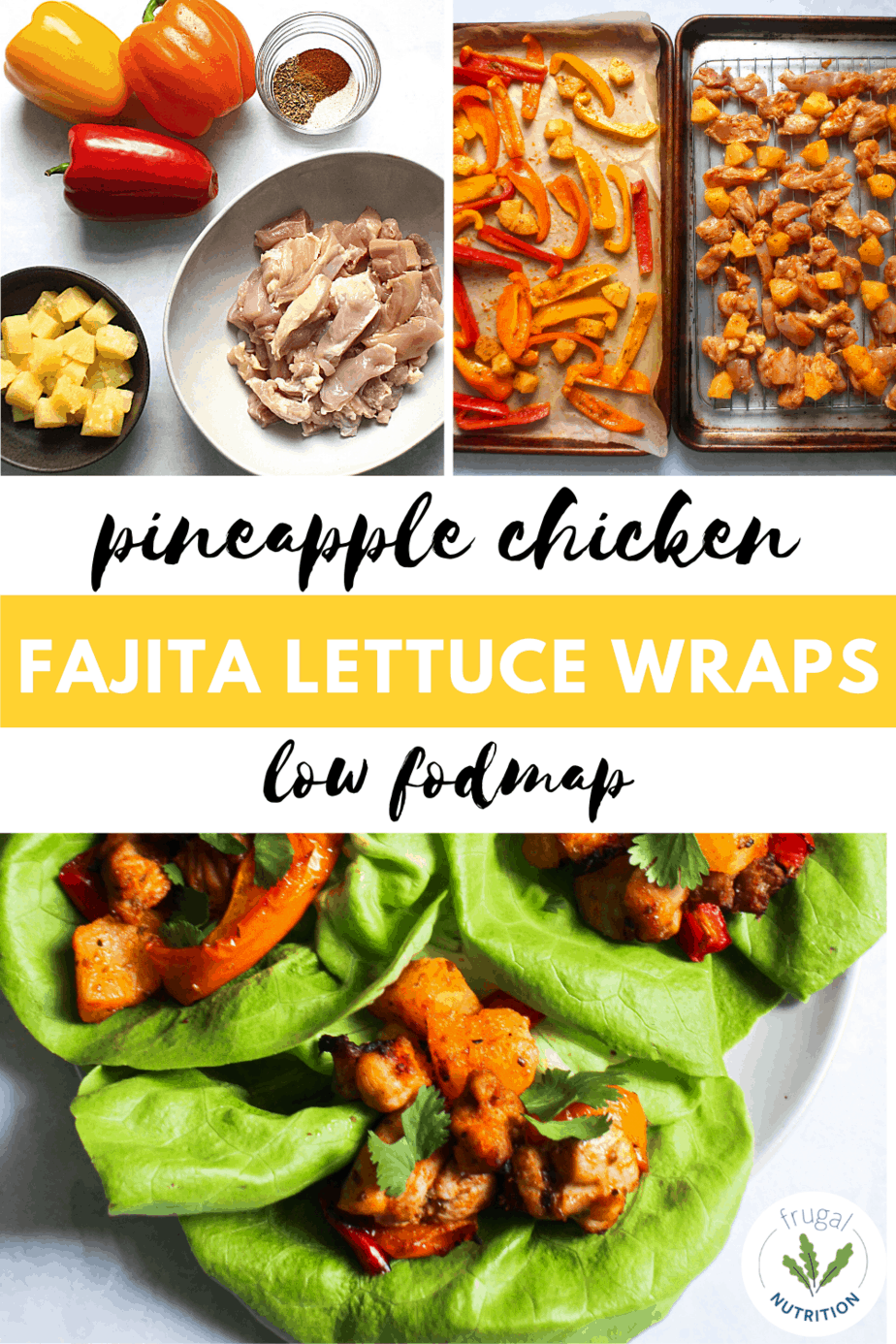 Vegetarian: No, but you could probably make something very similar with tofu!
Paleo: Yep!
Low FODMAP: yes, as the name implies, this is low in FODMAPs, however, some people do still react to the fructose in pineapple, in which case you might need to proceed cautiously!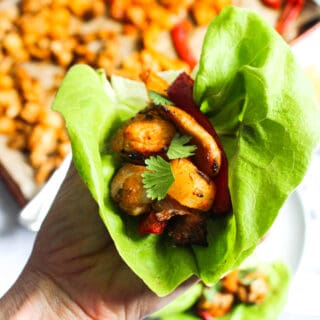 Sheet Pan Pineapple Chicken Lettuce Wraps (Low FODMAP)
These easy sheet pan pineapple chicken lettuce wraps are the perfect low FODMAP dinner that is packed with flavor! You can really make them your own with other added vegetables, beans, and starchy sides/tortillas.
Ingredients
For the Sauce:
3

Tablespoons

avocado oil

or other oil of choice

3

Tablespoons

lime juice

juice from 1 lime

2

teaspoons

dried oregano

1

teaspoon

sea salt

1

teaspoon

cumin

1

teaspoon

smoked paprika

½

teaspoon

cayenne

or for lower spice, use red pepper flakes
For Roasting:
1 ½

pounds

chicken thighs

3-4

large

bell peppers

about 1 pound

2

cups

pineapple chunks

fresh, pre-cut, or canned

Lettuce wraps for serving

Optional: can serve with white rice

or white potatoes for a Low-FODMAP starchy carbohydrate
Instructions
Preheat oven to 400ºF.

Prepare two baking sheets for the oven. You can use a wire rack insert for your sheet pans if you have it, but this isn't totally necessary.

In a large bowl, combine the sauce ingredients. Set aside.

Cut the chicken into chunks or strips and add to the bowl of sauce. Cut the bell peppers into chunks or strips and add to the bowl of sauce. Add the chunked pineapple and stir to combine.

Spread the chicken/bell peppers/pineapple mixture out across the two sheet pans. I recommend giving them space and avoid overlapping if you can.

Bake for 20 minutes in your pre-heated 400ºF oven.

Optional (for the char!): turn your oven to broil. Broil each tray in the top rack for 3-5 minutes on high to get a little bit of crispy char. This is how we're trying to mimic the high-heat flavor of fajitas.

Serve with butter lettuce wraps for the gentlest option on your tummy, or add rice or potatoes (low FODMAP), or your other sides of choice.
Notes
If you are not sensitive to FODMAPs, you can slice about half a medium red onion and combine and roast with the chicken, peppers, and pineapple. You can also serve these in your tortillas of choice - I love cassava flour tortillas!
Nutrition
Calories:
413
kcal
Carbohydrates:
29
g
Protein:
35
g
Fat:
18
g
Saturated Fat:
3
g
Polyunsaturated Fat:
3
g
Monounsaturated Fat:
10
g
Trans Fat:
0.03
g
Cholesterol:
162
mg
Sodium:
743
mg
Potassium:
971
mg
Fiber:
5
g
Sugar:
23
g
Vitamin A:
5680
IU
Vitamin B1:
0.4
mg
Vitamin B2:
0.5
mg
Vitamin B3:
11
mg
Vitamin B5:
3
mg
Vitamin B6:
1
mg
Vitamin B12:
1
µg
Vitamin C:
174
mg
Vitamin E:
3
mg
Vitamin K:
60
µg
Calcium:
81
mg
Copper:
0.3
mg
Folate:
103
µg
Iron:
4
mg
Manganese:
0.3
mg
Magnesium:
84
mg
Phosphorus:
380
mg
Selenium:
39
µg
Zinc:
3
mg
Choline:
109
mg