This Coconut Garlic Shrimp Pasta is a veggie-packed take on a classically delicious meal. The strong coconut, garlic, and cayenne flavors are lightened up perfectly with the shrimp, zoodles, and gluten-free pasta.
Recipe: $15.69 | Per Serving: $3.92 | Yield: 4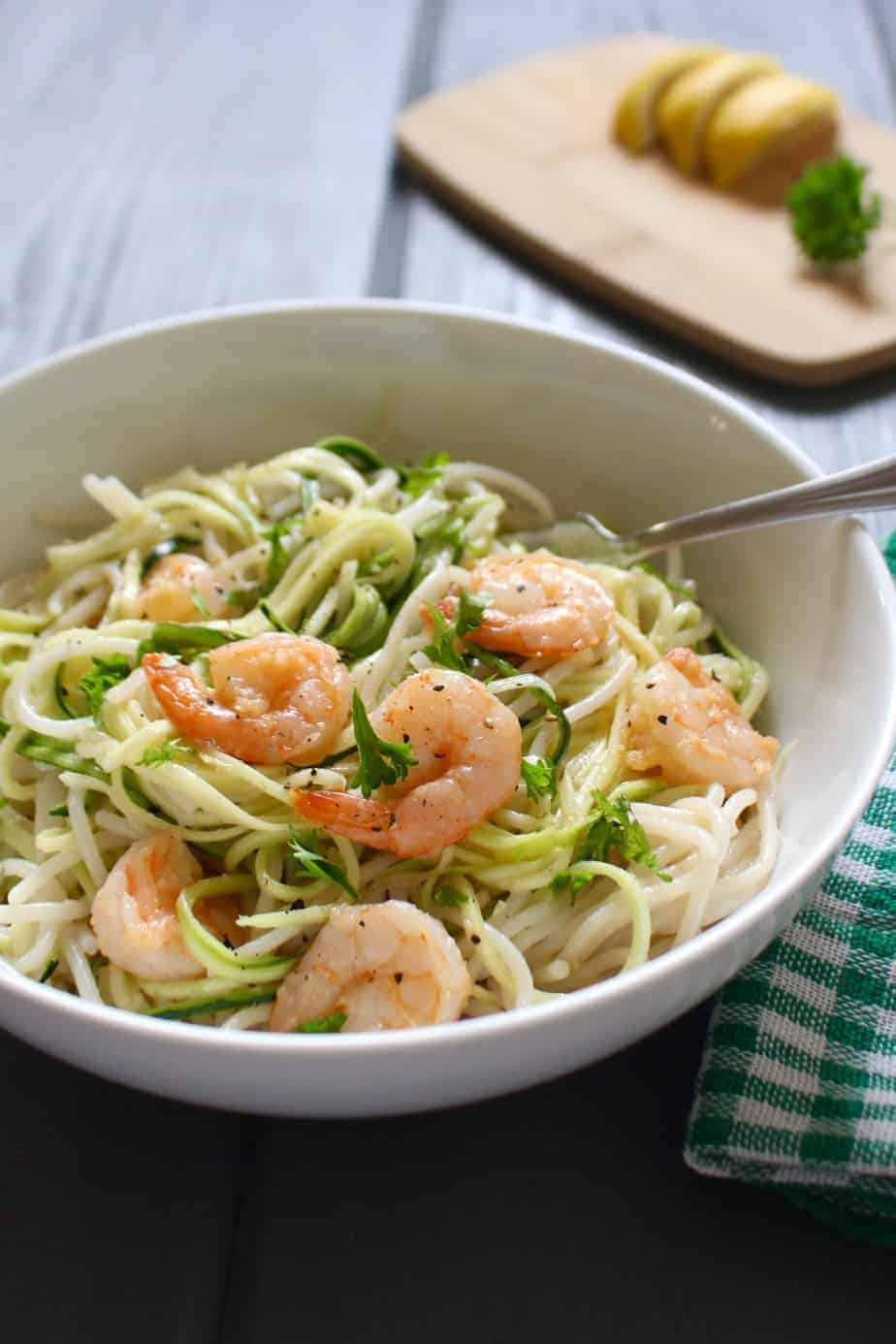 First of all, noodles. Second of all, if you have not been eating the magical combination that is shrimp + coconut, you are missing out. Even I, a person typically averse to shrimp, love this dish.
This creamy meal is full of garlicky shrimp and coconuty flavor, with half the noodles in the form of gluten-free pasta, and half in the form of everyone's favorite low-carb noodle option: ZOODLES.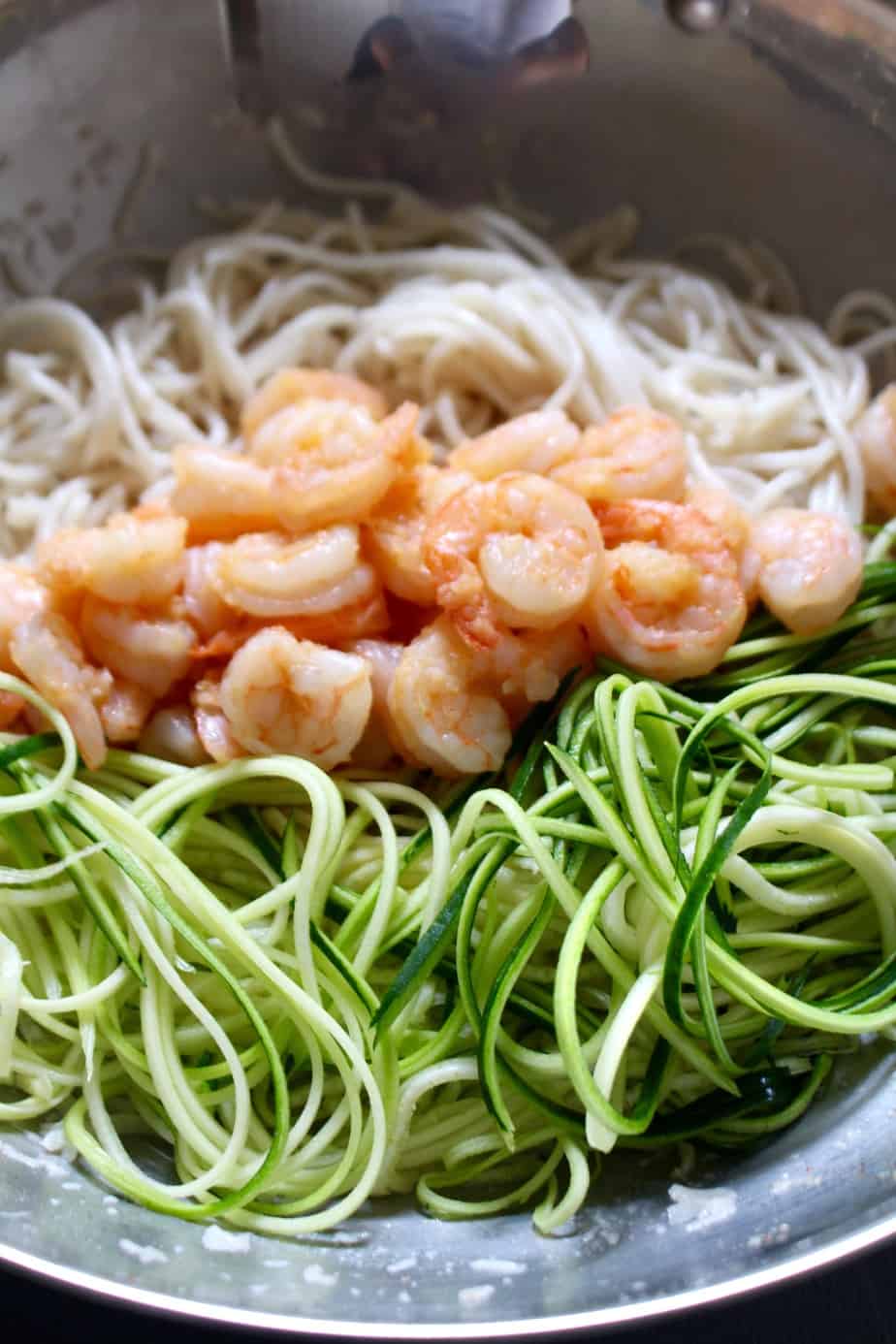 The Joy of Zoodles
Hi, I love zoodles (aka zucchini noodles). I especially love zoodles with all things coconut. Did you see this Thai Coconut Beef and Zoodles recipe? It's basically the easiest one-pot Paleo meal ever. And now, we're shaking things up by rocking 8 cloves of garlic + some shrimp + just a touch of spice + zoodles + coconut.
If you don't love zoodles, but you still want the added veggie component, you can do half and half! Eight ounces of gluten-free noodles (or whole wheat spaghetti) mixed with the zucchini noodles is *chef's kiss*.
Gluten-Free Spaghetti
I was actually sent some products to try by TresOmega, and I used their gluten-free spaghetti (quinoa, amaranth, rice), and their virgin coconut oil to make this recipe for dinner with a gluten-free friend one night.
The noodles were great, and I loved the way they mixed with the zoodles. I also have to say, this coconut oil is awesome! I love using virgin coconut oil, and although it has a low smoke point, it is perfect for this recipe since you are cooking the shrimp and garlic over low-medium heat, and you're looking for that stronger flavor that you get with virgin oils.
Edit 2022: In updating this post, I learned that TresOmega no longer makes this exact noodle. I also like Jovial Foods brown rice spaghetti (also at Whole Foods) and Tinkyada brown rice spaghetti (also at Trader Joe's) as other options to use instead! (Amazon affiliate links.)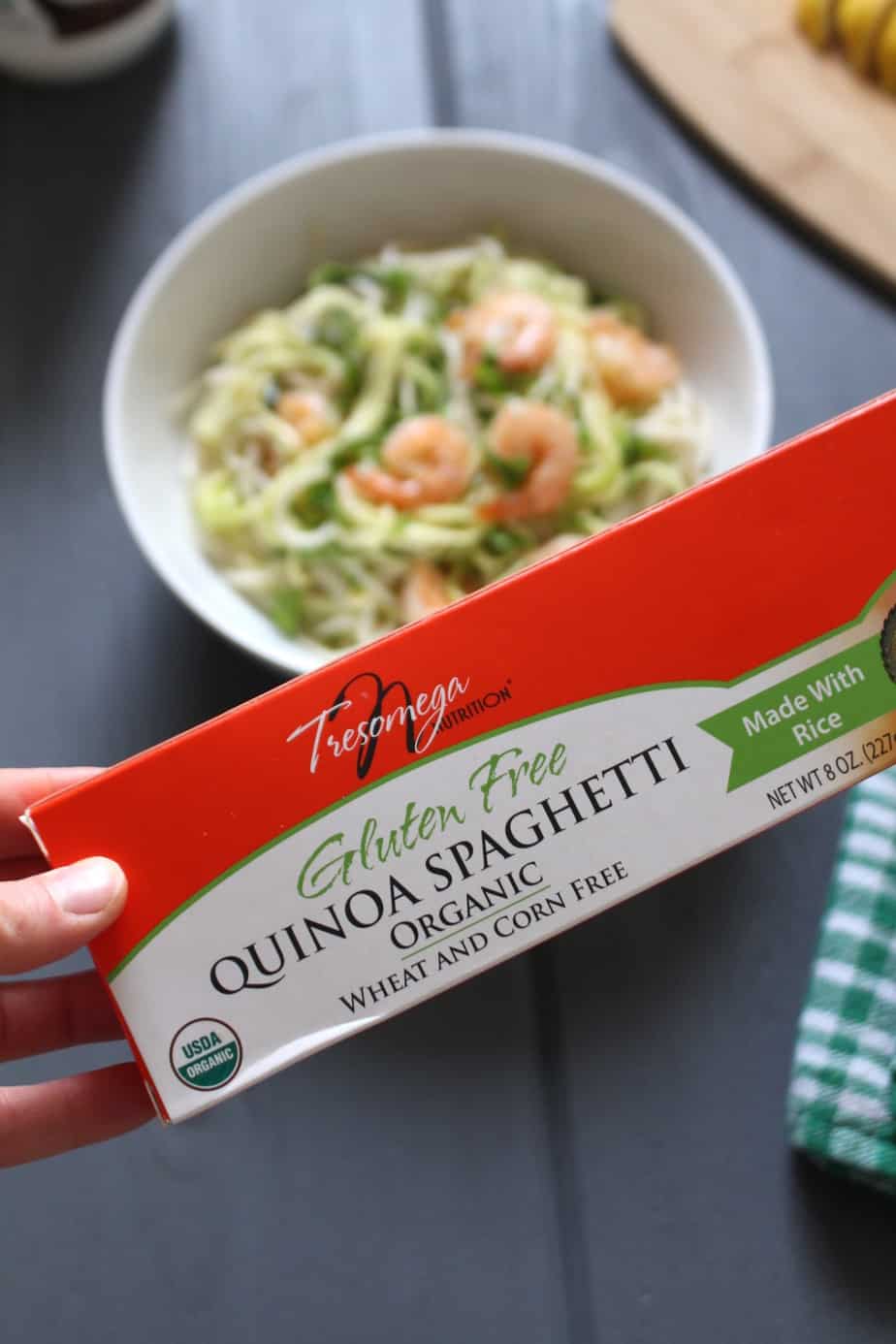 The Secret to Good Shrimp
Now, let's talk about shrimp for a second. I don't know if I have ever posted shrimp on this blog before because, as I mentioned earlier, it is not my favorite thing. I love a shrimp cocktail, but that's basically just eating horseradish and ketchup.
Most of the time I just find it too shrimpy - it's like it goes overkill with the flavor? (I don't know, I also don't really like bacon, so maybe it's a super-rich umami thing? Then again, maybe it is in my head.)
Anyway, with some help from my friend Kim's awesome shrimp recipes, I have slowly started to get on board with shrimp a little more over the last few years, which is a good thing since it's super easy to cook.
Basically, the secret is this: get super fresh local shrimp OR season grocery store frozen shrimp with really rich, strong flavors like coconut, garlic, and cayenne here, or other strong marinades and spice blends.
In this dish, the shrimp flavor is so so so good and I owe it all to garlic, coconut, and the spices in this recipe. It reminded me of Laksa prawn soup we had in Singapore - SO GOOD. I definitely plan to make this again, sans the pasta noodles, when we do Whole 30 in January. (!!!)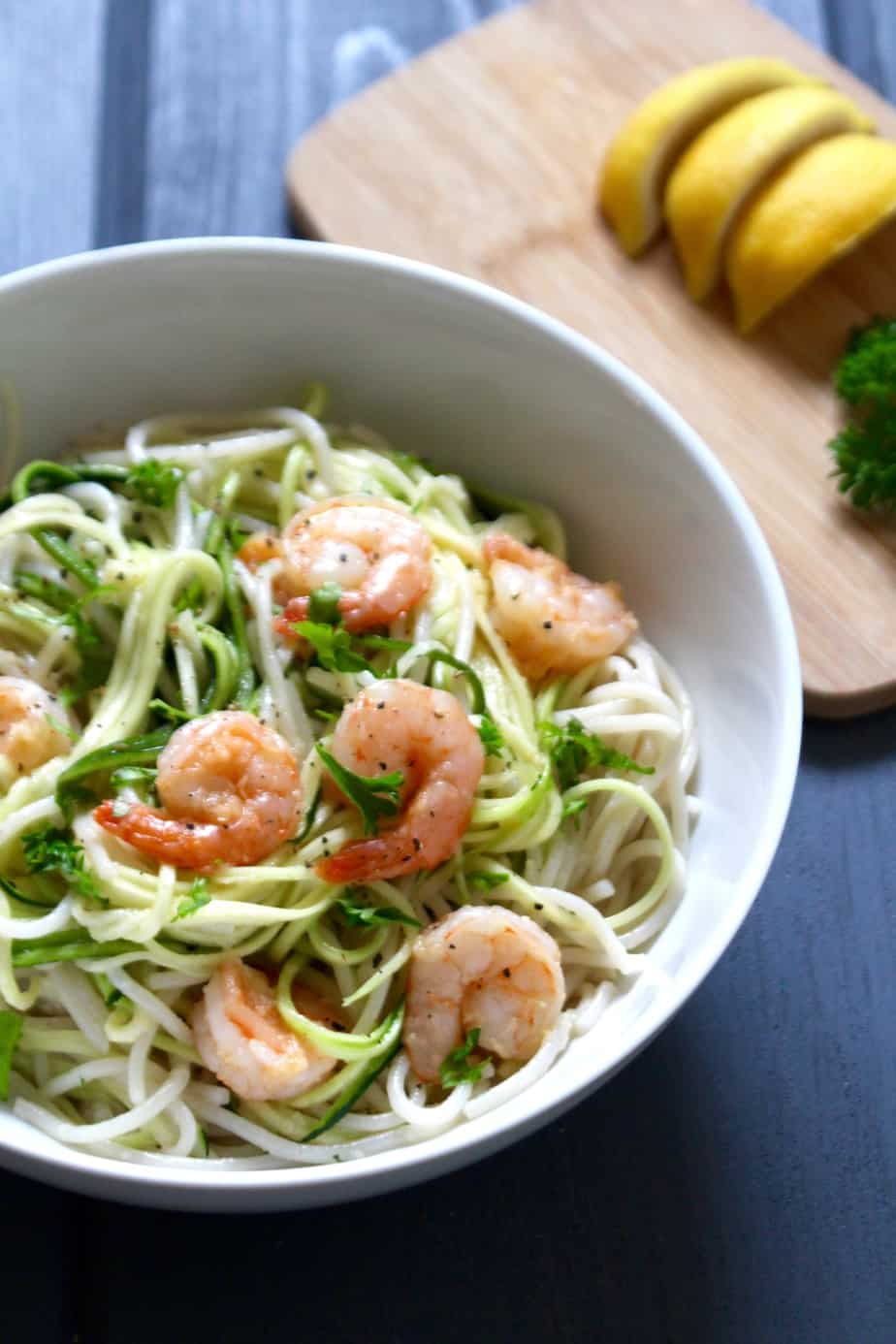 Healthy Eating on a Budget
This is one of the most expensive recipes I have posted on my blog thus far, but it's still less than $4 per serving for a delicious meal, so I'm not mad about it. (I didn't know shrimp was so expensive either!)
A few things about that:
I actually got this shrimp on sale so it was a touch cheaper, but I lost my receipt (look for sales!), so I'm including the regular cost advertised at my local Safeway.
I believe in buying good quality sustainable meat/fish when you can, but you do YOU.
You can use even less shrimp to conserve the expensive ingredient and bulk it up with one of my favorite beans: white beans or chickpeas!
My zucchini was organic from Trader Joe's and also out of season, which is why it was so expensive at $3.29! You can get zucchini basically for free in the summer months. Big benefit of eating seasonally!
Dietary Modifications for Coconut Garlic Shrimp Pasta
Vegetarian: Pescatarian! There's no land meat, so if you're okay with seafood, this is for you. If not, I'm sorry.
Paleo: Mostly! The gluten-free noodles are definitely not Paleo (see: rice/amaranth/quinoa), but they are gluten-free, so that's sometimes acceptable. You could skip them and add more zoodles though.
Low FODMAP: if you reduce the garlic to your tolerance level (1 clove?), then this is a low-FODMAP recipe!
Share your Pasta
Let me know how you like this dish! Did this combination of flavors make you a shrimp convert like me? Take a picture of the finished product and tag me on Instagram, or comment below with your thoughts!
And I would LOVE it if you could take a moment to hit the 5 stars ⭐️ ⭐️ ⭐️ ⭐️ ⭐️ below to review this recipe!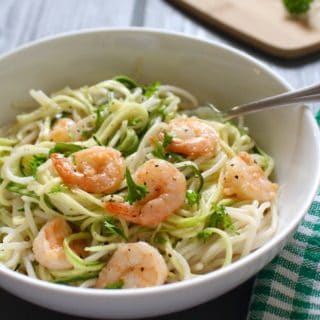 Coconut Garlic Shrimp Pasta
This coconut Garlic Shrimp Pasta is a veggie-packed take on a classically delicious meal. The strong coconut, garlic, and cayenne flavors fall light on your tongue and dance in perfect harmony with the shrimp, zoodles, and gluten-free pasta.
Ingredients
8

ounces

spaghetti

gluten-free or whole wheat, uncooked

2

medium

zucchini

2

Tablespoons

coconut oil

virgin!

14

oz

shrimp

de-veined, cleaned, peeled

8

cloves

garlic

1 ½

cups

coconut milk

1 15-oz can

½

teaspoon

cayenne pepper

more to taste

½

teaspoon

salt

more to taste
Instructions
If you're not using prepped shrimp, you want to get it ready by removing the shell and vein. I also remove the tails because I think they're obnoxious to eat around (though you can eat them), but I left a few on for the sake of presentation. Rinse and pat dry.

Using a spiralizer, julienne peeler, mandolin, or very fancy knife skills, cut your zucchini into noodles. Set aside.

Mince or grate the garlic. Melt the oil in a large skillet or wok over medium-low heat. Add the shrimp and garlic, about half the cayenne, and a sprinkle of the salt. Cook until opaque and pink, maybe 3-5 minutes. Remove shrimp from pan and set aside.

Bring a large pot of water to a boil. Cook pasta according to package directions. Drain and set aside. (Please note that rice noodles and gluten-free pasta WILL clump together, so save this step until you've already cooked the shrimp. :)

Add coconut milk to the same pan. Season with salt and cayenne and bring to a boil. Simmer for 1-3 minutes, then add the cooked spaghetti, zucchini, and shrimp to the pan and turn off the heat. Stir until well combined and warmed through (about 1-2 minutes). Serve!
Notes
Optional: Garnish with parsley and top with a squeeze of lemon juice!
Nutrition label below (just an estimate), uses brown rice spaghetti.
Nutrition
Calories:
546
kcal
Carbohydrates:
50
g
Protein:
31
g
Fat:
27
g
Saturated Fat:
22
g
Polyunsaturated Fat:
1
g
Monounsaturated Fat:
1
g
Trans Fat:
0.01
g
Cholesterol:
160
mg
Sodium:
432
mg
Potassium:
860
mg
Fiber:
3
g
Sugar:
4
g
Vitamin A:
301
IU
Vitamin B1:
0.1
mg
Vitamin B2:
0.1
mg
Vitamin B3:
2
mg
Vitamin B5:
1
mg
Vitamin B6:
0.3
mg
Vitamin C:
20
mg
Vitamin E:
0.3
mg
Vitamin K:
5
µg
Calcium:
118
mg
Copper:
1
mg
Folate:
46
µg
Iron:
5
mg
Manganese:
1
mg
Magnesium:
123
mg
Phosphorus:
448
mg
Selenium:
37
µg
Zinc:
3
mg
Choline:
18
mg
TresOmega provided some product - but all opinions are mine!