This Mushroom Melt Grilled Cheese is more than your average sandwich - it's simple, cozy, hearty, and unique! We've got a bit of a Japanese spin on this dish with soy sauce-seasoned garlic butter mushrooms that I promise will convert your household to mushrooms (it certainly did mine!).
Recipe: $3.22 | Per Serving: $1.61 | Yield: 2 Sandwiches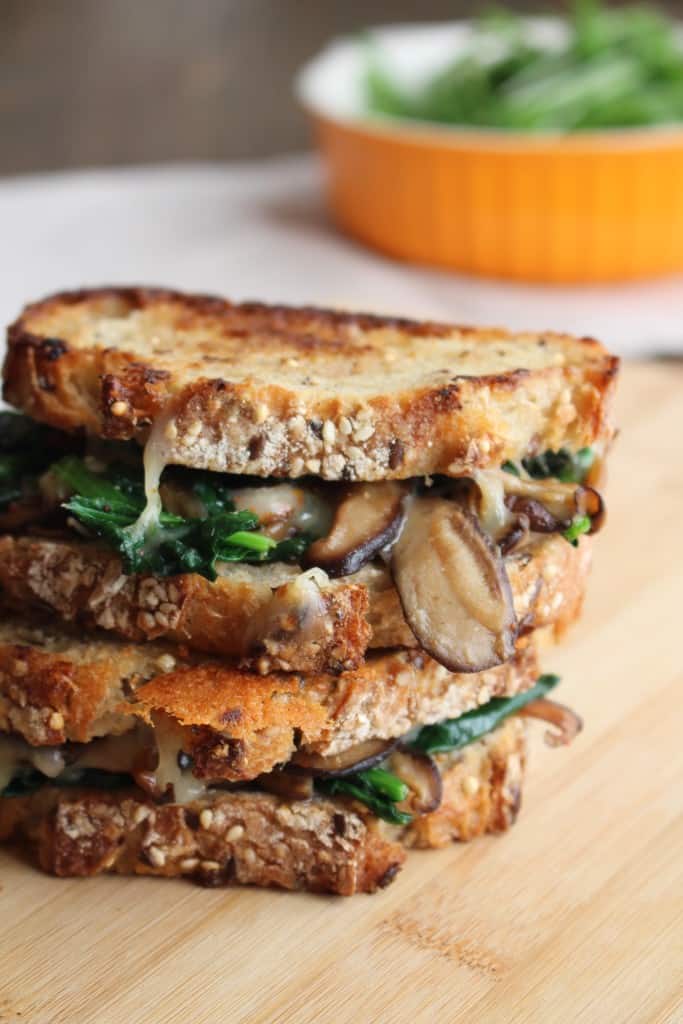 How this Grilled Cheese Came To Be
I was inspired to make the garlic butter mushrooms in this meal after having a similar dish at a restaurant in Japan (where we live). The secret ingredient and where the Asian-fusion vibes come in? Soy sauce! In Japan, soy sauce and mushrooms are a classic umami-packed pairing, and if you're not adding soy sauce/tamari to your mushrooms, it's time to start!
Once you get the mushrooms browned and delicious, you mix in some greens (spinach!) and cheese, and you've got an easy Mushroom Melt Grilled Cheese! This meal can also be made open-faced in a toaster if that's more your style.
We're heading back to the states at the beginning of March (happy/sad), but I am excited for an American kitchen. More space, more gadgets, and an oven! I will definitely miss the wide variety of mushrooms available to us in Japan, but you know what we don't have here? A wide variety of cheeses!
So, the silver lining of heading back to the states: I'll get to explore the wide variety of cheeses the U.S. has to offer to make these Mushroom Melt Grilled Cheeses all the time!
The Best Ingredients for Your Mushroom Melt
You don't need any fancy appliances to make this mushroom melt. That's what makes it so simple (and cheap!). You just need your favorite bread, cheese, spinach, and of course, garlic butter mushrooms.
I usually use shiitakes when I make this recipe, but you could get super fancy with trumpet mushrooms or oyster mushrooms, or you can keep it simple with your basic cremini mushrooms. Either way, you're going to have a delicious final product!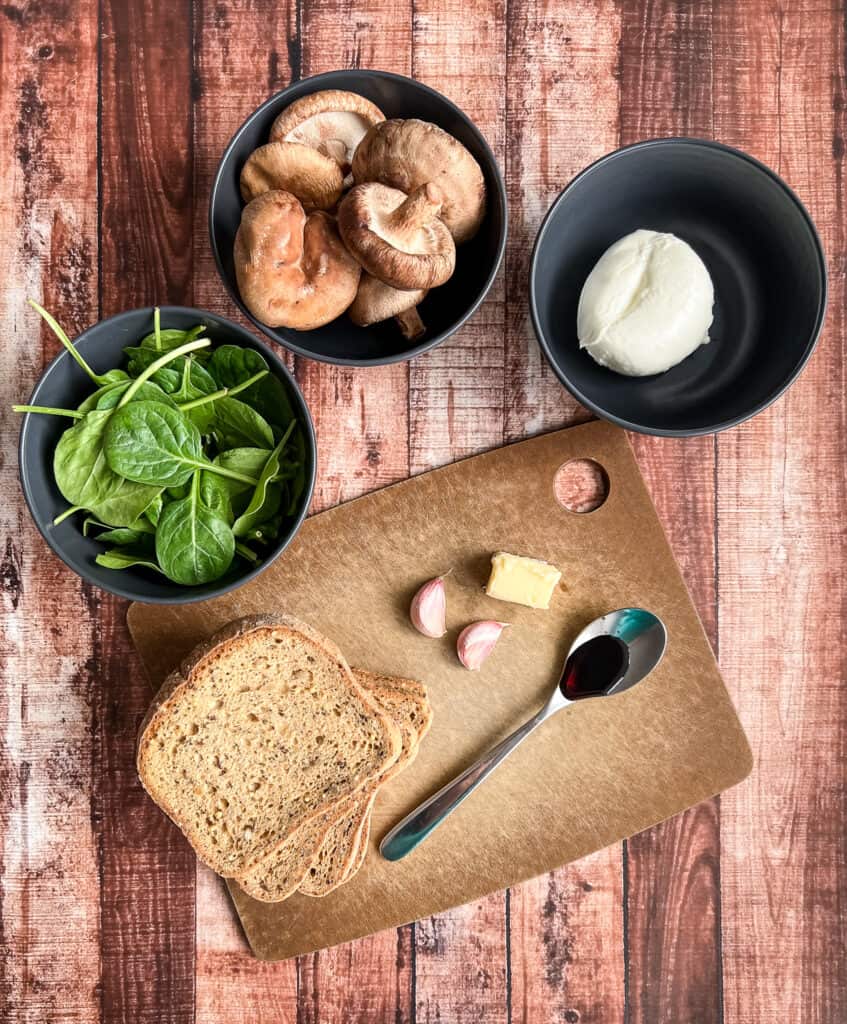 (You'll want to make a double batch of those mushrooms so you'll have enough to meal prep this delicious bowl of kale & soba with garlic butter mushrooms. Not only do you get an extra meal - you get more bang for your buck!)
What Cheese is Best for this Dish?
This is part personal preference, part melt-ability. I've been using shredded mozzarella because Japan is not a cheese country, as I mentioned.
Aged cheeses like Parmesan and aged cheddar are harder and have a lower moisture content, making them less likely to melt. If you like the flavor of hard cheeses, but the texture of melty cheese, I recommend mixing them together.
Some other cheeses for this recipe include?
Mozzarella
Provolone
Goat cheese (YUM)
Swiss, Gruyere, and Fontina (these are similar slightly smelly cheeses)
Mild Cheddar
Muenster or Havarti
Let me know what you choose!
What Bread is Best for this Sandwich?
You can use whatever bread you like, but I'm partial to the crusty, seeded, whole grain variety if I've got it. Sourdough works great too. I used small slices here. If you use a large bakery-style loaf, just know that this amount of filling will only be enough for one large sandwich.
For gluten-free bread, here are some of my favorite options:
Simple Kneads bread is gluten-free and corn-free and can be found in the bakery section or ordered online.
This homemade Artisan Gluten-Free Loaf (made it a bazillion times, love it every time, sometimes use some slightly different flours and it's still delicious)
I've also heard good things about Amaranth Bakery Gluten-Free Bread, but I haven't tried it myself.
And for your run-of-the-mill grocery store gluten-free sandwich bread, Canyon Bakehouse is popular with my GF clients, but just know that it is high starch, which doesn't always sit well with everybody (digestively).
How to Make Your Mushroom Melt Grilled Cheese
So now that you have all of the individual parts prepared, you basically mix together all the filling ingredients, pile the mixture on top of butter-fried bread, and then let the sandwiches cook on both sides until everything is gooey. Hear that? GOOEY. It's so good.
I recommend serving this with your favorite soup in the winter and this bright and flavorful salad in the summer.
Now all that's left to do is enjoy! Don't forget to let me know how you like it by commenting below or tagging me on Instagram. And of course, be sure to subscribe to the Frugal Nutrition YouTube Channel where you can get your tips and tricks in video format! 
PIN THIS RECIPE FOR LATER!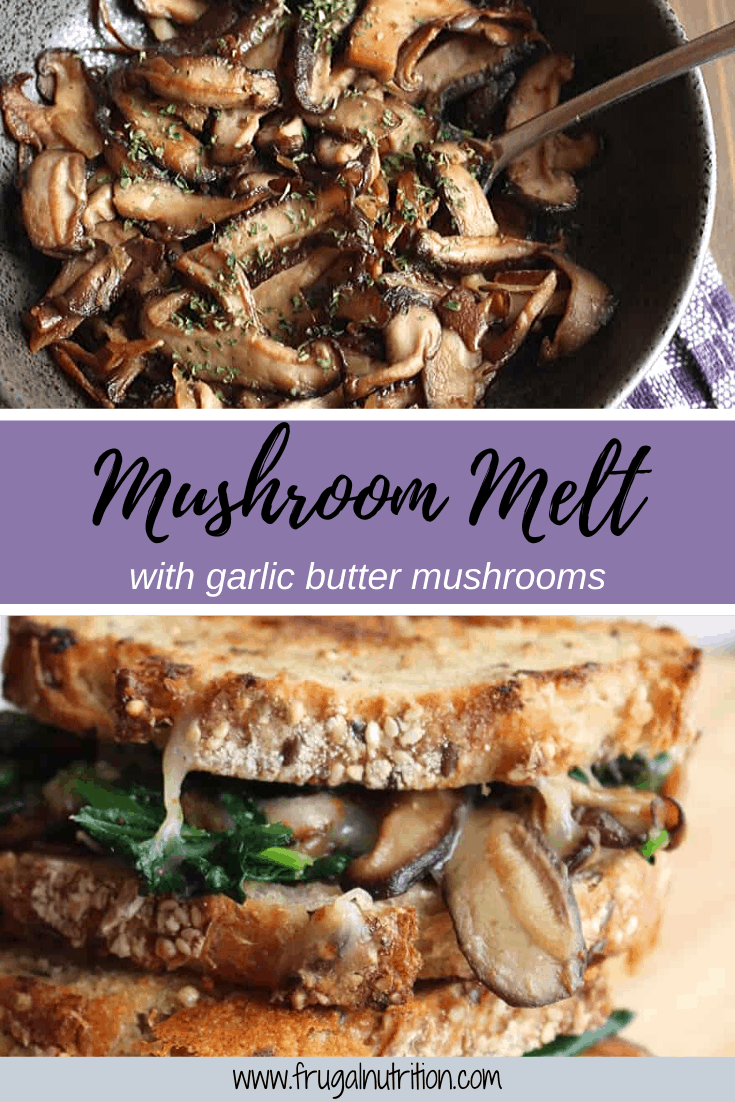 Dietary Modifications for this Recipe:
Vegetarian: Yes! For Vegan, use plant-based butter and plant-based cheese. (Violife, Chao, and Miyokos taste best in my opinion.)
Paleo: No, but I think you could finagle your way into something similar. Try Bread Srsly for Paleo-ish bread, coconut aminos for soy sauce, ghee for butter, and maybe some Kite Hill or Treeline or Spero cream cheese in place of cheese. Other Paleo ideas here!
Low FODMAP: Unfortunately, this would be tough to make fully low FODMAP. However, you can reduce FODMAPs here by choosing a low-lactose cheese and replacing the garlic with garlic-infused olive oil.
Looking for More Recipe Inspiration?
Check out a few of these recipes below:
Let me know what you think! Don't forget to leave a comment and star rating below!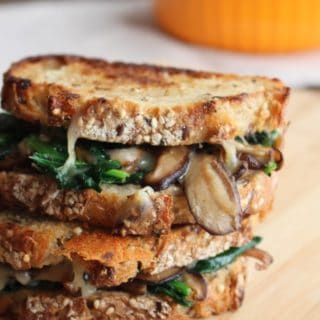 Mushroom Melt Grilled Cheese
This delicious mushroom melt - or mushroom grilled cheese - is an absolute crowd pleaser! These garlic butter mushrooms will even convert the mushroom haters!
Ingredients
For the Mushrooms:
1-1 ½

Tablespoons

butter

2

cloves

garlic

4

ounces

mushrooms

shiitake, button, cremini, etc.

1

teaspoon

soy sauce
For the Mushroom Melt:
1

cup

fresh spinach

chopped

½

cup

shredded cheese

gruyere, mozzarella, provolone all work here

red pepper flakes or cayenne pepper

1

Tablespoon

butter

4

slices

bread

hearty wheat/seedy/whole grain bread is the bomb
Instructions
For the Mushrooms: Melt the butter in a large skillet (mine is nonstick) over low heat. Peel the garlic and crush it with the flat side of your knife, then slice it into strips. Add to the butter and cook over LOW HEAT for about 2 minutes. (It should not brown. If it does, the heat is too high.)

Wash the mushrooms and slice them into ⅛-1/4 inch slices. Add to skillet, and stir to coat with butter, then spread out. Cook undisturbed for 5 minutes. Stir and cook 5 minutes more. Increase the heat to about medium-low and cook for about 5 minutes to brown the mushrooms.

Finally, add a splash of soy sauce (about 2 teaspoons). Stir well and cook for just another 30-60 seconds. Taste and adjust seasoning as necessary.

For the Mushroom Melt: Combine the spinach with the mushrooms and sauté just until the spinach has wilted. Place in a bowl and mix with the shredded cheese and cayenne or red pepper flakes. (If using slices, I recommend ripping them up and combining them with this mixture.)

Stovetop: Melt the 1 Tablespoon butter in the skillet and place two pieces of bread in the skillet. Top with the mushroom-spinach-cheese mixture and the other two slices of bread. Grill for a couple of minutes, until the bread has gotten dark and crispy. Flip and cook the other side another few minutes. Remove from heat, slice in half, and serve!

Toaster: Top two slices of bread with the mushroom-spinach-cheese mixture and place in toaster (maybe on a toaster sheet to avoid spillage). Place the other two slices of bread in the toaster as well. Toast on about medium for 4-8 minutes. Every toaster is different so be sure to check your bread often! Close up the sandwiches, cut in half, and serve.
Nutrition
Calories:
385
kcal
Carbohydrates:
31
g
Protein:
15
g
Fat:
23
g
Saturated Fat:
13
g
Polyunsaturated Fat:
2
g
Monounsaturated Fat:
6
g
Trans Fat:
1
g
Cholesterol:
60
mg
Sodium:
736
mg
Potassium:
387
mg
Fiber:
3
g
Sugar:
5
g
Vitamin A:
2035
IU
Vitamin B1:
0.3
mg
Vitamin B2:
0.5
mg
Vitamin B3:
5
mg
Vitamin B5:
1
mg
Vitamin B6:
0.2
mg
Vitamin B12:
1
µg
Vitamin C:
6
mg
Vitamin D:
0.2
µg
Vitamin E:
1
mg
Vitamin K:
77
µg
Calcium:
238
mg
Copper:
0.3
mg
Folate:
89
µg
Iron:
3
mg
Manganese:
1
mg
Magnesium:
48
mg
Phosphorus:
240
mg
Selenium:
27
µg
Zinc:
2
mg
Choline:
33
mg