Friends! Warm weather has finally arrived here in Baltimore, MD. And I am ready to cel-eh-brate. This year we have a rooftop deck and a courtyard available to us, so I envision a lot more outside meals and cookouts! To kick things off, I've got an excellent round up of cookout recipes - gluten-free, dairy-free, and Paleo-friendly, just in time for Memorial Day.
As much as I love a good barbecue / cookout / grill out (seriously, who knew it was so regional?!), I don't usually love the food. Corn hurts my insides and fake mayonnaise-slathered potato salad has never been my thing. I can get down on some sausage and barbecue chicken, but I've never liked standard buns for hotdogs and burgers, and store bought desserts wilting in the warm weather are not super exciting.
I almost always end up bringing salad, since it's easy and I'm guaranteed to get some vegetables, but I wanted variety - in salads and otherwise - so I asked a few of my blog friends for their favorite or most popular Paleo cookout recipes, and I'm sharing them here for us all!
Salads for Paleo Cookouts
As I said, salads are kind of my thing, so I figured we'd kick things off with a few all-star summer salads that are real crowd pleasers.
Jayme's Summer Vegetable Salad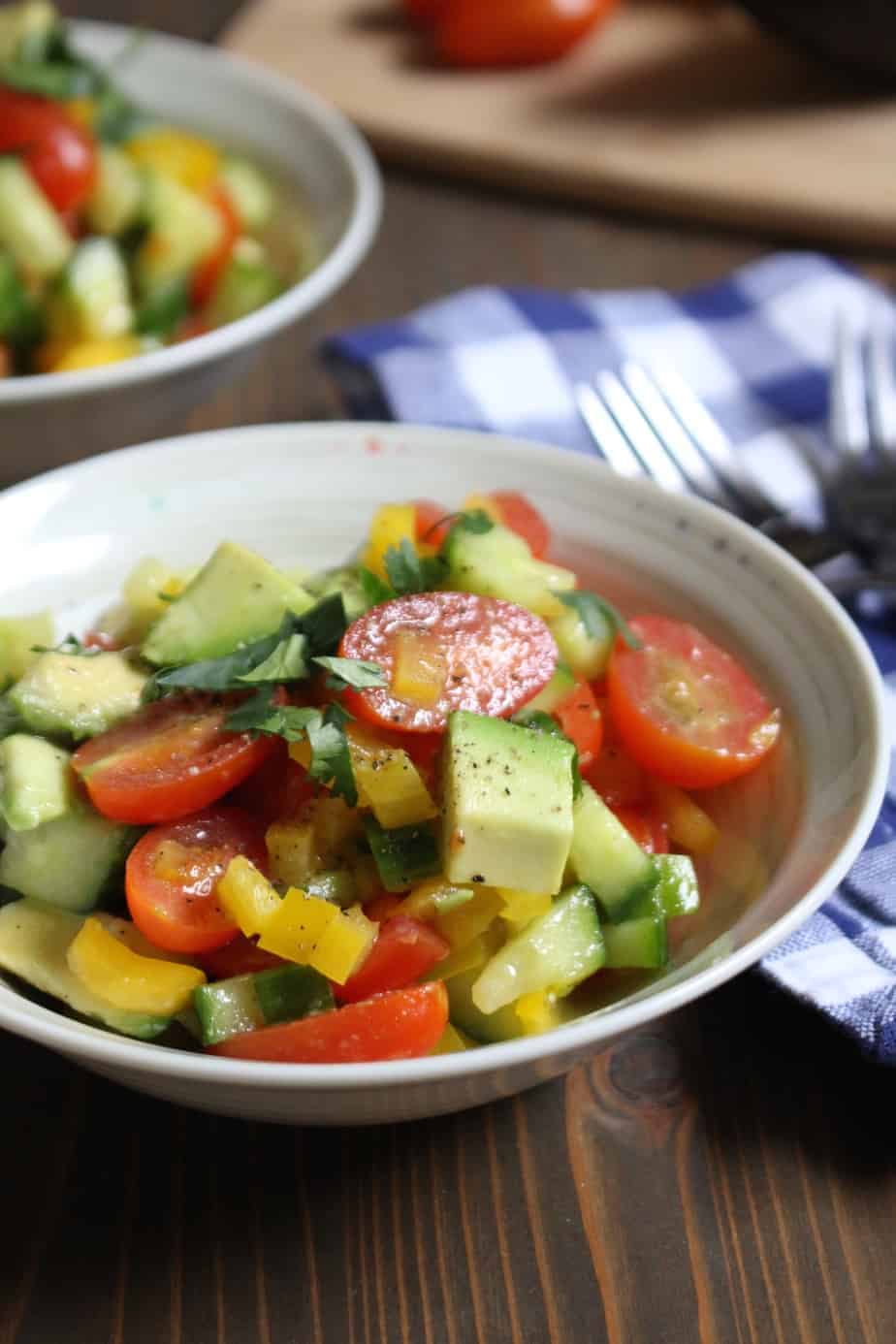 You can't go wrong with a lettuce-free salad, and those colors are hard to beat! Pro tip: prepare everything ahead of time except the avocado. Drizzle a little lemon or lime juice over the avocado and add it after you arrive to the party. Here: Jayme's Summer Vegetable Salad.
Massaged Kale Salad with Tahini Dressing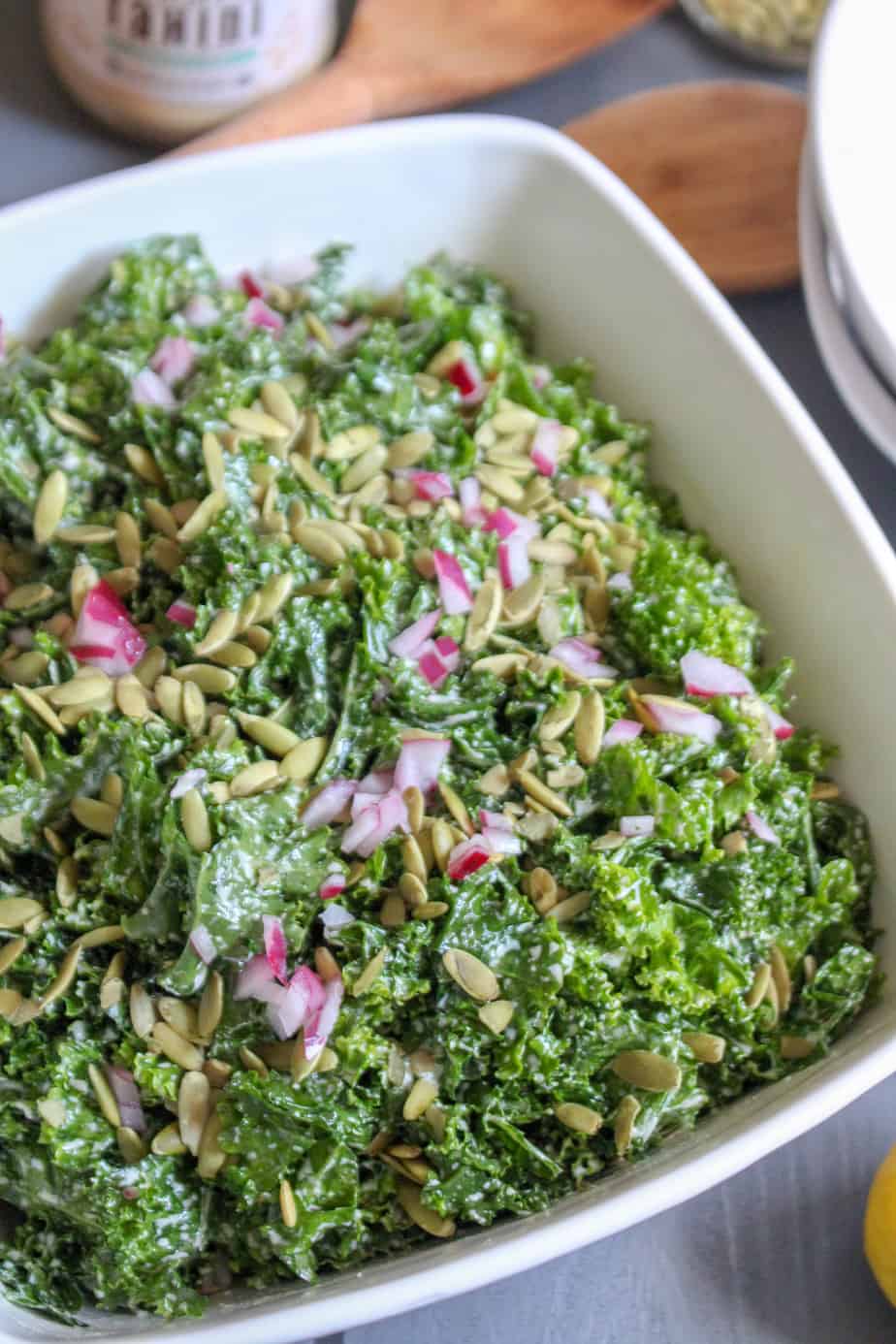 Has anyone else's love-hate relationship with tahini recently blossomed into a love-love-love relationship? Creamy, flavorful dressings like this one have put tahini back on the menu for me! Here: Massaged Kale Salad with Tahini Dressing
Awesome Cucumber Salad with Sesame Dressing
Keeping it simple this time around? Go for this cucumber salad. Swap soy sauce for coconut aminos and be prepared for a real show stopper. Even picky kids love this combination! Here: Simple Cucumber Salad with Sesame Dressing
Watermelon, Cucumber, & Jicama Salad (The Rising Spoon)
All hail jicama! Watermelon is such a perfect summer treat, and jicama, a crisp apple-like tuber is one of my all-time favorites. This recipe is a real winner, and if you don't make it for Memorial Day, those colors would be perfect for the Fourth of July! Watermelon, Cucumber, & Jicama Salad.
Broccoli Salad (Bowl of Delicious)
My childhood fear of mayonnaise kept me far away from broccoli salads growing up, but I was really missing out. Don't make the same mistake - make this beautiful broccoli salad for all your summer cookouts!
Slaws for Paleo Cookouts
I grew up with a super sugary sweet slaw that everybody loved, but these new iterations with lots of spice and lots of crunch. Try these awesome slaw salads to shake things up.
Jalapeño Cilantro Slaw (Bowl of Delicious)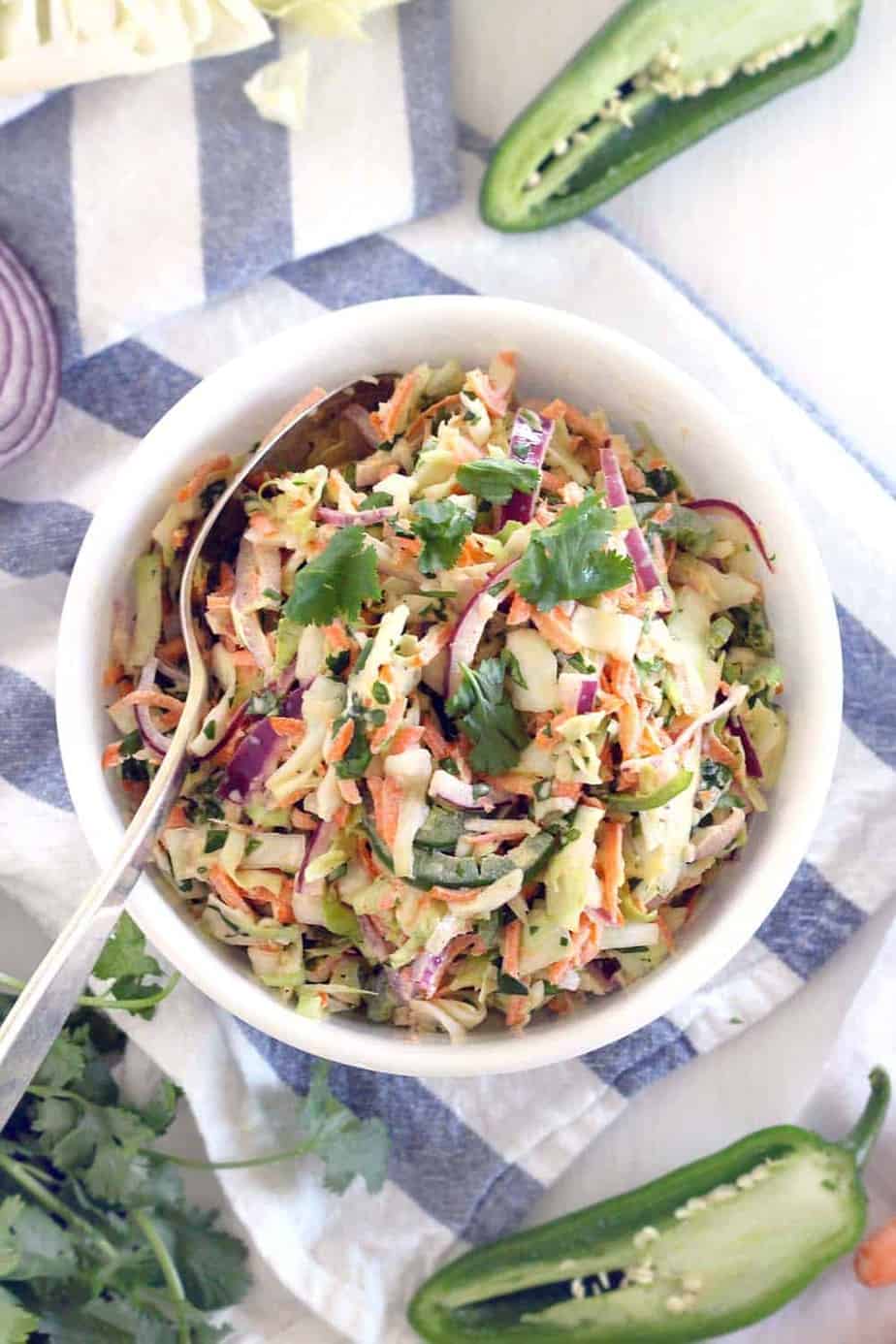 Spicy slaw is trendy and I am here. for. it. This slaw kicks things up with sliced or minced jalapeño, which pairs perfectly with all things barbecue.
BLT Coleslaw (The Whole Smiths)
I don't care how many iterations there are of the classic BLT, they all bring me back to my childhood summer eats, which earns this one a spot on the list. This BLT Coleslaw is sure to round out Memorial Day eats quite nicely! Bonus points for using a Paleo avocado oil mayonnaise like Primal Kitchens!
Appetizers & Snacks For Paleo Cookouts
Herbed Deviled Eggs (A Clean Bake)
Deviled eggs were a standard at every family function growing up - and and I still love my mom's recipe! But this version from A Clean Bake is packed with herbs and gives a nod to high-quality mayonnaise, which I am all about. Here: Herbed Deviled Eggs
Sauces & Salsas for Paleo Cookouts
Spicy Mango Salsa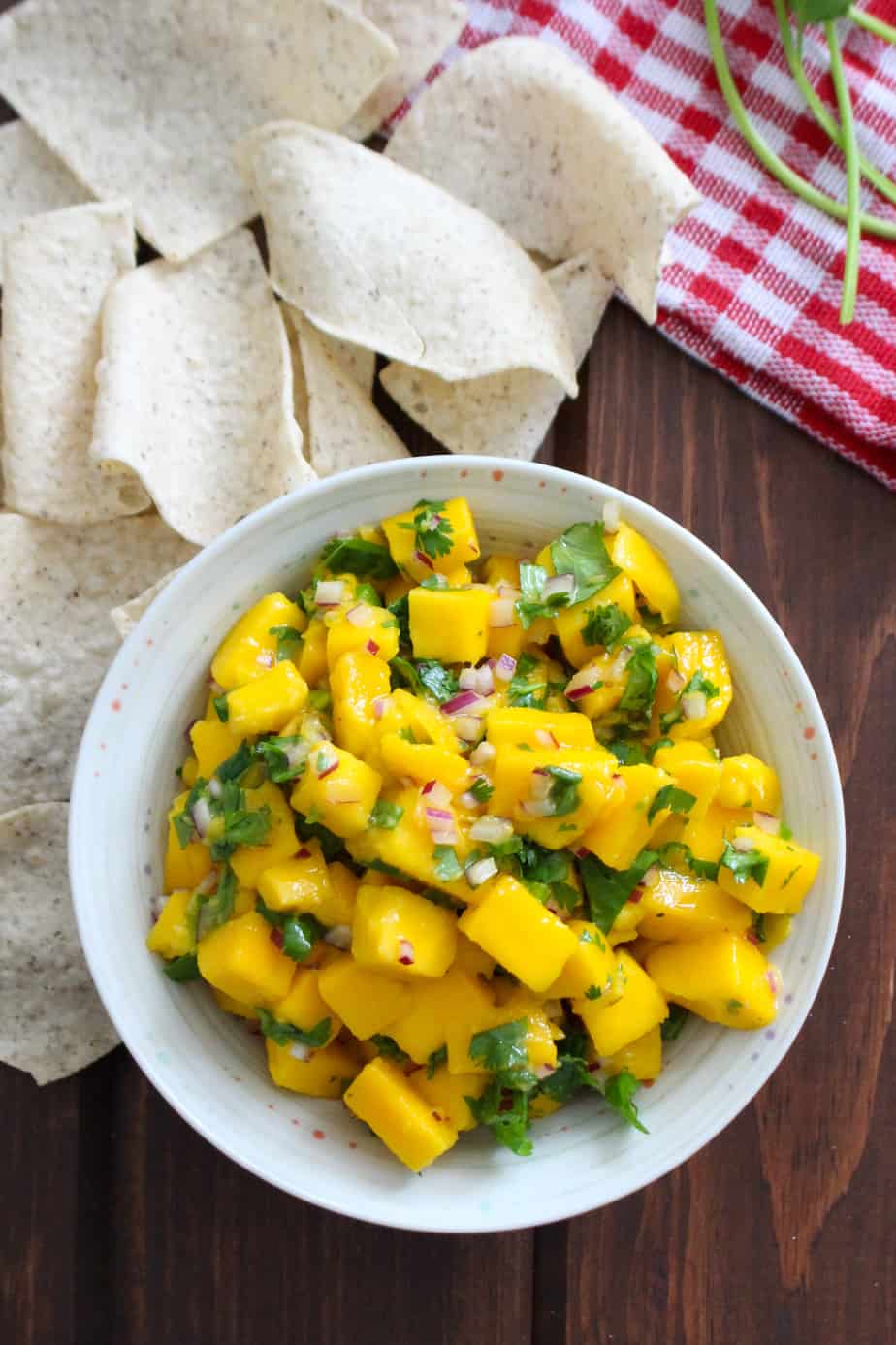 I started making this recipe back in 2011, and if you live in an area bursting with bright mangoes, I suggest you get on board ASAP! Start with more or less jalapeño as desired, and feel free to add cucumber or bell peppers if it's too spicy. Recipe: 2 mangoes, 2 Tablespoons lime juice, ¼ jalapeño, ¼ red onion, minced, ¼ cup chopped cilantro.
Here: Spicy Mango Salsa
Chimichurri Sauce (Cooking Carnival)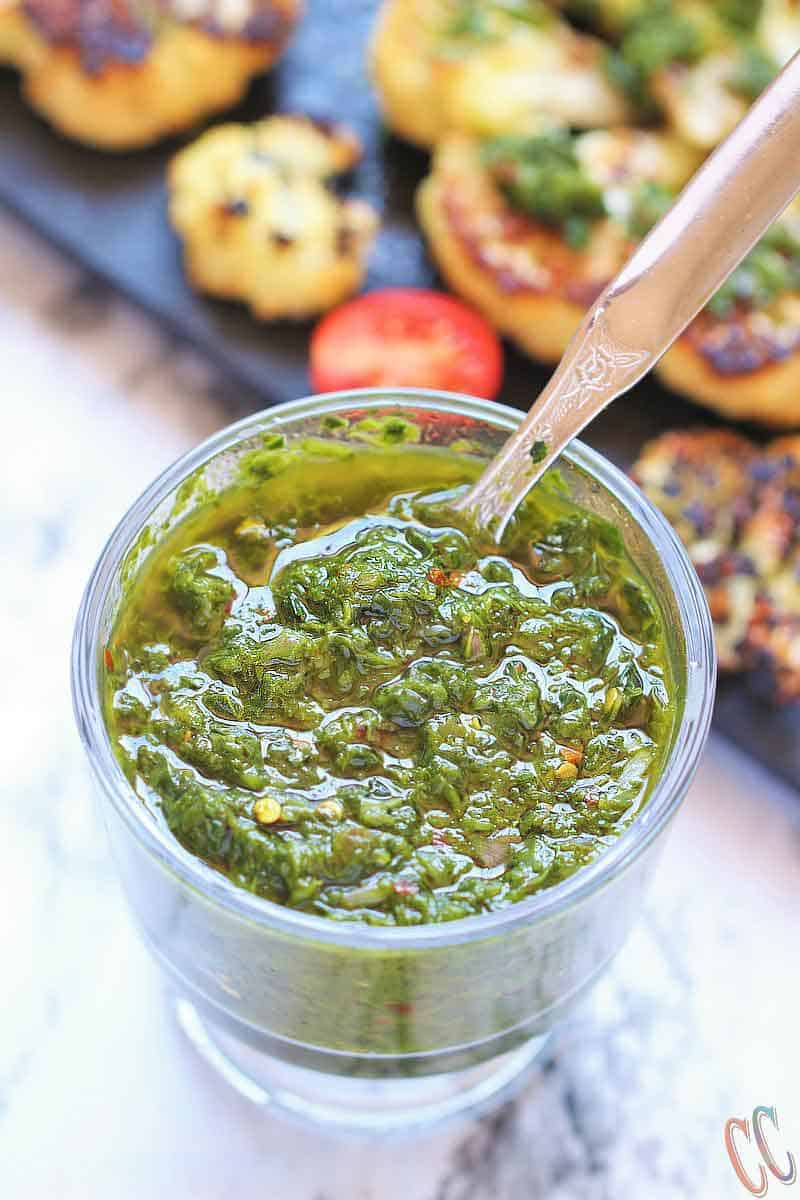 Not much pairs better with grilled meats than fresh sauces, like this herb-packed chimichurri sauce by Cooking Carnival. Plus, all those extra nutrients from the herbs are a much needed boost for a long holiday weekend.
Veggie Cream Cheese Dip (Paleo Running Momma)
Cream cheese is one of my favorite foods, but some of us are a little more dairy sensitive than the general population. To compensate, I've been loving the cream cheese substitutes made from nuts (Tree Line, Kite Hill), and this homemade veggie cream cheese dip is packed with veggies and would be perfect with crackers or crudité.
And that's it! Have a happy and healthy summer grilling season!