Recipe: $2.83 | Per Serving: $0.71 | Yield: 4 | Jump to Recipe
I've been bringing this spicy mango salsa to barbecues, cookouts, and grill outs since my San Diego days and it NEVER disappoints! There's something so compelling about a sweet & spicy combo, and mango-jalapeño salsa fits the bill.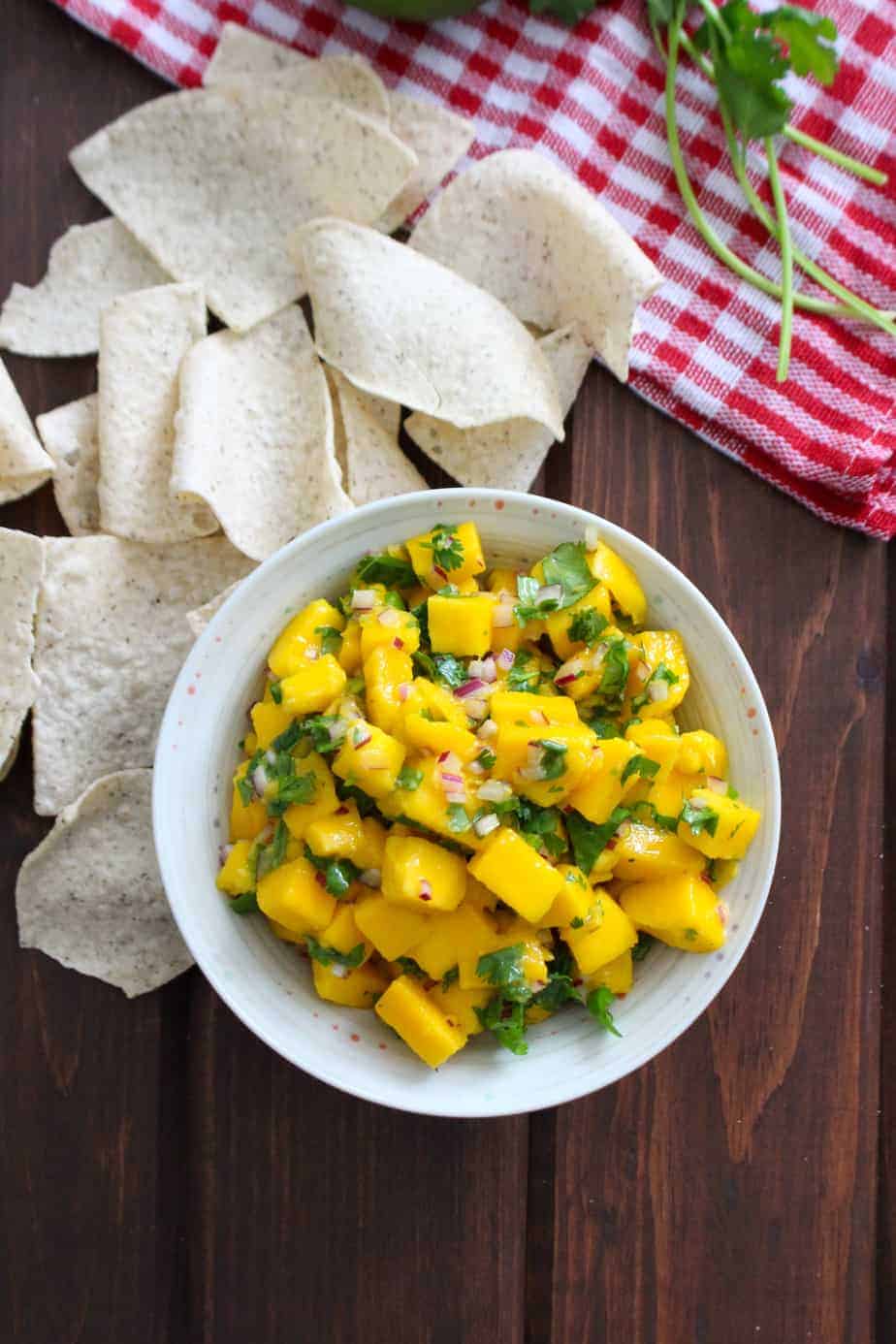 This recipe is sweet, spicy, tangy - and super simple.
Mangoes are the star of the show here, but I've found that you can often hide an overripe mango in this salsa. As long as it isn't mushy, the lime helps to brighten it up and it works well.
How to Cut a Mango
There are a few different methods for cutting mangoes, but my favorite uses a glass to scrape the cut mango out of the peel. (You can also use a spoon, which works equally as well.)
First, stand the mango up and cut along the pit, starting with the two wide sides. Try to avoid cutting into the pit.
Next, cut a crosshatch shape into the mango so that the pieces look bite-sized.
Finally, using a glass, place the inside edge of the mango peel on the edge of the glass. Scrape the peel along the glass to release the diced mango bits into the glass. (Alternatively, you can scoop the diced pieces out with a spoon.)
If you're only doing a few mangoes, the spoon works well. But, if you're making a large batch, I find the glass method to be faster and easier.
I have made this mango salsa with lots of different add-ins, and I usually keep a cucumber on hand in case the jalapeño is a little too spicy. Bell pepper and avocado are other fun additions, but I recommend only adding the avocado right when you're ready to serve it.
Can you use a different pepper?
Yes! Definitely. I really enjoy the flavor of jalapeños, but you could totally swap in something else like habaneros or serranos. Check heat levels though - habaneros are notably spicier so you should start with a quarter and add more from there.
What to Serve with Mango Salsa?
I think mango salsa is perfect on its own or with chips at a barbecue. Fish and fish tacos are also a classic pairing. However, it's also great with cumin-spiced steak, as shown below.
You can't go wrong! Just make it and eat it!
Paleo: Yep!
Vegetarian: Yep!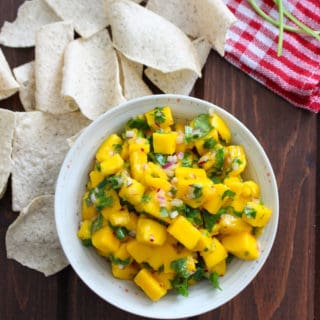 Spicy Mango Salsa
This spicy mango dip is perfect for summer get-togethers! Too spicy? Add cucumber!
Ingredients
1

large

ripe red mango

peeled, pitted, and diced (about 1 ½ cups)

½

medium

red onion

finely chopped

1

jalapeño

minced (include ribs and seeds for a spicier taste, if desired)

2-4

tablespoon

fresh cilantro leaves

chopped

3

tablespoon

fresh lime juice

1

pinch

sea salt

to taste

Optional: diced red bell pepper

cucumber, jicama.
Instructions
Prepare the mango: stand the mango up and slice down each side of the pit, avoiding the fibrous core. Hold the half a mango carefully skin side down and gently cut a checkerboard in the mango's flesh. You can then use a spoon or the side of a glass to scoop out the diced mango.

Combine all ingredients in a large bowl. If time, let sit 30-60 minutes before serving.

Serve with vegetable crudité, siete tortilla chips, in tacos, or with any protein of choice!
Notes
If using yellow "honey" mangoes, you'll probably need two.
Cucumber is great to add if the salsa is a little too spicy.
Other great add-ins = jicama, diced red bell peppers.
Nutrition
Calories:
40
kcal
Carbohydrates:
10
g
Protein:
1
g
Fat:
0.2
g
Saturated Fat:
0.1
g
Polyunsaturated Fat:
0.05
g
Monounsaturated Fat:
0.1
g
Sodium:
11
mg
Potassium:
130
mg
Fiber:
1
g
Sugar:
8
g
Vitamin A:
617
IU
Vitamin B1:
0.03
mg
Vitamin B2:
0.03
mg
Vitamin B3:
0.4
mg
Vitamin B5:
0.1
mg
Vitamin B6:
0.1
mg
Vitamin C:
27
mg
Vitamin E:
1
mg
Vitamin K:
4
µg
Calcium:
11
mg
Copper:
0.1
mg
Folate:
27
µg
Iron:
0.1
mg
Manganese:
0.1
mg
Magnesium:
8
mg
Phosphorus:
14
mg
Selenium:
0.4
µg
Zinc:
0.1
mg
Choline:
6
mg