Recipe: $2.64 | Per Serving: $0.66 | Yield: 4
I really don't mean to be obnoxious, but these should be called OMG MUSHROOMS. With GARLIC. And BUTTER. And a secret ingredient...which is actually just soy sauce. So simple! And I'm pretty sure they're better than any mushrooms you've ever had. Especially if you can get your hands on meaty mushrooms like shiitakes.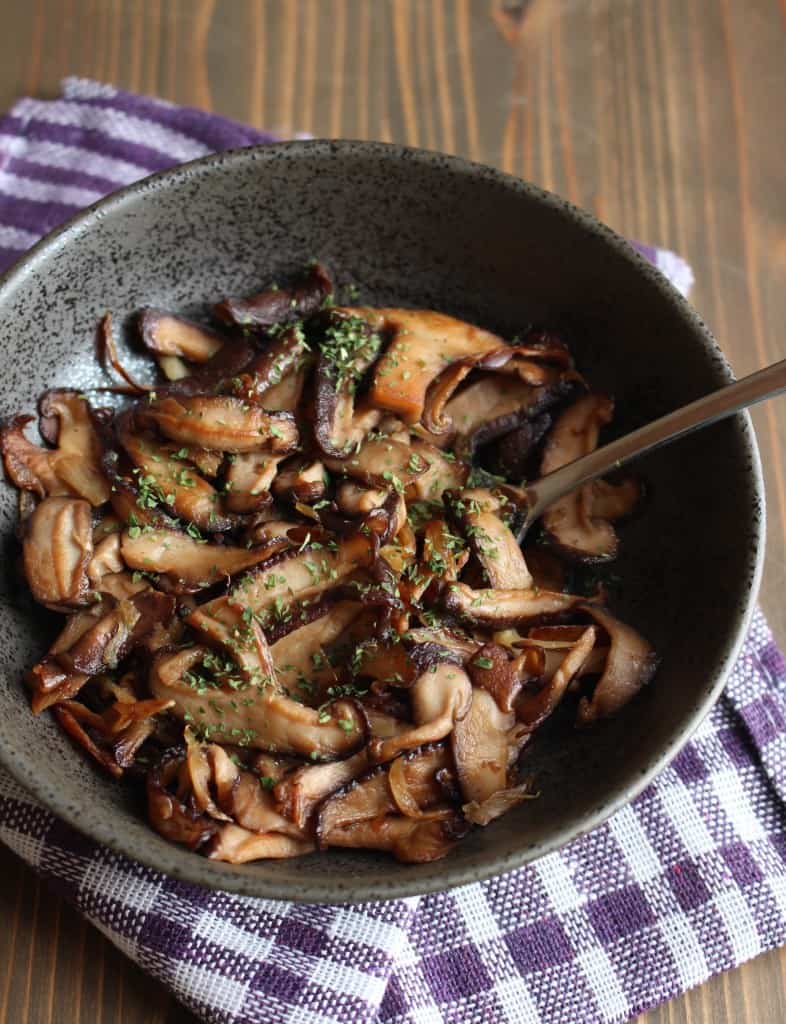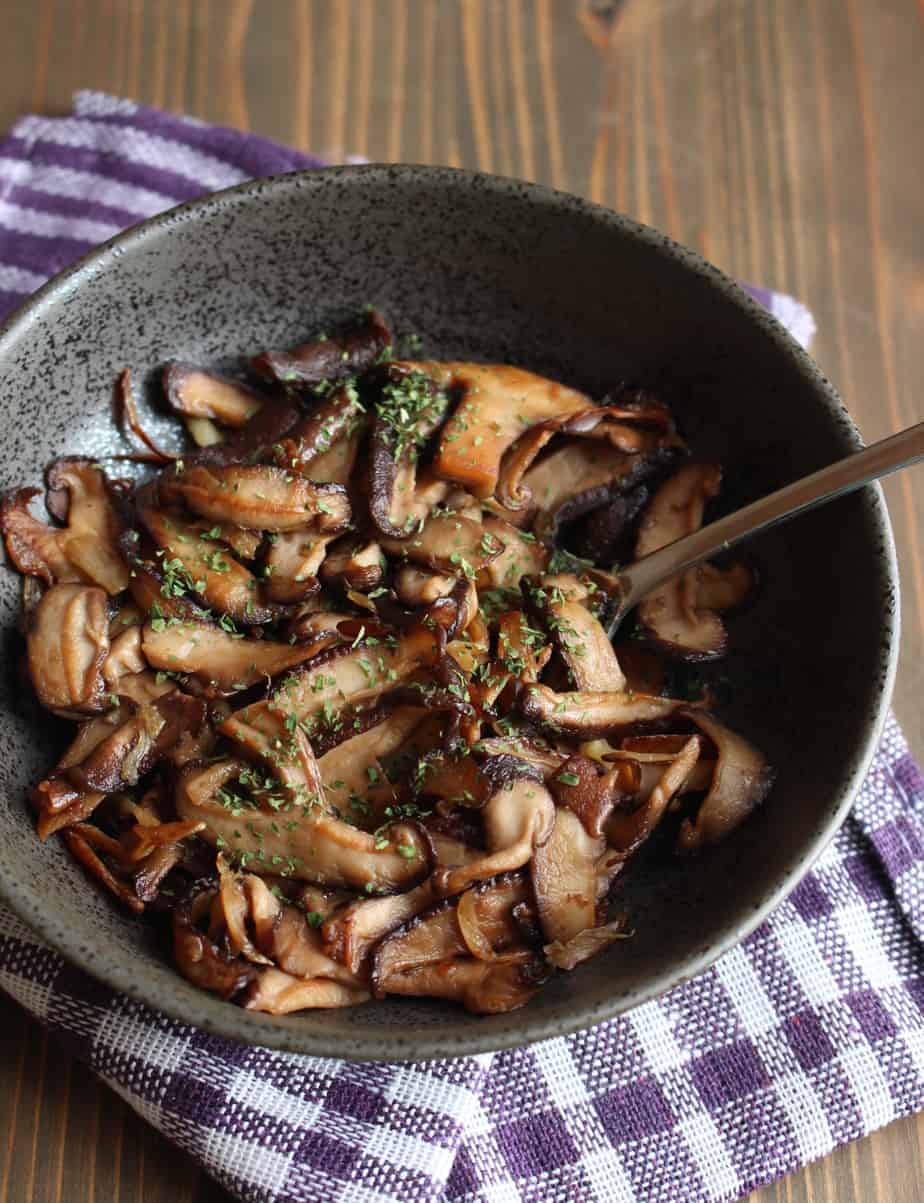 A few weeks before the Christmas holidays, we went out to dinner with a lovely Japanese friend who took us to a fun tapas-like place in Roppongi Hills near Maman, that giant spider statue. We ate a bunch of different grilled meats and vegetables and salads and stuff, but the grilled garlic butter mushrooms stole the show!
And I was dreaming about them for about 24 hours, so then I just went to the store and bought the ingredients and tried the dish myself. So amazing!
The restaurant used oyster mushrooms, which we used at first, but we've tried it with button mushrooms, maitake, and shiitake. My favorites are shiitake and oyster mushrooms, but the button mushrooms are super delicious, just not quite as meaty. (And they shrink a lot more!)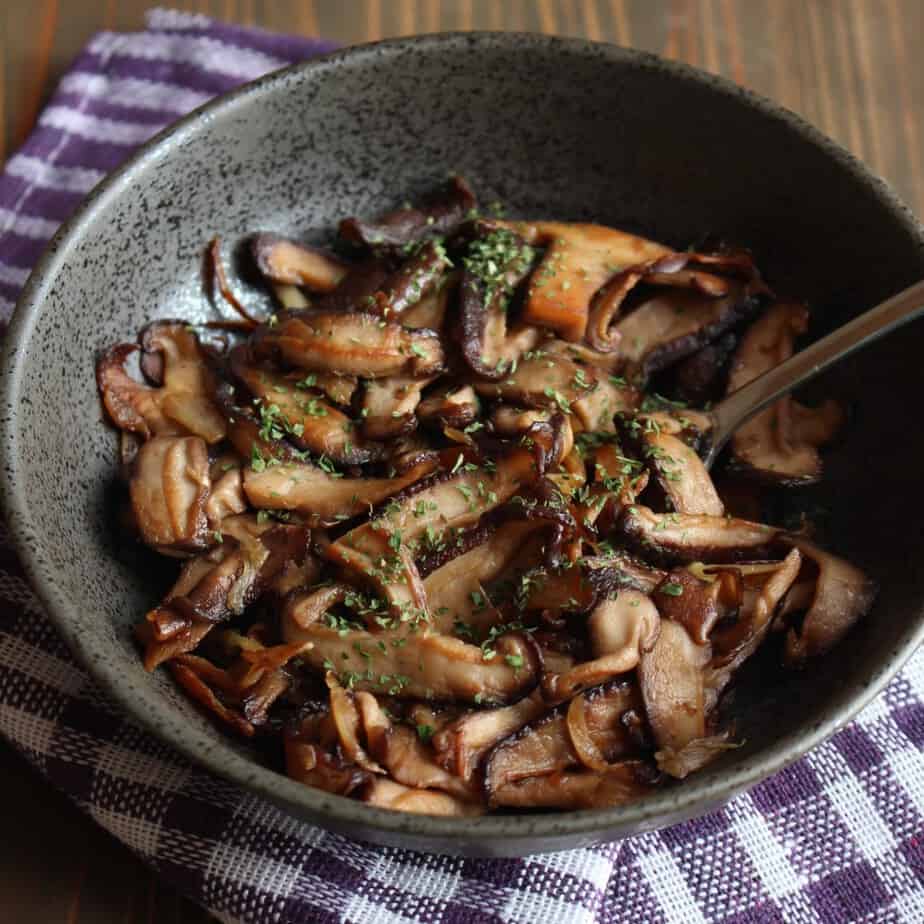 These mushrooms are great as a side dish to any kind of meat or roasted vegetables, mixed into pasta, added to pizza, or made into a super fantastic grilled mushroom melt. Seriously. Please make these.
What Goes Well With Mushrooms?
Mushrooms go well with:
Asparagus
Prosciutto
Cauliflower rice (especially garlic and ghee cauliflower rice!)
Rice bowls
Pasta - you can toss these in with sausage, arugula, and red lentil pasta for a great protein-packed meal
Sweet potatoes and winter squash
Herbs: thyme pairs especially well with mushrooms!
Mushrooms are an umami-packed flavor powerhouse, and in my opinion, they pair well with everything! However, I particularly like these garlic-butter mushrooms with kale & soba.
But I wouldn't say no to pizza with these mushrooms and some fresh asparagus.
How to Make Garlic Butter Soy Sauce Mushrooms
First, you want to start by making garlic butter. You can simply do this by melting butter and cooking the minced garlic over low-medium heat, Make sure you keep an eye on it and turn it down if it starts to brown. Dark garlic is bitter garlic. We want golden colors here!
Next, you want to coat the mushrooms with the butter. You can choose to strain out the garlic solids if you want this to cook faster, but otherwise keep cooking it low and slow. The mushrooms should brown on each side for about 5 minutes.
Keep cooking on low heat for 5 minutes if they're not quite brown enough, then splash with soy sauce and salt if desired - this should be just a 30-60 second step. And then you're done! Serve as is or make a delicious mushroom melt!
PIN THIS RECIPE FOR LATER!
Paleo: Not as is, but you can replace the soy sauce with coconut aminos and/or fish sauce, or just omit it and add salt.
Vegetarian: Yep!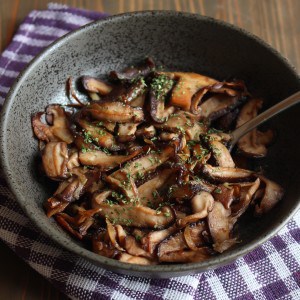 Garlic Butter & Soy Sauce Mushrooms
This delicious and easy mushroom side is rich in flavor and quite simple to put together. Pair it with sushi, dim sum, or use the mushrooms in grilled cheese
Ingredients
2-3

Tablespoons

butter

4

cloves

garlic

8

ounces

mushrooms

about 240 grams - I recommend shiitake, but button/cremini work too.

2

teaspoons

soy sauce

use Tamari for gluten-free
Instructions
Melt the butter in a large skillet (mine is nonstick) over low heat. Peel the garlic and crush it with the flat side of your knife, then slice it into strips. Add to the butter and cook over LOW HEAT for about 2 minutes. (It should not brown. If it does, the heat is too high.)

Wash the mushrooms and slice them into ⅛-1/4 inch slices. Add to skillet, and stir to coat with butter, then spread out. Cook undisturbed for 5 minutes. Stir and cook 5 minutes more.

After 10 minutes, the mushrooms should be much smaller and starting to get brown. Increase the heat to about medium-low and cook for about 5 minutes to brown the mushrooms.

Finally, add a splash of soy sauce (about 2 teaspoons), and a little sprinkle of salt (if desired). Stir well and cook for just another 30-60 seconds. Taste and adjust seasoning as necessary. Remove from heat and serve.
Notes
For Paleo / Gluten-free: I recommend skipping the soy sauce and using 1 teaspoon coconut aminos and 1 teaspoon fish sauce.
Nutrition
Calories:
69
kcal
Carbohydrates:
3
g
Protein:
2
g
Fat:
6
g
Saturated Fat:
4
g
Polyunsaturated Fat:
0.3
g
Monounsaturated Fat:
1
g
Trans Fat:
0.2
g
Cholesterol:
15
mg
Sodium:
216
mg
Potassium:
200
mg
Fiber:
1
g
Sugar:
1
g
Vitamin A:
175
IU
Vitamin B1:
0.1
mg
Vitamin B2:
0.2
mg
Vitamin B3:
2
mg
Vitamin B5:
1
mg
Vitamin B6:
0.1
mg
Vitamin B12:
0.04
µg
Vitamin C:
2
mg
Vitamin D:
0.1
µg
Vitamin E:
0.2
mg
Vitamin K:
1
µg
Calcium:
9
mg
Copper:
0.2
mg
Folate:
10
µg
Iron:
0.4
mg
Manganese:
0.1
mg
Magnesium:
7
mg
Phosphorus:
59
mg
Selenium:
6
µg
Zinc:
0.3
mg
Choline:
13
mg