Recipe: $5.04 | Per Serving: $0.42 | Yield: 12
If you can't tell from the title of this blog: I love making healthy meals cheaper. Which is one reason I super love Leanne Brown, author of the cookbook Good & Cheap: Eat Well on $4 a Day. (With a free PDF!) I mean, who ever imagined they could make a pretty healthy burger for less than 50 cents?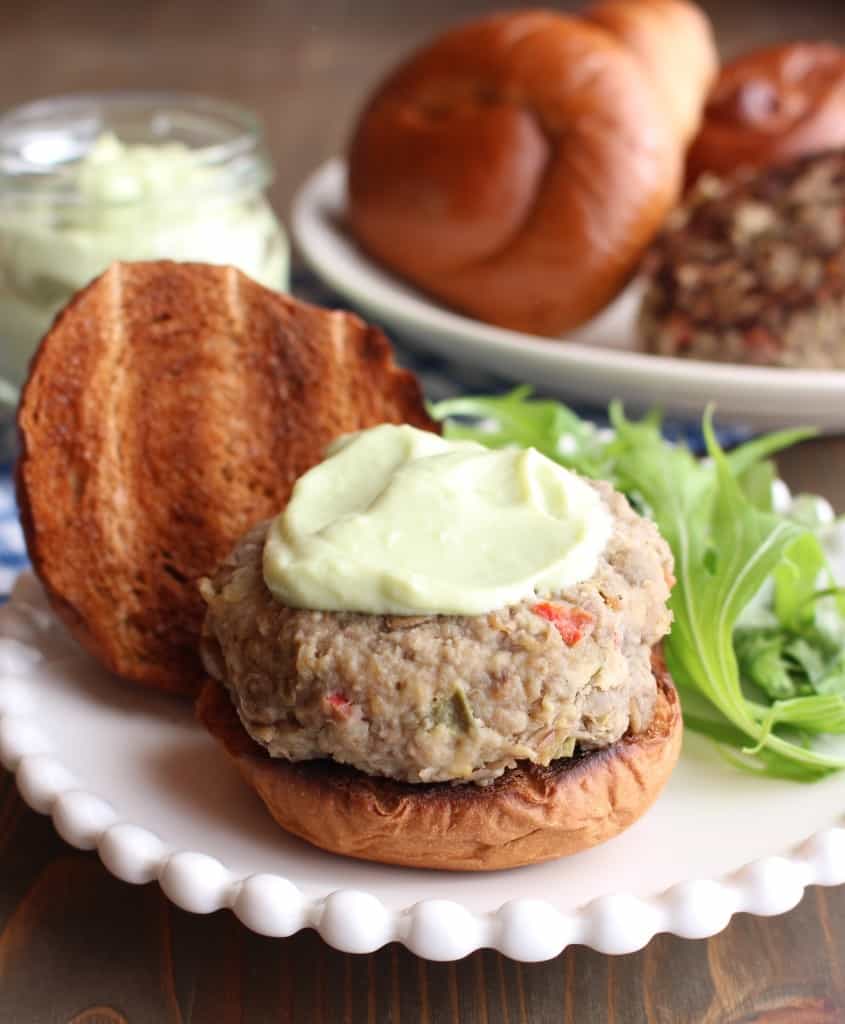 I could go on forever about her mission and her cookbook and her charity and more, but I think most people just want to know about the recipe. I did a series using her recipes to help promote her cookbook last fall (Raita, Roti, Lentil Dal, Jalapeño Cheddar Scones), but one thing I love about her recipe-writing is that she leaves lots of room for modifications. Which is why it is so easy to make changes to these Lentil Turkey Burgers!
The burgers are inspired by the "Half-Veggie Burgers" found in her cookbook. I took it a step further and added jalapeños, replaced the beef with turkey, and topped it off with avocado yogurt sauce. DELICIOUS. I really love lentils, and I often cook them with ground beef to stretch the meaty flavor without eating pounds and pounds of beef. And swapping out the beef for turkey was easy for me; ground beef is often difficult to find here in Japan. I've made these with a pork-beef mixture (commonly sold here), but never with straight ground beef.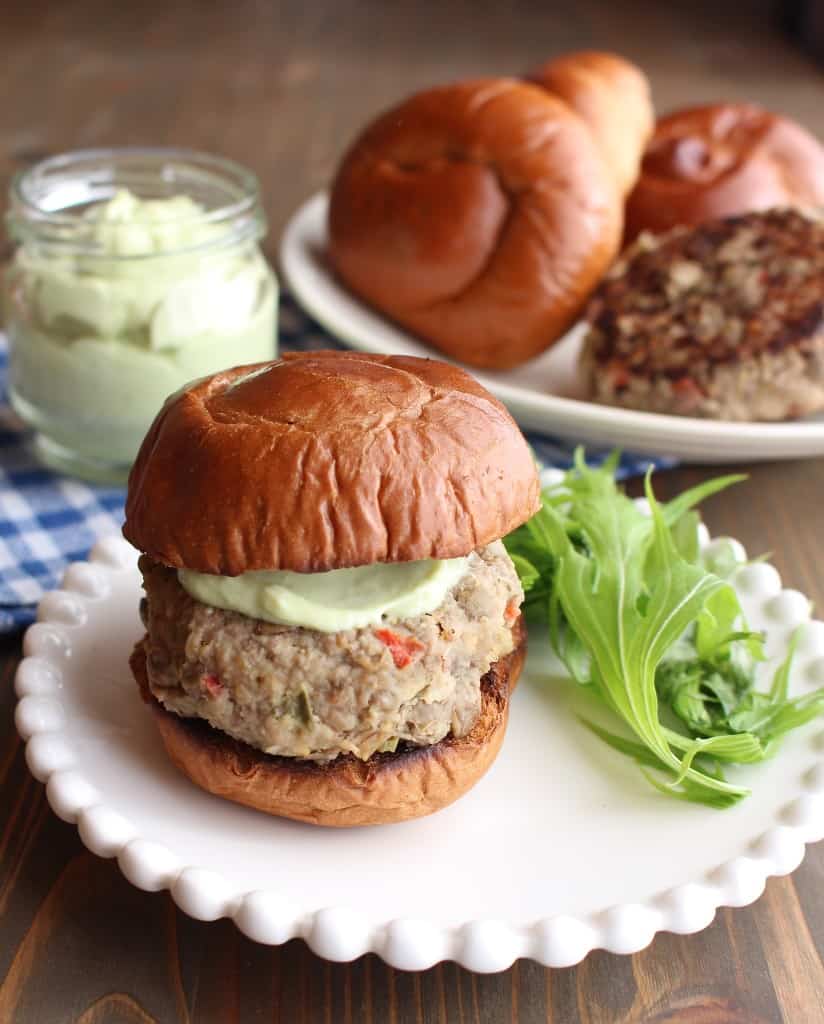 Benefits of this recipe:
lentils are waaaaay cheaper than meat
combining lentils & meat ensures a flavorful burger that doesn't fall apart as easily as an all-bean burger
6 ingredients!
The price for this recipe doesn't include buns, cheese, or toppings, so keep that in mind when you're making your grocery list. Zac has informed me on multiple occasions that burgers without buns aren't burgers, and that a burger salad is also not a burger. Apparently I don't know the rules.
Serve with salad, fries, etc. My favorite pairing? Roasted Kabocha Squash!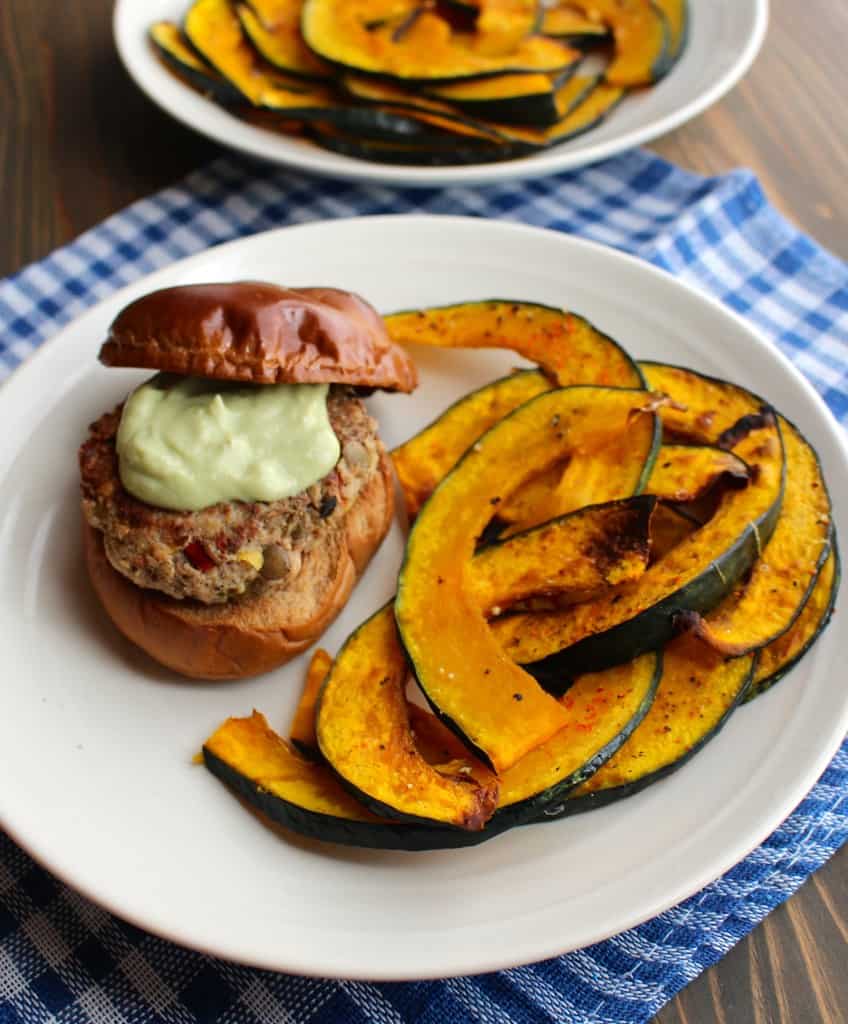 For Paleo: sorry, nope - just make a regular burger with some jalapeños and vegetables mixed in?
For Vegetarian: sorry, nope - try a mushroom lentil burger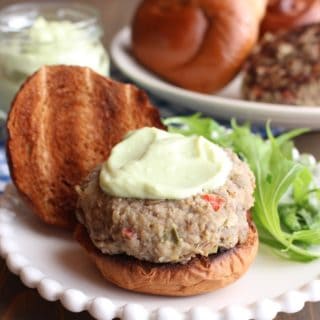 Turkey Lentil Burgers
Adapted from Leanne Brown's Good and Cheap: Eat Well on $4 a Day
Ingredients
3

cups

cooked lentils

from 1 cup dry

1

cup

finely chopped vegetables

bell pepper, carrot, onion, etc.

2

jalapeños

fresh or pickled, finely minced

½

teaspoon

salt

½

teaspoon

pepper

1

pound

ground turkey

chicken, beef, or pork
Optional for grilling or eating immediately
1

egg

⅓

cup

panko

or breadcrumbs
Instructions
Cook 1 cup lentils: pour in a pot and cover with water, then bring to a boil. Reduce to a low simmer and cook uncovered for 20 minutes, or until soft. Drain.

Mash lentils in a large bowl using a fork or potato masher.

Mince the vegetables and add to the bowl. Finely mince the jalapeños. (If using pickled jalapeños, blot excess liquid with a paper towel.) Add salt and pepper and mix well, ensuring everything is evenly distributed.

Finally, add the ground turkey and combine well. Divide mixture into 12 patties, as seen here, or 8 large patties. Be sure to pack them between your hands to help them stick together. Cook burgers either on the stovetop or in the oven. *See notes for grilling.

Stovetop: Heat about 1 Tablespoon oil (coconut or bacon grease is recommended, but olive oil works) in a large skillet. Place patties in pan and loosely cover. (You are cooking them well-done, but you don't want to trap too much steam.) Cook on medium heat for about 2-3 minutes. Remove lid, flip, and cook uncovered on other side for 2 minutes. Check to ensure they are 100% done. Turkey burgers should always be cooked well done!

Oven: Preheat oven to 400ºF. Cook patties on a parchment-lined baking sheet for about 10 minutes, or until cooked through. Check to ensure they are 100% done. Turkey burgers should always be cooked well done!

Let burgers cool before plating to help them stay together.
Notes
I like making the burgers exactly as written in this recipe because I make them ahead, and once they've chilled in the fridge, they stay together well. However, if you are making them to grill or to eat immediately, I recommend adding 1 egg and about ⅓ cup panko or bread crumbs because this helps them stay together.
Leanne (author of Good & Cheap) recommends adding just the egg if you are grilling them, but I think the bread crumbs also help absorb some of the moisture from the vegetables and lentils.
I've made these with turkey, pork, and beef - so just use whatever ground meat you prefer.
Nutrition
Calories:
122
kcal
Carbohydrates:
13
g
Protein:
15
g
Fat:
1
g
Saturated Fat:
0.4
g
Polyunsaturated Fat:
0.5
g
Monounsaturated Fat:
0.4
g
Trans Fat:
0.01
g
Cholesterol:
34
mg
Sodium:
142
mg
Potassium:
342
mg
Fiber:
5
g
Sugar:
1
g
Vitamin A:
829
IU
Vitamin B1:
0.1
mg
Vitamin B2:
0.1
mg
Vitamin B3:
5
mg
Vitamin B5:
1
mg
Vitamin B6:
0.4
mg
Vitamin B12:
0.2
µg
Vitamin C:
5
mg
Vitamin D:
0.2
µg
Vitamin E:
0.2
mg
Vitamin K:
2
µg
Calcium:
20
mg
Copper:
0.2
mg
Folate:
101
µg
Iron:
2
mg
Manganese:
0.3
mg
Magnesium:
34
mg
Phosphorus:
195
mg
Selenium:
11
µg
Zinc:
1
mg
Choline:
46
mg