Recipe: $2.10 | Per Serving: $0.53 | Yield: 4
When eating this roasted kabocha squash (again) last night, Zac asked in fear, "Do they have these squashes in America?" Yes, young grasshopper, of course. America has basically everything when it comes to food. No doy. Kabocha is certainly in our future.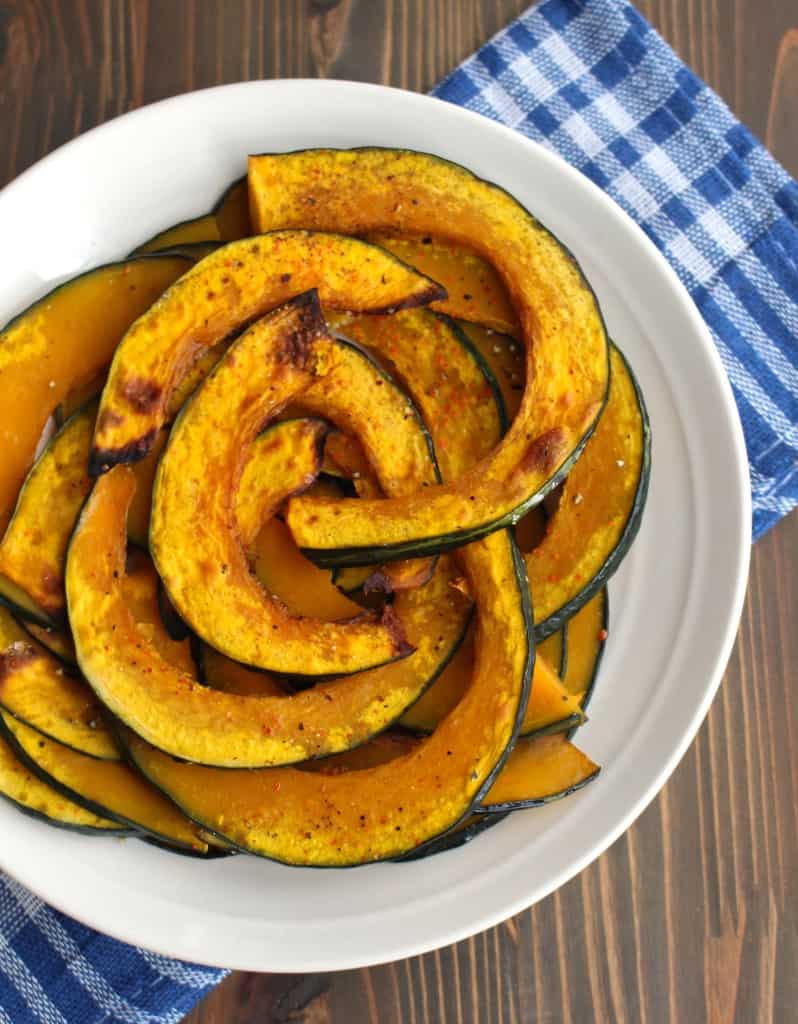 We've become super obsessed with kabocha squash during our time in Japan. It makes great soup, stews, and tempura, and when roasted like this, it's a delicious side dish. Kabocha Squash, also called Japanese Pumpkin, is one of the many varieties of winter squashes.
Benefits: it cooks quickly, you can eat the skin (yay!), and it's sweet and smooth, but not overly sweet or overly starchy, like some orange sweet potatoes.
Negatives: it's hard to cut! Which is annoying, but not impossible to overcome, especially with a few tricks! (See notes in recipe below.)
It's super easy to get Kabocha in San Diego, where we previously lived, but after assuring Zac about its availability throughout the US, I started panicking about Baltimore. We'll most likely be shopping at Harris Teeter & Trader Joe's & Whatever Market We Can Find. Do they have Kabocha? What do they eat in Baltimore besides crab?
In my panic, I started hunting online. I searched for Kabocha at a few Harris Teeter and Safeway locations online and got no results. One page had it listed for $1.00 per squash (SCORE!), but when I clicked through, it wasn't available. Hopefully that means it is seasonally available in the fall, but maybe not in January? I'm nervous.
Baltimore peeps: DO YOU HAVE KABOCHA? Please say yes or we might just have to stay in Japan.
Because, you guys, this roasted kabocha. It's so good. For me, I mostly prefer potatoes & winter squashes when they're crispy, but kabocha is the exception. I like it crispy, of course, but it is also delicious when it's soft. You can steam it, cook it in a rice cooker, mash it like potatoes, blend it for soup, or just roast it until it's soft or crispy.
I buy it whenever it's on sale, and I sometimes toss this roasted kabocha squash into my lunch box as a very Japanese-like part of a bento. We had a day off (yay!) last week and served it with these awesome burgers inspired by the Half Veggie Burgers in the Good & Cheap Free Cookbook. Delicious pairing!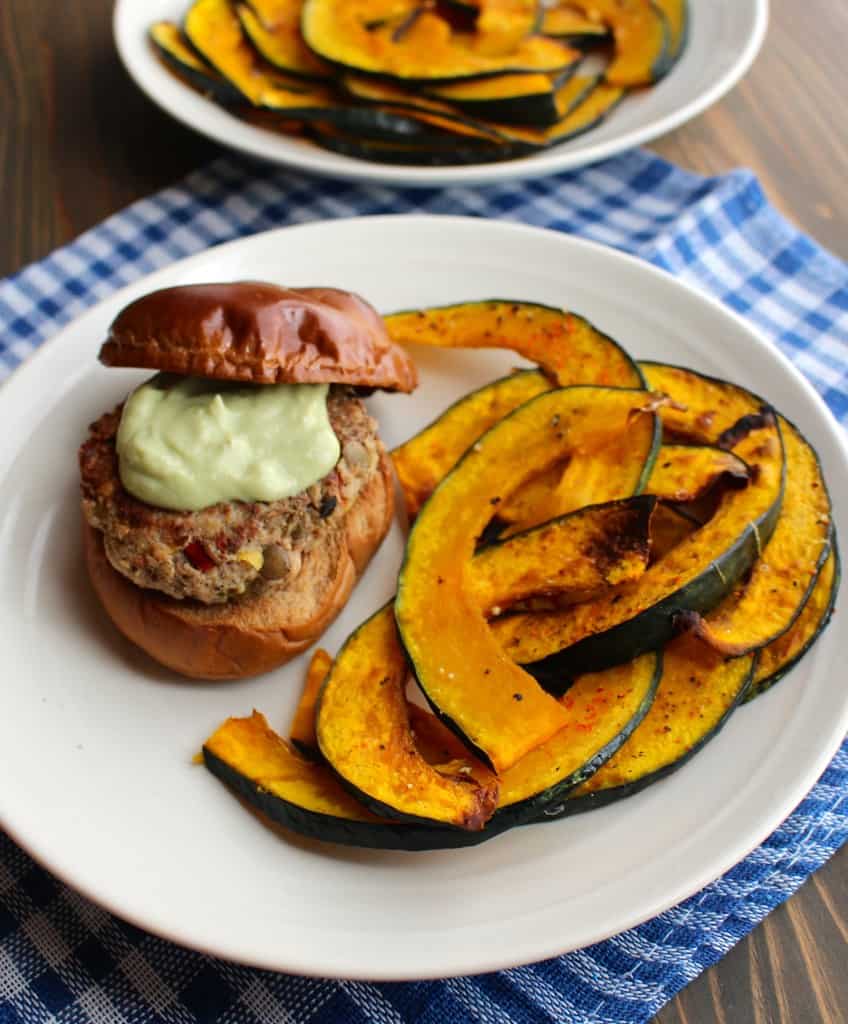 You guys - go get your hands on some Kabocha (and please tell me where you got it). I'm so spoiled here - they sell it in frozen, pre-cut chunks for 100 yen (82 cents) at the convenience store TWO BLOCKS from my apartment. What will we do without it?
What is Kabocha Squash?
Kabocha squash is a type of winter squash common in Japan. It is also called Japanese Pumpkin. Although we often have sweet potato tempura in the states, they often use kabocha for this in Japan. They also love using it in korokke (Japanese croquettes), which you can find in the prepared food sections of grocery stores and bento shops.
Kabocha squash is sweet, but has a nice texture, which is slightly firmer than an orange sweet potato. You can usually use it interchangeably with acorn squash, which is more available, but acorn squash is much softer and milder in flavor.
How Do You Know if a Kabocha Squash is ripe?
Look for a squash with a dark green exterior that feels a bit heavy for its size. The outside is textured and has white lines or spots, but you want it to be mostly green rather than yellow or orange.
This is the only tricky thing about trying a new vegetable - how do you know you've got a good one? Just remember: dark green is what you're looking for.
Kabocha Squash Recipes
And although this roasted version is easy and delicious, here are a few additional Kabocha Squash Recipes for your repertoire!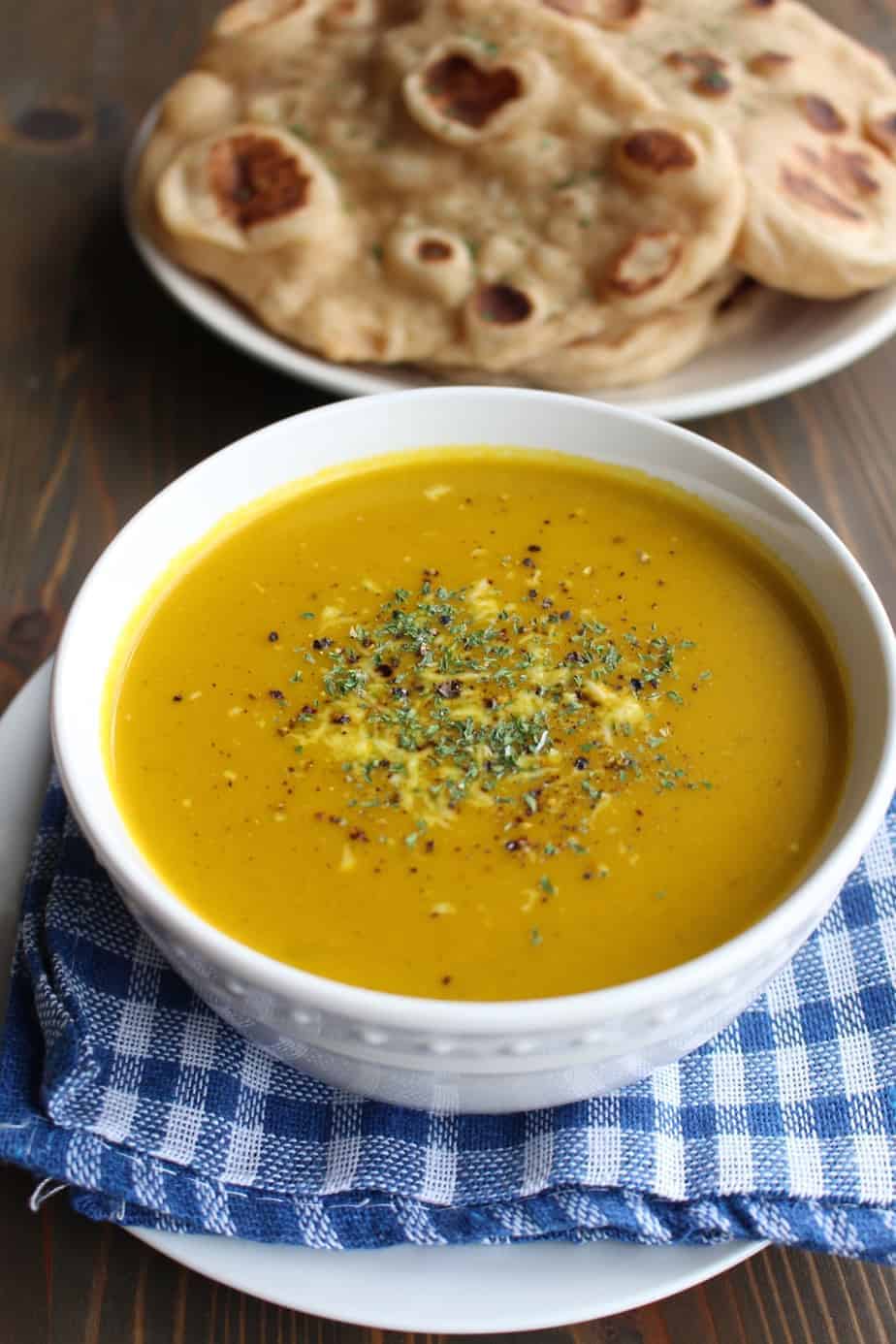 Paleo: Yep!
Vegetarian: Yep!
PIN THIS ROASTED KABOCHA SQUASH RECIPE FOR LATER! ↓
Roasted Kabocha Squash
This easy side dish is perfect for fall & winter, and makes for a great addition to salads and lunch boxes!
Ingredients
1

pound

Kabocha squash

also called Japanese Pumpkin, about ⅓ to ½ a squash or 455 grams

2

Tablespoons

olive oil

¼

teaspoon

salt

¼

teaspoon

black pepper

¼

teaspoon

cayenne pepper

optional
Instructions
Cut the squash open and scoop out the seeds. Place it flat-side-down on a large cutting board. Using a very sharp knife, carefully cut the squash into thin strips, about ⅛-inches thick. (You can cut into wedges or cubes if you prefer, but increase the cooking time to about 25-30 minutes.) I like to hold the knife's handle with my right hand and place the heel of my left hand on the top of the knife near the tip. (Keep your fingers flared.) Gently rock the knife back and forth a bit to safely cut through the squash. *RECOMMENDATION: See notes for Kabocha softening and cutting tips.

Arrange the Kabocha slices on a parchment-lined baking sheet. Brush with olive oil and sprinkle with salt, pepper, and (optional) cayenne. Since the squash is thinly sliced, you can layer it a bit, but be sure to season each layer.

Roast on 450ºF for 12-15 minutes or until soft and beginning to brown. You can crank up the broiler to get it a little crispy, or serve it as is.
Notes
RECOMMENDATION: You can also nuke the squash in the microwave for about 1 minute to soften it up before cutting, which makes it much easier. I recommend cutting it open and scooping out the seeds first. Another option is to bake it on 350ºF for 10 minutes before cutting it, and then roasting the slices on 450ºF for 8-10 minutes. I've also cooked it in my rice cooker for 20 minutes before slicing, but it did get a little soggy.
Nutrition
Calories:
101
kcal
Carbohydrates:
10
g
Protein:
1
g
Fat:
7
g
Saturated Fat:
1
g
Polyunsaturated Fat:
1
g
Monounsaturated Fat:
5
g
Sodium:
150
mg
Potassium:
401
mg
Fiber:
2
g
Sugar:
3
g
Vitamin A:
1603
IU
Vitamin B1:
0.04
mg
Vitamin B2:
0.1
mg
Vitamin B3:
1
mg
Vitamin B5:
0.2
mg
Vitamin B6:
0.2
mg
Vitamin C:
14
mg
Vitamin E:
1
mg
Vitamin K:
6
µg
Calcium:
33
mg
Copper:
0.1
mg
Folate:
27
µg
Iron:
1
mg
Manganese:
0.2
mg
Magnesium:
16
mg
Phosphorus:
27
mg
Selenium:
0.5
µg
Zinc:
0.2
mg
Choline:
11
mg