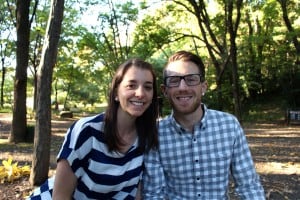 Friends! Hello! Thanks for being here.
I am: Caitlin. I'm from: New Jersey/Virginia with a healthy dose of San Diego. Plus a year in Peru, and a year in Japan under my belt. I love things like vegetables, Harry Potter, weird clinical facts, running in the woods, Japan, Paleo desserts, and most combinations of bread-like foods and cheese (quesadillas, grilled cheese, pizza, mac & cheese), though they're pretty rare around here. I currently live: in Baltimore. I'm currently working: at a Mental Health Practice and an Acupuncturist's Office. I'm currently: a licensed dietitian/nutritionist (LDN/CNS). I specialize in: mental health, gut health, women, and children. You can find my private practice here: Caitlin Self Nutrition. You can also find my adventures traveling from 2012-2014 here: Running the World / Travel.
I purchased this domain name in 2012 when Zac and I were traveling the world and I got the idea to start a food blog.
Why start a food blog when there are so many other food blogs already killin' it? Good question, I should probably re-evaluate how I spend my *free* time. In fact, I'm been blogging here at Frugal Nutrition since 2012! I officially started things up while we lived in Peru in 2013, and have continued it in San Diego, Japan, and now Baltimore!
I do think this blog is a little unique because the recipes are always pretty simple and the price is always pretty low. Not every recipe is perfectly cheap, not every recipe is 100% original, but I do what I can so we can all put something relatively nutritious on our tables, no matter what. Also, I'm long-winded, super cheap, and I really love food. Food blog celebrity in the making.
We eat a lot of vegetables, and make a lot of things from scratch, and take the occasional touristy cooking class. Mostly, we eat real food. I went through a stage of OMGGMO (<– bet you didn't know that was a palindrome) and OMG HFCS and OMG plastic and OMG white flour – they're all scary things, I get it.
Luckily, we have pretty decent health over here so as long as we're doing normal stuff 85% of the time, I can have a drink and Annie's (GF) Mac & Cheese a few times a month without ill effects. Overall balance is the name of the game. Things that go in the 15% category for me include: sugar, gluten, dairy, alcohol, caffeine.
I'm going to be really earnest here for a second: In addition to waving my freak flag for all the Internet to see, my passion/mission is to fight hunger in our communities, and my final goal of this site is to create a section of recipes that fit in a food stamp/SNAP EBT budget, or at least help people who are overwhelmed by all the expensive health claims. You don't have to eat kale, quinoa, chia seeds, or organic pig's blood to be healthy. Get involved in your community if you can, donate an awesome cookbook to somebody who needs it, and contact me if you have ideas for collaboration.
Inspiring People, Sites, and Blogs I Love:
Budget / Frugal Recipes and Ideas
Real Food / Realistic Food
Dietary Restrictions / Paleo / Gluten Free
Also see: Southeast Asia backpacking trip of 2012. It was great, I highly recommend it. Don't drink the water. Or eat the ice cubes.
Follow me on Instagram (@frugalnutrition), Twitter (@caitlinself), and Facebook (www.facebook.com/FrugalNutrition). I promise to post lots of pictures of food, mostly in bento box form.
My Most Popular Recipe!
I am asked this question quite a lot. Here are the most popular posts on my blog:
Do You Accept Guest Blogs and Articles?
At this time, I do not allow guests to post on my blog and I do not accept sponsored articles. I do not expect to allow guest posting any time in the near future.
Sponsored Posts
Please contact me directly if you would like to work together for sponsored work on my blog or social channels.
Medical Disclaimer:
All content on this website, including nutrition or medical opinion and any other health-related information, is for informational purposes only and should not be considered to be a specific diagnosis or treatment plan for any individual situation. Use of this site and the information contained herein does not create a practitioner-client relationship. Always seek the direct advice of your own practitioner in connection with any questions or issues you may have regarding your own health or the health of others.
Affiliate Disclosure:
Please note that each post may contain affiliate and/or referral links, in which I receive a very small commission for referring readers to these companies. (Including Amazon.)
Accessibility:
I do my best to create accessible content, such as including text on my videos and increasing the font size on my site. Please contact me if you see additional areas for improvement.
Privacy Policy:
Frugal Nutrition collects your email address when you sign up for our email list. We will never share or sell your email or any other information, and we never send spam. Information may be collected for the sake of analytics, and you can choose to disable or disallow cookies by modifying your web browser settings.
www.frugalnutrition.com -> For additional questions, contact: caitlin (a) frugalnutrition.com
Mediavine Programmatic Advertising
The Website uses Mediavine to manage all third-party advertising on the Website. Mediavine serves content and advertisements when you visit the Website, which may use first and third-party cookies. A cookie is a small text file which is sent to your computer or mobile device (referred to in this policy as a "device") by the web server so that a website can remember some information about your browsing activity on the Website. The cookie may collect information relating to your use of the Website, information about your device such as the device's IP address and browser type, demographic data and, if you arrived at the Website via a link from a third-party site, the URL of the linking page.
First party cookies are created by the website that you are visiting. A third-party cookie is frequently used in behavioral advertising and analytics and is created by a domain other than the website you are visiting. Third-party cookies, tags, pixels, beacons and other similar technologies (collectively, "Tags") may be placed on the Website to monitor interaction with advertising content and to target and optimize advertising. Each internet browser has functionality so that you can block both first and third-party cookies and clear your browser's cache. The "help" feature of the menu bar on most browsers will tell you how to stop accepting new cookies, how to receive notification of new cookies, how to disable existing cookies and how to clear your browser's cache. For more information about cookies and how to disable them, you can consult the information at www.allaboutcookies.org/manage-cookies/.
Without cookies you may not be able to take full advantage of the Website content and features. Please note that rejecting cookies does not mean that you will no longer see ads when you visit our Site.
The Website may collect IP addresses and location information to serve personalized ads and pass it to Mediavine. If you would like more information about this practice and to know your choices to opt-in or opt-out of this data collection, please visit http://www.networkadvertising.org/managing/opt_out.asp. You may also visit http://optout.aboutads.info/#/ and http://optout.networkadvertising.org/# to learn more information about interest-based advertising. You may download the AppChoices app at http://www.aboutads.info/appchoices to opt out in connection with mobile apps, or use the platform controls on your mobile device to opt out.
Mediavine partners with the following data processors: