The best thing about Trader Joe's, besides how delicious the food is, is that you can whip together easy meals on a (sorta) budget! Here's a list of my 10 favorite cheap and easy Trader Joe's recipes that are perfect to prepare for weeknight meals.
I don't always choose things that are pre-prepped at the grocery store because they are generally more expensive, but Trader Joe's does have some relatively cheap pre-made options that can be life savers on busy days!
I think it's a good idea to have a handful of easy-to-make recipes in your back pocket, even if you have to spend an extra dollar or two on pre-prepped kale or canned chickpeas and Trader Joe's is my favorite place to go for my easy weeknight recipes!
We are rocking cheap and easy Trader Joe's Recipes in this list and I am here 👏 for 👏it 👏!
How Cheap and Easy are these Recipes?
We all know that Trader Joe's isn't the best deal when it comes to fresh produce, and I hate the extra packaging, but the key is to utilize what they do really well - like bagged greens and frozen vegetables. They also have great prices on canned beans and grains!
You'll also notice that this list contains a mix of vegan, vegetarian, and meat-friendly recipes. Feel free to adjust them to your liking. Your kitchen is your space to make recipes your own, but if you have any questions - hit me up in the comments. I hope you make some of these awesome recipes and come up with your own list of easy weeknight meals to keep your dinner game going strong.
Without further ado, I give you...
10 Cheap and Easy (& Healthy!) Trader Joe's Recipes
RECIPE: $10.54 | PER SERVING: $1.76| YIELD: 6 LARGE SERVINGS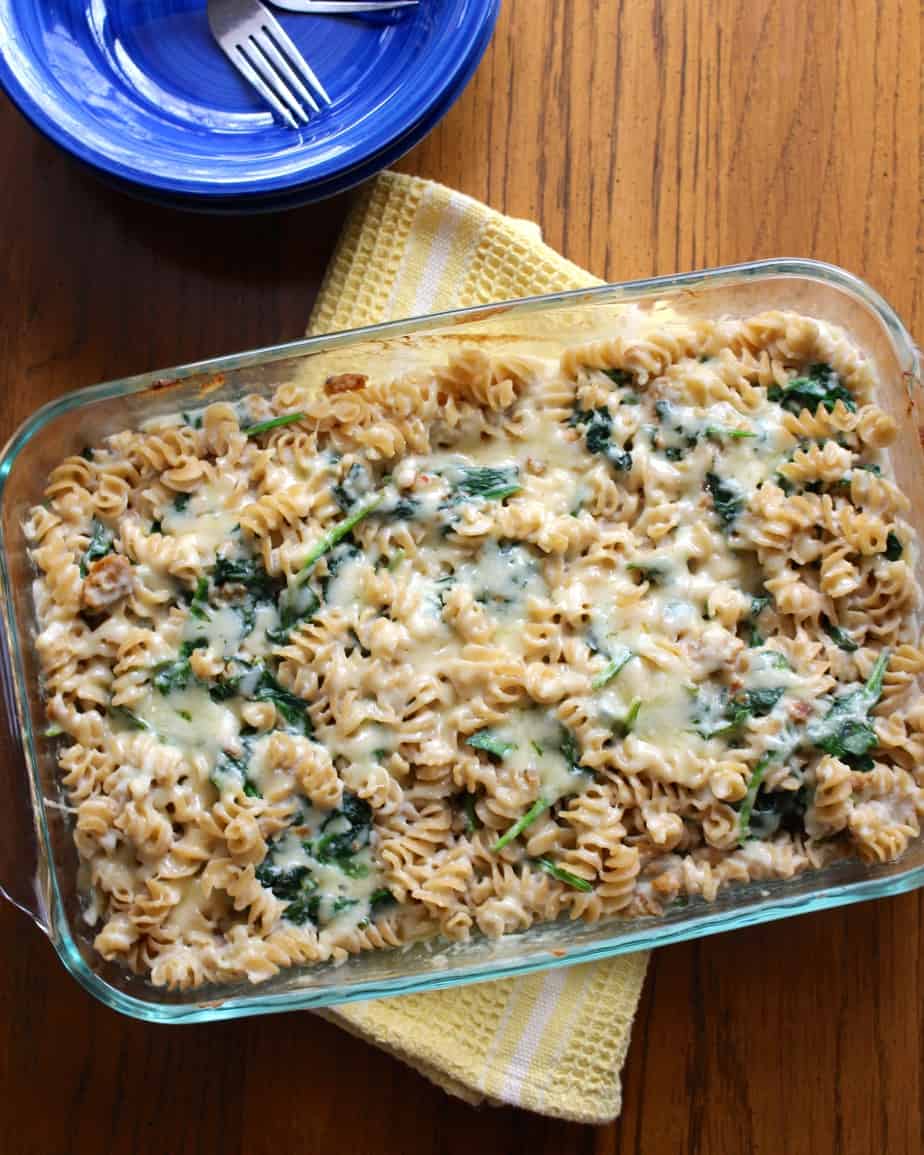 There is something about this recipe that is really fun! Maybe it's all the cheddar cheese (it's definitely the cheddar cheese) or the cauliflower sauce, or maybe the fact that you can swap out the cauliflower for butternut squash in the fall, or because I recently became a fan of sausage.
Either way, I really love this creamy cream-free pasta dish. As long as you don't mind using your blender on a weeknight, this one is a winner.
Side note: adding cooked sweet potatoes is also (oddly) really really good.
RECIPE: $4.14 | PER SERVING: $1.04 | YIELD: 4
This is one of my favorite recipes on the blog. I promise, one of the BEST! The garlic, butter, & soy sauce make these mushrooms super flavorful, and the meaty mushrooms pair perfectly with kale & soba.
Guys. This is what lunch dreams are made of. You absolutely need to make this recipe! I have so many fond memories of whipping this up for a weekday treat when we lived in Japan. ❤️
RECIPE: $6.23 | PER SERVING: $1.04 | YIELD: 6
Couscous always seems to stretch a little farther than you might think, which is one reason why I love using it in place of pasta. It is ready in about 5 minutes, it tastes great both hot and cold, and it can be eaten as a side, main dish, salad, or wrap. This dish is lemony & full of bell peppers and spinach. Get after it!
Side note: you can easily make this gluten-free! Check out the frozen quinoa available at Trader Joe's and just warm it up on the stove with the spinach, or make your own quinoa in about 15 minutes at home.
RECIPE: $5.32 | PER SERVING: $1.33 | YIELD: 4 SERVINGS
I feel like I never think to make crepes for dinner on a weeknight, but they're actually a lot faster and easier than you might think. I'm a huge fan of savory ingredients in general, and kale & cheddar are an awesome combination for filling crepes. I absolutely love the Unexpected Cheddar from Trader Joe's, and if you're feeling fancy, you can grab some thick-cut bacon as well.
We have made/eaten a lot of crepes in our time (hi Nutella, banana, sweetened condensed milk crepes in Thailand - we see you), but these are our absolute favorite! Sharp white cheddar is a game-changer, and it pairs deliciously with kale!
RECIPE: $9.76 | PER SERVING: $2.44 | YIELD: 4
I don't think the title of this recipe does the dish justice, but this is a Paleo-friendly (ish) gluten-free option that doesn't break the bank. Grab a spaghetti squash and cook it either in the oven or in the microwave, and basically top it with sautéed sweet cherry or grape tomatoes and ground turkey mixed with pesto.
If you're not Paleo, add some cheese for melty goodness and that's it! Very simple and super yummy, no grains needed. Have I mentioned that I really like pesto?
RECIPE: $6.09 | PER SERVING: $1.52 | YIELD: 4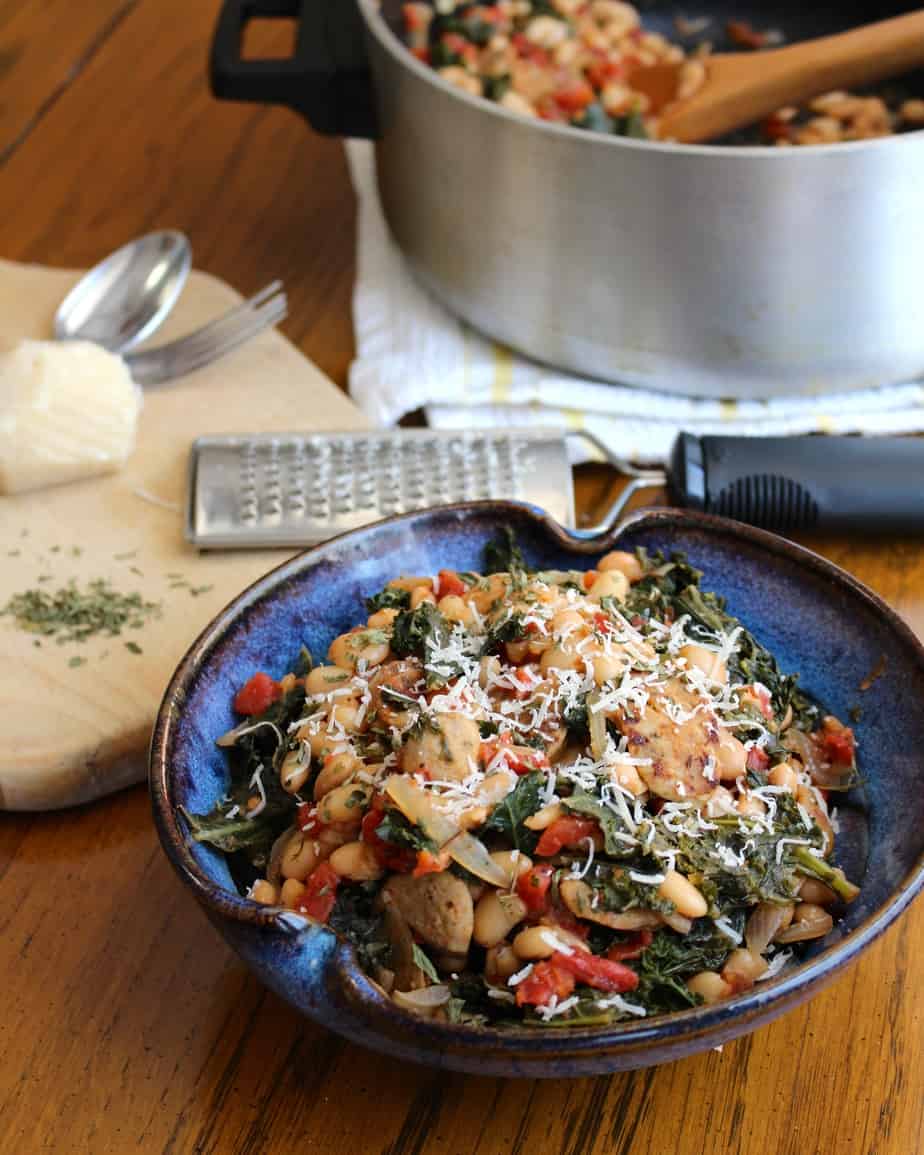 When it comes to easy and quick, this is probably my go-to recipe. Using canned beans, pre-prepped kale, and store-bought sausage cuts down on the time making it a 20-minutes-flat kinda dish. Dump it all in a pot and let it simmer away for about 10 minutes and dinner is served!
This is another grain-free option, so feel free to serve it with a side of garlic bread, pasta (orzo!), or even Caprese garlic bread if you feel like you need more carbs. It's a delicious & comforting meal that won't sit heavy in your belly.
RECIPE: $3.07 | PER SERVING: $0.75 | YIELD: 4 (SMALL)
It seems that we've entered the bean portion of the program. I don't know if I've said this enough, but I LOVE beans. I love the texture and the flavor and the ease and the versatility and the CHEAP PRICE. They're often overshadowed by their animal counterparts, but I think that's a mistake!
In this dish, chickpeas add bulk to a tzatziki-ish salad, making it a full meal. Feel free to swap out the chickpeas for cooked green lentils instead or, if you're a meat fiend, try shredded chicken. All options are delicious! Don't forget the naan.
RECIPE: $2.40 | PER SERVING: $1.20 | YIELD: 2

While this is not the best picture, it's probably one of my favorites on this whole list. A nod back to the super delicious grilled paninis of my college years, this adult version with avocado is AWESOME. You're basically eating amped-up avocado toast...with butter and cheese!
Also, it's a way to use up some of that leftover pesto you bought for the Spaghetti Squash dish above. I like to serve this with a handful of greens and my favorite lime-honey vinaigrette.
RECIPE: $1.53 | PER SERVING: $0.38 | YIELD: 4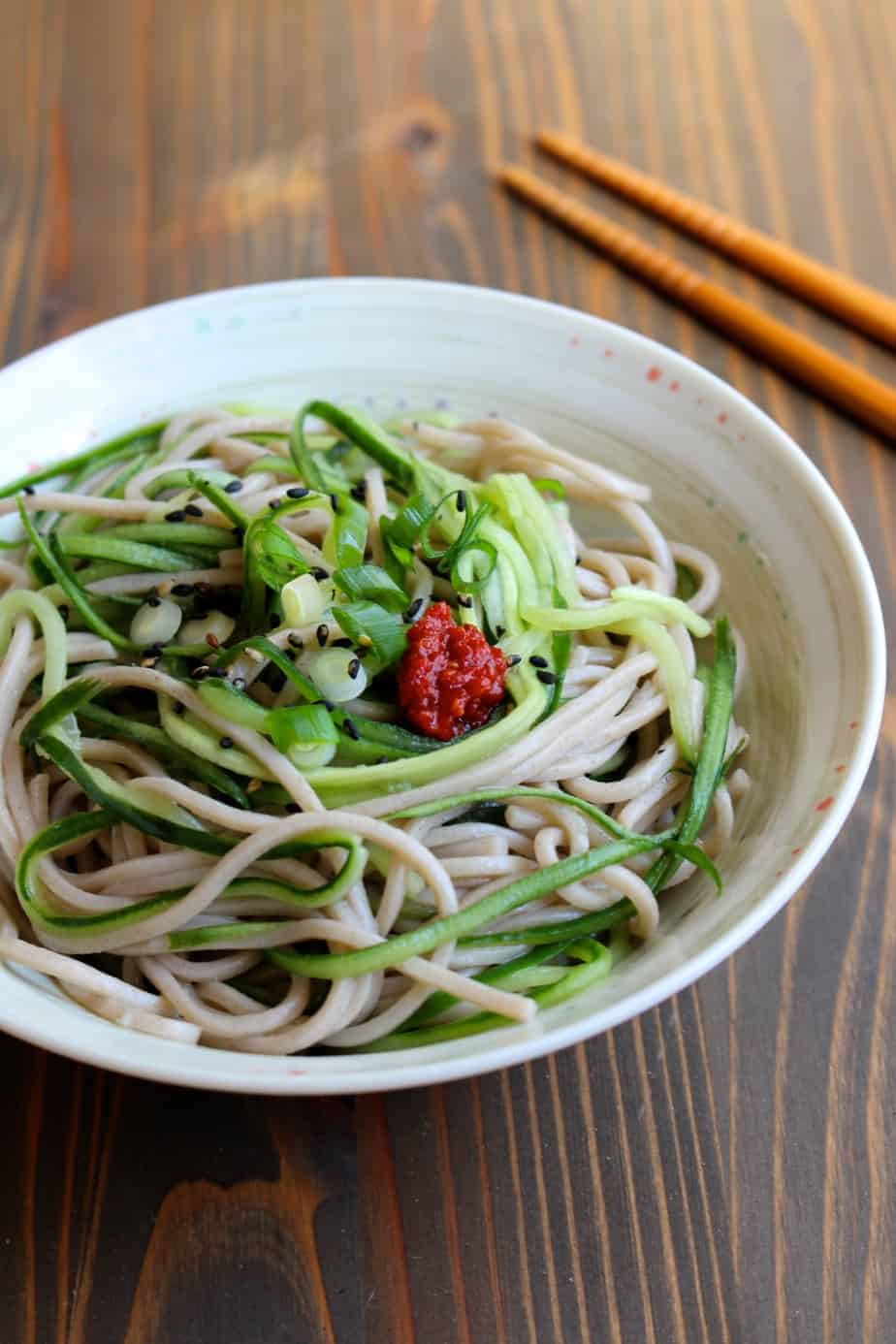 When I think of "Trader Joe's Recipes," I think of words like "one pan" and "5 ingredients." This super simple salad requires just 5 ingredients, and the soba noodles are the only thing you have to cook! This cold salad is a crowd-pleaser, and can be made in so many different ways.
You can easily skip the soba and double the cucumbers for a more saladysalad, or top it with miso meatballs to get adequate protein. I like all the ways. We once skipped the soba and served it as a veggie side to salmon sushi and miso meatballs for a dinner at our place in Japan. Do it! (And then tell me about it please!)
RECIPE: $6.23 | PER SERVING: $1.04 | YIELD: 6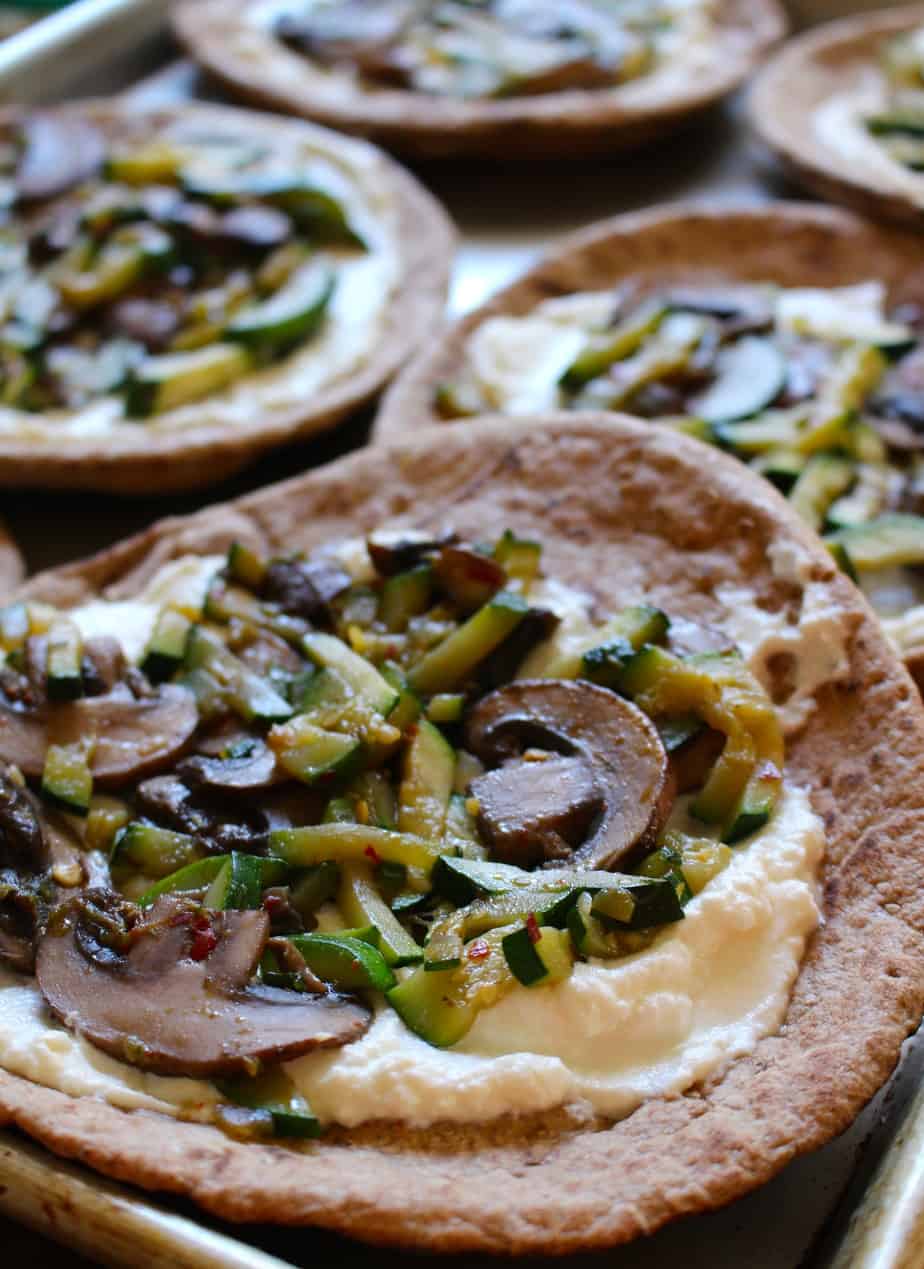 Last but not least: PIZZA. I'm not sure if I can get through a list without including some form of pizza. I really truly love having the ingredients on hand to make any kind of pita pizza at any time. Keep the pitas in the freezer and then top them with whatever vegetables & sauces you have in your fridge/pantry.
I like to use ricotta as the base sauce, but you could also go for sliced tomatoes, pesto, leftover pasta, bolognese sauce, or just olive oil & garlic. I've tried all of those options and they all work. Especially when it's 8 pm on a Thursday night and you must.eat.now.
Enjoy your Easy Trader Joe's Recipes!
And that's a wrap! I hope you have found something on this list that makes your dinner scramble a little more manageable. Please drop a comment below or tag me on Instagram to let me know what you enjoyed the most, and if you found a way to source meals like this even cheaper!
Also, check out my YouTube channel where I show you how to make some of my recipes and talk you through the specifics!