Recipe: $2.40 | Per Serving: $1.20 | Yield: 2
Grilled cheese is one of the ultimate comfort foods. Whether it's pressed on a panini, pan-fried, or made in a quesadilla maker in your dorm room (true story), it's pretty much always awesome. There are so many delicious grilled cheese combinations, but one of my favorites is pesto & provolone. This one harkens back to my college cafeteria, where I'd eat a panini for lunch almost every day. The ingredients stayed the same: naan, deli turkey, pesto mayonnaise, and provolone cheese.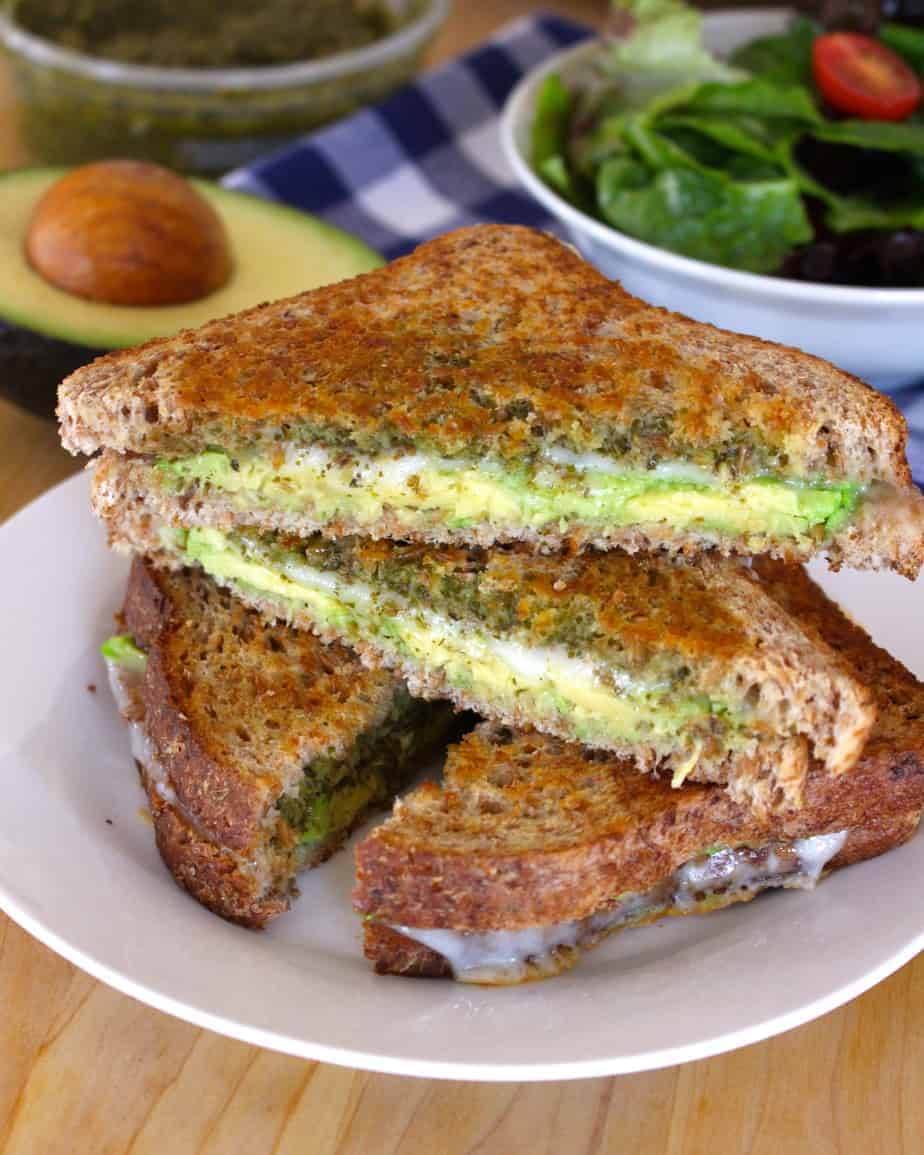 This version is slightly adultified. I replaced the super salty deli turkey with mashed avocado, and instead of pesto mayonnaise, I stick with regular pesto these days. We're currently using the straight "fresh" pesto from Trader Joe's. (You can find it near the pizza dough.) It's only $2.99, so it's not a huge investment, and I love slathering it on naan, so it never goes to waste in our house. (Remember: you can always freeze leftover sauces! Do it in plastic-wrap-lined ice cube trays.)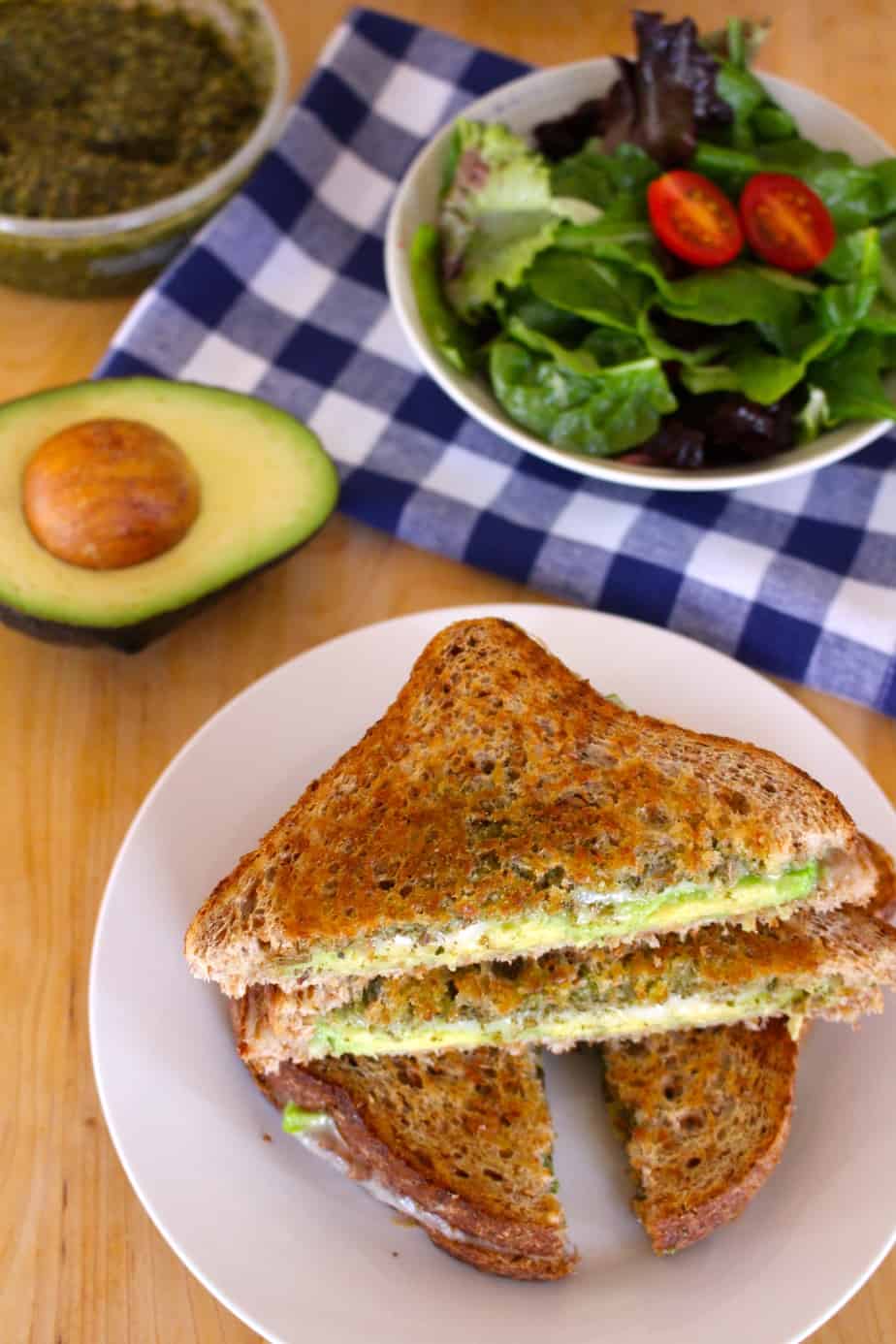 I've had this twice this week already. Once the ingredients are in the fridge, it's so hard to say no! I'm writing this on Wednesday evening after my first full day working, after about 10 weeks of vacation/traveling/moving/job hunting. I'm tiiiiiired. I could do with a cheesy avocado pesto grilled cheese right about now! Serve it up with a salad (and lime & honey vinaigrette) and it's dinnertime!
Pesto, Provolone, & Avocado Grilled Cheese
Layers of pesto, provolone and avocado make the ultimate grilled cheese.
Ingredients
½

Tablespoon

butter

4

slices

bread

1

Tablespoon

pesto

½

avocado

2

slices

provolone cheese

or more
Instructions
Place your bread on a cutting board. Mash the avocado and spread on two slices of bread, then layer with the cheese. Spread the pesto on the other two slices of bread. These will make up the top and bottom halves of the sandwich.

Melt half the butter in a nonstick skillet. Place an avocado-cheese half and a pesto half bread-side-down on top of the butter. Cook for about 4 minutes, then close the sandwich with the pesto on top. Griddle for about 2-4 more minutes, or until dark brown, but not black, then flip and griddle the opposite side for another 2-4 minutes. Repeat with 2nd sandwich.
Notes
You can also cook this in a panini press like this awesome Black & Decker 3-in-1 that my mom bought me!! I love it!
Nutrition
Calories:
355
kcal
Carbohydrates:
32
g
Protein:
12
g
Fat:
21
g
Saturated Fat:
7
g
Polyunsaturated Fat:
2
g
Monounsaturated Fat:
7
g
Trans Fat:
0.1
g
Cholesterol:
21
mg
Sodium:
499
mg
Potassium:
350
mg
Fiber:
6
g
Sugar:
4
g
Vitamin A:
480
IU
Vitamin B1:
0.3
mg
Vitamin B2:
0.3
mg
Vitamin B3:
4
mg
Vitamin B5:
1
mg
Vitamin B6:
0.2
mg
Vitamin B12:
0.3
µg
Vitamin C:
5
mg
Vitamin D:
0.1
µg
Vitamin E:
1
mg
Vitamin K:
14
µg
Calcium:
233
mg
Copper:
0.2
mg
Folate:
90
µg
Iron:
2
mg
Manganese:
1
mg
Magnesium:
43
mg
Phosphorus:
193
mg
Selenium:
19
µg
Zinc:
2
mg
Choline:
21
mg