Recipe: $2.50
Per Serving: $0.32
This stuff. This Caprese Garlic Bread. It is amazing.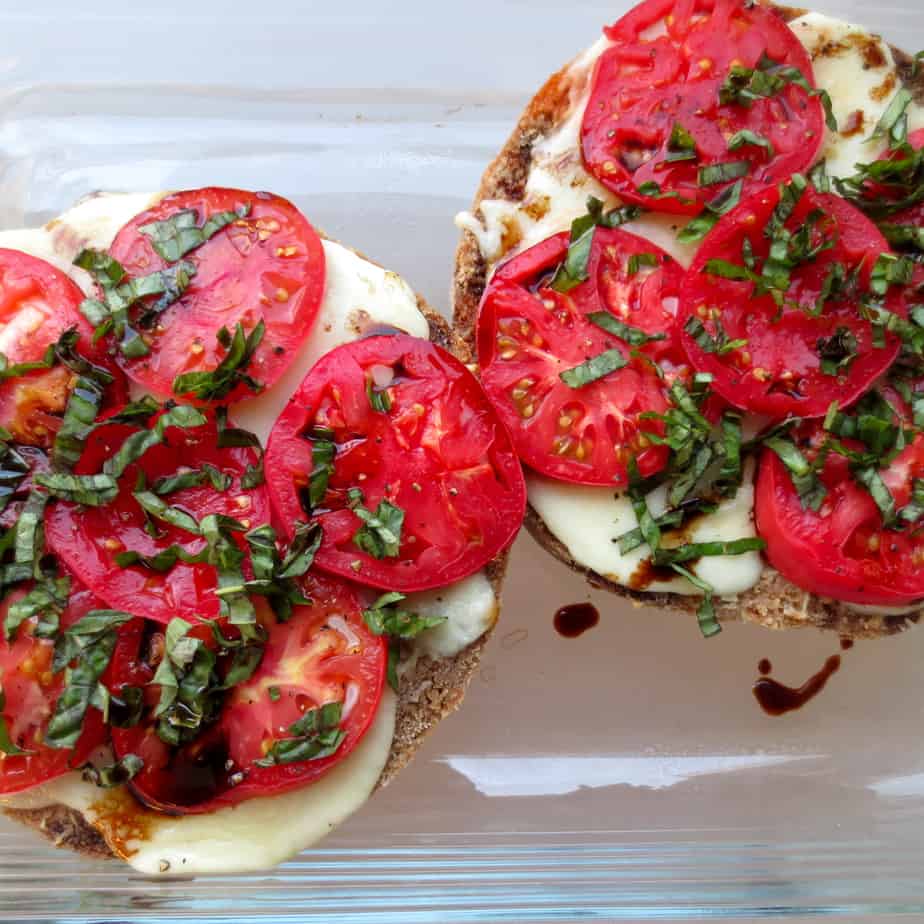 I mostly wanted to put this on the blog for the sake of pricing it out, but also because it gave me an excuse to make it yet again. This is currently my favorite food item to bring to someone's house. Forget the chips and guacamole, it's tomato season!
We did actually bring this to a friend's house for dinner, and I'd forgotten to consider the transportation. Do you just put the bread back together and wrap it in foil? That sounds like a mess and a half. Can we just walk in there with this on a baking sheet? We decided to squeeze it into large casserole dish uncovered. That was a moment when I wished I had all the fancy kitchen things. It didn't matter, we made it work and my friends were basically just super stoked to have garlic bread.
Oh and those tomatoes? Those are important. We are in the MIDST of tomato season people, so get on it. Do not go to the grocery store and buy whatever is cheapest. You can spend like $1 a pound on really good vine-ripened or heirloom tomatoes right now. Last week I got like 4 pounds of free heirloom tomatoes, and this week we got a bazillion more in our CSA box. They're so delicious dusted with a little salt and pepper! Or on avocado toast. Or, um, in Caprese Garlic Bread.
This recipe is clearly not my invention, as the title states, and I like to give credit when due. The lovely folks over at Two Peas and Their Pod posted this some time ago and we've been making it ever since! I normally don't have time to reduce the balsamic, because this tends to be an OMG-it's-830pm-I'm-starving kind of snacky dinner, but reducing some balsamic wouldn't really add more than a couple of minutes to the total time. I guess I'm lazy? Or just cheap? Also - the original recipe doesn't call for any additional cooking after adding the tomatoes, but I like them a little softer, which makes this basically a margherita pizza. Which makes me happy. (Plus, cooking tomatoes makes their lycopene more bio-available. Not everything is more nutritious raw!)
I'm happy to report that you can make this delicious snacky snack appetizer lunch dinner recipe for less than $3, if you make your own bread. This cost doesn't include the price of store-bought bread, because that little whole wheat artisan loaf was made right here in mi casa and left in the freezer for 2-3 months. I haven't perfected a recipe, but I promise to post one whenever I do. It's so so so much cheaper to make your own bread! I also used KerryGold butter, which isn't the cheapest option, but it's pastured, and I like that. Just make it as healthy as you can afford!
AND I'M OUT.

Caprese Garlic Bread (Two Peas and Their Pod)
This easy garlic bread adds on layers of fresh mozzarella, juicy sliced tomatoes and fresh basil for a tasty treat everyone will love.
Ingredients
1

loaf

bread

non-sandwich variety such as ciabatta, foccacia, etc.

½

stick

butter

¼ cup

4

cloves

garlic

minced

-if using unsalted butter

add ¼ teaspoon salt-

6

oz

fresh mozzarella

log, sliced

2-3

ripe tomatoes

I used heirlooms!

¼

cup

basil

thinly sliced

drizzle of balsamic vinegar
Instructions
Preheat oven to 400ºF. Place the butter on the stove to soften while you prepare other ingredients.

Slice your loaf of bread in half horizontally and place on a baking sheet. Peel and mince the garlic (I like to use a mini cheese grater) and place in a small bowl. Slice the tomatoes, mozzarella, and basil while you wait for the butter to soften.

Once soft, mash the butter with the garlic (and salt if necessary) and spread evenly on the bread. Top with mozzarella slices and bake in oven for about 12 minutes.

Remove from oven and add tomatoes, then return to oven for about 5-6 minutes. The cheese should get a little bubbly and the tomatoes will soften just slightly.

Remove from oven and top with basil and drizzled balsamic. Serve!
Nutrition
Calories:
355
kcal
Carbohydrates:
43
g
Protein:
14
g
Fat:
14
g
Saturated Fat:
7
g
Polyunsaturated Fat:
2
g
Monounsaturated Fat:
3
g
Trans Fat:
0.3
g
Cholesterol:
32
mg
Sodium:
583
mg
Potassium:
219
mg
Fiber:
4
g
Sugar:
6
g
Vitamin A:
618
IU
Vitamin B1:
0.4
mg
Vitamin B2:
0.3
mg
Vitamin B3:
5
mg
Vitamin B5:
1
mg
Vitamin B6:
0.1
mg
Vitamin B12:
0.5
µg
Vitamin C:
5
mg
Vitamin D:
0.1
µg
Vitamin E:
1
mg
Vitamin K:
11
µg
Calcium:
222
mg
Copper:
0.2
mg
Folate:
79
µg
Iron:
3
mg
Manganese:
1
mg
Magnesium:
43
mg
Phosphorus:
197
mg
Selenium:
28
µg
Zinc:
2
mg
Choline:
23
mg