Recipe: $2.50 | Per Slice/Serving: 20 cents | Yield: 12 (ish)
I think I've finally done it.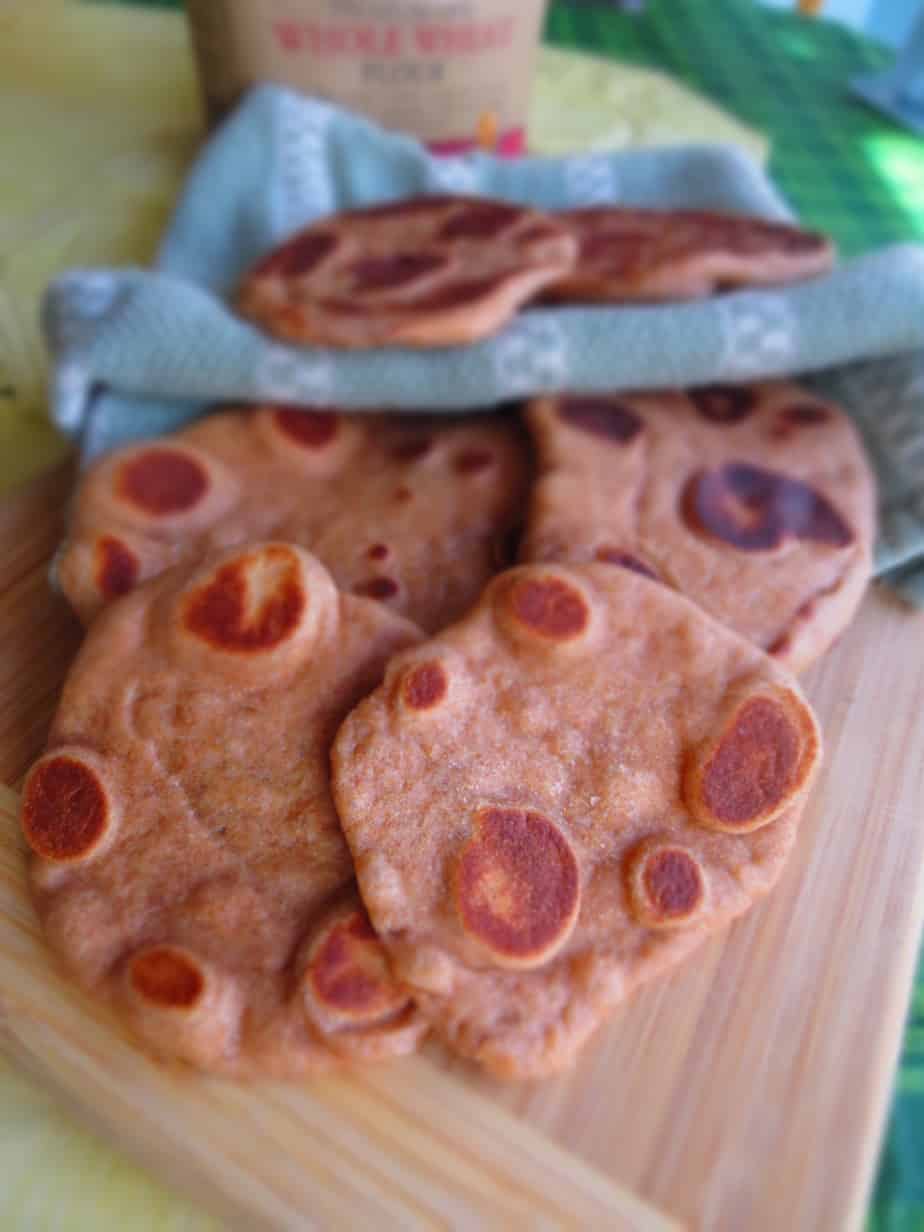 Whole-Wheat Naan!(The super easy version!)
In Peru, whole wheat flour was incredibly hard to come by - and about 20 times as expensive as the white stuff. So, we often made this recipe for regular skillet naan. And let me tell you, it is gooood. But as we gear up for real food in the states, and much cleaner eating for 2014, it's time to eliminate the white flour wherever possible. I've figured out a great whole wheat pizza dough recipe, and I even made awesome whole-wheat sandwich buns, but I was a little worried about the naan. For some reason, I just assumed it would be a big fat pain, but it totally wasn't. It was really easy, and the dough was nice and (pardon the term) supple and easy to work with.
My super picky semi-food-critic parents even liked it.
Here's an updated picture from December 2015. It's whole wheat atta flour in Japan, which is why it looks much lighter in color than the King Arthur flour!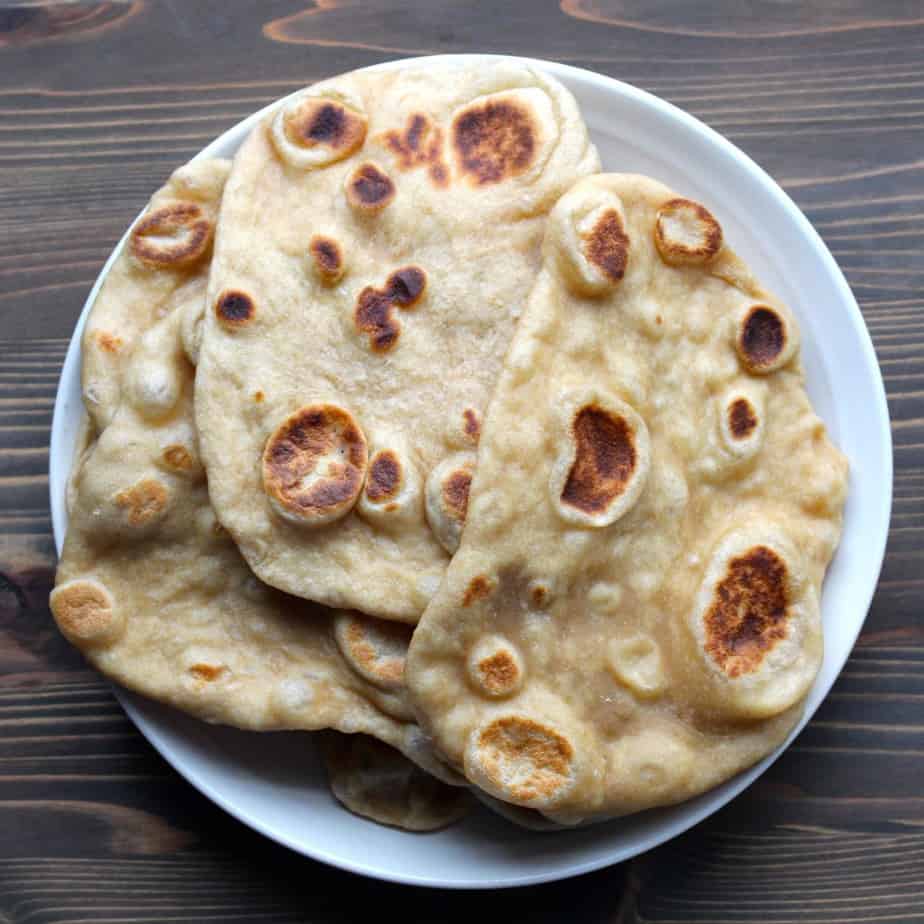 When we make white naan, we skillet-cook it in oil and salt, and sometimes with butter. For the whole-wheat, it tastes much better with oil (garlic olive oil if you've got it), and without the salt. Add a little more salt to the dough or just before serving if you prefer. You could cook this in either olive oil or coconut oil.
And if you don't make your own garlic olive oil, you should start. Cause it's delicious.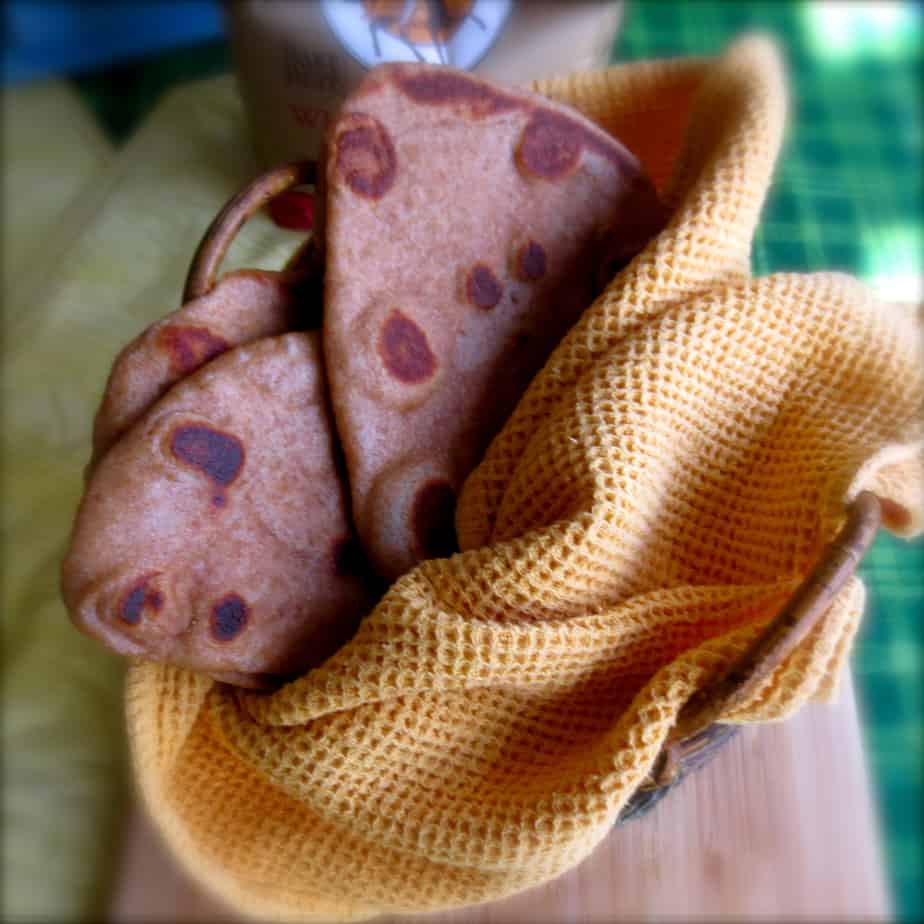 *EDIT: The previous recipe called for ¼ cup milk. I have found this to be unnecessary; it can be replaced with more water. I have changed the recipe to reflect these changes.

100% Whole Wheat Naan
Make a batch of whole wheat naan for a healthier, fiber rich naan bread.
Ingredients
3

cups

whole wheat flour

spoon scoop and level* + ¼ cup extra in case it's too wet/for rolling

1

teaspoon

baking powder

1

teaspoon

salt

1

package

yeast

or about 1 tbsp

1

tablespoon

honey

¾

cup

warm water

maybe a few extra tablespoon if too dry

¼

cup

olive oil

preferably garlic!

½

cup

yogurt

½

teaspoon

garlic powder

optional

additional olive or coconut oil for skillet

if desired, but not necessary*
Instructions
First, warm up the water until it's lukewarm/tepid, but not too hot! Melt the honey in the water and add the yeast. Set aside for 5-10 minutes or until it becomes frothy.

In a separate bowl, mix together flour, baking powder, and salt.

When yeast is frothy, combine with olive oil, and yogurt, then mix wet ingredients into dry.

Mix with a fork as well as you can, then turn out onto a floured cutting board or work surface and lightly knead for about 5 minutes. The dough will be soft and supple, and a little sticky. Place in a large bowl and cover with towel or plastic wrap and let sit for about 1-2 hours, or until 50%-100% larger in size. (NOTE: You can put this in the fridge overnight. Bring it back to room temperature before rolling it out - it is hard to work with when cold.)

When the dough has risen, (and reached room temp) heat up your skillet. (With a bit of fat, if desired.)

Cut the dough into 8-12 equal pieces, then roll one out into desired shape – oval, circle, etc.

Once the pan is hot, place rolled out naan into pan, and cook until the surface has large bubbles, then flip and cook for a couple minutes more. You can probably cook two at a time.

Once you remove them from the heat, you can leave them as they are, or season them with salt, garlic powder, or parsley!

Enjoy with soup, curry, salad, chili, or make yourself an awesome panini! This recipe makes 8-12 large pieces. You can also freeze these and they're awesome defrosted. I love them as the base for flatbread pizzas.
Notes
*Using the spoon-scoop and level method to measure flour ensure that you have the correct amount of flour. If you stick your measuring cup straight into the flour, it will be packed more tightly, and you will have a little too much flour.
**My recommendation is to cook these babies with ghee! It's so super yummy.
Nutrition
Calories:
156
kcal
Carbohydrates:
24
g
Protein:
5
g
Fat:
6
g
Saturated Fat:
1
g
Polyunsaturated Fat:
1
g
Monounsaturated Fat:
3
g
Cholesterol:
1
mg
Sodium:
236
mg
Potassium:
133
mg
Fiber:
3
g
Sugar:
2
g
Vitamin A:
13
IU
Vitamin B1:
0.2
mg
Vitamin B2:
0.1
mg
Vitamin B3:
2
mg
Vitamin B5:
0.3
mg
Vitamin B6:
0.1
mg
Vitamin B12:
0.04
µg
Vitamin C:
0.1
mg
Vitamin D:
0.01
µg
Vitamin E:
1
mg
Vitamin K:
3
µg
Calcium:
43
mg
Copper:
0.1
mg
Folate:
28
µg
Iron:
1
mg
Manganese:
1
mg
Magnesium:
43
mg
Phosphorus:
128
mg
Selenium:
19
µg
Zinc:
1
mg
Choline:
11
mg