Recipe: $5.53 | Per Serving: $1.38 | Yield: 1 cup (~8 oz)
RICOTTA CHEESE. Made from NUTS and CAULIFLOWER. This is magical if I do say so myself. We're talking fluffy and creamy and super flavorful "cheese" without dairy or crazy additives. This is easy Paleo, Vegan, and Whole30 cheese, for real. As much as I love ricotta, the flavor of this macadamia ricotta is so good that many in my circle have been known to choose it over the real deal based on flavor alone. Fact.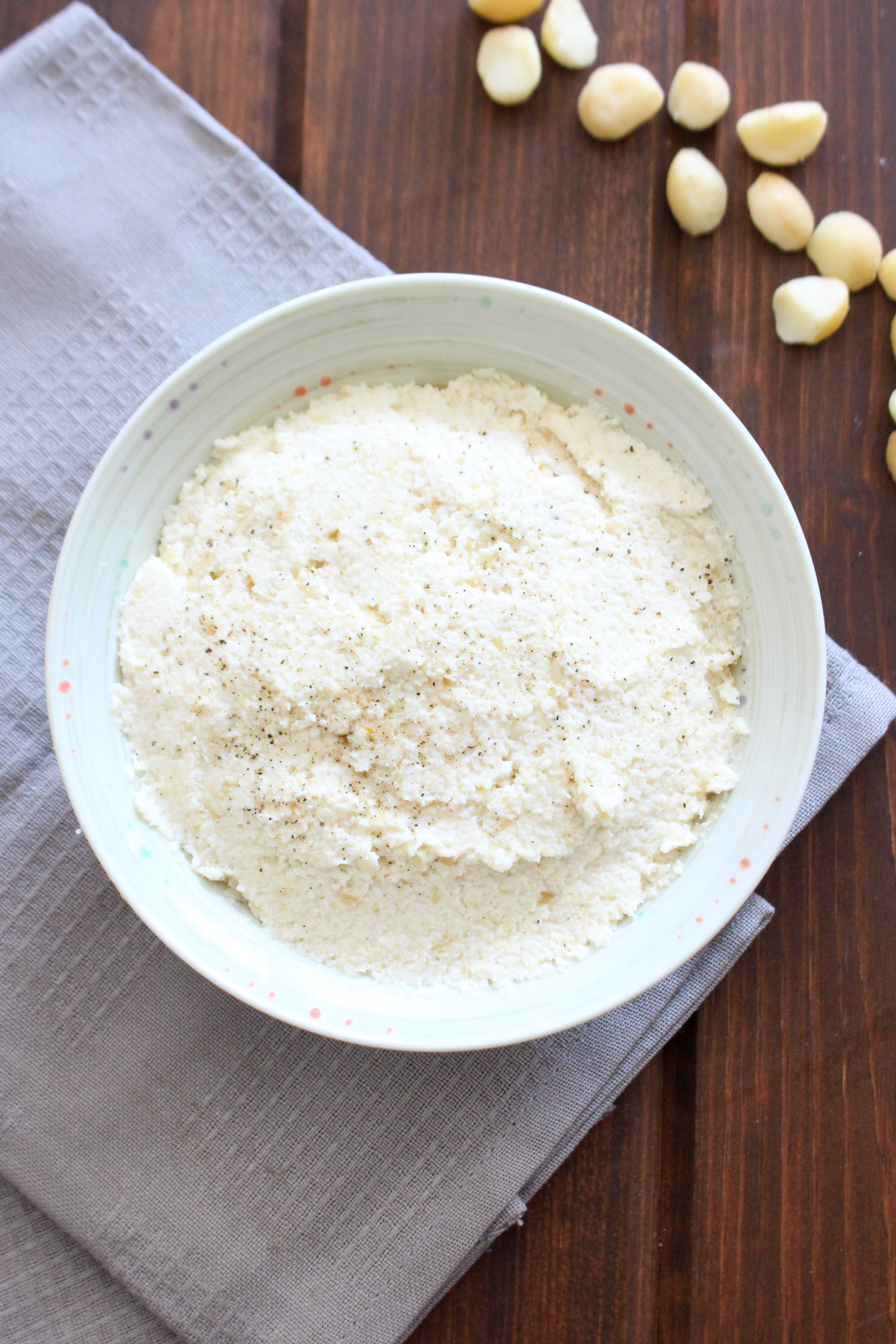 The main reason I purchased the first Nom Nom Paleo Cookbook (back in 2014) was to get my hands on her dairy-free ricotta recipe. But, I quickly learned that macadamia nuts are incredibly expensive. And though I'm currently a frugal recent graduate student, I was even more strapped for cash back then.
At the time, I worked for a company similar to Territory Foods (meal delivery) - we developed allergy-friendly healthy recipes, prepared them over the weekend, and delivered them on Mondays to 50 or so clients. While we were trying to come up with a cheese alternative, the macadamia ricotta seemed like a great option, but it was wayyy too expensive for our small-scale operation.
And so: I added cauliflower.
Cauliflower cut the cost of the recipe by about half, while also adding fiber and nutrients, and making the resulting ricotta significantly less dense. I'm not sure why it has taken me half a decade to put this together for the blog, but here it is. You're very welcome!
How to Make Macadamia Cauliflower Ricotta Cheese
First: If using fresh cauliflower, give it a quick steam to cook it. You can also use thawed frozen cauliflower, which is what I usually do to save time. I have also used frozen cauliflower rice, but you can cut the portion down to ¾ cup.
Second: Pulse, blend, or process all of the ingredients together to form a ricotta-like texture. I prefer to use a food processor because I think it it yields the best texture. The macadamia ricotta becomes too smooth and slightly too thin in a high-powered blender like a Vitamix, but you do you!
I recommend adding only about 1-2 Tablespoons of water to get a really thick ricotta, but you can definitely add a little more water to get a creamier consistency. It just depends on what you're looking for.
That's it! Super easy and straightforward.
How to Use Cauliflower Macadamia Ricotta
All the savory ways! You can use this to replace ricotta cheese in:
I haven't tried it in pancakes or baked goods, but it could work. If you try it, please let me know!
Does Cauliflower Macadamia Ricotta Taste Like Ricotta Cheese?
Yes! It absolutely does, but more so when it is used in a recipe and a little less so when it is on, say, ricotta toast. When we started making this we were all so shocked. At first it just tastes like macadamias, but trust. Once you pulse it to the right texture and add a little salt it starts to shape up.
I absolutely LOVE ricotta cheese. I am known to buy a tub just to eat on toast. I even learned how to make it in Japan when I couldn't find any. It's basically the most underrated cheese ever - so calling this a close comparison is a big deal.
I haven't tried this straight up on toast, but when I've tried it in savory Italian pasta dishes and pizza it's been so clutch. There is definitely a different flavor because you can absolutely taste the macadamia nuts, but it's not overpowering.
Can you Skip the Cauliflower?
Yes, definitely. The original recipe by Michelle of Nom Nom Paleo doesn't include cauliflower. For those of you following a Low-FODMAP diet, I would recommend skipping the cauliflower.
I find that the cauliflower cuts through the richness of the macadamias, but that's a personal preference (I don't actually like macadamia nuts). You can make it with just the macadamia nuts or cut it with a little yellow squash if you can't do cauliflower.
Macadamia nuts are often recommended for SIBO patients following a Low-FODMAP diet since they're relatively high in fat and calories and low in fiber. I definitely recommend making this (without the cauliflower) if you're following a Low-FODMAP diet!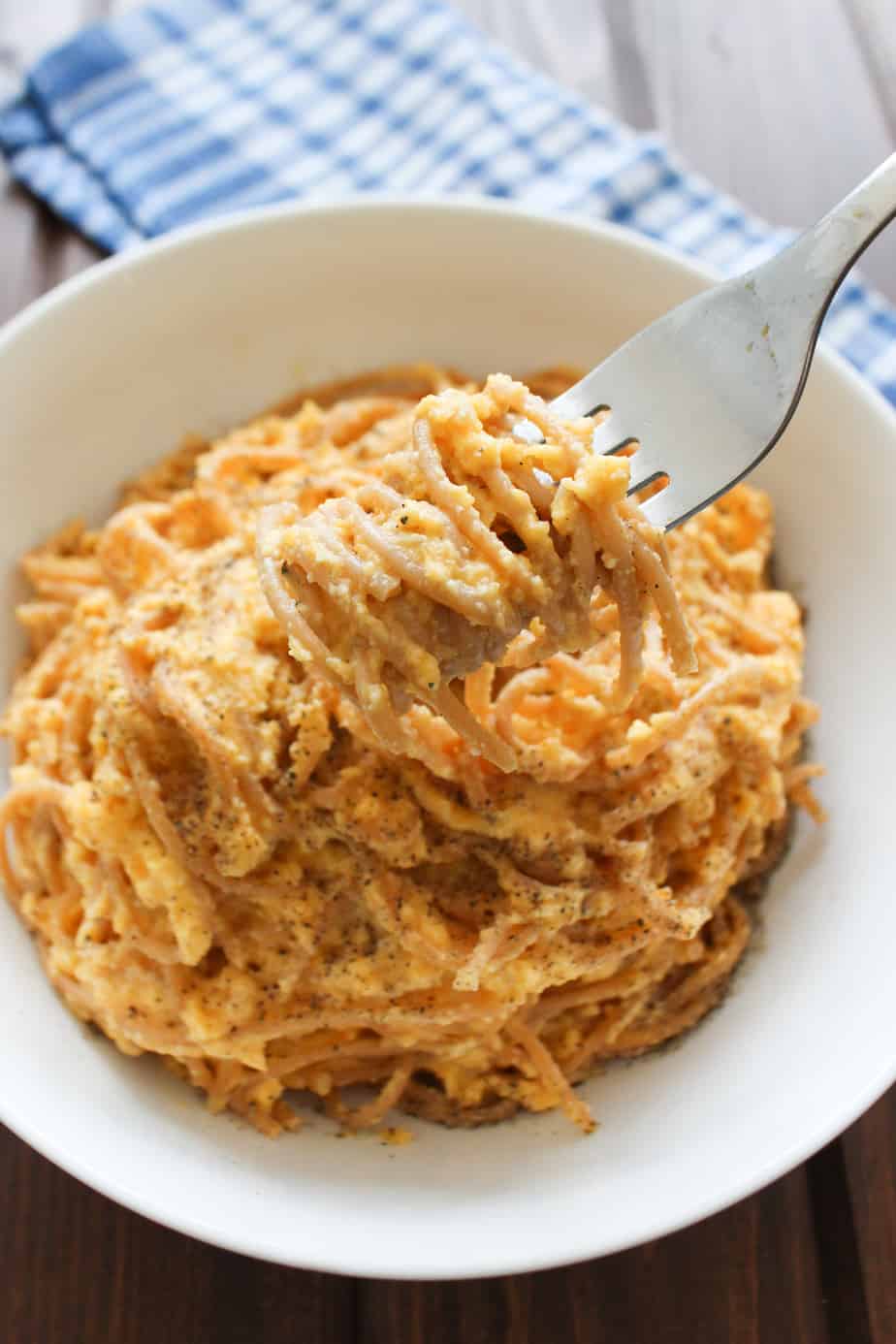 How Much Do Macadamia Nuts Cost?
Finally, I feel like it's important to remind everyone that macadamias are one of the more expensive nuts and offer some suggestions. I usually get mine at Trader Joe's where a 10-oz bag costs $9.99. This is the best price I've found ($1 per ounce), but you can also go to the bulk bins of stores like Sprouts to get just the amount that you need for this recipe.
I have also made this with about ¾ cup macadamia nuts and 1 ¼ cup of cauliflower before and it was still delicious.
If you're looking for a price comparison this should help:
Kite Hill Almond-Based Ricotta = 1 cup (8 oz) for about $6.99
Organic Valley Organic Ricotta = 2 cups (15 oz) for about $6.99 / $3.50 per cup
Homemade Cauliflower Macadamia Ricotta = 1 cup (~8 oz) for $5.53
So, this recipe is not cheaper than the leading brand of organic ricotta on the market (and definitely not cheaper than conventional ricotta), but it is a cheaper option that the leading brand of store-bought nut-based ricotta.
Paleo: Yep!
Vegetarian: Yep! Vegan too.
Macadamia Cauliflower Ricotta "Cheese"
Creamy, cheesy, vegan and Paleo, this ricotta cheese is the perfect stand-in for dairy-free folks. Its so good, your dairy-eating friends will prefer it!
Ingredients
1

cup

unsalted roasted macadamia nuts

1

cup

steamed cauliflower

½

teaspoon

sea salt

or Himalayan

½

teaspoon

lemon juice

1-2

Tablespoons

water

or broth

1

teaspoon

dried Italian seasoning

optional

¼

teaspoon

garlic powder

optional
Instructions
Add macadamia nuts, cauliflower, salt, and lemon juice to food processor. Process until well combined.

Scrape down the sides and add water or broth as needed. Add optional herbs and spices and process until a mostly smooth ricotta-like consistency is reached.
Notes
If using salted macadamia nuts, add the salt towards the end to avoid over-salting.
Nutrition
Calories:
498
kcal
Carbohydrates:
13
g
Protein:
6
g
Fat:
51
g
Saturated Fat:
8
g
Polyunsaturated Fat:
1
g
Monounsaturated Fat:
39
g
Sodium:
601
mg
Potassium:
415
mg
Fiber:
7
g
Sugar:
4
g
Vitamin A:
17
IU
Vitamin B1:
1
mg
Vitamin B2:
0.1
mg
Vitamin B3:
2
mg
Vitamin B5:
1
mg
Vitamin B6:
0.3
mg
Vitamin C:
25
mg
Vitamin E:
1
mg
Vitamin K:
14
µg
Calcium:
85
mg
Copper:
1
mg
Folate:
39
µg
Iron:
3
mg
Manganese:
3
mg
Magnesium:
98
mg
Phosphorus:
151
mg
Selenium:
3
µg
Zinc:
1
mg
Choline:
23
mg