Recipe: $17.30 | Per Serving: $1.73 | Yield: 8-12
Salsa verde is one of the best condiments on earth - a little tangy, a little spicy, not too overpowering. It's also the key ingredient in this flavorful slow cooker beef chile verde, perfect for feeding a crowd.
Nothing benefits more from the slow cooker than a big hunk of meat. Which is why I turn to my slow cooker nearly every time I get a pork shoulder or a beef chuck roast in my Moink (affiliate link) box.
The first time I made this dish was an absolute random act of cooking. I needed something versatile enough for both breakfast and dinner, but I didn't want to make another grocery store run because we were heading out of town for a few days.
A jar of salsa verde, an onion, and a couple of minutes later and this was cooking away in the slow cooker as I headed off for work. A long 10 hours later and it was ready to be devoured when I got home.
What is Chile Verde?
Chile verde is a type of chili pepper, but it also refers to the Mexican dish, Chile Verde. This is traditionally made form pork, which is cooked slowly for a long time in a tangy tomatillo salsa.
What is Salsa Verde?
Literally, salsa verde translates to "green sauce" or "green salsa." You will find many "salsa verde" blends throughout South America, but in Mexico, this sauce is typically made from tomatillos, also known as green tomatoes.
The traditional recipe is super simple - tomatillos, jalapeños, onions, and garlic are roasted and peeled, then chopped or blended to create a chunky or smooth salsa verde. Some versions also add cilantro and lime. I can speak highly about my brother-in-law's simple stovetop version as well if you're not in the mood to turn on the oven.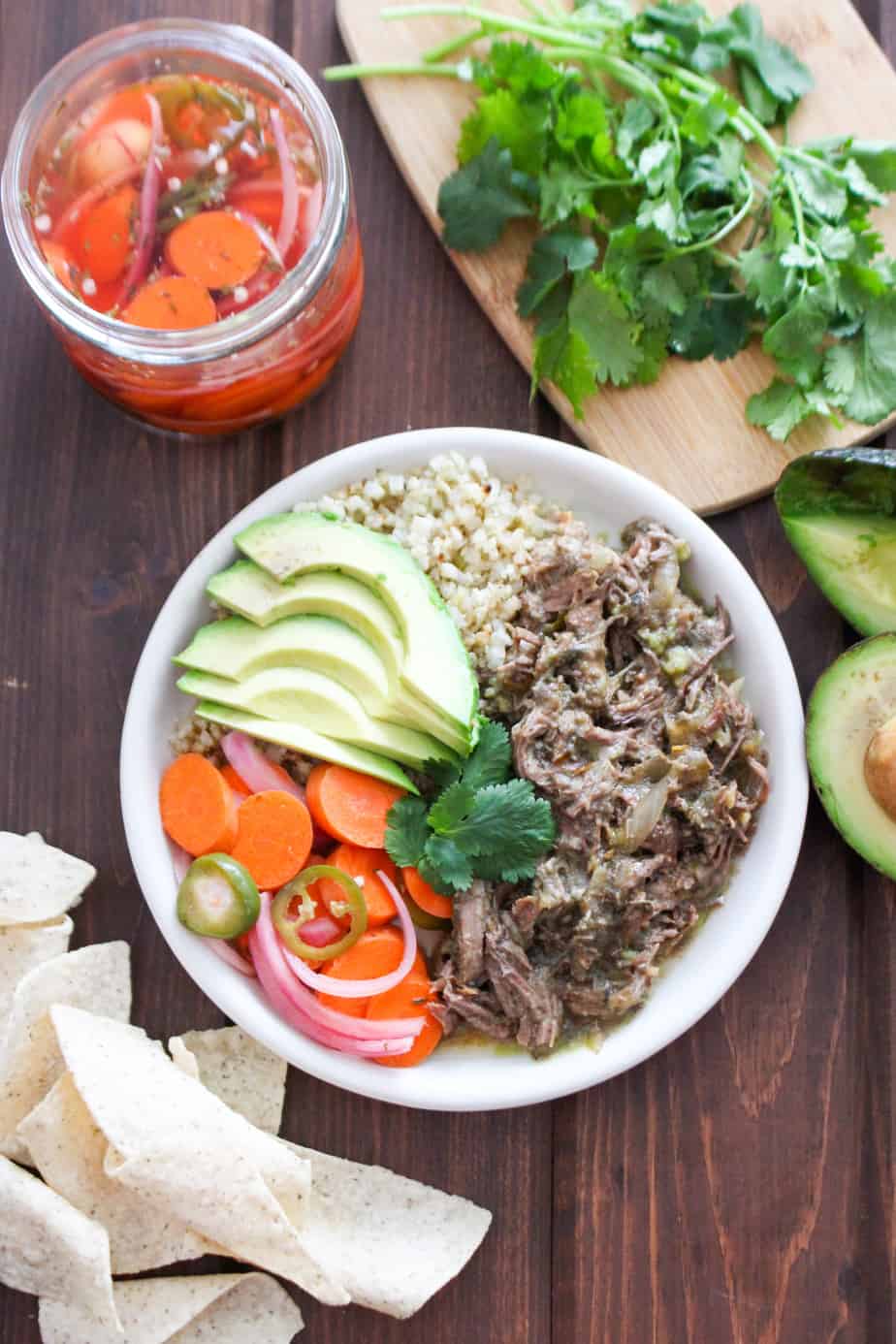 How to Make Slow Cooker Chile Verde
This dish is incredibly easy! All you have to do is place your big ol' hunk of beef in a slow cooker, season it with a bit of salt and pepper, dump salsa verde, green chiles, and the optional sliced onions and garlic into the slow cooker, and cook it over low heat for 8-12 hours.
How to Serve Beef Chile Verde
Usually you'll see this served in an almost stew-like format, with things like rice, tortillas, and pickled carrots on the side. Here I've shown it with cauliflower rice, zanahorias en escabeche (pickled carrots), avocado, fresh cilantro, and some Siete foods cassava chips.
We've also used it as the base of huevos rancheros, and with roasted delicata for an easy leftovers-style breakfast. You can go nuts though - this would be great in tacos, nachos, quesadillas or paired with some beans and veggies.
What Are Zanahorias en Escabeche?
They're pickled carrots! And they're really easy to make. I definitely recommend whipping these up if you have the time. Here's a traditional recipe with multiple types of chiles, but I actually use a variation of this simpler recipe by The Kitchn. (I omit the sugar and skip the bay leaves since I never have them.)
These spicy pickled carrots are one of our favorite things to keep on hand. They make meals infinitely more exciting, and bring a lot of tang to rich dishes.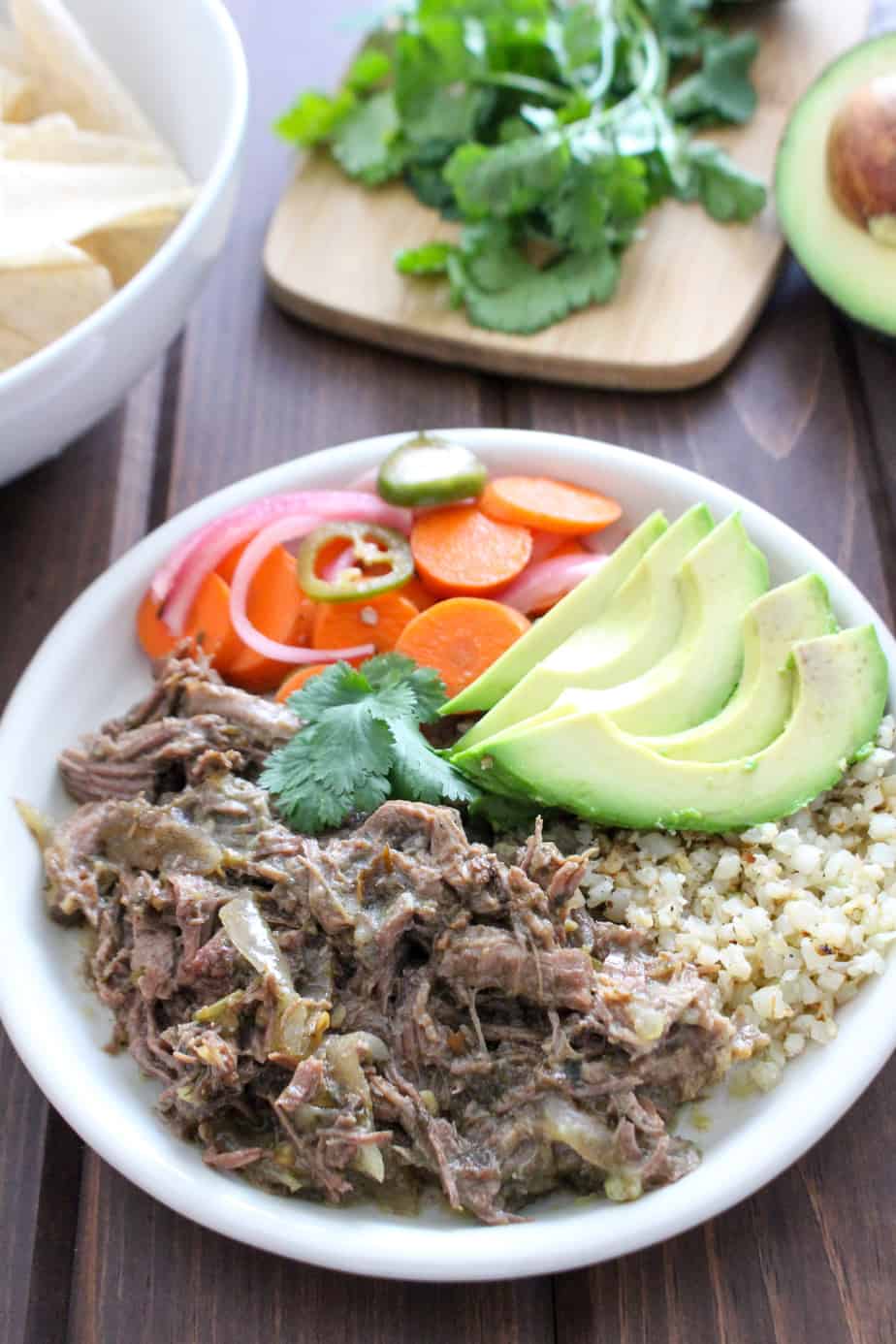 Paleo: Yep!
Vegetarian: No, sorry friends!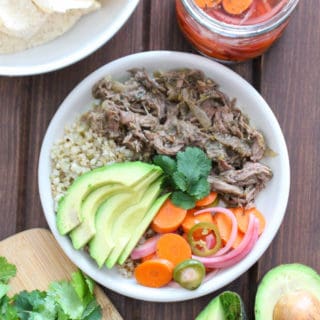 Slow Cooker Beef Chile Verde
This deliciously simple slow cooker beef chile verde is the perfect slow cooker main dish to feed a crowd!
Ingredients
2-3

pounds

beef chuck

1

jar

salsa verde

12-16 oz, or green enchilada sauce (try homemade or FODY Foods for low FODMAP)

1

can

green chiles

½

teaspoon

salt

½

teaspoon

pepper

1

medium

onion

sliced into wedges, optional

4

cloves

garlic

mined
Optional For Serving
Mexican quick-pickled spicy carrots,

sliced avocado, fresh cilantro, tortilla chips (I like Siete), cauliflower rice, limes
Instructions
Season the beef chuck all over with salt and pepper and place in the slow cooker.

If using onions, slice into wedges and arrange around the beef in the slow cooker along with the minced garlic.

Add the salsa verde or green enchilada sauce and the diced green chilis to the slow cooker, pouring them over the beef and onions to distribute evenly.

Cover and cook over LOW heat for 8-12 hours until super tender.

Shred the beef with two forks and serves as is, or in a number of ways: in quesadillas, as tacos, on nachos, or with eggs for breakfast!
Notes
My local Safeway has grass-fed beef chuck for $5.99 / pound, or grass-fed stew meat for $6.99 pound. I usually buy 100% grass-fed and grass-finished beef from Moink, which costs about $8.99 / pound. I usually buy salsa verde from Trader Joe's for $1.99.
Nutrition label is for 2.5 pounds beef, 10 servings.
Nutrition
Calories:
249
kcal
Carbohydrates:
8
g
Protein:
22
g
Fat:
14
g
Saturated Fat:
6
g
Polyunsaturated Fat:
1
g
Monounsaturated Fat:
7
g
Trans Fat:
1
g
Cholesterol:
78
mg
Sodium:
771
mg
Potassium:
519
mg
Fiber:
2
g
Sugar:
5
g
Vitamin A:
370
IU
Vitamin B1:
0.1
mg
Vitamin B2:
0.2
mg
Vitamin B3:
5
mg
Vitamin B5:
1
mg
Vitamin B6:
0.5
mg
Vitamin B12:
3
µg
Vitamin C:
8
mg
Vitamin D:
0.1
µg
Vitamin E:
0.2
mg
Vitamin K:
2
µg
Calcium:
26
mg
Copper:
0.1
mg
Folate:
6
µg
Iron:
2
mg
Manganese:
0.1
mg
Magnesium:
24
mg
Phosphorus:
221
mg
Selenium:
24
µg
Zinc:
9
mg
Choline:
73
mg