Recipe: $16.50 | Yield: 6 | Per Serving: $2.75
Can we talk about how good wild salmon is?
I don't remember having wild salmon growing up - we were more of a catfish kind of family - so when I first had it while working at a fancy restaurant in college, my life changed.
One of the chefs showed me how they made pan-seared salmon with clarified butter and I was so fascinated by the process - and enamored by the delicious result - that I ordered pan-seared fish at every restaurant for the next two years. Tender, flaky fish with a crispy exterior? I am IN.
However, that's more of a date night dinner for most of us - and it's been a while since I last made pan-seared salmon at home. Instead, I find myself constantly ordering a full fillet of wild salmon in my Moinkbox (*discount link, not sponsored), and baking the whole thing for the sake of convenience.
The first time I cooked the whole salmon fillet, I was totally winging it and it came out perfectly. SO LUCKY. The second time, I Instagrammed it and have been referring to that post ever since. I figured it was high time to create a blog about it so it is more accessible for all parties.
How To Cook a Whole Salmon Fillet
This whole salmon fillet recipe is incredibly easy!
Add a little seasoning - salt, pepper, olive oil, and lemon are my faves
Bake it on 350ºF for about 12 minutes!
You'll have perfectly cooked salmon every time.
If you want to make this a whole meal, I recommend pairing it with vegetables that can cook in about the same amount of time. You can arrange them on the sheet pan around the salmon for a quick sheet pan meal.
Quick Roasting Vegetables To Pair with Baked Wild Salmon:
Asparagus
Grape tomatoes
Green Beans
Yellow Squash
Zucchini
I like to pair this with a quick-cooking starch as well, so if I don't have leftover potatoes or sweet potatoes, quinoa is a great choice since it only takes about 15 minutes to cook. This time around I served it with leftover stovetop green beans and celery root mash.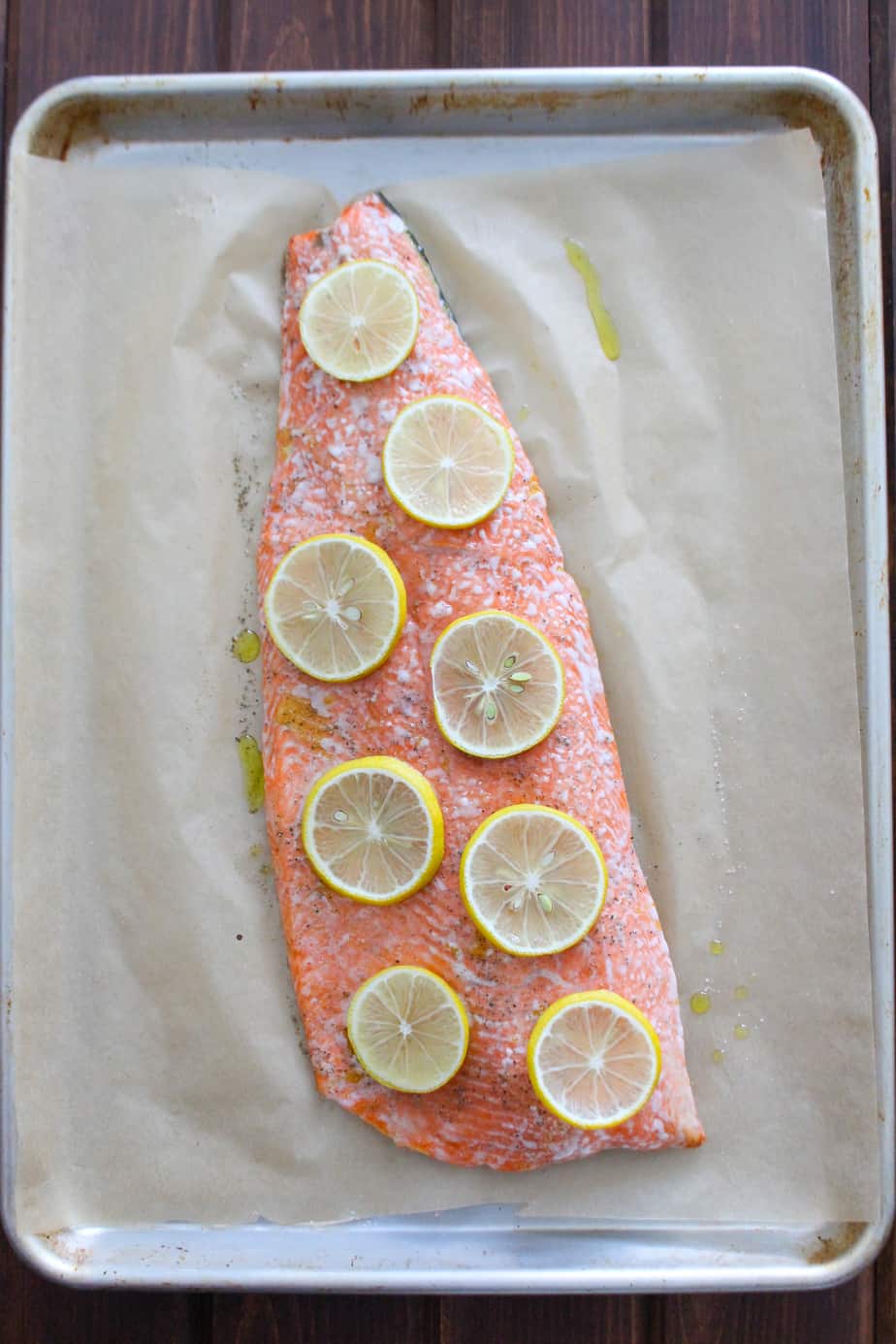 Wild Salmon vs. Farmed Salmon
OK friends, now I'm going to chat a little bit about wild salmon vs. farmed salmon, so feel free to scroll on down to the recipe if you're not interested.
Farmed Salmon
Most farmed salmon is a little bit scary (in my well researched professional opinion). Farmed salmon are fed a mix of processed food byproducts (wheat, corn, soy), as well as some fish meal and sometimes animal byproducts. Let me be perfectly clear here: salmon who eat wheat, corn, and soy are absolutely going to get sick, just like cows who eat wheat, corn, and soy do.
Eating sick animals is not my idea of a nutrient-dense diet. Some farmed salmon, such as those raised in Chile, are known to be given high levels of antibiotics, in part due to the illnesses they're more susceptible to due to their diet. (And due to close living quarters without adequate water flow.)
There are some sustainable salmon farms that feed their fish a natural diet, but those fish still don't have as much variety or as much exercise as truly wild salmon. Plus, they'll often feed them food extractives that make their flesh darker (like isolated astaxanthin powder), rather than giving them enough of their natural diets of carotenoid-rich crustaceans.
Basically, farmed salmon don't get enough natural nutrients from their diets, so they're also fed supplements in order to get that deep hue. Much like for humans, isolating individual compounds is significantly less effective at promoting health than eating the whole food. You can't take a multivitamin and expect it to have the same effect as a whole foods diet!
In contrast, the color of this wild salmon (below) comes 100% from the carotenoids found naturally in the salmon's wild diet.
Wild Salmon
Nutritionists, including myself, recommend wild salmon because it's higher in omega-3 fatty acids, and lower in pollutants. Salmon prefer cold water, and cold water fish tend to have a higher fat content to stay warm. Fat stores toxins, so farm-raised fatty fish are actually more likely to store toxins and pollutants than their wild caught counterparts.
Luckily for us, wild salmon is high in omega-3 fatty acids, the anti-inflammatory fats that are required for many bodily functions and help prevent heart disease, inflammation, anxiety, and dementia.
As with most animal products, I recommend reducing the volume in favor of increasing the quality, especially if cost is an issue. Instead of buying frozen bags of cheap farmed salmon to eat 2-3 times a week, I buy a huge fillet of wild salmon and eat that 2-3 times a month, (occasionally supplementing with wild caught canned fish as well). In doing so, I can help reduce my toxic exposure, reduce the strain on the fish population, and increase my intake of omega-3 fatty acids per serving.
Sustainability of Salmon
Seafood Watch by the Monterey Bay Aquarium recommends pink or sockeye salmon from the Pacific Northwest, caught using lift nets, for the most sustainable wild salmon option.
Although farming salmon means we're raising it specifically for food, that food is not generally good for you. If you are concerned about sustainability, it seems to be better for your health and the environment to eat no salmon (or very little salmon) rather than farmed salmon. Here's Oceana's take on why farmed salmon doesn't actually help salmon in the wild.
Where to Buy Wild Salmon
You can certainly buy wild salmon at most grocery stores, but there are also online outlets that will ship wild salmon directly to your home!
Personally, I order a Moink Box every 4-8 weeks, and usually get a huge fillet of salmon in it. I've also seen wild salmon fillets at my local Safeway, and I'll sometimes snag one of them as well. Additionally, I like to supplement my fresh seafood intake with canned seafood from Wild Planet, Safe Catch, and occasionally Trader Joe's.
Takeaways:
Buy wild salmon for the best nutrient profile.
Buy Wild Pacific Northwest Pink or Sockeye Salmon for the most sustainable option.
Add wild canned fish and small fish to your diet, like canned Wild Planet Sardines, anchovies, SafeCatch Tuna, or Wild Planet Mackerel, which I buy on Thrive Market (*referral, not sponsored).
Make this AWESOME wild salmon fillet for a super fast and easy dinner!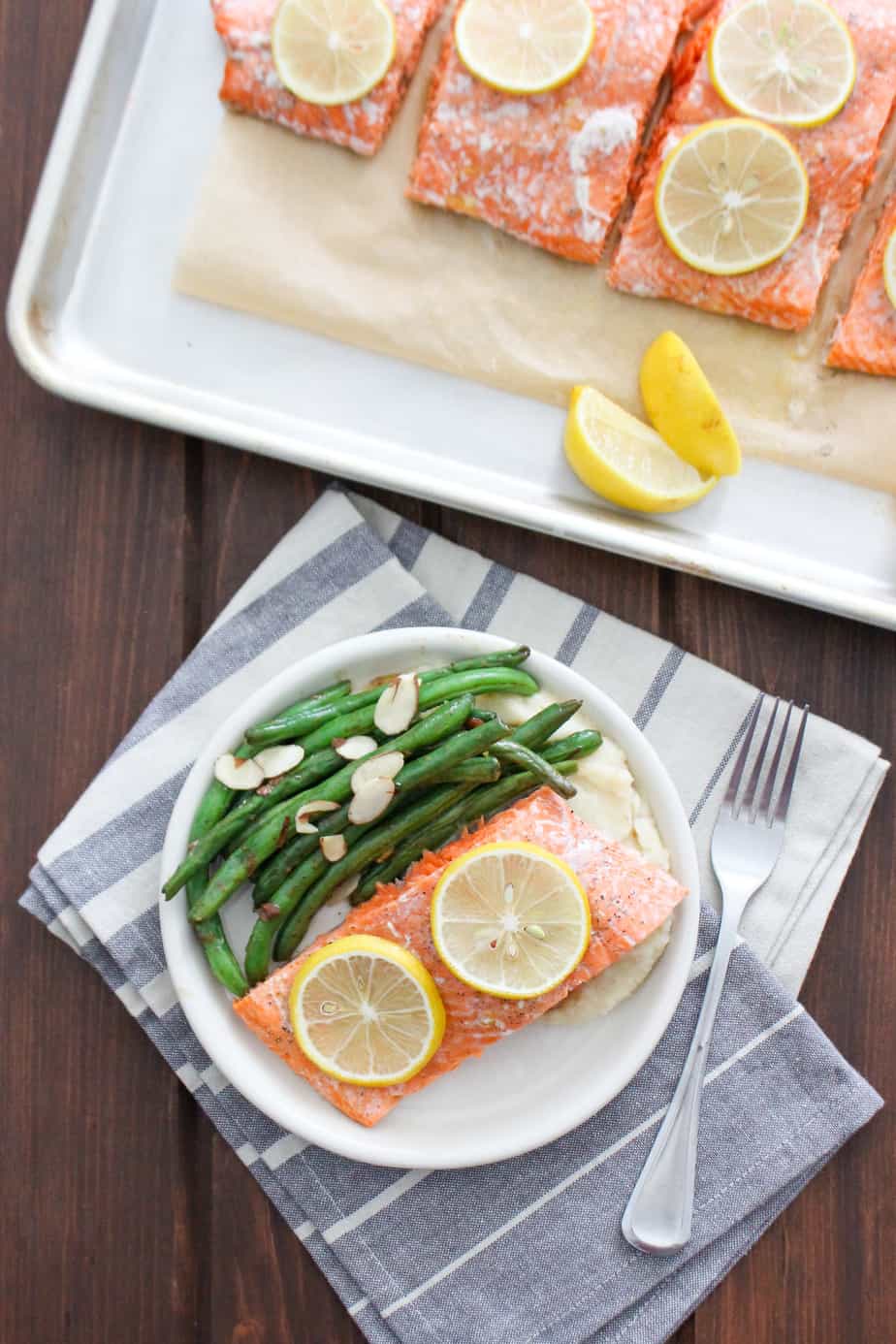 Paleo: Yep!
Vegetarian: No, but it's pescatarian!
How to Roast a Whole Salmon Fillet
Deliciously simple baked salmon fillet - just 5 ingredients!
Ingredients
2

pounds

wild salmon fillet

1-2 pounds

1

Tablespoon

olive oil

or avocado oil, or melted ghee

¾

teaspoons

sea salt

cracked black pepper

1

lemon
Instructions
Preheat oven to 350ºF.

Slice about half a lemon into very thin rounds. Set other half aside for serving.

Place salmon fillet skin-side-down on a silicon- or parchment-lined baking sheet.

Drizzle with 1 teaspoon olive oil.

Sprinkle with ¾ teaspoons sea salt and some freshly cracked black pepper.

Arrange the lemon slices atop the salmon fillet. This adds some lemony flavor, but also keeps the top of the salmon moist and looks very pretty.

Bake salmon in 350ºF oven for approximately 12 minutes or until it easily flakes and the internal temperature reaches about 120ºF.

Slice into approximately 6 fillets and serve!
Notes
- This is a super simple recipe, but feel free to season it however you'd like.
- Add quick-cooking vegetables to the pan around the salmon for a quick sheet pan dinner: Asparagus, Grape tomatoes, Green Beans, Yellow Squash, Zucchini
Nutrition
Calories:
236
kcal
Carbohydrates:
0.3
g
Protein:
30
g
Fat:
12
g
Saturated Fat:
2
g
Polyunsaturated Fat:
4
g
Monounsaturated Fat:
5
g
Cholesterol:
83
mg
Sodium:
357
mg
Potassium:
746
mg
Fiber:
0.01
g
Sugar:
0.1
g
Vitamin A:
61
IU
Vitamin B1:
0.3
mg
Vitamin B2:
1
mg
Vitamin B3:
12
mg
Vitamin B5:
3
mg
Vitamin B6:
1
mg
Vitamin B12:
5
µg
Vitamin C:
2
mg
Vitamin E:
0.3
mg
Vitamin K:
1
µg
Calcium:
19
mg
Copper:
0.4
mg
Folate:
39
µg
Iron:
1
mg
Manganese:
0.02
mg
Magnesium:
44
mg
Phosphorus:
303
mg
Selenium:
55
µg
Zinc:
1
mg
Choline:
0.3
mg