This post is part of a Nutritionist Behind the Scenes series that is hosted on Frugal Nutrition to help CNS nutritionists navigate the industry after graduation. To see the full series, please visit The CNS Path: Exam Study Tips, Internships, Licensing, Getting a Job.
When I decided to change careers and go back to school to become a nutritionist, I had no idea what I was getting myself into. Now that I've been out of school for a full year, I wanted to share my experience as a CNS Nutritionist in hopes that others will have a better idea of what's to come.
Parts of this post are vulnerable - failures and shattered expectations and feelings of inadequacy always are - but I've never really shared those struggles. So if and when you go through the whirlwind of emotions that come with life, just know you're not alone.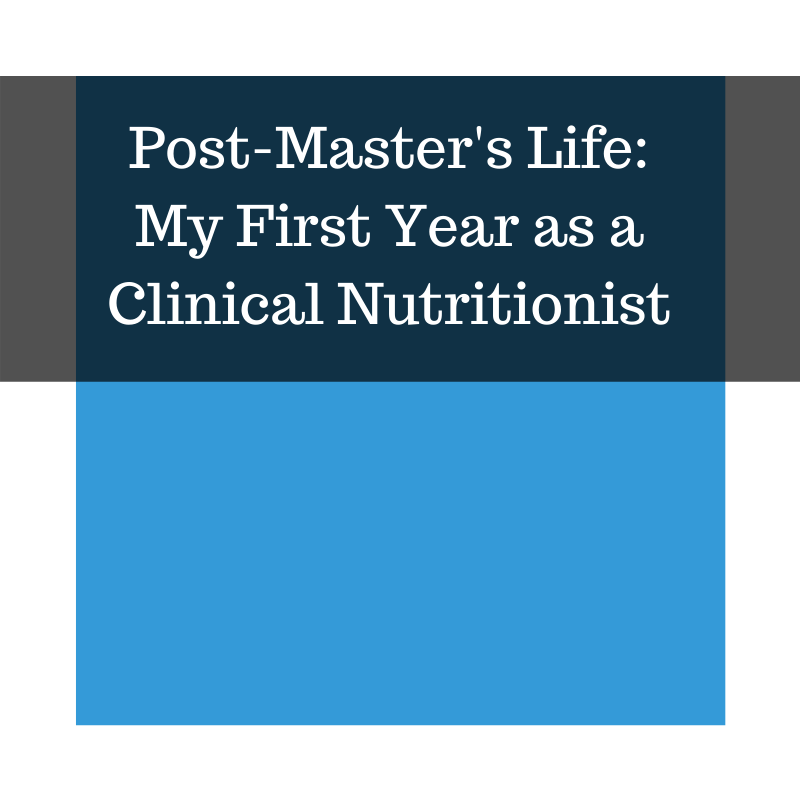 In this post:
My Job Preparedness and Prospects + Quitting My Job

Here's how I completed my required internship hours for the CNS credential

Getting a Real Job as a CNS Nutritionist

Here's what my workload looks like now, at the beginning of September

How Many Hours I'm Working

How Much Money I'm Making As a CNS Nutritionist

Successes and Failures in my Career So Far


My First Year as a Clinical Nutrition Graduate
If you look at the Bureau of Labor Statistics, you'll see projected growth for the field of nutrition - but this incorporates statistics from RD's as well as non-credentialed "nutritionists" in states like California. I didn't realize this.
Getting My Master's Degree
It wasn't until I was well into my first year of school to become a CNS that I realized how much more limited the job potential was in comparison to an RD. However, I think the education is much better (everyone seems to agree here that a master's surpasses a bachelor's, no shade at RDs), more detailed, and more functional. Then, and still to this day, I firmly believe the functional approach is much more effective for patients / clients, but the job outlook is rough.
When I started to realize this, I exchanged several emails and a few calls with my advisor, and she explained some of the different roles available to a CNS. I realized that this was much like being an English major, there are lots of different things you technically can do, but there's no structured path to follow after graduating.
In my experience over the last 6-12 months, it's really, really hard to making a living as a CNS right out of graduate school. It's been a full year since I graduated, and I'm still in the red every single month (but well on my way out!). I don't say this to dissuade you, I say this to prepare you. I much prefer this to my previous job, but I have a lot of room for financial growth.
My Career Goal: When I graduated, my ideal situation included being a nutritionist in a doctor's office (preferably with a functional doctor), and perhaps teaching part-time at the community college level. I had no interest in the grassroots work required for private practice, plus I love the collaborative approach of a multi-practitioner office, and, as someone with a food blog, my entrepreneurial energy was fully expended already.
My Job Preparedness and Prospects At Graduation
In the fall of 2016, I started my master's program in Human Clinical Nutrition from the Maryland University of Integrative Health.
I was on my way to becoming a nutritionist! I was excited and I worked very hard, convinced that my hard work, versatility, and decent-looking resumé would be enough to find a decent job upon graduation.
First year of graduate school: Working full time + working part time + blogging part time
Second year of graduate school: Working full time + blogging part time + clinic part time
Clinical Practice
At my school, we spend 6-8 months in clinical practice before graduating. I started clinic in January 2018 and finished in August 2018. I would be graduating with 6 months of clinical practice under my belt before even starting my internship - certainly, I thought, this would guarantee me a job.
Quitting My Job
It's hard to know when to quit your job when you're either starting a new career or trying to turn your side hustle into a full time gig.
Without any job prospects in sight, I decided to quit my full-time job immediately upon graduating so I could focus on my internship, study for the CNS exam, and continue with my blog. The job I had at a preschool / daycare was the hardest, most stressful, most drama-filled job I have ever had in my life, and I needed to put it behind me in order to start a new career. We would dig a little bit into savings if necessary, but I'd probably find a job right away, right?
I made this decision in the spring before graduating, so around April of 2018, I started looking for an internship and/or job, hoping to be fully prepared to leave my job that August.
Finding an Internship with a CNS Supervisor
We intern for about 6-12 months, or however long it takes you to get the required 1,000 hours of clinical practice, so I wanted to try and make a little money at the same time.
I sent my resumé to over 75 people - doctors, nutritionists, RDs, massage therapists, wellness centers - and I responded to every single semi-relevant job on Indeed for months. It was a grueling, soul-crushing task, and I had absolutely no luck for 6 months. It wasn't until OCTOBER that I found an internship, which I got from cold-emailing someone at exactly the right time, and a part-time (non-nutrition) job at a doctor's office, which I got from knowing someone on staff.
I didn't want to go through the supervision programs available at my school because you still had to somehow find your own clients. Instead, I cobbled together an internship from a few different sources, which I've listed below.
Internship Supervision Programs - Now
Let me say one thing, there are TONS of options available now. When I was graduating there were only a few options that I knew of - Rebecca Snow's internship or the MUIH supervision program, both of which seemed well out of my price range, and I wasn't sure if it offered the kind of experience I was looking for.
Things are definitely better for today's graduates; MUIH has a well built out supervision program for their alumni, and you can join supervision programs like Clinician's Incubator, IFNS, etc. See more information about internships here.
Here's how I completed my required internship hours for the CNS credential:
Community Work with Howard County Head Start

: MUIH won a grant to take over this Family Night program, and I was one of three leading interns who organized the programming for the event

Private Practice Internship

: I found a wonderful supervisor (an hour and fifteen minutes away) who gave me a great internship experience. I worked with her two days a week, and sometimes did work from home (research and handouts), so I got about 15-20 hours a week with her. The best thing about this was that she scheduled all of her consultations on the days I was in the office, and let me sit in, take notes, and make recommendations during the appointment. It was well worth the 2.5-hour commute because she was really supportive and amazing and I learned a lot.

Gym Internship

: for one month I also worked with a supervisor in her gym, seeing nutrition clients and running some events. Again, this was a great hands-on experience with real clients and real recommendations.

Reviewing Files / Research

: Intermittently I helped a supervisor I know with her clients by doing a little bit of research and organizing some of her notes for clients who she felt she needed fresh eyes on. This was great because she worked in a doctor's office so I got the chance to learn a little bit about shorter insurance-based appointments and what it's like working with a doctor.
Finding a Part-time Job as a Nutrition Graduate
In October, I was also finally able to find a part-time job as a receptionist at an integrative doctor's office two days a week. The pay was not good, and it was a very un-stimulating position for me, but I did have some opportunities to learn. I was able to get a better understanding of how insurance works for nutrition, and was allowed to review some of the notes so I could practice SOAP notes and charting.
I learned a little bit by proxy of what these practitioners were doing and I was ecstatic for the opportunity to work for such high caliber doctors. And, as they well knew, I was hoping for the chance to work there as a nutritionist if the opportunity presented itself. It's one of the main reasons we stayed in Maryland rather than moving back to California when our lease ended!
Getting a Real Job as a CNS Nutritionist
If I'm being honest, I thought my resumé at this point was nothing short of impressive. My internship was well-rounded, I had management experience, a Master's degree, and was working in a doctor's office. As I completed my internship, I reached out to the owner of an acupuncture office to see if they needed a nutritionist. I'd met with the owner the previous summer and we got along, and by the time I was fully credentialed and licensed in February, I was in!
I was so excited to get licensed in February, and start as a nutritionist two weeks later! But, the struggles had just begun. They didn't really have a nutrition practice so I would be starting things up from scratch. Here's what my workload looked like in March, right after receiving my license.
Receptionist: two days a week (menial, a bit dull, but friendly coworkers)
Nutritionist at acupuncture office: 1 day a month (hardly any clients)
Private Clients (Skype): about 1-2 client meetings per week
Blogging: obviously this isn't really related to my master's in nutrition, but I do spend time on food blog business of Frugal Nutrition. I probably spend 20+ hours per week on my blog, but I didn't join a good ad network until March, and I had stopped doing any sponsored content, so at this time, I wasn't making any money yet. (PS thanks to you all for allowing ads so I can make a little money blogging!)
This schedule does not make a salary, so I was constantly applying for jobs at other practices. I felt that the entire nutrition industry in Baltimore had my resumé.
Finally, around May (9 months after graduating, 2 months after completing licensure), three great things happened.
One, a previous professor at MUIH needed a TA and reached out to see if I was interested.
Two, a mental health practice hired me as their nutritionist. In part because I had a little experience with insurance coding for nutrition, which is complicated.
Three, the nutritionist at the integrative doctor's office left the practice and I was hoping to be next in line!
Also, sort of a side note, I had decided to rent office space at a wellness practice in Ellicott City (lots of families) so I could expand into more pediatric nutrition, which was my background. I rented the space for four months ($175/month included 1 shift per week), and participated in all of the promotional events, developed marketing materials, reached out to local doctors and pediatricians, and tried my damndest.
I had about 3 inquiries during that time, and not a single appointment was booked, so I decided not to sink any more money into that venture and I left. It wasn't until I accepted a part-time job that I was able to think clearly about this though. I just worked so hard to make it work and it didn't. Once I started TA-ing, I was a little more free to focus my hustle.
Ups and Downs as a CNS Nutritionist:
Teacher's Assistant: I immediately loved this role, even though it took some time to figure it out since it was a relatively new position for the school. At the end of the trimester, I also reached out to several other professors in order to try and get another TA-ing gig. (I love teaching!)
Mental Health Practice: It took two months to get hired and paperworked and credentialed with Carefirst at the mental health practice (6-8 weeks is standard), so even though I had the position, I had no idea what kind of workload to expect, and I didn't see my first clients until mid-July when insurance credentialing was finalized. But, my 1-day-per-week schedule started filling up right away, and within a month I was asked to be the nutritionist at another location they were opening later that fall. (yay!)
Integrative Doctor's Office: The doctors kind of dragged their feet about what to do regarding nutrition after their nutritionist left. They understood the importance of a nutritionist, but it was not as lucrative for their practice as they would have liked. They also didn't really understand the difference in how an RD is trained to practice and how a CNS is trained to practice, so they didn't really value the unique education or clinical experience of a CNS.
In the end, I didn't get the position (which, was honestly devastating), so I decided to leave the receptionist job. I learned all I had to learn, and I felt like they'd been sort of rudely leading me on for months and months and months (regularly indicating I would be their nutritionist one day), only to decide not to hire a licensed nutritionist, but to hire a nurse who was also a nutrition intern. There was no reason to stay.
Here's what my workload looks like now, at the beginning of September:
Nutritionist at acupuncture's office: usually just a few days per month, both client appointments and community events (totally self-pay)
Nutritionist at BPW: one day per week, full schedule (busy and awesome!), but adding on another day soon
Teacher's Assistant at MUIH: two-three days per week, sometimes on campus and sometimes from home
Frugal Nutrition: I usually devote one full day to my blog (~10 hours), but there's a lot of work done "off the clock" in terms of recipe testing, research, and managing social media. It's still around 20 hours a week in total, but at least it's an enjoyable "hobby job" that is now paying me a little money.
There's also lots of behind-the-scenes work for clients, like researching for unique cases, comparing different supplement brands, putting together recommendations, etc. Charting and completing notes still takes me a decent amount of time (especially for new clients), but I don't get any additional compensation for that. Plus, making sure business expenses and paperwork are in order, and the myriad of little things that go along with being an independent contractor or business owner.
How Many Hours I'm Working
If I were to guess, I'm probably working 50-60 very flexible hours per week. Clients, client notes, marketing & events, and TA-ing is about 32 hours per week right now, plus the 20 or so hours I work on my blog. I do a LOT of marketing and networking for the self-pay practice, which is why I wasn't really interested in that, but here we are.
How Much Money I'm Making As a CNS Nutritionist
It took me a long time to decide if I was going to include this here. As much as we all might be in this field because we want to help people get well, or because we're complete nerds for nutritional biochemistry, when you spend 40-50K on your master's degree, you want to know what kind of money you can expect to make.
Other people are certainly making more money, especially those who are particularly entrepreneurial, good at making sales, or living in a more affluent area, but I can only tell you what I am making 1 year after graduating from MUIH, and 6 months after getting credentialed and licensed.
I can't give you an exact number, because it varies month-to-month, but this is what I can tell you.
Self-Pay Practice at CCIH: This is 100% self-pay. Our agreement is rent-free, but we split the payments 60(me):40(them). I love working here - the people and the clients are great. In the interest of giving advice, I think you should ask for a 70:30 split if you're not taking insurance and they're not feeding you clients because you're doing 90% of the work. But, this split was my suggestion because I didn't know any better.

Monthly Income: ~$50-$200 (before taxes)

Insurance-Based Practice at BPW: All of my clients so far have been insurance-based, and we also split 60:40. Everyone here is also fantastic: incredibly kind, respectful, and helpful. And, mental health is one of the fields in which I'd always hoped to practice. It's busy and sometimes complicated because of insurance, but I love it here too.

Monthly Income: ~$800 (before taxes)

Teacher's Assistant at MUIH: Hourly. (I'm not sure that I'm allowed to disclose my hourly rate.) As I mentioned, this role is great! I love supporting the students and the clinical interns, and after teaching on and off for 6 years, it comes naturally to me.

Monthly Income: ~$900 (before taxes)
I'm still working more and making less than I was at my previous poorly-paying job, and I never expected to take such a massive hit for the whole first year out of school, but I am hanging in there, and things are improving each month.
I can't afford a Vitamix or Tieks or this fancy food processor I've been wanting for years, but I can afford a Moink box (pastured meat, every 6 weeks), secondhand clothes (thanks ThredUp), and a membership to Orangetheory, so I am honestly very very fortunate. If I were single, I would definitely be working part-time at a restaurant or a school, and I would definitely have a roommate, but my partner works full time, and 1.5ish incomes in one household makes a big difference.
Successes and Failures in my Career So Far
My Career Failures
Sending out 1,000 resumés to get an internship.
Sending out 1,000 resumés to get a job.
Not even getting an interview for the nutritionist position at the job where I was already working as a receptionist.
Wasting 4 months of time and money trying to build a practice when it just wasn't working.
Being so negative and feeling like an inadequate Eeyore nearly every day for 6 months, and allowing this to fill every crevice of my being.
My Career Successes
Hiring a business coach to help me figure out how to organize my private practice and my blog. This helped me to realize that I didn't want to hustle so hard because it wasn't bringing fulfillment - financially or otherwise.
Getting the role at the acupuncturist's office, who really cares about nutrition and values his team. It's a motivational confidence boost to hear "yes, let's do it" to most of my suggestions.
Getting the job as a TA and then the role at the mental health practice were huge wins for me, not as much financially, but definitely mentally. I was expending so much energy trying to make private practice work and trying to make a living from my blog that I was just doing both things poorly. Sometimes you have to have less time available in order to free up mental real estate to work better.
What's Next as a CNS Nutritionist
For now, the next steps are:
1) building up the practices where I'm currently working
2) attending conferences and seminars to continue expanding my knowledge and experience, and
3) learning, growing, and gaining experience as a TA so I can eventually start looking at teaching positions.
Questions?
Please feel free to reach out to me with questions! I love this field that we're in, but the industry itself can be really brutal at times, and we're not given as much respect as we probably deserve!
I want to provide as much transparency as possible for those considering to pursue clinical nutrition as a CNS rather than community nutrition or the RD path. Stay tuned for more information on these different paths, including interviews with individuals from both careers!
Did I miss anything important? Let me know in the comments below, send me an email, or give me a shout on Instagram: @frugalnutrition.