This post is part of a Nutritionist Behind the Scenes series that is hosted on Frugal Nutrition to help CNS nutritionists navigate the industry after graduation. To see the full series, please visit The CNS Path: Exam Study Tips, Internships, Licensing, Getting a Job.

All About CNS Internships and Hours
Are you in the stage of your education / credentialing where you're looking at internships? Hopefully this page will help you navigate the somewhat confusing process of completing your 1,000 clinical hours to become a CNS!
Personally, I chose a CNS supervisor who had her own private practice and allowed me to participate in her consultations. It was a great experience, and I didn't have to get my own clients for all of my hours.
If I could do it again, I would consider the internship as an extension of my education (financially) and choose one of the structured programs to pair with my internship. It was incredibly valuable to not have to find all of my own clients, but the additional structure of a supervision program would have enhanced my experience.
You need two main things to get your 1,000 clinical hours for the CNS:
Supervision (A BCNS-approved Supervisor)
Clients
Different internships, supervision programs and shadowing programs all offer different options.
Types of Internships and Supervision Programs
Find a practicing professional who can give you both supervision and client hours.

Pros: You have a direct supervisor to help you with each individual case. You don't have to find your own clients. You can see how others practice and learn by example.
Cons: If you only have one internship, you might not get varied experiences.

Find a practicing professional who can give you client hours, and find a separate supervisor or supervision program to sign off on those hours.

Pros: You don't have to find your own clients. You can see how others practice and learn by example.
Cons: If you only have one internship, you might not get varied experiences.

Find your own clients and find a supervisor or supervision program to sign off on those hours.

Pros: You are thrown to the wolves and you're forced to really do it yourself!
Cons: You might not have as much hand-holding as you might like, and you have limited time to interact with your supervisor.
You can also do some combination of the above! If you graduate from MUIH, you will likely have 200-300 hours already from your clinical experience and case studies. Next, you have to decide the best way to get your remaining hours.
I found a few different internships with different CNS supervisors who were able to both give me client hours and sign off on those hours. (Free)
I had some of my own clients and did my own nutrition talks and got my own hours, and paid a supervisor to mentor me and sign off on those hours. ($100 / 40 hours)
CNS Supervision Programs
Many of the programs you'll see below are set up so that you, as the intern, find your own clients in order to accrue your hours. You will then meet with the supervisor for basic supervision. They will be available for you to ask questions, and the programs often have educational modules and lots of hands-on assistance so you have a team of experts to help guide you through this process.
Pros and Cons of CNS Supervision Programs
There are several different supervision programs available now, and while they weren't around when I was getting started, I have heard amazing feedback from most of them.
Pros: You have a team of peers to bounce ideas off of, and skilled professionals who are there to guide you as much as needed. Plus, you can still get your hours in the setting of your choice.
Cons: They do run a little pricier sometimes, and in most cases, you will have to get your own clients. (However, there are some exceptions to this – Dr. Kara Fitzgerald below offers client hours, and IFNS below offers some shadowing hours.)
1) MUIH Experiential Supervision Program:
This is run by Elizabeth Owens, and as far as I know, it is only available to MUIH graduates (although I'm sure other schools might have similar programs).
There are a few main ways to get your internship hours for the MUIH experiential program. Both require you to meet with your supervisor regularly, and participate in online presentations and group discussions:
Self-paced supervision (find your own clients, MUIH supervisor)
Placement plus supervision (placed in an internship, slightly pricier, clients are provided in this location, MUIH supervisor)

Types of Internships: students will work independently or shadow and scribe at places like CIH (Capital Integrative Health), Integrace, and sometimes Shepard's Clinic. I've heard mixed reviews. Some of the internships are really hands-on and fun, while others are a little more observational and not as interesting.
Below are some third-party supervision programs.
2) Supervision and Hours with Dr. Kara Fitzgerald
I researched this program extensively and it looks amazing! She's both an ND and a CNS, so there's a LOT to learn here. It's a big expensive, but looks like an amazingly detailed program.
This is a very hands-on clinical program, much like hospital residency for doctors, but in a virtual clinic. The program is 12 months long.
3) Supervision and Some Shadowing with IFNS – Integrative and Functional Nutrition Supervision
I spoke with one of the program directors here after completing my hours, and this program would be one of my first choices. They offer education, support, mentorship, and even business coaching tips. Highly recommend!
4) Supervision and Educational Modules with The Clinician's Incubator
This one also comes highly recommended, especially if you want to work with body image, eating disorders, and Health At Every Size (HAES). They have modules to help with your internship education and to help with preparing for the CNS exam.
Individual 1:1 Supervisors
And if you've already got access to clients, or you've got a job that will provide you with hours but you still need a supervisor, here are some options:
Pros: with individual supervisors, you can just pay as you go. So, say you have a clinical internship with a supervisor, but you're also doing some events on your own. You might need a separate supervisor to cover those event hours, and you can just pay one of these ladies to sign off on those hours.
Cons: some of these 1:1 supervision agreements are really hands-off. And since you're paying by the hour, you might have trouble getting the assistance that you need in a timely manner.
Getting CNS Hours / Finding an Internship
As mentioned, MUIH graduates can always join their experiential program and get placed in a local internship to get both hours and supervision, but if you're looking for alternatives, here are some tips!
Stalk Your Prey
LOL! But seriously. Find people who inspire you and contact them regularly. Interact on social media, email them, and do your best to get your foot in the door. I know several people who were able to find their ideal client base by doing this. This isn't always the most effective method, but many many people get internships this way and it helps you practice your email, cover letter, and resume skills.
Contact Alumni
You can also search on your school's alumni page to see who might be around. MUIH's Find a Practitioner Database: https://www.muih.edu/health-resources/find-practitioner
Volunteer at a Food Pantry
See if you can find a food pantry in your area and establish a relationship with them, Then, you can approach them with the idea of offering free (very basic) nutrition consultations.
Partner with Other Modalities
Chiropractors, Massage Therapists, and Acupuncturists tend to be open to having a free, unpaid intern hang around to offer nutrition counseling. I'd see if they just have a spare office and some clients they can send your way – then maybe once you're licensed you can work out another agreement!
Reach out to RDs
They are usually not be qualified CNS supervisors, but they might be open to hosting you as an intern. I know Nourish Family near Towson does this, and you get to see how a busy RD nutrition practice works!
Free (or paid) Events
I did several events when I was getting my hours. Contact schools, churches, and community centers to see who might be open to hosting events. You can also offer free events at different wellness locations and doctor's offices to start building relationships.
Put Up Flyers
Surprisingly, I got a decent amount of hours just by posting flyers at my local Orangetheory. Free nutrition counseling is attractive for this demographic! I met all of these clients via Skype. Here's an example of one of my flyers, which I made in Canva: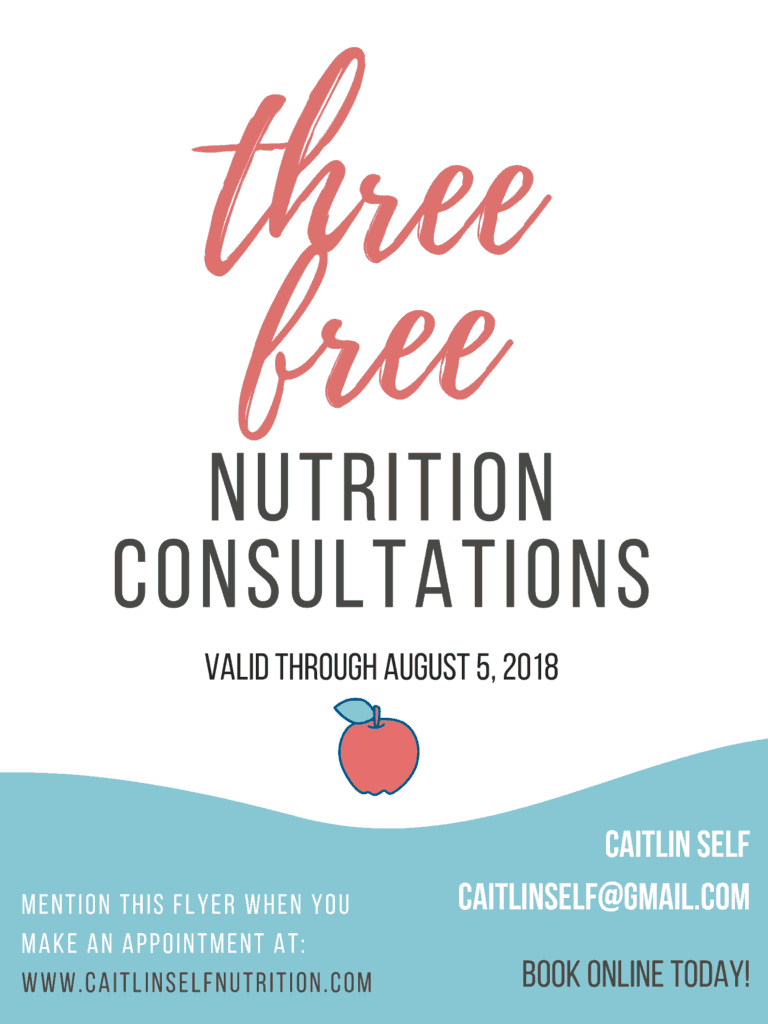 All in all, you WILL get your hours! It does take time, but hopefully this little guide will help. I'd say most people I've spoken to take 4-12 months to get their hours after graduating. It's grueling to work for free or to pay for supervision, but that's just the way our industry is currently set up. Good luck!