In honor of my recent post for Simple Slow Cooker Whole Chicken, I thought I'd also share some delicious and simple gluten-free recipes for leftover slow cooker whole chicken.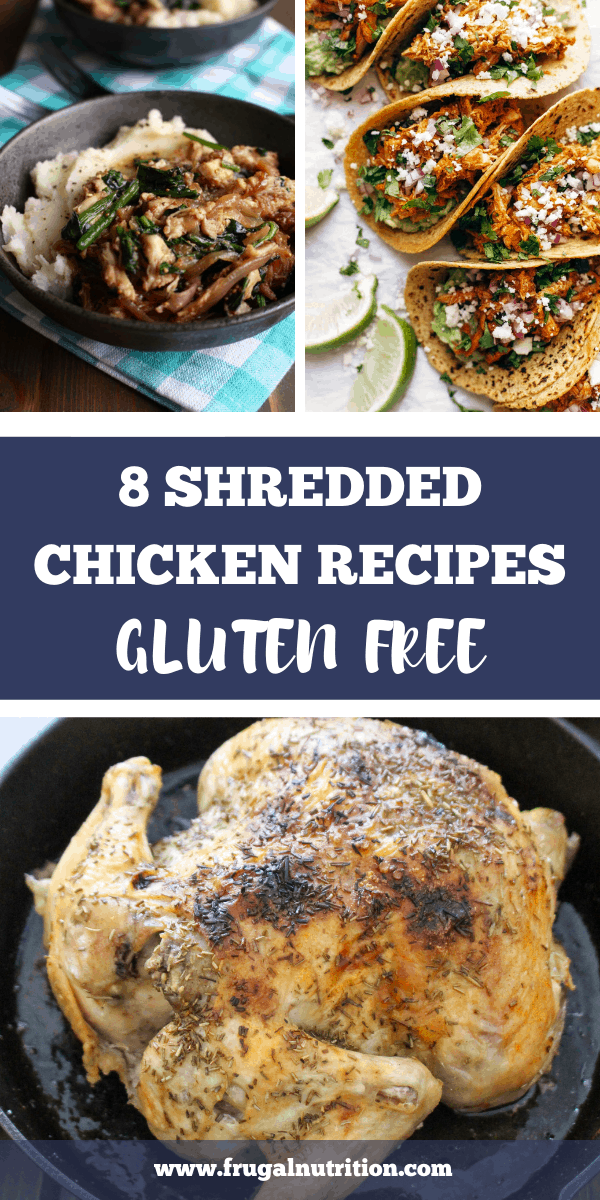 I've already discussed how slow cooker whole chicken is the perfect partner for meal prepping, but if you're not into eating the same thing for multiple meals in a row, change up that chicken flavor with these great recipes!
And, let's be honest, you can always use store-bought rotisserie chicken - no judgement!
8 Gluten-Free Leftover Shredded Chicken Recipes
As much as I love juicy roasted or slow cooker chicken on its own, sometimes it's nice to change things up a bit with different flavors and presentations. Here are some of my top hits, both locally and around the web.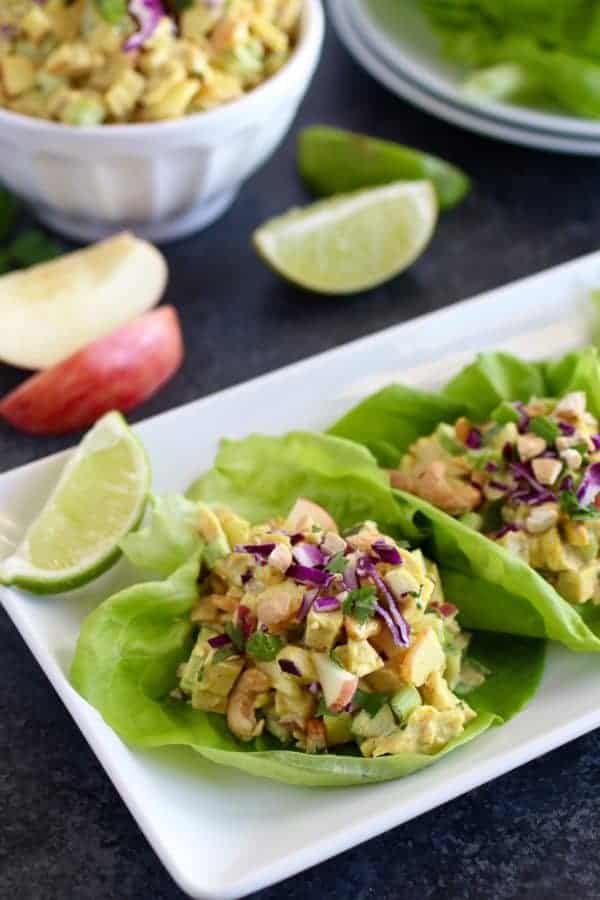 This is my absolute favorite mayonnaise-based chicken salad. I first made this for camping about a year ago, and I've made it, oh, I don't know, 400 times since then?
This recipe is one of the reasons I started making shredded chicken in the first place. Born from a kitchen mistake, the final product is one of my favorite warm-weather meals. Serve it with mashed potatoes as shown, or with cauliflower mash, quinoa, or your starch of choice!
This dish was on regular rotation when we lived in Japan, which provided us with surprisingly perfect avocados all summer long. Wrap it up in lettuce, cabbage, or collards and pack it in your bento!
I don't tend to be a huge fan of ranch dressing, but the combination of ranch with taco spices is surprisingly amazing. (Maybe I'm the only one surprised.) I highly recommend giving this one a try!
Another sleeper hit for me - I thought I hated buffalo chicken until I started making Serena's buffalo chicken salads and this quinoa bake. I use slivered almonds instead of breadcrumbs and usually skip the dairy.
6) Chicken Tinga Tacos by The Minimalist Kitchen / Pinch of Yum
I understand that several of these dishes are variations of tacos, #sorrynotsorry. These chicken tinga tacos are SO EASY, especially since they use already cooked shredded chicken!
I am a big fan of the spaghetti squash - sun dried tomatoes combo, and this dish by Chrissa at Physical Kitchness delivers! There's a hint of creaminess from the thick coconut milk, and plenty of flavor. Prep your spaghetti squash ahead of time for a super fast weeknight meal!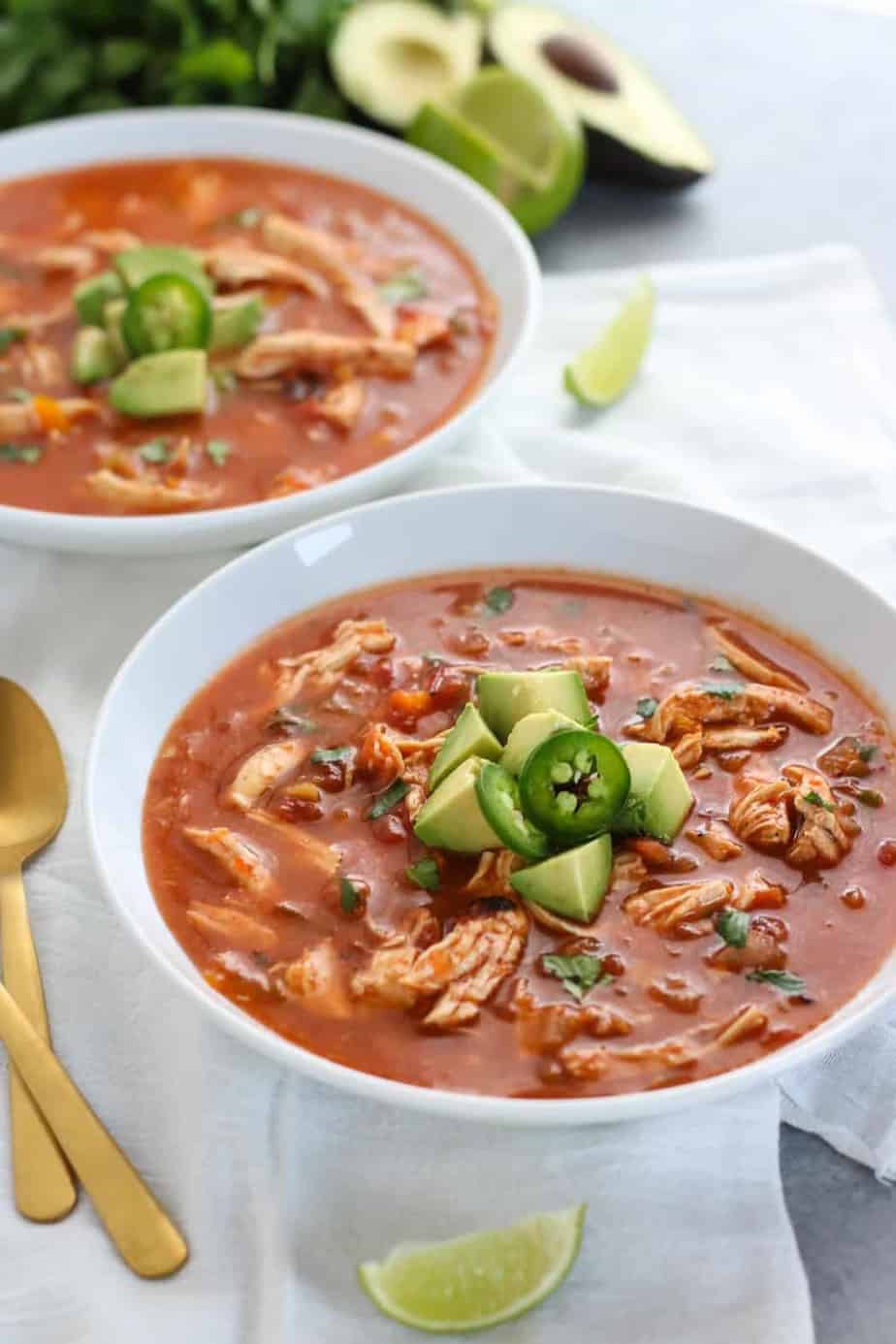 The Real Food RDs are coming through again with this easy and delicious chicken tortilla-less soup! If you're using leftover shredded chicken, you can just start with step 3 - cook all the spices and veggies first - then add the shredded chicken for the last 10 minutes of the simmering time in step 5. Pre-cooked chicken cuts back the cooking time by 10-15 minutes!
That's the list!
Which one are you making first? Pin it for later! ↓