Homemade spicy Italian sausage in 5 minutes? It may seem out of reach, but it's possible with this endlessly flavorful and authentic Italian Sausage Seasoning ready to go in your pantry!
Recipe: $1.00 | Per Serving: $0.06 | Yield: 4 Tablespoons (16 servings)
There are a few posts on Frugal Nutrition about sausage soup, bolognese, and homemade sausage, and although sausage requires time for aging and curing, this Italian sausage seasoning recipe is here to provide a very acceptable shortcut!
And guess what, this seasoning can even be used in recipes without sausage or meat of any kind.
You can add it to roasted potatoes (OMG YUM), bolognese, lentils, roasted chickpeas, etc. Or even when you're having spinach & eggs for breakfast - mix it in with the spinach for a totally meat-free and robust sausage flavor. It's awesome.
Versatility, my friends - I'm a fan!
What's the Difference Between Italian Seasoning and Italian Sausage Seasoning?
This is actually a great question because it varies.
Generally speaking, Italian seasoning is made from a blend of Italian herbs - parsley, basil, sage, oregano, marjoram, thyme, and rosemary.
To make Italian sausage seasoning, you can use your desired blend of Italian herbs alongside stronger, deeper flavors like paprika, ground fennel, and black pepper. To make it spicy you can add cayenne or red pepper flakes.
You will also see ground celery seed added to store-bought sausage as a source of naturally occurring nitrates for curing and preserving meat. Celery seed is also rich in flavor, so feel free to add that to your seasoning blend if desired!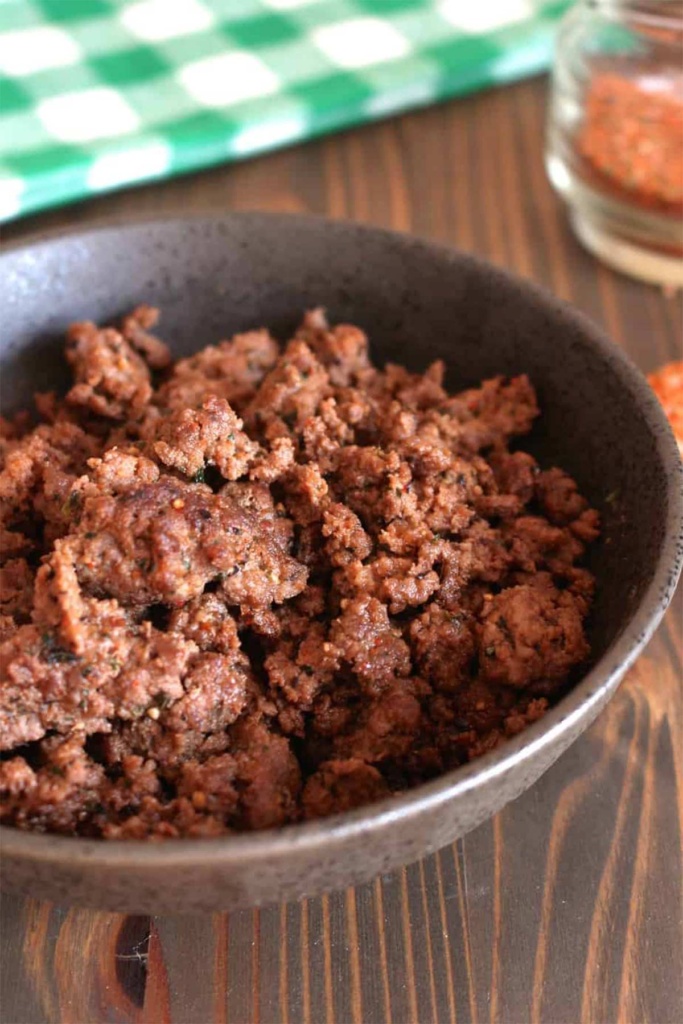 Is Homemade Italian Sausage Seasoning Cheaper?
As for the price, I generally assume between 5 cents - 10 cents for up to a teaspoon of dried herbs & spices. This definitely varies based on the spices you purchase, but when it comes to sausage, it is definitely cheaper to make your own homemade sausage seasoning!
Most of the time, high-quality sausage is $8 a pound. I can get pastured ground pork for $4.99 a pound, and make this Italian sausage seasoning for $0.25 per pound of meat. That's definitely cheaper!
Plus, we all know cured meats are sort of questionable for our health, so you can get the very very similar great flavor more often without worrying about sausage in moderation.
Where Do You Buy Italian Sausage Spices on a Budget?
This is the crucial question: where to buy all these great spices without spending an arm and a leg? Generally speaking, I'm somewhat partial to organic spices.
However, spices are expensive, and organic spices are CRAZY expensive at most stores! When I'm in a bind, I'll sometimes check out the sales at the regular grocery stores and go for Simply Organic, Frontier Co-op, or O-Organics, or use bulk bins at stores like Sprouts, Whole Foods, and Mom's Organic Market if I just want to get a small amount of each spice.
I do often buy some spices at Trader Joe's for just $1.99, but they have pretty limited options, so it's not usually my first choice.
What I mostly try to do is save all my jars and buy bagged spices from Thrive Market! Each of these bags of organic spices was just $2.99 on Thrive - significantly cheaper than most other locations. I love ordering from Thrive and I highly recommend it if you don't live in an area with easy access to health food stores, or if you like saving 20-50% on non-perishable pantry goods!
(Not sponsored, but affiliate link! 25% off with my Thrive Market link!)
How to Make Italian Sausage Seasoning
This is the easiest recipe of all time. Basically, you just want to stir together 2-4 of your favorite dried Italian herbs (I use oregano and basil), add spices like ground fennel, paprika (smoked or not), black pepper, and ground garlic.
You can change up the herbs or add ground onion or celery seed, but I think the fennel and paprika are super important!
I like mine spicy, so I add cayenne pepper. Red pepper flakes work too, but I find that their large size is somewhat of a barrier to them mixing well and they tend to sit on the top - making your first few dishes spicier than the rest!
The earlier you mix the seasoning into the meat, the more "sausage-like" texture the meat will get.
(Check out this awesome article by The Food Lab for more deets on that.)
Recommendations
If you'd like to use this for making soup or cooking beans, I recommend omitting the salt in this blend, and adding it to the final steps of cooking instead. This way you can have more control over how much salt you use, and it won't contribute to longer cooking times for things like beans and grains.
Also, you can use this seasoning on vegetables and vegan dishes for the incredible flavor. I like to make ground beef, pork, chicken, or turkey "sausage" with this stuff. Just mix it into the ground meat and cook it as normal.
The beauty of this seasoning is that it's good on everything. Put it on pasta, on top of your pizza, over roasted peppers, or even on sandwiches.
Anyway, it's a delicious seasoning blend and I highly recommend it. :) Be sure to give this recipe a star rating once you experience how it changes your life!
Dietary Modifications and Substitutions
Is this Italian Sausage Seasoning Paleo?
Heck yes!
Can Italian Sausage Seasoning be vegetarian?
Yes! The seasoning itself is vegetarian, of course, and then you can use veggies or lentils as your base instead of meat. Sprinkle the seasoning on for the same great flavor.
Looking for More Recipes?
Italian Sausage Seasoning
Homemade spicy Italian sausage in 5 minutes? It may seem out of reach, but it's possible with this endlessly flavorful and authentic Italian Sausage Seasoning ready to go in your pantry! 
Ingredients
2

teaspoons

salt*

2

teaspoons

fennel

2

teaspoons

spicy cayenne

2

teaspoons

garlic powder

1

teaspoon

freshly ground black pepper

1

teaspoon

dried oregano

1

teaspoon

dried basil

1

teaspoon

paprika
Optional
ground onion

marjoram

thyme

rosemary

sage

parsley

ground celery seed

smoked paprika
Instructions
Combine all ingredients in a jar or small dish and stir well. Store in an airtight container. (Refrigeration not necessary.)

To use: Stir 1 Tablespoons seasoning into 1 pound ground meat. Mix well and use immediately, or let rest for 30 minutes (up to overnight (in the fridge). Form into patties, or cook as you would any regular crumbled sausage. Alternatively, you can brown beef and sauté vegetables as usual, and add the seasoning during cooking.
Notes
*Feel free to omit the salt. You can choose to add more or less salt while cooking instead.
Makes 4 tablespoons. Use 1 Tablespoon for 1 pound of meat.
It's also a delicious addition to potatoes, vegetables, soup, beans, rice, and more.
Nutrition
Calories:
4
kcal
Carbohydrates:
1
g
Protein:
0.2
g
Fat:
0.1
g
Saturated Fat:
0.02
g
Polyunsaturated Fat:
0.05
g
Monounsaturated Fat:
0.02
g
Sodium:
389
mg
Potassium:
26
mg
Fiber:
0.4
g
Sugar:
0.1
g
Vitamin A:
226
IU
Vitamin B1:
0.004
mg
Vitamin B2:
0.01
mg
Vitamin B3:
0.1
mg
Vitamin B5:
0.01
mg
Vitamin B6:
0.02
mg
Vitamin C:
0.4
mg
Vitamin E:
0.2
mg
Vitamin K:
4
µg
Calcium:
7
mg
Copper:
0.01
mg
Folate:
2
µg
Iron:
0.3
mg
Manganese:
0.1
mg
Magnesium:
3
mg
Phosphorus:
5
mg
Selenium:
0.2
µg
Zinc:
0.05
mg
Choline:
1
mg