Recipe: $9.83 | Per Serving: $2.45 | Yield: 4
If you, like most of us, would like to up your morning breakfast game, then let me introduce you to my morning secret weapon: the frittata. Veggies, meat, and eggs can be baked together in one skillet and refrigerated (or frozen) for later, providing super easy and quick mornings.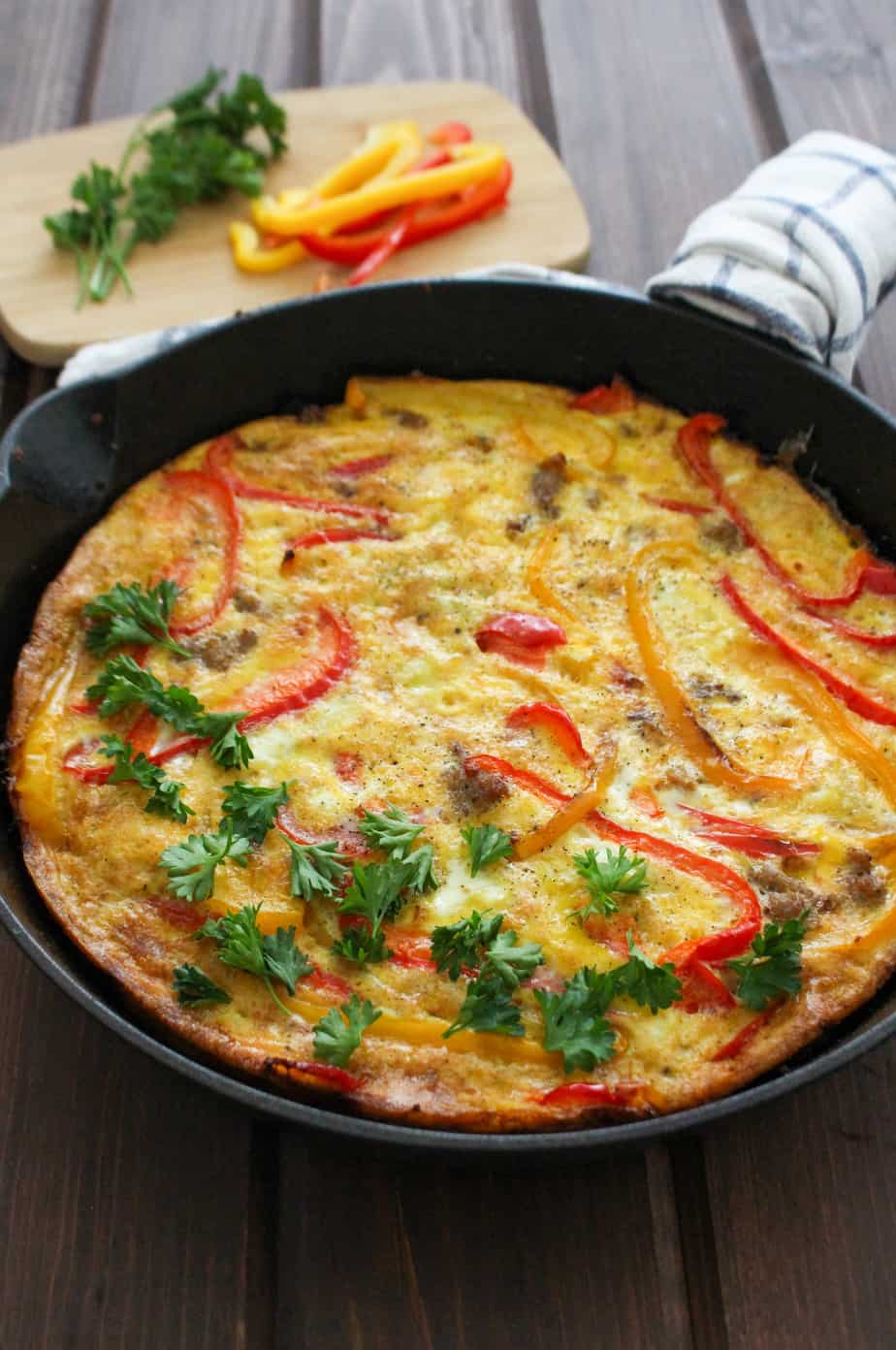 You've likely had quiche and frittatas in your life before. In fact, a frittata was one of the first recipes I ever made for this blog back in 2013. (Though I originally called it a crustless quiche because I didn't know better.)
I love a good savory breakfast, and when things are busy, whipping together a frittata to make mornings a little easier is a gift to myself. You can add whatever you want to a frittata - bacon, caramelized onions, cheese, mushrooms, spinach, etc. - but this simple sausage and peppers frittata has become a favorite. I generally use Moink (affiliate link) sausage, but you can easily make this recipe with any ground meat of your choice and Italian Sausage Seasoning.
Frittatas are great for lunch or dinner also, and they can be eaten warm, cold, or at room temperature. So versatile. 👍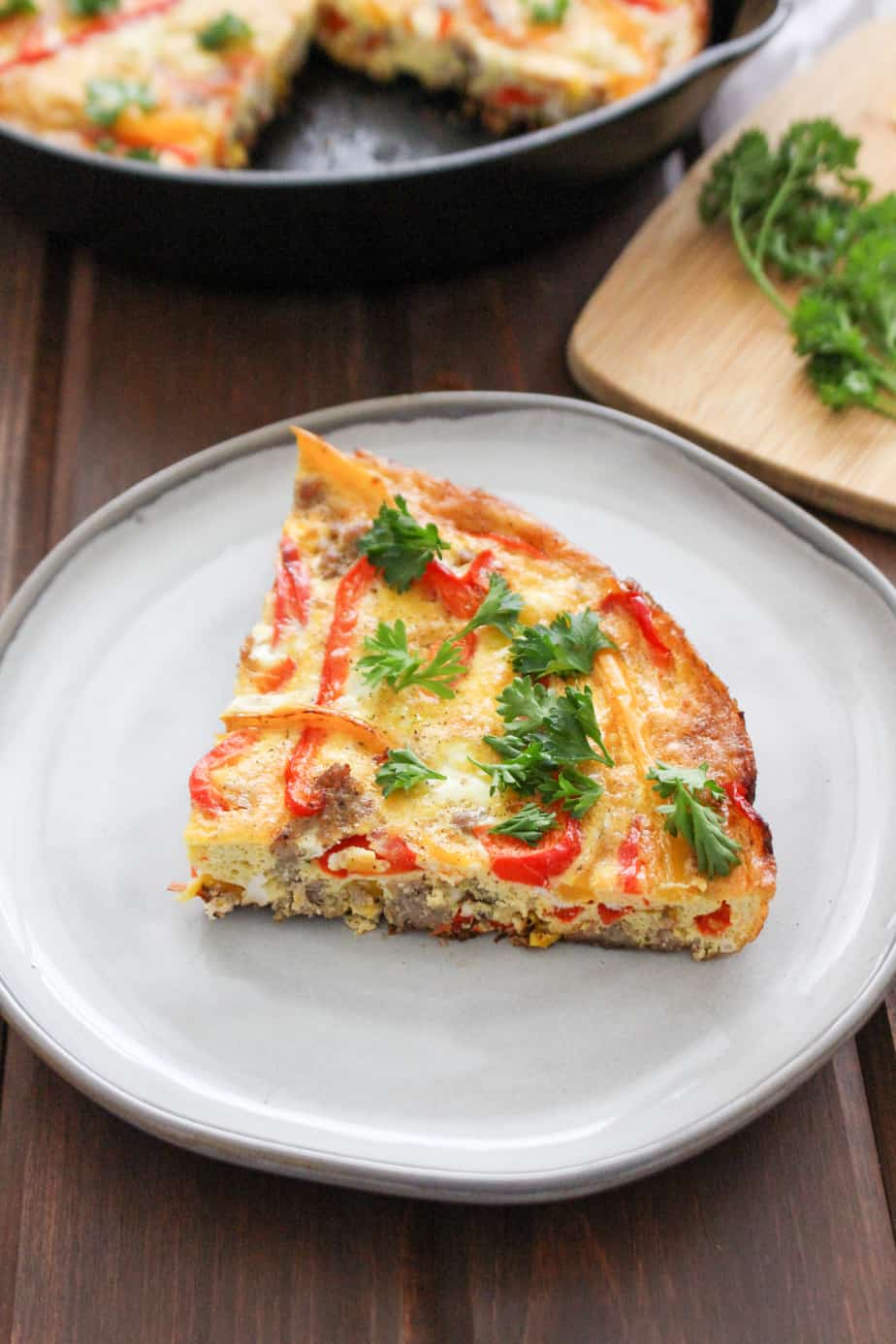 Quiche vs. Frittata: Whats the Difference?
Basically, a quiche has a crust and cream, while a frittata is mainly egg-based with a variety of add-ins.
A quiche is an open-faced tart filled with a mixture of eggs, cream, and flavorful additions like bacon or caramelized onions. Cream is an essential ingredient because the consistency of a quiche is meant to be somewhat like a firm custard.
A frittata is a one-skillet egg bake that consists of any variety of meat and vegetables, plus a bunch of whisked eggs. Cream and milk are optional, but not required. Bake until it's done and that's it. A frittata is beautiful in its simplicity.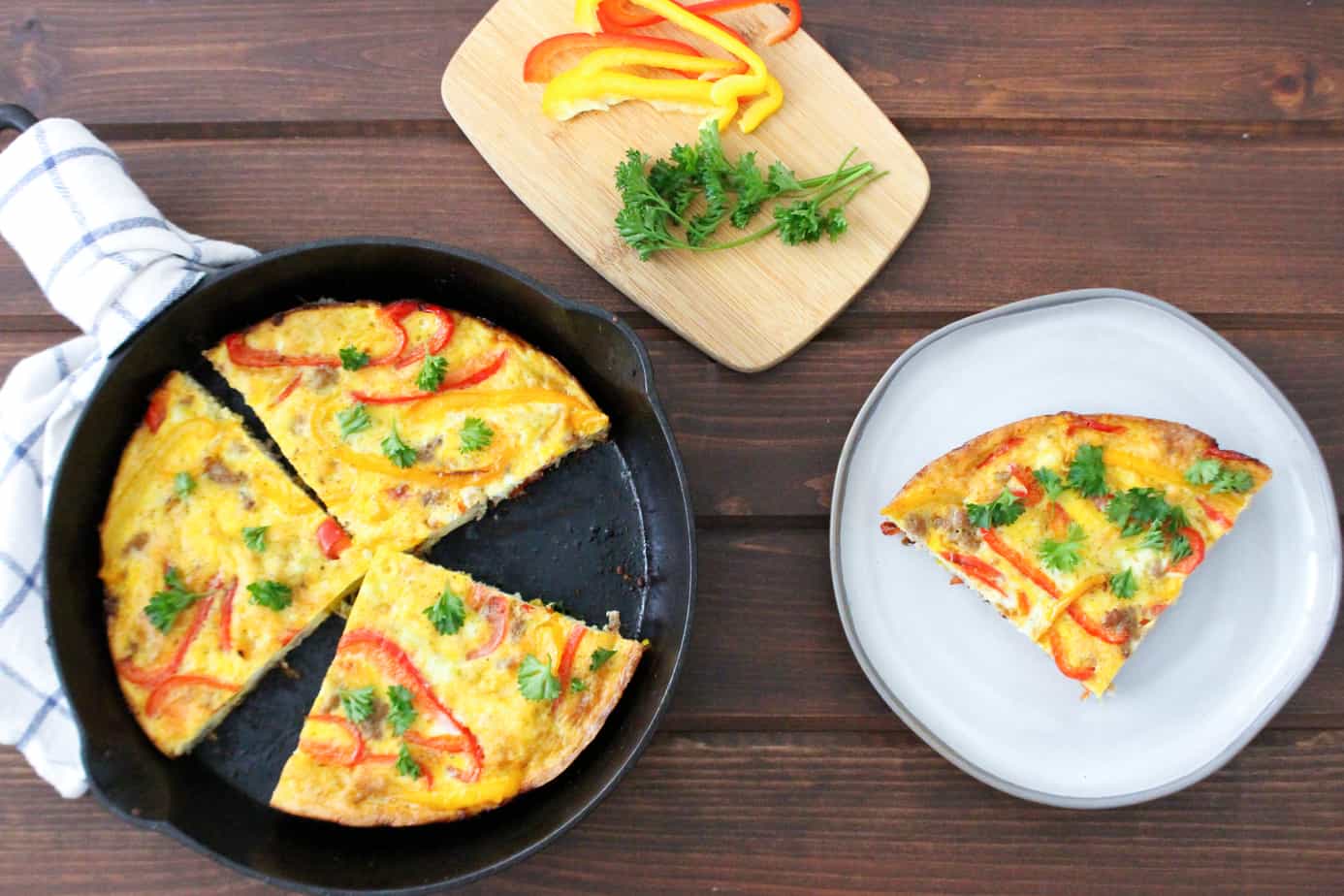 How To Make a Frittata
There are actually two basic ways to make a frittata.
The Frittata Casserole Method:
Cook vegetables and meat and spread out in casserole dish or cake pan.
Whisk eggs with salt and spices and add to casserole dish.
Bake.
An example of this would be these Frittata Breakfast Sandwiches.
The Frittata Skillet Method:
Preheat oven.
Get a really well seasoned cast iron skillet medium-hot, then cook meat (if using) until done. Add vegetables and cook a couple of minutes just to release the water.
Add a little more fat to the pan if necessary. Whisk the eggs and seasonings together and add to the pan, getting all around the filling ingredients.
Cook on the stove for about 2 minutes, and then transfer to the oven and bake until cooked through.
This recipe for Sausage & Pepper Frittata is an example of the skillet method. If you don't have a well seasoned cast iron skillet, you can use a well oiled stainless steel skillet, or you can just follow the frittata casserole method. (I have successfully cooked dozens of frittatas in silicone cake pans as well.)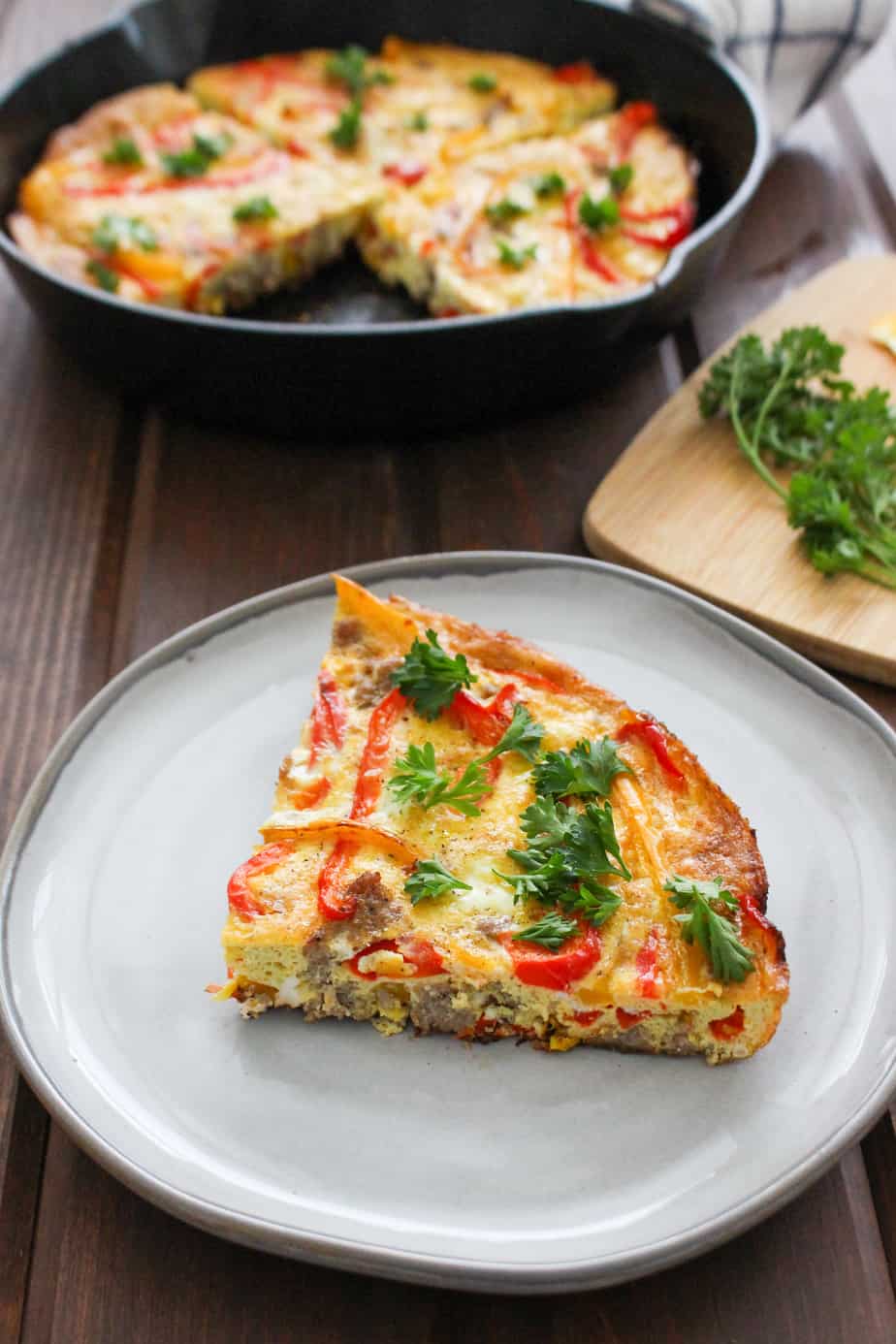 Paleo: Yep!
Vegetarian: No - but you can skip the sausage for a meat-free version.
PIN ME FOR LATER! ↓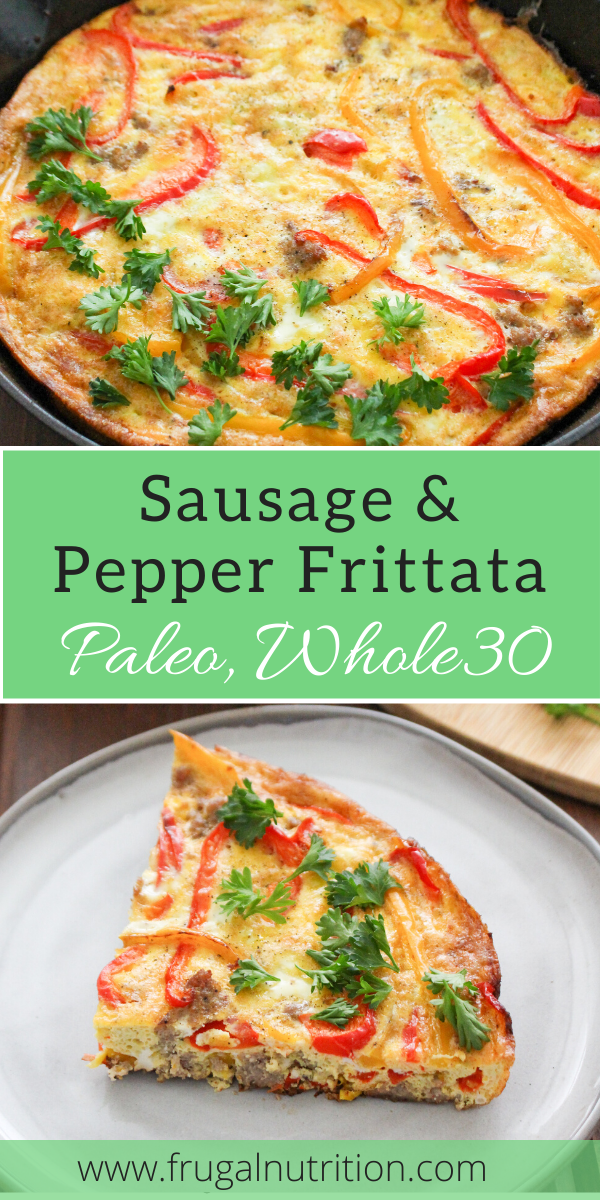 Sausage & Pepper Frittata (Paleo)
This easy and filling protein-packed breakfast is perfect for busy mornings, but flavorful enough for weekend brunches. 
Ingredients
8

oz

sausage

I like Moink

2

medium

bell peppers

8

eggs

½

teaspoon

salt

fine

½

teaspoon

freshly ground black pepper

½

medium

onion

sliced, optional
Instructions
Preheat oven to 350ºF. 

Warm a cast iron skillet over medium heat. Crumble sausage into pan and cook until fully browned. Add the sliced bell peppers (and the optional onions) and sauté for about 3 minutes, just until they start to soften.

In a large bowl, whisk together 8 eggs, salt, and pepper. (You can totally increase this to 10-12 eggs for a larger frittata.) 

If needed, add a little oil or butter to help coat the skillet. (If your cast iron is well seasoned, this isn't needed, but it is always a helpful insurance plan to keep your frittata from sticking.) 

Make sure the sausage and peppers are evenly distributed in the pan and then cover with the whisked eggs. Cook for 1 more minute on stove, then transfer to the preheated oven. 

Bake on 350ºF for 30-35 minutes or until fully cooked through. 
Notes
Divide this recipe into muffin tins for Paleo Egg Muffins!
Increase eggs to 10-12 to make a larger frittata - just increase the cooking time by 5 or so minutes. 
Nutrition
Calories:
320
kcal
Carbohydrates:
6
g
Protein:
20
g
Fat:
24
g
Saturated Fat:
8
g
Polyunsaturated Fat:
4
g
Monounsaturated Fat:
10
g
Trans Fat:
0.2
g
Cholesterol:
368
mg
Sodium:
779
mg
Potassium:
411
mg
Fiber:
2
g
Sugar:
3
g
Vitamin A:
2382
IU
Vitamin B1:
0.2
mg
Vitamin B2:
1
mg
Vitamin B3:
3
mg
Vitamin B5:
2
mg
Vitamin B6:
1
mg
Vitamin B12:
1
µg
Vitamin C:
78
mg
Vitamin D:
2
µg
Vitamin E:
2
mg
Vitamin K:
4
µg
Calcium:
63
mg
Copper:
0.1
mg
Folate:
72
µg
Iron:
2
mg
Manganese:
0.1
mg
Magnesium:
27
mg
Phosphorus:
271
mg
Selenium:
27
µg
Zinc:
3
mg
Choline:
293
mg