Recipe: $7.16 | Per Serving: $1.79 | Yield: 4 Servings (12 egg muffins)
Easy and delicious, these Paleo Egg Muffins are the perfect way to meal prep for breakfast! And, they cute too. 😉
This post was originally published in November 2013 (!!). Current post is updated with new pictures, text, prices, and more detailed instructions.
It's always good to get in some fat and protein at your first meal of the day, but it comes at a time when my neurons are barely firing. Sometimes, egg muffins are the perfect way to plan ahead for breakfast. And, since you're making a dozen mini frittatas, you can make them each slightly different to accommodate different preferences in your house or just to change things up from day to day.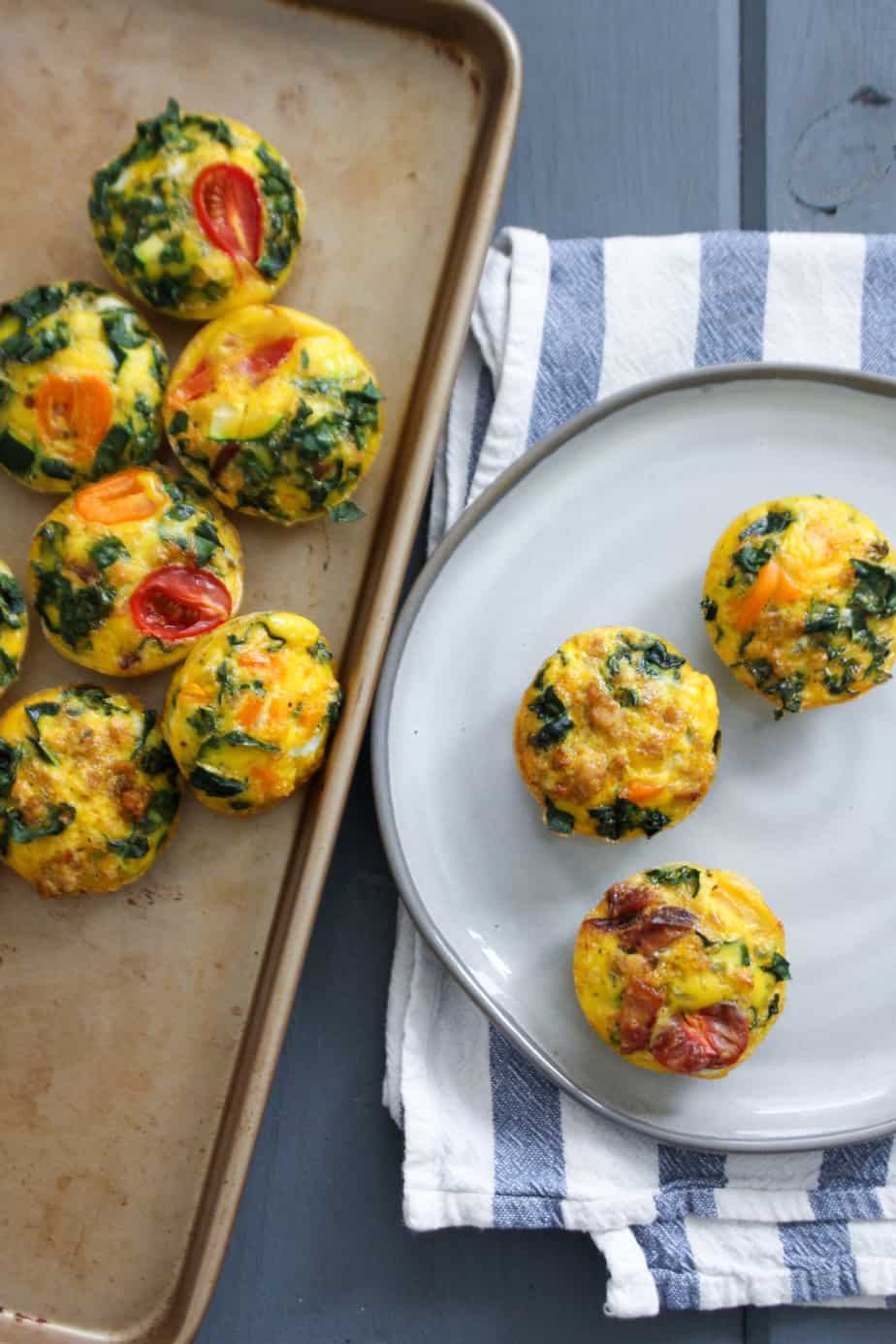 You all know I love making frittatas, and frittata breakfast sandwiches, and potato frittatas, but sometimes it's nice to have little travel-sized Paleo egg muffins on hand for super easy eating. They cook a little faster too!
How to Make Paleo Egg Muffins / Mini Frittatas
Whisk together 10-12 eggs with some salt and pepper, set aside.
Prepare your vegetables: I like to mix at least two different veggies, like bell peppers and kale, zucchini and tomato, or mushroom and spinach. You can choose to sauté them first or leave them raw, just be sure to cut them up pretty small.
Prepare your meat: I like 6-8 oz of sausage in my egg muffins, but sometimes we use bacon instead. Cook, chop or crumble, and set aside.
Add the vegetables and the meat to your egg muffins and then pour the whisked eggs over the top.
Bake on 350ºF for about 18-20 minutes or until the eggs are set and there's no liquid on top.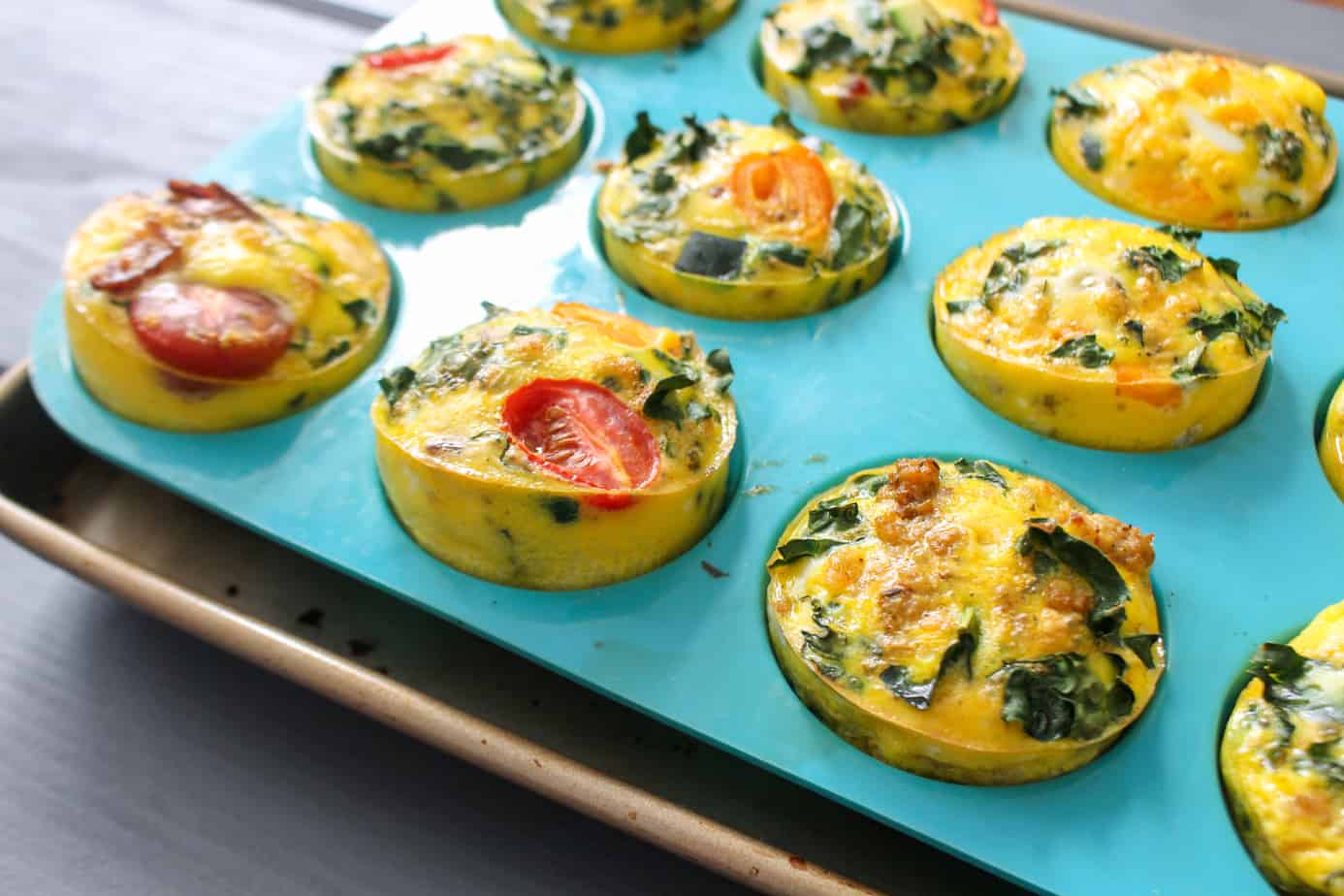 The egg muffins will puff up in the oven like a soufflé or a Yorkshire pudding (s/o to my GBBO fans), but they will quickly compress to a more normal size.
Paleo: Yes!
Vegetarian: Yes - just omit the meat for vegetarian.
PIN THIS RECIPE FOR LATER!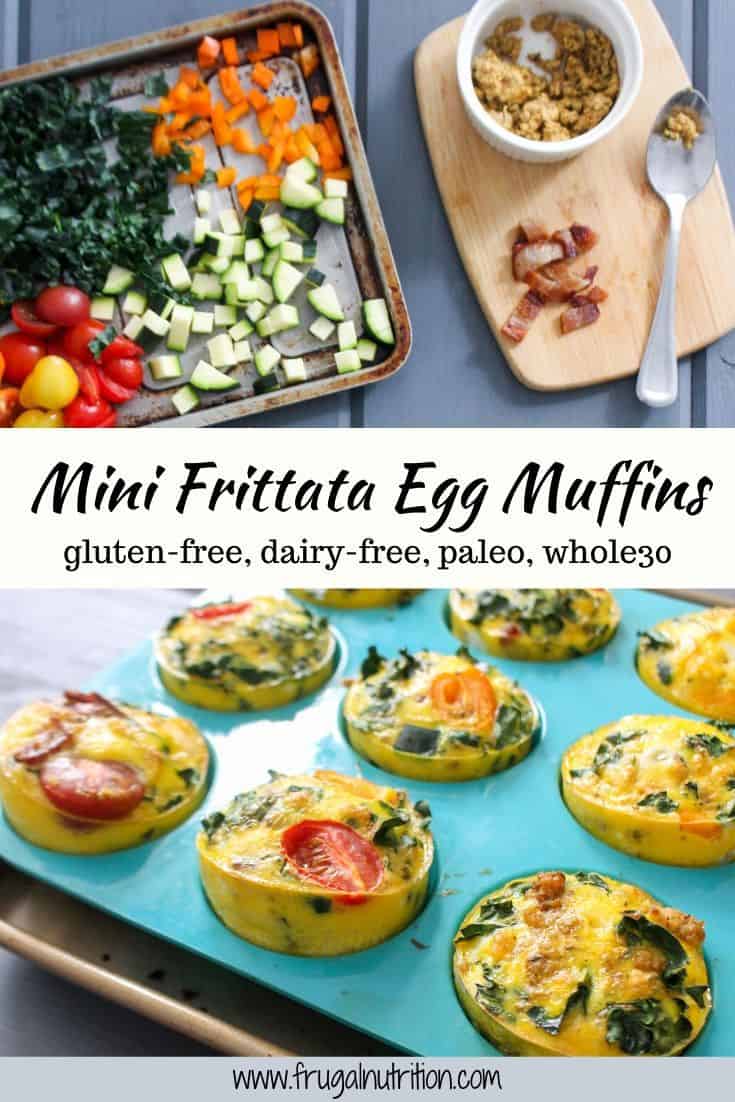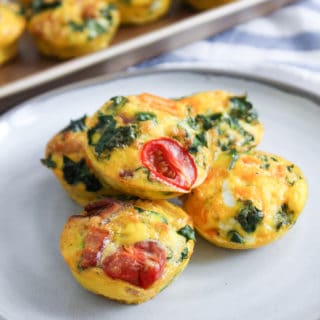 Paleo Egg Muffins
Easy Paleo Egg Muffins - Perfect for busy mornings! You can customize these however you like, and if you can handle dairy, feta and Parmesan go great here!
Ingredients
10

eggs

1-2

cups

minced vegetables

I like bell peppers, zucchini, leafy greens, grape tomatoes, and onions*

8

ounces

of sausage or ground turkey

or 4 strips bacon

oil for greasing muffin pan

fruit of choice!
Instructions
Preheat oven to 350ºF.

Brown your meat on the stove, breaking it up as you cook, making sure it is cooked through. If using ground turkey, add any seasonings of choice (garlic, onion, fennel, smoked paprika, etc.)

Chop vegetables. You can choose to cook them or not. For high-moisture vegetables like spinach and mushrooms, I recommend cooking them.

Whisk eggs in a large bowl or pyrex with a spout (makes it so much easier to pour).

Grease the bottom of your muffin pan with your oil or lard of choice. Bacon grease works well, as does avocado oil. Coconut oil works well but does impart a bit of flavor. I usually use a silicone muffin tin so no greasing required.

Begin layering your ingredients in the muffins tins and then fill with the whisked eggs.

Bake for 18-20 minutes on 350ºF.

Loosen edges with a butter knife to remove and serve 2-3 egg muffins per person.

Pack about 3 egg muffins in a container and pair with a bunch of your favorite fruit! feel free to eat cold, room temperature, or quickly heat up in the microwave or toaster oven.
Notes
To reheat on busy mornings, nuke for about 25 seconds in the microwave. To reheat from frozen, nuke 3 times for 20 seconds at a time. (Checking to make sure it's not rubbery.)
*Onions are high in FODMAPs, omit if necessary
Nutrition label includes: 1 cup kale, 1 cup bell pepper, 8 oz ground turkey
Nutrition
Calories:
239
kcal
Carbohydrates:
5
g
Protein:
16
g
Fat:
17
g
Saturated Fat:
6
g
Polyunsaturated Fat:
3
g
Monounsaturated Fat:
7
g
Trans Fat:
0.1
g
Cholesterol:
300
mg
Sodium:
359
mg
Potassium:
259
mg
Fiber:
1
g
Sugar:
0.3
g
Vitamin A:
1965
IU
Vitamin B1:
0.2
mg
Vitamin B2:
0.4
mg
Vitamin B3:
2
mg
Vitamin B5:
1
mg
Vitamin B6:
0.3
mg
Vitamin B12:
1
µg
Vitamin C:
3
mg
Vitamin D:
2
µg
Vitamin E:
1
mg
Vitamin K:
0.4
µg
Calcium:
52
mg
Copper:
0.1
mg
Folate:
44
µg
Iron:
2
mg
Manganese:
0.1
mg
Magnesium:
21
mg
Phosphorus:
214
mg
Selenium:
23
µg
Zinc:
2
mg
Choline:
236
mg