Recipe: $5.17 | Per Serving: $0.65 | Yield: 8 servings
Bright and flavorful, pesto is the perfect way to perk up any meal. This dairy-free pesto recipe takes things to the next level with nutrient-dense bitter greens and no garlic to make it the perfect sauce for low-FODMAP followers.
I love a traditional pesto, loaded with garlic and Parmesan and tons of basil, but over the last several years I've been branching out into kale pesto, arugula pesto, and spinach pesto and I'm INTO it.
Although we are in a place where we can handle some aged cheese, it tends to be better to avoid it, so I make this dairy-free pesto almost weekly!
This recipe is the perfect low-FODMAP pesto option for those of you who can't handle garlic, onions, or dairy. Plus it is packed with nutrients!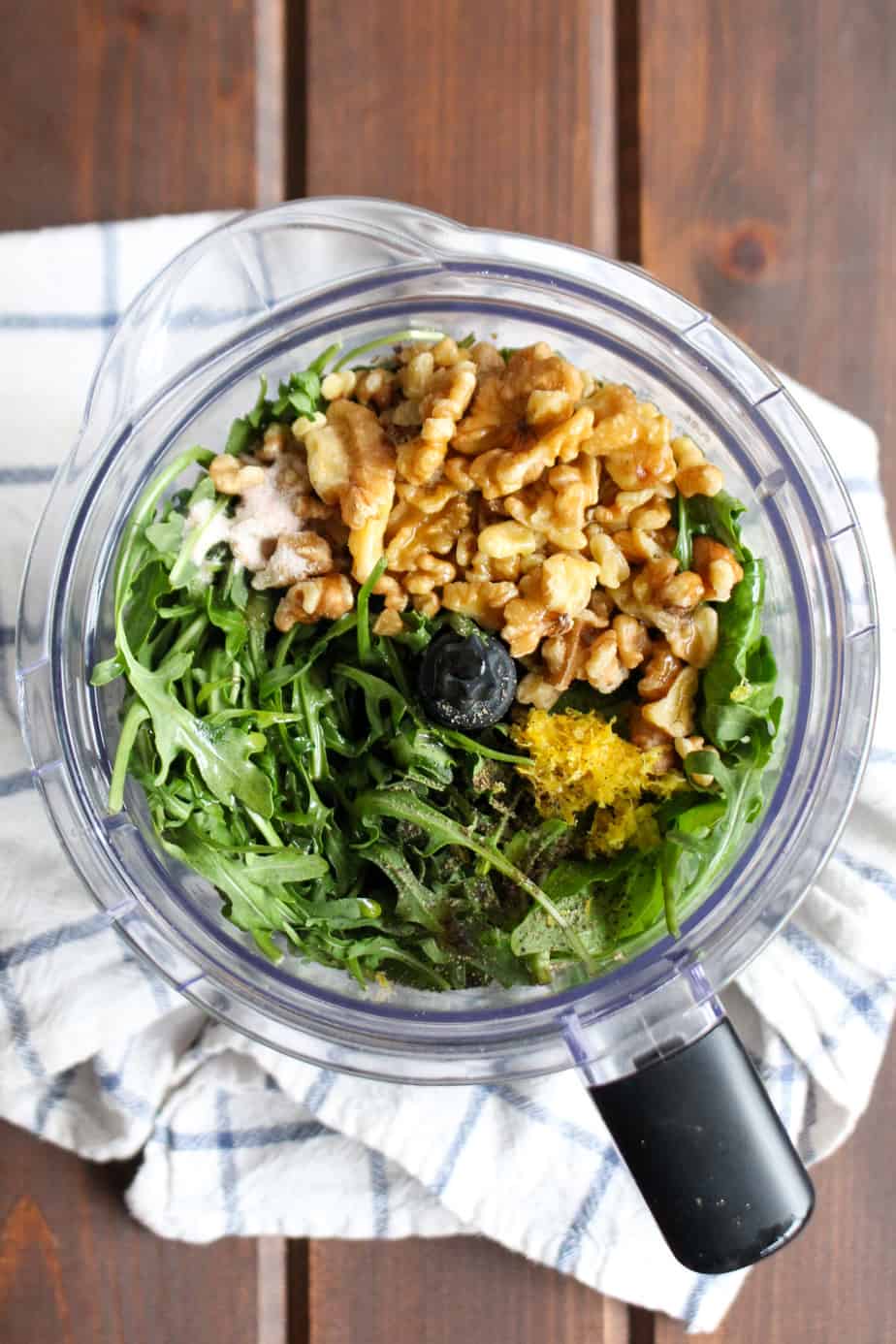 How to Make Dairy-Free Pesto
First step, add all the ingredients to your food processor. Or, if you're using a blender, add all the ingredients except the oil.
Blend it up! Scrape down the sides as needed, and add oil once things are starting to look choppity chopped to prevent it from overheating and acquiring an unpleasant taste.
Benefits of Bitter Foods
This is a bitter greens pesto because I've been increasing bitter foods in my diet to help with digestion.
Bitter foods tend to be packed with nutrients and antioxidants, but the bitter component also upregulates the liver, which is great for detoxification and for digestion. Bitters and bitter foods can also increase stomach acid, which is usually quite low in clients with SIBO or IBS, so we consider bitter greens to be therapeutic foods.
List of Bitter Foods
Bitter foods are great for digestion and all around health. We try to include them in our diet regularly, but are especially increasing them while following a SIBO protocol.
Bitter greens - dandelion, mustard, kale, swiss chard, arugula
Radicchio, endives
Watercress
Bitter melon
Coffee
Dark chocolate / Cocoa powder
Dandelion tea and "coffee alternatives"
Low FODMAP Garlic Replacers:
As someone who used to double or triple garlic in recipes, it was a tough sell to go garlic-free for a few months. But, I can happily report that there are a few garlic replacements that work surprisingly well! Here are my top two choices right now.
Chives
Chives! This is one of my new favorite finds. I can't believe I wasn't cooking with chives before! They're packed with flavor and they've got a hint of a garlicky/oniony taste to them, which is perfect. They're also not too sharp, so they're great for raw dishes like this pesto.
Garlic-Infused Olive Oil
This is kind of a cheat, I know, but I do like using garlic-infused olive oil! You have to be careful when infusing your own oil with garlic because it can grow botulism, so if you're concerned, I recommend something like FODY Foods Garlic-Infused Olive Oil, which has a nice garlic flavor without any of the FODMAPs.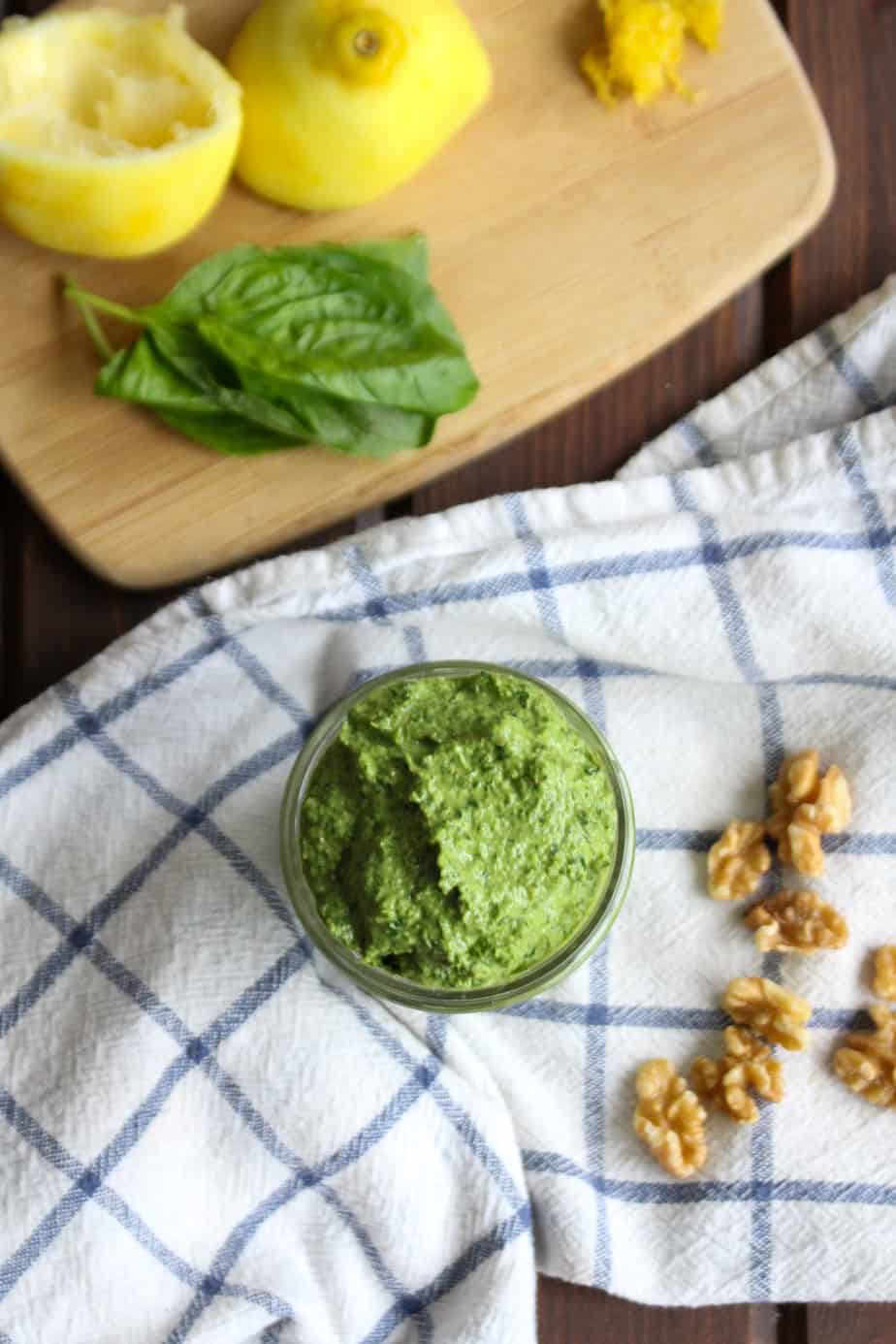 Is Garlic Olive Oil Low FODMAP?
When properly prepared, yes! FODMAPS are water-soluble, not fat-soluble. This means that they will dissolve into water solutions, such as broth, but they will not dissolve into oil.
And that's the reason why you can have garlic-infused oil or onion-infused oil, but you can't make stock with onions and garlic and just strain them out. The FODMAPs will leech into the water. This is also why you soaked grains and legumes are lower in FODMAPs - soaking them helps leech some of the FODMAPs into the water, and then you can drain and toss the water before cooking.
Paleo: Yep!
Vegetarian: Yep! And dairy-free / vegan.
PIN THIS RECIPE FOR LATER!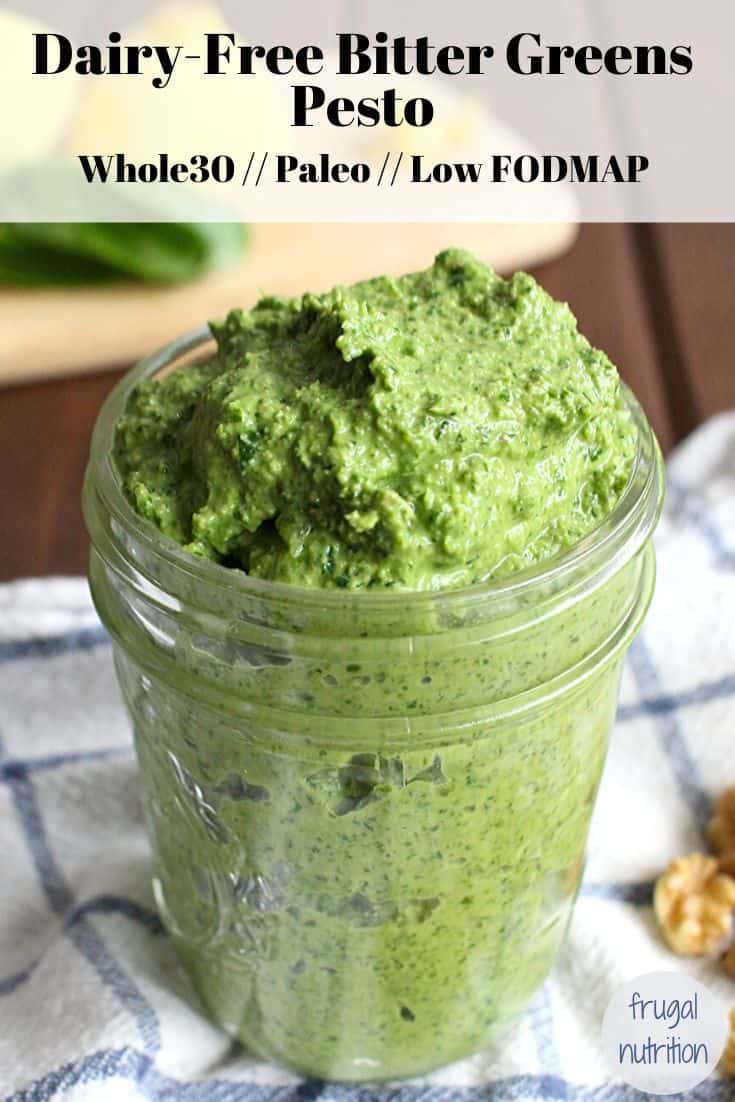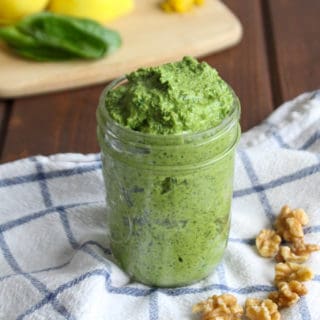 Dairy-Free Bitter Greens Pesto (Low FODMAP)
This bitter greens pesto is packed with flavor and nutrition, and the perfect way to start introducing bitter foods into your diet!
Ingredients
½

cup

bitter greens

endive, dandelion, radicchio, mustard, etc.

1

cup

fresh basil

packed

2

cups

arugula

½

cup

walnuts

½

teaspoon

lemon zest

optional, for bright bitter flavor

2

Tablespoons

lemon juice

¼

cup

extra virgin olive oil

optional - FODY foods Garlic Infused Olive Oil

¾

teaspoon

salt

optional: ¼ teaspoon red pepper flakes

1-2 Tablespoons chopped chives
Instructions
Combine all ingredients in food processor. Process until well chopped and mixed, about 1-2 minutes, scraping down sides as necessary.
Nutrition
Calories:
222
kcal
Carbohydrates:
3
g
Protein:
3
g
Fat:
23
g
Saturated Fat:
3
g
Polyunsaturated Fat:
8
g
Monounsaturated Fat:
11
g
Sodium:
442
mg
Potassium:
154
mg
Fiber:
2
g
Sugar:
1
g
Vitamin A:
915
IU
Vitamin B1:
0.1
mg
Vitamin B2:
0.04
mg
Vitamin B3:
0.3
mg
Vitamin B5:
0.2
mg
Vitamin B6:
0.1
mg
Vitamin C:
7
mg
Vitamin E:
2
mg
Vitamin K:
63
µg
Calcium:
48
mg
Copper:
0.3
mg
Folate:
37
µg
Iron:
1
mg
Manganese:
1
mg
Magnesium:
34
mg
Phosphorus:
63
mg
Selenium:
1
µg
Zinc:
1
mg
Choline:
9
mg