Recipe: $6.24 | Per Serving: $1.04 | Yield: 6
Breakfast sandwiches! With vegetables and sausage and optional cheese, served on your favorite bread with fruit or a smoothie or some greens or as is. Planning to head out of town? I highly recommend whipping these up for your early-morning departure because breakfast sandwiches are an early morning's best friend. They're also a hands-off host's best friend, so double this recipe next time your friends are over for any food-before-noon situation.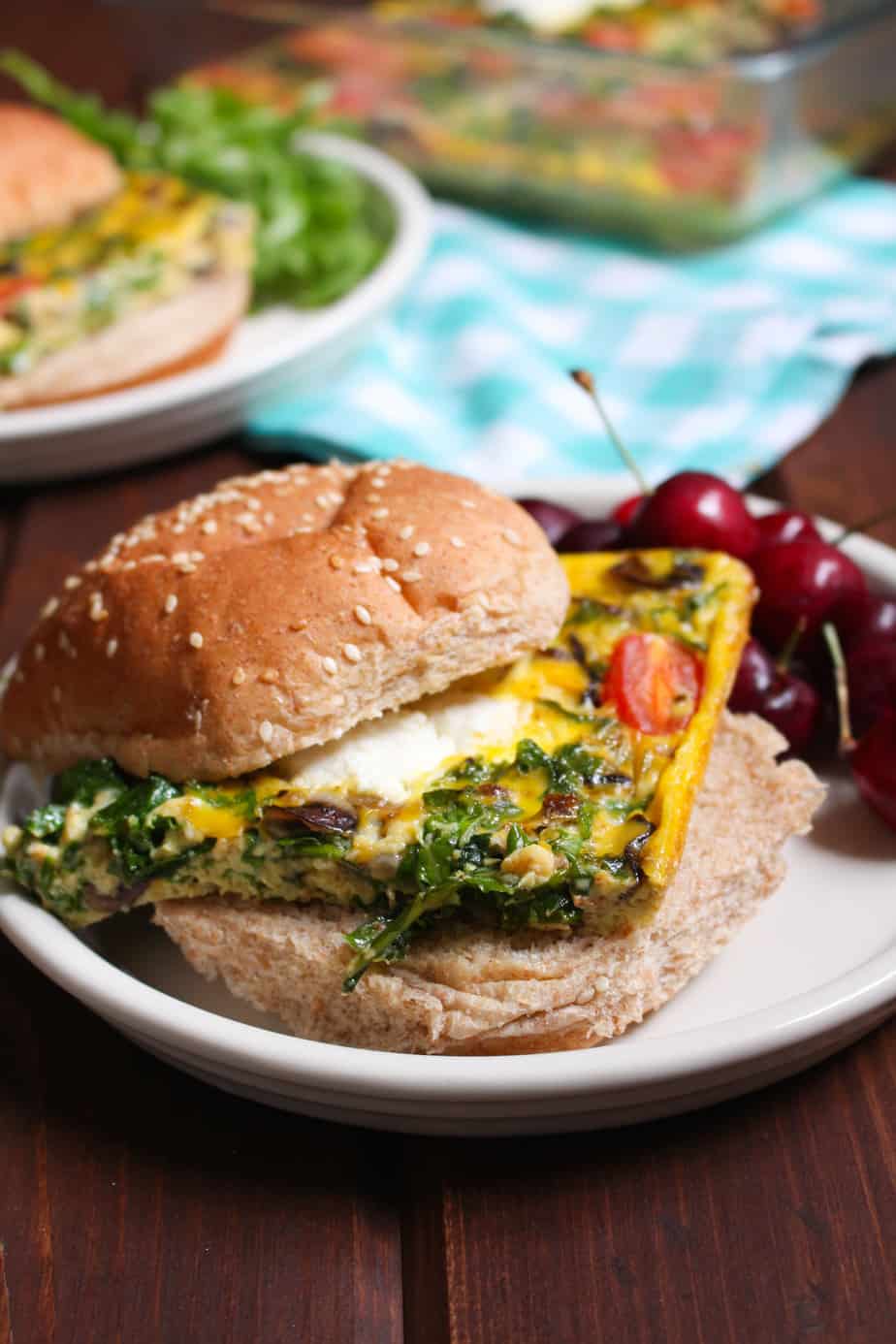 This week has been a weird one. I'm leaving Friday for San Diego (marathon trip!), work has been insanely busy for the last 10 days, and we're dog/housesitting while our friends get to go sailing around the British Virgin Islands. Sometimes staying at someone else's house has the magical power to make you feel like you're sort of on vacation, and other times it makes you feel stressed that you're going to forget your running shoes in your friend's closet when you get on a plane to go run your first marathon 3,000 miles away.
And although I'm the one complaining here, Zac works closer to our house, and there is no parking over there, so he slept here each night, then took the dog for a quick walk, and ran home to shower and eat and walk to work. That's a 5:15 wake up call for a 9:00 work start time. He's insane.
Being a food planner, having no food plan this week was a little chaotic. And although dinners were mac & cheese and homemade pizza and other quick meals to stave off hangry, breakfast was GREAT. I made these frittata breakfast sandwiches over the weekend, and we were able to eat them all week and they were delicious. Although I've basically been making this recipe for the past year, the idea to do bulk breakfast sandwiches instead of frittatas came to me from this Sheet Pan Eggs recipe over at Food52.
Cook up some sausage and veggies and spread them out in a greased 9 x 13 casserole pan. You should buy one with handles, because this IKEA one with no handles is kind of dumb: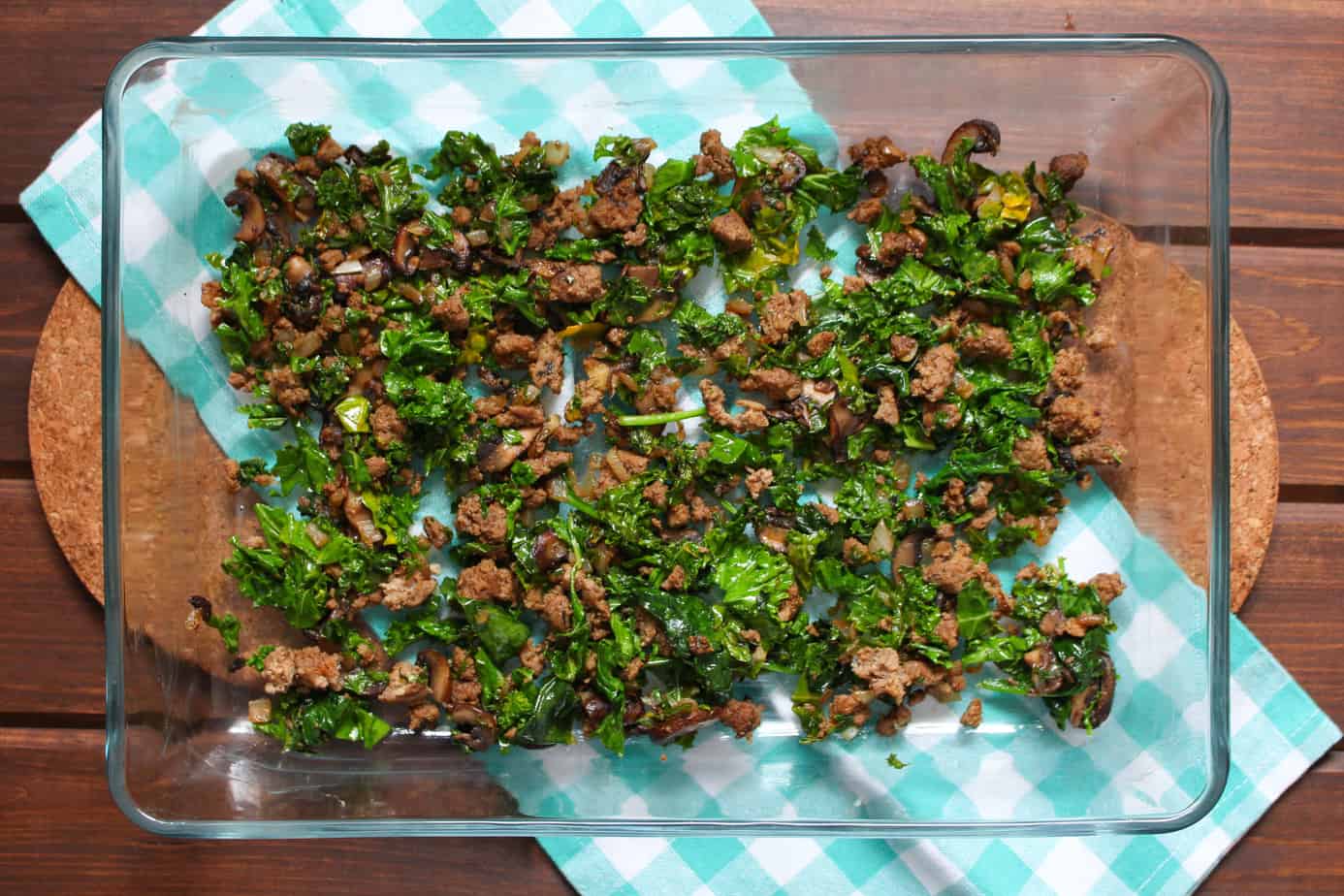 Then whisk together some eggs and some milk (optional) and pour it on in! Top with fancy cherry tomatoes and a few dollops of ricotta cheese if you're a ricotta fanatic like me. Or leave it cheese-less if you're a cheese hater.
Bake it and then EAT it. OMG. I just finished my last one and I'm so sad about that right now. Why didn't I save some for my cross-country plane ride?! Also: I don't mind the non-symmetrical nature of this dish, but I will eventually make them thicker (double batch) and therefore taller so I can cut smaller squares that fit on round buns and english muffins better. I will, eventually. But this time, and the last 3 times I've made this recipe, I've done it just like this, and it all tastes the same!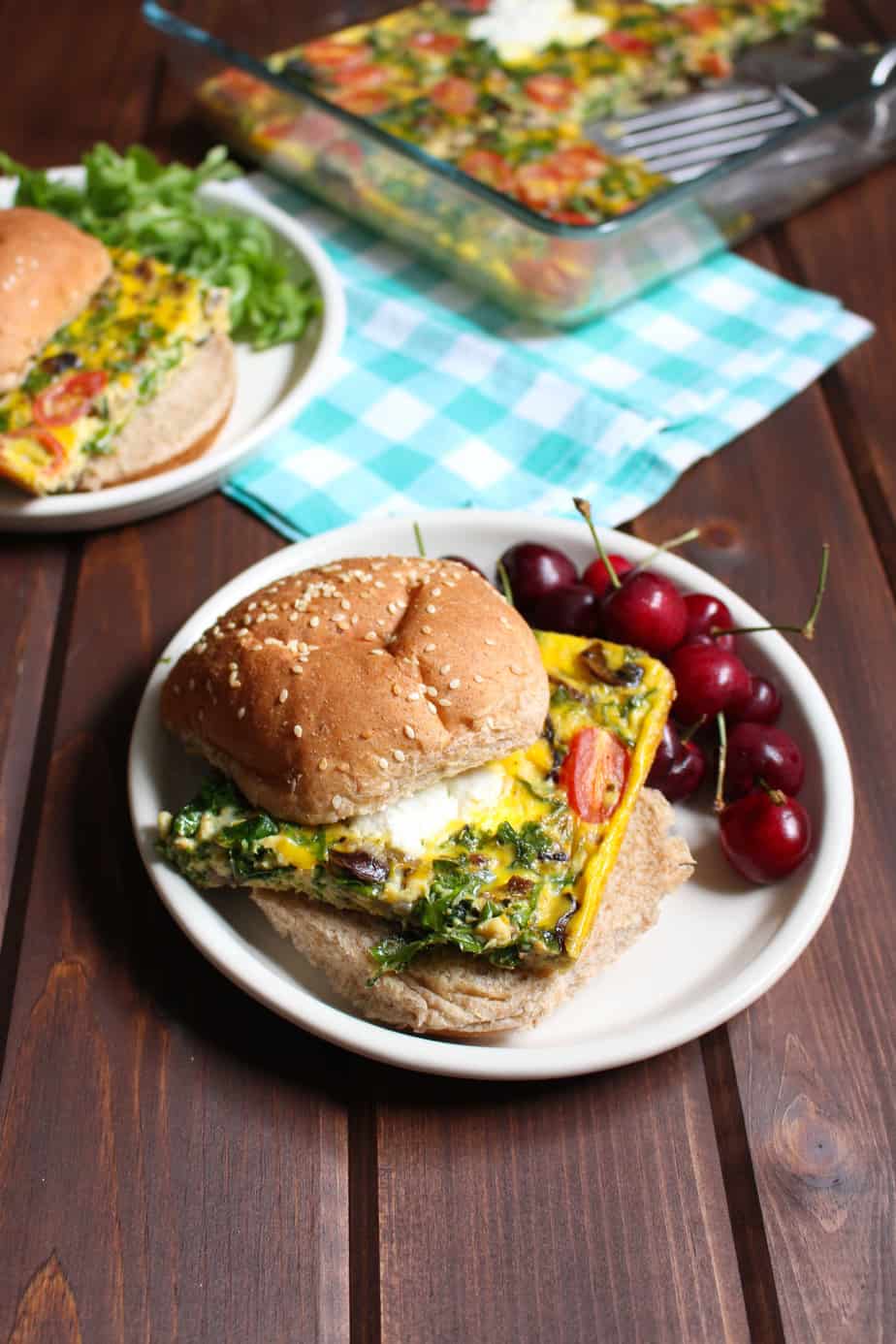 Vegetarian: Skip the sausage - and yep!
Paleo: Skip the cheese AND the milk and it's Paleo.
Frittata Breakfast Sandwich
An easy sausage and veggie packed frittata that's baked and then served sandwiched on a whole wheat egg muffin.
Ingredients
¼

medium onion

minced

1

cup

crimini mushrooms

chopped or sliced

2

cloves

garlic

minced or grated

3

ounces

cooked sausage

crumbled*see note

2

cups

greens

I used kale

8

eggs

½

cup

milk

½

cup

cherry tomatoes

halved

salt & pepper to taste

few

dollops

ricotta cheese

optional

6

whole wheat english muffins

croissants, hamburger rolls, or pieces of toast
Instructions
(Cook sausage ahead of time, or cook it in the same pan you plan to use for the vegetables. Just remove and set aside.)

In a large skillet or sauté pan, sauté the minced onions and sliced or chopped mushrooms until soft, about 5-8 minutes. Add the garlic, greens, and cooked sausage and stir to combine, cooking until the greens are wilted. Remove from heat immediately.

Grease a 9x13-inch casserole dish (or other similarly sized dish or pan) with your fat of choice (bacon grease, coconut oil, butter, olive oil). Spread meat and vegetable mixture on the bottom of the pan.

In a large bowl, whisk together the eggs and milk until well combined. Pour into the casserole dish. Top with cherry tomatoes (or large tomato slices).

Optional: Top with a 1-Tablespoon-sized dollop or ricotta cheese, or sprinkle another cheese of choice. (You can skip the cheese if you prefer.)

Bake on 300ºF for 16-20 minutes. Remove and let cool before slices. (I recommend letting it cool completely as it may fall apart if it is too warm.

Once cool, slice into 6 equal portions and serve on bread or buns of your choice.
Notes
You can use any vegetables of choice. I used exactly what I had on hand: mushrooms, kale, onions, and cherry tomatoes.
Nutrition
Calories:
270
kcal
Carbohydrates:
27
g
Protein:
16
g
Fat:
12
g
Saturated Fat:
4
g
Polyunsaturated Fat:
2
g
Monounsaturated Fat:
4
g
Trans Fat:
0.1
g
Cholesterol:
232
mg
Sodium:
397
mg
Potassium:
381
mg
Fiber:
4
g
Sugar:
7
g
Vitamin A:
587
IU
Vitamin B1:
0.3
mg
Vitamin B2:
0.5
mg
Vitamin B3:
3
mg
Vitamin B5:
2
mg
Vitamin B6:
0.3
mg
Vitamin B12:
1
µg
Vitamin C:
7
mg
Vitamin D:
2
µg
Vitamin E:
1
mg
Vitamin K:
1
µg
Calcium:
222
mg
Copper:
0.2
mg
Folate:
66
µg
Iron:
3
mg
Manganese:
1
mg
Magnesium:
57
mg
Phosphorus:
346
mg
Selenium:
43
µg
Zinc:
2
mg
Choline:
196
mg