Recipe: $2.91 | Per Serving: $0.73 | Yield: 4
Looking for spicy crispy baked Paleo sweet potato fries? This recipe is the way to go! I've got a few tips to help you get that crispy exterior you're looking for, and a spicy seasoning blend for alllll the flavor!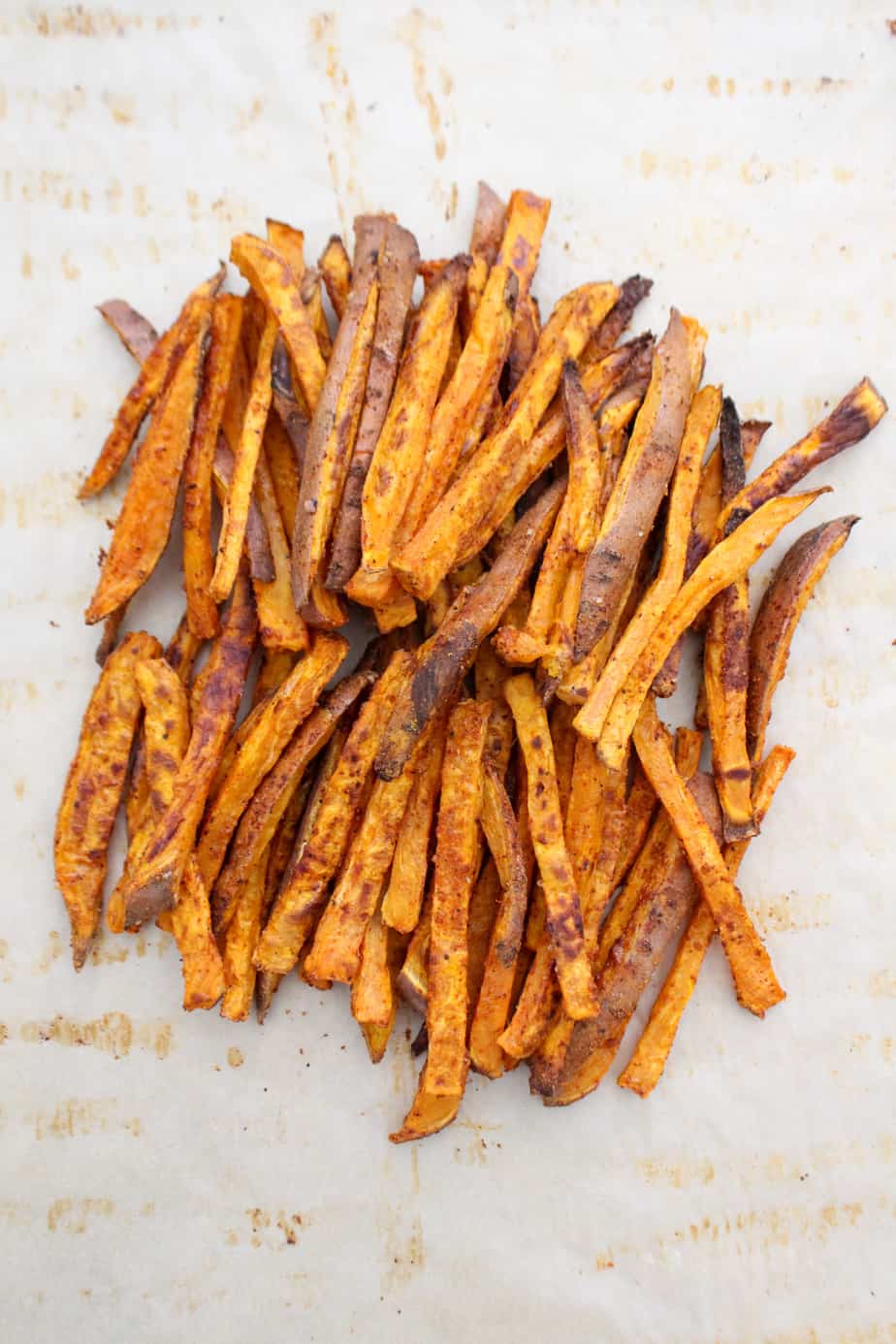 It took me a few decades to get on board with sweet potatoes, but baked and roasted Japanese sweet potatoes kick-started my love affair and I've been experiencing a personal sweet potato glow-up ever since.
That being said, I'm still a bit picky. I love yellow and white-fleshed sweet potatoes in all forms, but the orange ones, sometimes called yams, are just…not my favorite. However, when you chop 'em up and make 'em crispy and spicy (roasted or in fry form), I am all in!
Roasted sweet potatoes are one of my favorite additions to breakfast and to salads, but when you're looking for something a little more exciting to go with your burger, fries are the way to go.
My first experience with homemade sweet potato fries was a very soggy event. My roommate baked cinnamon-sugar sweet potato fries and they were very very soft. As a result, I've taken great strides in the last year or so to remedy the soggy fry, and am very pleased to present these Spicy Sweet Potato Fries!
How to Make Crispy Sweet Potato Fries
1) Soak
This is a trick that works with regular potatoes also - soaking them in cold water for 30 minutes or so will help to remove excess starch, which can make the resulting fries crispier. Be sure to drain and dry them pretty well afterwards.
2) Coat
The method written here gets some inspiration from the Crispy Sweet Potato Fries by Gimme Some Oven. She uses cornstarch to help get that artificial crunch, and plenty of restaurants do that as well. Here we're using arrowroot starch, which is a Paleo alternative to cornstarch. You can skip it, but it does add a lovely crunch that you're used to with frying, but is harder to achieve in baking.
3) Cook: Parchment vs. Silicone
For the last three years or so I've been exclusively using my silicone mats for baking. The primary reason is that they're cheaper and less wasteful than using parchment paper. I don't like to cook directly on aluminum, which is what my sheet pans are made from, so foil is also out of the question.
However, there's controversy here.
Firstly, some research has shown that silicone compounds may leech at temperatures above 300ºF, especially with the presence of fat.

Remember: parchment paper is usually coated in silicone also as this is what makes it nonstick.

Secondly, a lot of people find that cooking on parchment paper creates much crispier results then cooking on silicone mats.
I tried this recipe using both silicone and parchment, and I didn't see much of a difference in crispiness between those two, so I think you can use whichever one you prefer.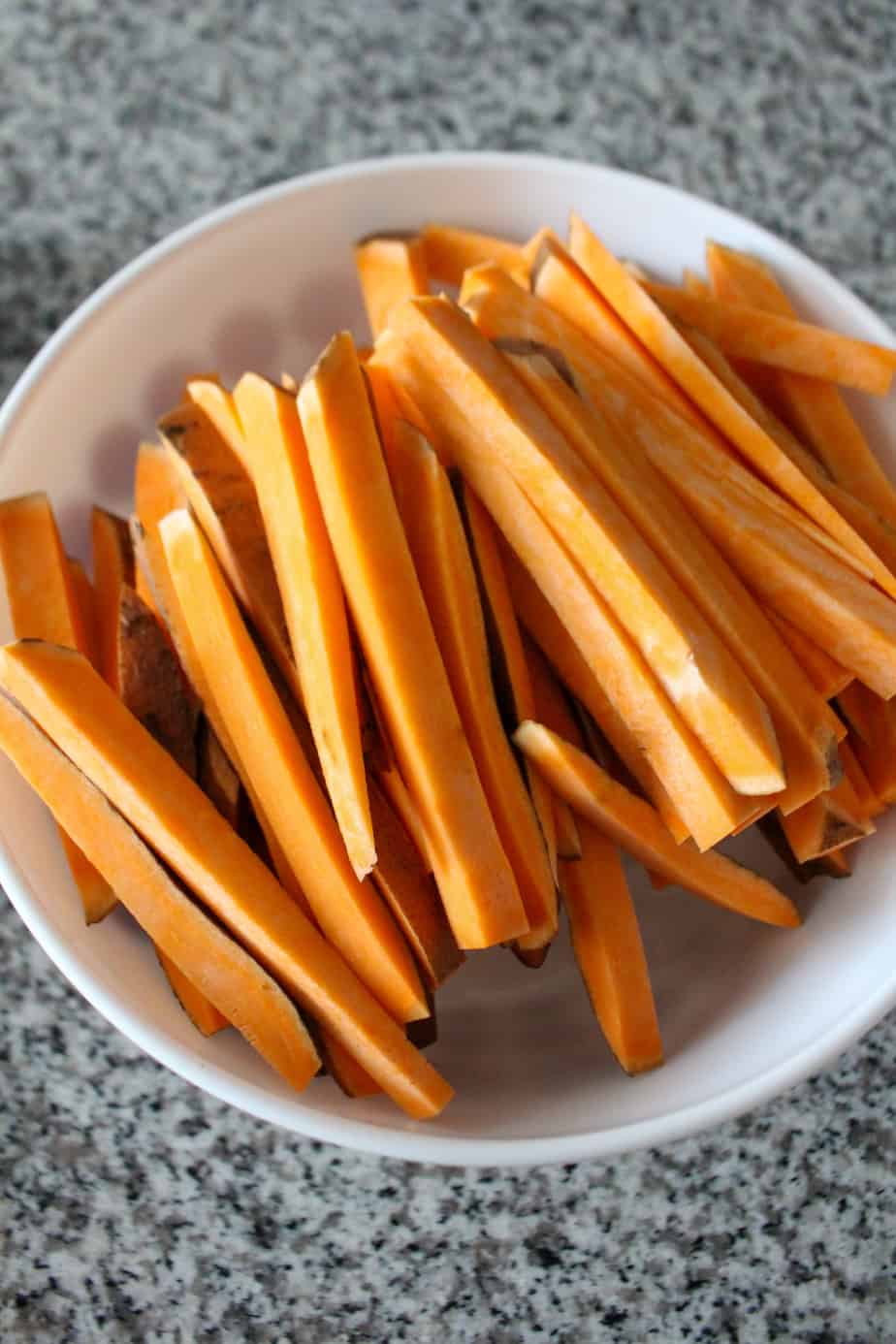 4) Cook: Flip or Don't Flip
Another tip you'll see in a lot of blog posts about crispy fries is to flip each fry individually halfway through the baking time. I didn't actually mind doing this, though it sounds tedious, but when I compared it to an unflipped batch, there wasn't really a huge difference.
If you're pressed for time or pressed for patience, you can skip this step, because I don't think flipping them made them significantly crispier.
5) Cook: Rotate Trays?
Every oven is different, but I found that my top tray was crispier than my bottom tray with every single batch I cooked. To remedy this, I removed the top tray when it was done, moved the bottom tray to the top rack, and cooked it for an extra 5-8 minutes. That seemed to work best for me, but this will vary with every oven.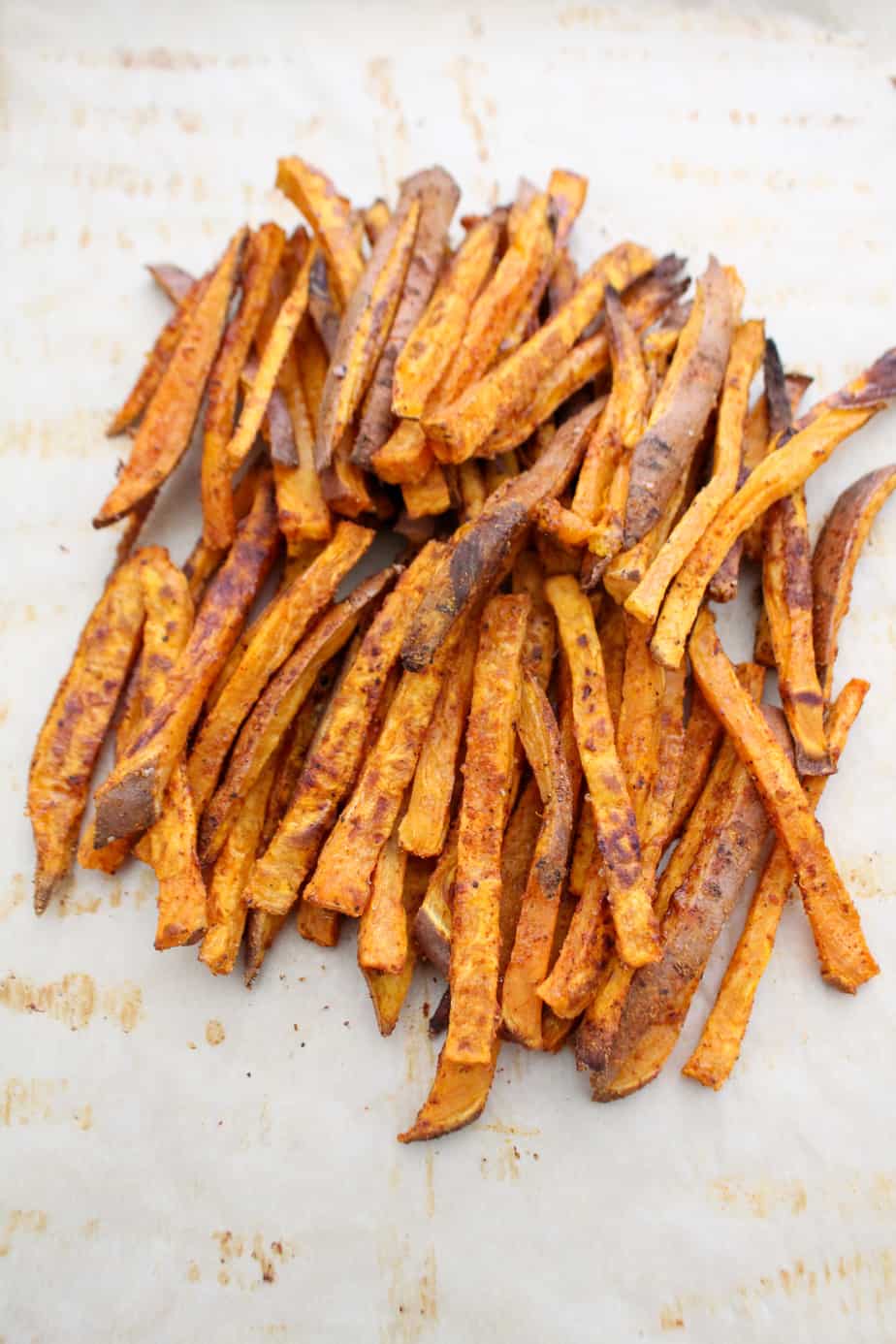 What is Arrowroot Powder?
Arrowroot is a root (tuber? Vegetable? Rhizome?) that is often ground up into a fine starchy powder. It is commonly used to thicken sauces and soups, as a coating for fried or baked chicken, or as an AIP-friendly blending flour for baking muffins and cakes.
Also called arrowroot starch, arrowroot powder is similar in many ways to cornstarch; it is basically 100% carbohydrates in the form of starch, so it is low in protein and not very allergenic. Under low to medium heat it will thicken soups and sauces, and can be used in baking and coating. Additionally, it doesn't impart any flavor, and its texture doesn't change with freezing.
Is Arrowroot Powder better than Cornstarch?
Cornstarch comes from an allergenic plant, corn, and although it is limited in protein, it can still cause allergenic reactions in sensitive people. Additionally, most corn available in the US has been sprayed with glyphosate, which destroys the gut lining and is linked to a number of long-term health issues.
Arrowroot is a tuber-based starch, so it isn't sprayed as heavily as grain-based starches like corn, but aside from that, they're relatively similar products and can be used interchangeably. I prefer arrowroot because I try to limit glyphosate exposure and because I'm particularly sensitive to corn (at least in its modern form).
Is Arrowroot Powder Low FODMAP?
Unfortunately, no. All isolated starches - including corn, arrowroot, and tapioca - are considered high in FODMAPS. If you struggle with FODMAPS, you may handle small amounts, such as the amount found in this recipe, but everybody is different.
Most people avoiding FODMAPS have to avoid sweet potatoes anyway, and thus this recipe wouldn't work for them, but I know some people can handle a bit of arrowroot powder when used in baked goods.
Tips:
These fries are a little spicy, so be sure to adjust the cayenne if that's not your jam. I highly recommend serving them with Primal Kitchens Chipotle Mayo or your own version of flavored dip using Homemade Mayo!
Paleo: yep!
Vegetarian: yep!
PIN ME FOR LATER! ↓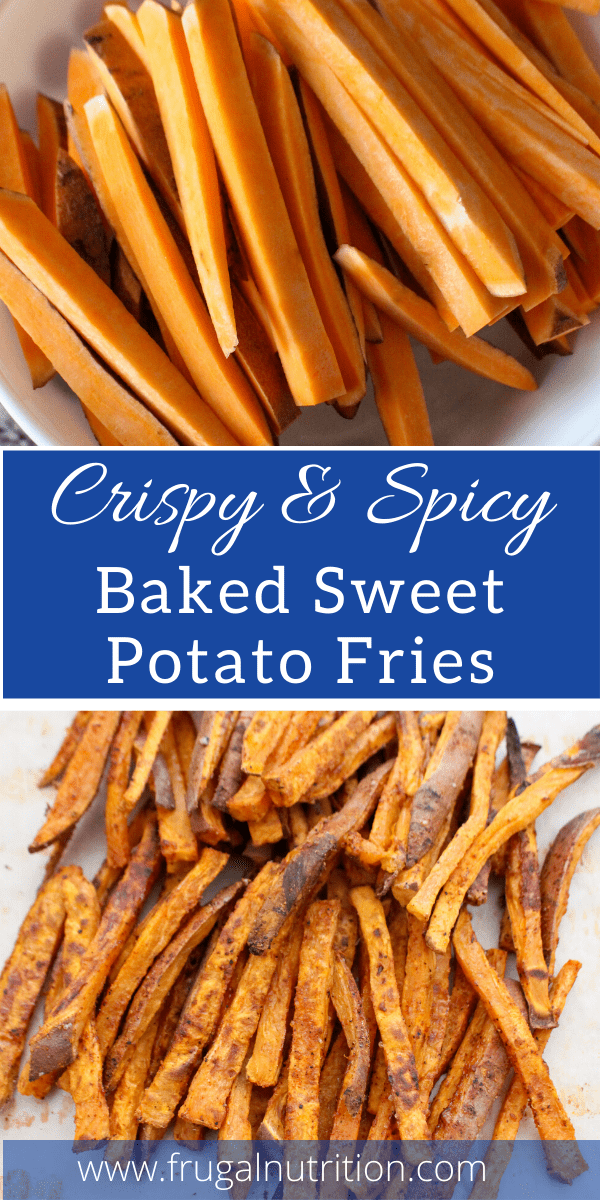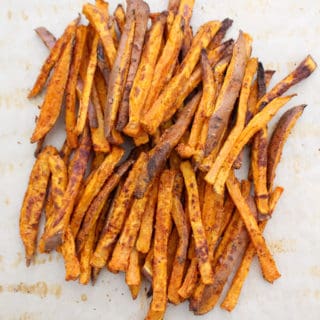 Spicy Baked Sweet Potato Fries
These crispy sweet potato fries are the perfect fix for your homemade french fry craving! I recommend pairing them with homemade aioli or Primal Kitchens Chipotle mayo and a nice juicy burger!
Ingredients
1 ½

pounds

sweet potatoes

Cold water

1

Tablespoon

avocado oil

1

Tablespoon

arrowroot powder

½

teaspoon

garlic powder

½

teaspoon

smoked paprika

½

teaspoon

cayenne powder*

½

teaspoon

salt

sea salt, Himalayan

½

teaspoon

freshly cracked black pepper
Instructions
Cut sweet potatoes (unpeeled) into ¼ inch fry shapes. To do this, you can cut the round edges off to make a rectangle, then cut the rectangle into sheets ¼ inch thick. From there, you can cut each ¼ inch thick rectangle into ¼ inch strips.

Add cut sweet potatoes to a large bowl and fill with cold water. (A little ice is good too!) Place in fridge for 30 minutes.

After 30 minutes, preheat oven to 450ºF.

Drain sweet potatoes well and dry with dish towel. You can dry out the bowl well and all the sweet potatoes back to the bowl with the avocado oil. Toss to coat.

In a small bowl, combine the arrowroot powder and spices (garlic powder, smoked paprika, cayenne, salt, pepper) and sprinkle over the sweet potatoes, tossing to coat as you go.

Line 2 baking sheets with silicone or parchment paper. Divide sweet potatoes among the 2 baking sheets, leaving plenty of space to allow air to circulate. (Don't crowd them!)

Bake for 15 minutes, then remove one tray at a time and flip each individual fry. (Optional, but if you have the patience it does make for crispier fries.)

Rotate the baking trays when you put the fries back in the oven to ensure even crisping. Bake another 10-15 minutes or until fries are starting to get crispy.

Remove from oven and let rest for 1-2 minutes and serve. Fries are best fresh but can be reheated in the toaster oven.
Notes
*These fries are spicy! Use less cayenne if you want to reduce the spice.
Once cut, soaked, and dried, you can actually freeze the raw fries for later!
P.S. This is the best way to have fries with breakfast! ;)
Nutrition
Calories:
188
kcal
Carbohydrates:
37
g
Protein:
3
g
Fat:
4
g
Saturated Fat:
0.5
g
Polyunsaturated Fat:
1
g
Monounsaturated Fat:
2
g
Sodium:
385
mg
Potassium:
592
mg
Fiber:
5
g
Sugar:
7
g
Vitamin A:
24360
IU
Vitamin B1:
0.1
mg
Vitamin B2:
0.1
mg
Vitamin B3:
1
mg
Vitamin B5:
1
mg
Vitamin B6:
0.4
mg
Vitamin C:
4
mg
Vitamin E:
1
mg
Vitamin K:
4
µg
Calcium:
54
mg
Copper:
0.3
mg
Folate:
19
µg
Iron:
1
mg
Manganese:
0.5
mg
Magnesium:
44
mg
Phosphorus:
84
mg
Selenium:
1
µg
Zinc:
1
mg
Choline:
21
mg