Recipe: 6.52 | Per Serving: $0.40 | Yield: 16 Tablespoons
Mayonnaise is a creamy and delicious way to add healthy fats to your diet and this homemade avocado oil mayonnaise can be made in a stand mixer! I love using avocado oil mayonnaise to make cilantro habanero dressing and tangy purple slaw, but it's also great as a base for garlic dipping sauce or to add a little extra fat to turkey burgers and meatballs.
Homemade mayo is a great way to make sure you're getting the right oils - like avocado and olive oil - and skipping the super inflammatory and highly processed ones like canola and soy. I'll show you how!
In my childhood, I liked the absolute lightest possible layer of mayo on ONE SIDE ONLY of my deli roast beef and cheese sandwich. That was my go-to choice for picnics, road trips, and even flights when we were growing up. But even my very mild interest in mayonnaise quickly evaporated when I got my first Subway sandwich with actual globs of mayo squirting out of the sides at every bite. It was horrific.
And then, in high school, on a family trip to London, I got a shrimp sandwich that would be more accurately described as a mayo sandwich with 4 pieces of shrimp. It took years, nay, over a decade, for me to move past that experience.
But move past it I did. I'm happy to say that moving to Japan is what really sparked my interest in mayonnaise again. They use it (mostly) sparingly, and they use it well. When we returned to the states in 2016, I started seeing homemade mayonnaise popping up all over the place, thanks to Paleo bloggers like Nom Nom Paleo. And now, in 2019, I am back on the mayo train!
How to Make Homemade Avocado Oil Mayonnaise
If you've been paying attention, you know avocado oil mayo is still in the spotlight these days, with companies like Primal Kitchens and Sir Kensingtons bringing REAL (American-style) mayonnaise back to grocery store shelves.
You can also make it at home using:
an immersion blender
open-top food processor
Vitamix (or other high powered blender)
a whisk and a bowl
and, believe it or not, a stand mixer!
I do love the Primal Kitchens Chipotle mayo (that's what really sealed the deal for me and mayo back in late 2017), but I also like making food from scratch so I can control the ingredients.
Since I do not have any of those other tools (legitimately, we don't own a whisk), I was dead set on mastering a good homemade avocado oil mayo in my stand mixer for quite some time! Side note: I do think a hand-held mixer would also work, but I don't have one.
With high-powered methods like a high-powered blender or immersion blender you can use a whole egg, but I haven't had much luck with whole eggs in the stand mixer version. Instead, use 4 egg yolks and you'll reach creamy mayo perfection!
The key factors in making mayo in a stand mixer:
1) use high quality yolks
2) choose a neutral cold-pressed oil like avocado and drizzle it in slowly
3) add the mustard - a little goes a long way in keeping your mayonnaise from separating!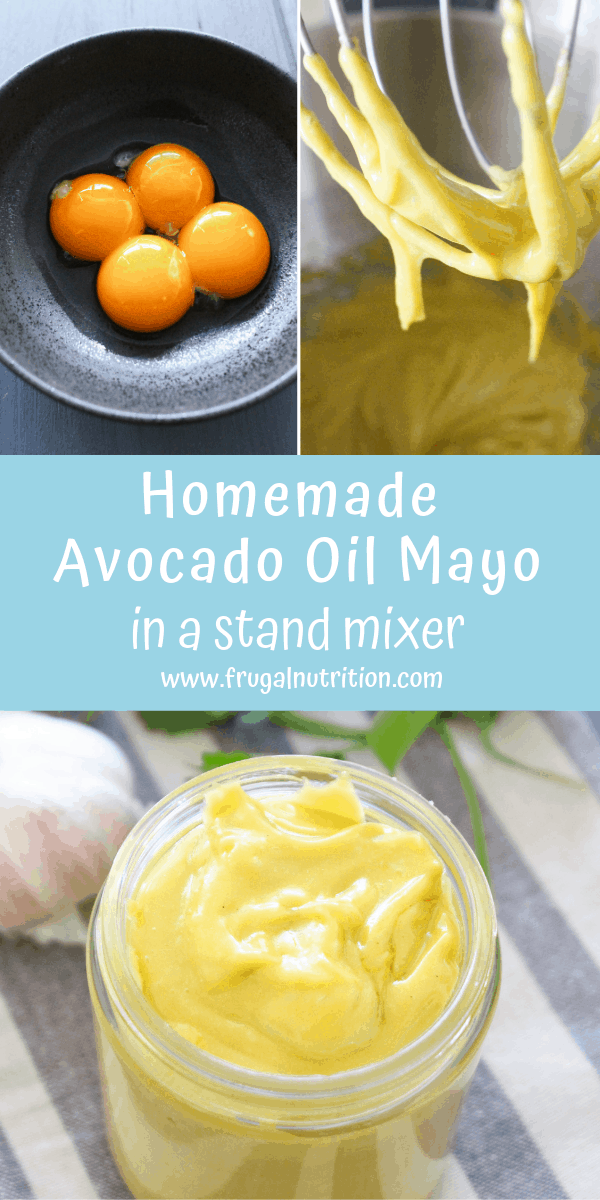 The color of your mayonnaise will definitely depend on the quality of your eggs and avocado oil. I try to buy eggs with the brightest orange yolks anyway because they tend to be richest in nutrients, but they also contribute to the yellowish color that your mayo should have!
When you're choosing avocado oil, know that using deep green cold-pressed extra-virgin avocado oils like La Tourangelle will result in a much deeper colored yellow than if you use some of the other options. Those are still fine to use, but they're not as nutrient dense and won't yield the same color that you see here.
Paleo: Yep!
Vegetarian: Yep!

Homemade Avocado Oil Mayo (Stand Mixer)
Put the whisk away and save your arm muscles - the stand mixer is doing the work today! This easy and delicious recipe teaches you how to make homemade mayonnaise in a stand mixer like a Kitchen Aid. So easy!
Ingredients
4

egg yolks

pasture raised

1

teaspoon

lemon juice or vinegar

¼

teaspoon

pink Himalayan sea salt

1

cup

avocado oil

or up to 1.25 cups
Optional Add-Ins
1

teaspoon

mustard

to help emulsify

garlic powder, herbs, black pepper, etc.

for flavor
Instructions
This recipe uses raw egg yolks, so it is essential that you buy high quality pastured eggs, preferably from a farm. You can choose to use them completely raw or coddle them. To coddle: Drop each egg into boiling water for just 30 seconds, then immediately cool in cold water. This will kill a significant percentage of bacteria found on the shell.

Wash eggs. Separate the egg whites and egg yolks: prepare two bowls, one for the yolk and one for the whites. Crack the egg on a flat surface. Over the whites bowl, open the egg over your fingers to catch the yolk while letting the whites run through. Alternatively, you can use the shell to pour the yolk back and forth to let the white drop into the bowl.

Add all the yolks to the bowl you'll be using with your stand mixer. Mix until scrambled, then add the lemon juice or vinegar, salt, and any optional add ins. Mix until combined, then over medium-high speed, drizzle the avocado oil slowly into the yolks. Pouring 1 cup of oil should take approximately 4-5 minutes with the mixer running. If the mayo isn't thick enough or if it doesn't seem to be emulsifying for some reason, I recommend adding the optional mustard, and drizzling in up to ¼ cup additional oil.
Notes
Oil: Cold pressed avocado oil is a relatively neutral oil that I recommend for mayonnaise. I've also used olive oil, coconut oil, and even canola oil, and avocado oil was by far my favorite. I like Primal Kitchens, which I usually buy from Thrive Market, but this time I used La Tourangelle, which is a beautiful dark green cold-pressed oil that can be found at most grocery stores. Yield: This recipe makes about 1.5 cups of mayonnaise.
Nutrition
Calories:
135
kcal
Carbohydrates:
0.2
g
Protein:
1
g
Fat:
15
g
Saturated Fat:
2
g
Polyunsaturated Fat:
2
g
Monounsaturated Fat:
10
g
Cholesterol:
49
mg
Sodium:
42
mg
Potassium:
6
mg
Fiber:
0.01
g
Sugar:
0.04
g
Vitamin A:
65
IU
Vitamin B1:
0.01
mg
Vitamin B2:
0.02
mg
Vitamin B3:
0.003
mg
Vitamin B5:
0.1
mg
Vitamin B6:
0.02
mg
Vitamin B12:
0.1
µg
Vitamin C:
0.1
mg
Vitamin D:
0.2
µg
Vitamin E:
0.1
mg
Vitamin K:
0.04
µg
Calcium:
6
mg
Copper:
0.004
mg
Folate:
7
µg
Iron:
0.1
mg
Manganese:
0.004
mg
Magnesium:
0.4
mg
Phosphorus:
18
mg
Selenium:
3
µg
Zinc:
0.1
mg
Choline:
37
mg
Nutrition Label is for 1 Tablespoon of Avocado Oil Mayonnaise (~1/16th of recipe)