Purple cabbage slaw makes the best side dish for all kinds of meals! Even better, it's only four ingredients and takes just a few minutes to make. Purple cabbage gets its color from anthocyanin, a plant compound, which is also an antioxidant powerhouse. So pile on this delicious, antioxidant-rich purple slaw!
Recipe: $4.14 | Per Serving: $0.69 | Yield: 6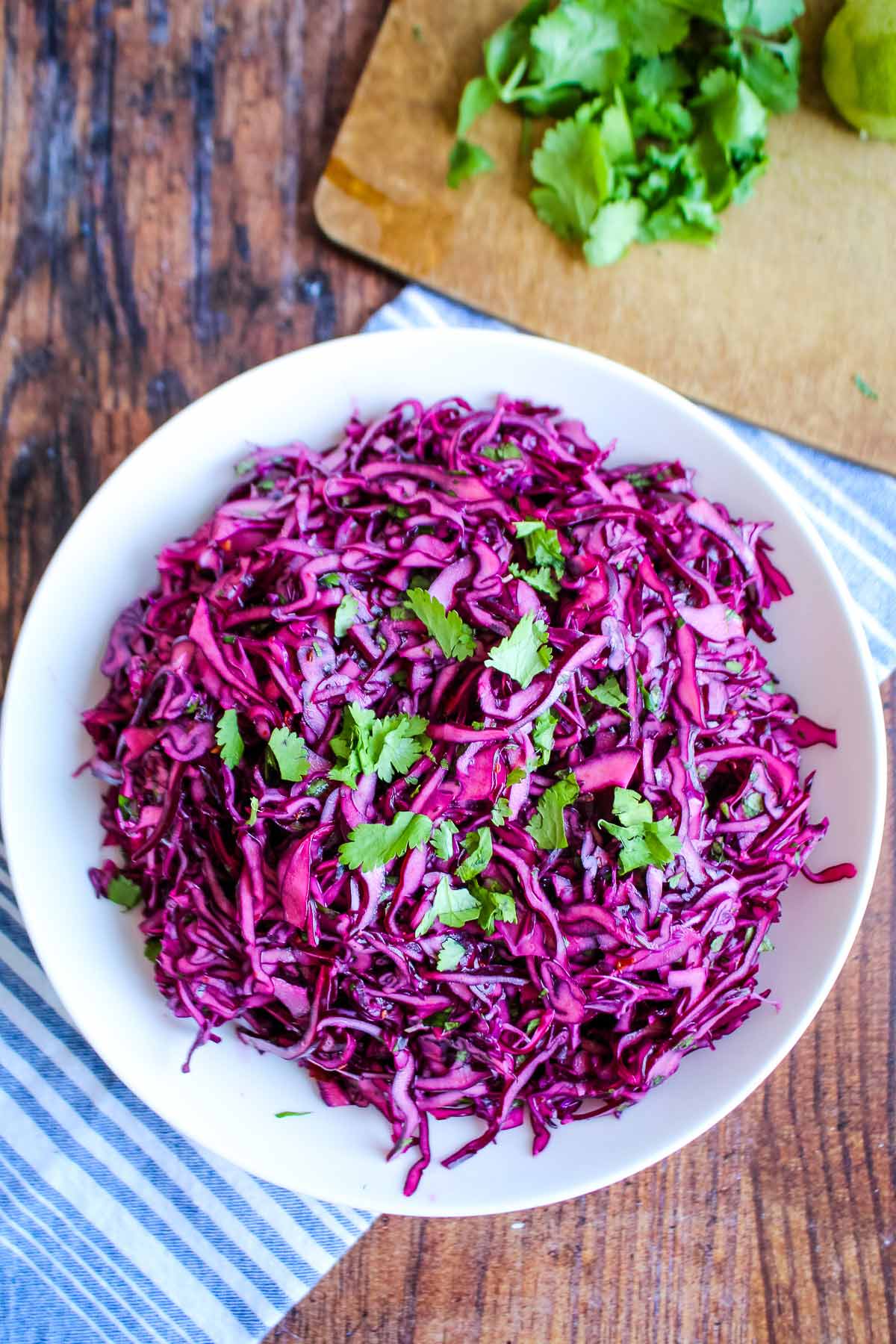 I like to keep a head of cabbage in my fridge nearly all the time. Sometimes it's just for sheet pan sausage, roasted cabbage, and potatoes, other times it's for ground beef and cabbage stir fry.
But if it is purple, usually it's for THIS: my favorite iteration of slaw (thanks to a secret weapon). It can be eaten with fish tacos, pulled pork, or as a side dish when you want more color in your life!
If you enjoy eating purple cabbage recipes, I think you'll also enjoy these red cabbage wraps or slow cooker cabbage casserole.
Why You Will Love This Purple Cabbage Slaw
There are so many reasons to love this recipe for purple cabbage salad! Here are a few:
A budget-friendly side dish that you can add to any meal or use a base for fish, chicken, or shredded pork.
Vibrant and colorful side dish that's perfect any time you want to add a splash of color to your plate.
Great flavor. Purple cabbage coleslaw is crunchy and the dressing is lightly creamy and deliciously tangy.
It's easy to make using only FOUR ingredients!

Ingredients
You can easily find all you need to make coleslaw with purple cabbage in a quick trip to the grocery store. If you don't have chipotle mayonnaise, don't worry - you can make an easy version at home!
Purple cabbage: of all the cabbages, purple is my favorite to eat raw. Not only is it a beautiful color, but also, it has a subtle sweetness that works great in salads. It especially works well in raw dishes like this purple cabbage salad. You can also save some time by buying shredded purple cabbage.
Chipotle mayo: I really love Primal Kitchen's Chipotle Mayonnaise for convenience but you can also make your own with three tablespoons of mayonnaise and one tablespoon of sauce from a can of chipotles in adobo. Chipotle is the secret weapon here, and if you don't have it, be sure to swap it out for one of the substitutions below!
Cilantro and lime: Adds bright and herbaceous flavors to this simple purple cabbage coleslaw.
Variations and Dietary Modifications
Here are some ideas for changing up your purple slaw!
No chipotles or chipotle mayo? No worries! Swap out the chipotles for Sriracha and mix it into regular mayonnaise. In a pinch, ¼ teaspoon cayenne combined with ¼ teaspoon of smoked paprika will also work.
Use regular cabbage. You can easily swap out the purple cabbage for white cabbage instead. The flavor will be very very similar.
Can't do spicy peppers? Skip the chipotle mayo and use regular mayo instead. If using regular mayo, add ¼ teaspoon garlic powder and ¼ teaspoon smoked paprika.
Add more veggies: You can also add other veggies that work well for slaw. I find shredded carrots, sliced Brussels sprouts, broccoli slaw, and green onion all work great.
Paleo: Yep! And Whole30.
Vegetarian: Yes!
Can't do eggs? Try Primal Kitchen's Egg-Free Mayo instead and use one of the tips above to flavor it.
Top it with protein: You can add your favorite tuna salad, chicken salad, or mashed chickpeas to make it a complete meal. We often serve this with a quick tuna salad and call it a day.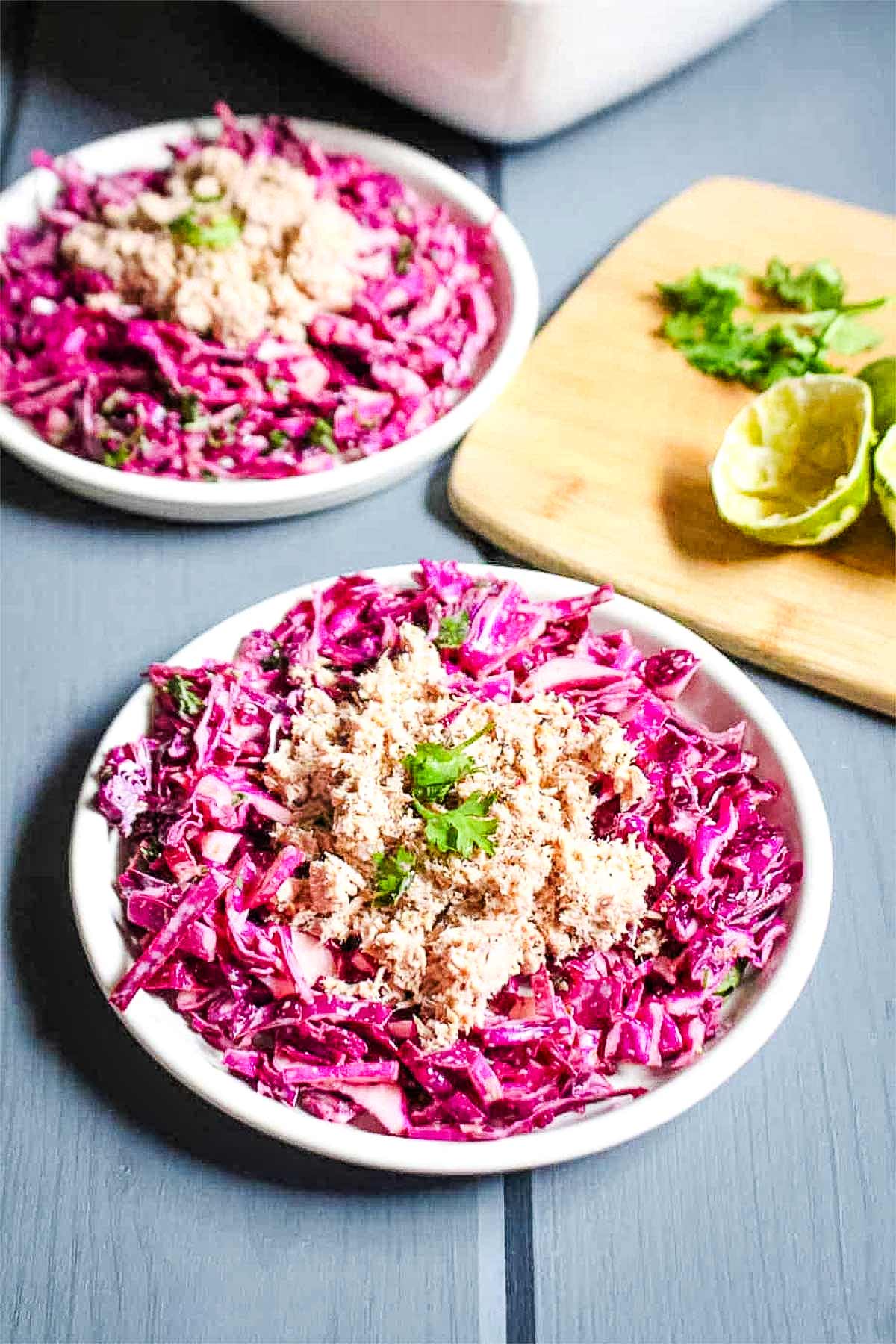 How to Make Purple Cabbage Slaw
Using some handy kitchen tools makes this easy recipe even easier! Here's step-by-step on how to prepare purple cabbage coleslaw.
Thinly slice the cabbage. You can do this using a very sharp knife, the slicing blade of your food processor, or my favorite - a mandolin.
Mix the chipotle mayonnaise, lime zest, and two tablespoons of lime juice in a large bowl.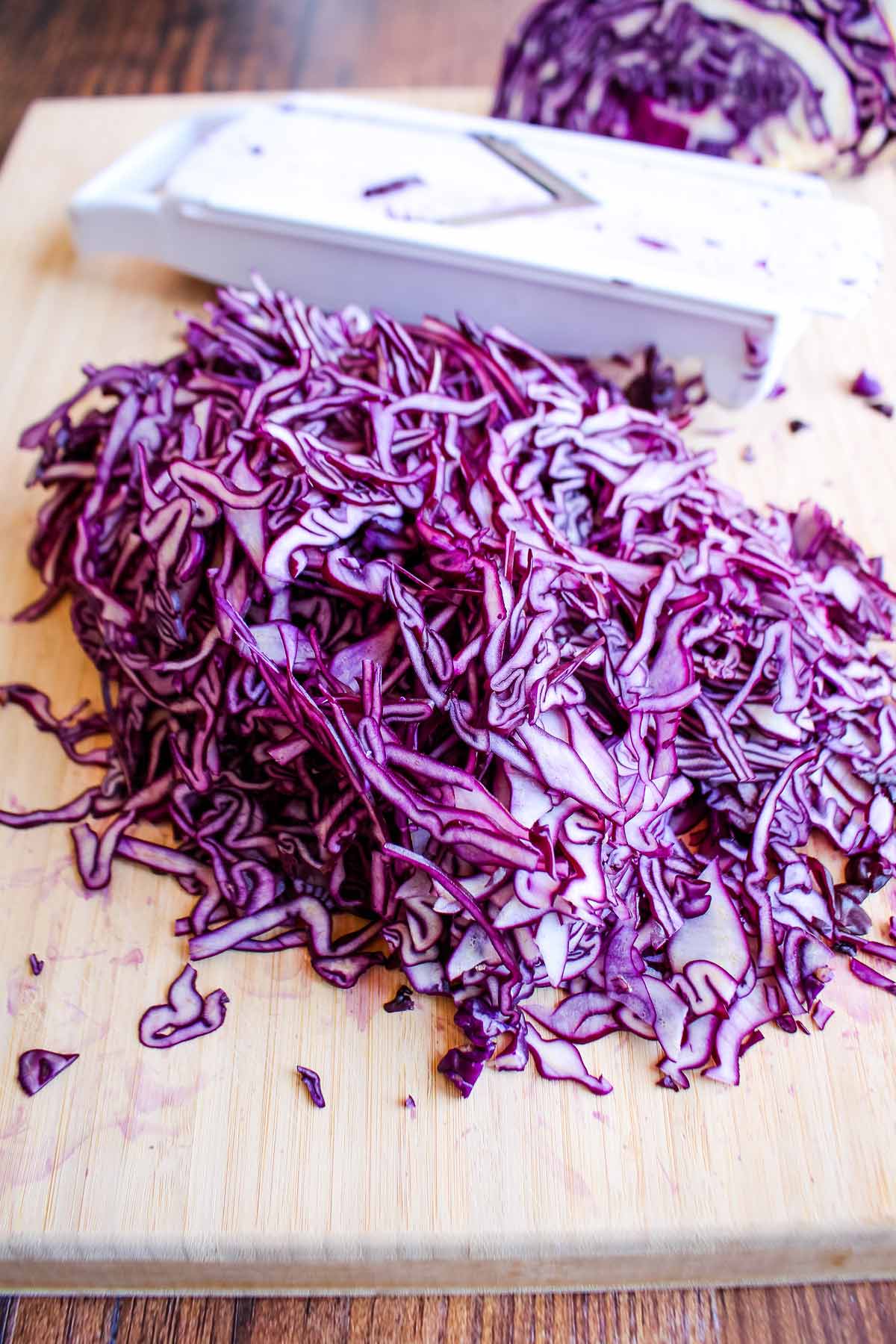 Finely mince your washed and dried cilantro and add it to your large bowl along with the red cabbage.
Stir everything together using your hands or a pair of tongs. The cabbage will change from deep purple to a bright pink color. Add the salt and red pepper flakes, if you're using it. Feel free to massage it a bit to soften it further.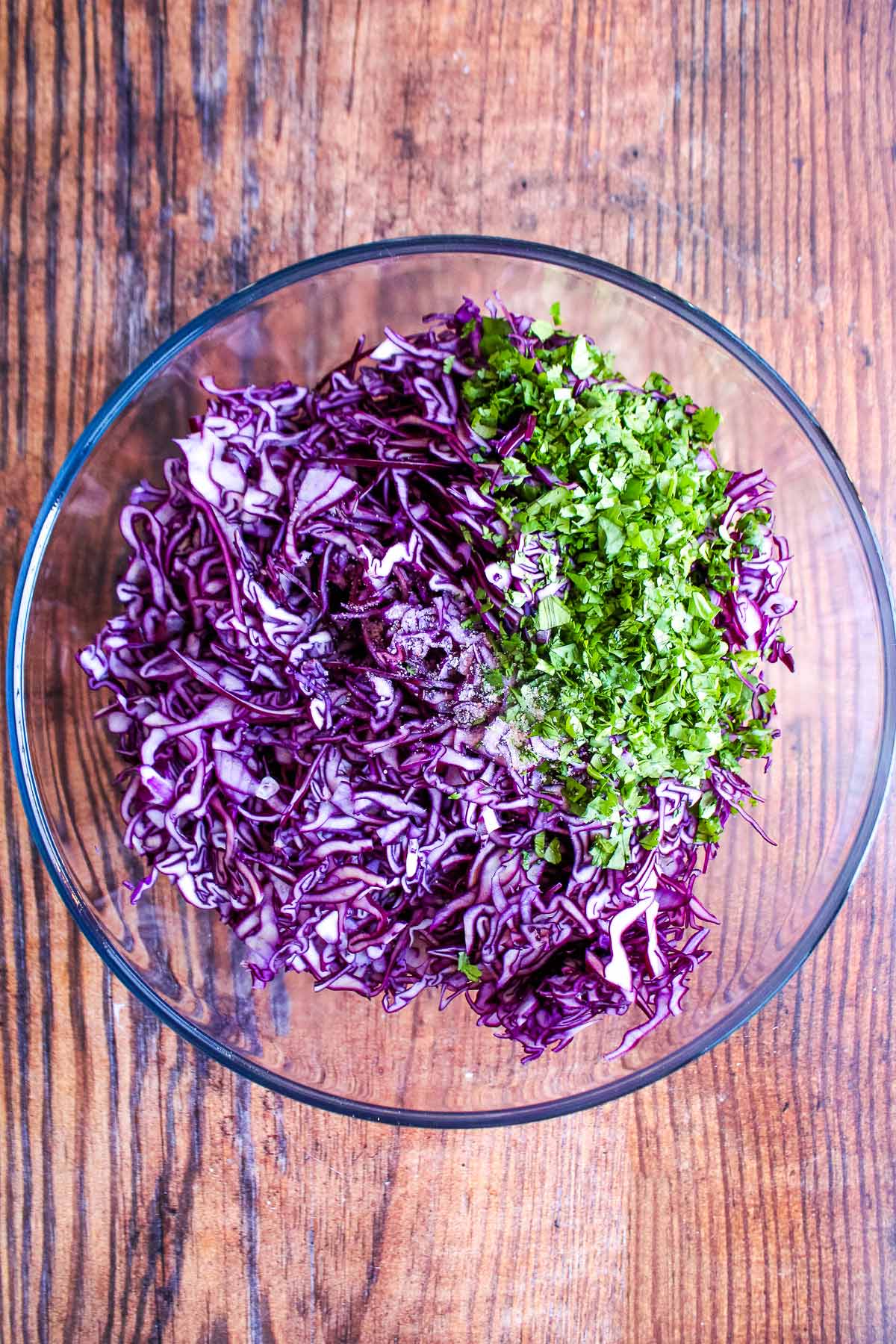 Transfer to a serving bowl and garnish with a few more pieces of cilantro. Serve it up and enjoy!
How to Store
Purple slaw will last up to five days in the fridge! After about 3 days it does start to lose a little flavor, so perk it up with an extra squeeze of lime juice before serving.
This is great to meal prep because cabbage is so durable. Just know that it will release a bit more water as it sits in the fridge, so give it a good stir before serving it again.
Store it in the fridge in an airtight container. Do not freeze since it contains fresh veggies and mayonnaise which don't freeze well.
How to Serve with Red Cabbage Slaw
Health Benefits of Purple Cabbage
Vitamin C: There are a number of different vitamins and minerals in purple cabbage. One fun fact is that a cup of shredded raw purple cabbage has almost as much vitamin C as an orange!
PRO TIP: The serving size of this recipe for purple cabbage slaw is 1 ⅓ cups, so you'll get more vitamin C from this recipe than from an orange!
Antioxidants: You may know that purple, blue, and black foods are rich in anti-inflammatory phytonutrients, specifically a family of polyphenols known as anthocyanins. Purple cabbage is also rich in these anthocyanins (just like blueberries!).
It's also rich in a lesser-known antioxidant, Sulforaphane, a compound found in cruciferous vegetables that is known to improve detoxification pathways, improve hormone health, and even prevent certain types of cancer. 
Expert Tips
Slice the cabbage very thin for the best consistency! Some parts of the cabbage can be a bit firm so the thinner you can slice it the better.
Using a mandolin is the best method for thin and even pieces of cabbage.
Mix it together and let it sit for a short bit before serving. This allows the flavors to meld and also the cabbage to soften slightly.
FAQs
Is red cabbage the same as purple cabbage?
Yes, they're the same! The cabbage is generally purple when it's raw but turns bright pink or red when it comes into contact with acid or heat.
What's the difference between purple cabbage slaw and coleslaw?
They're virtually the same thing! White and purple cabbage taste pretty much the same so the name of the dish only changes because of the color. Both terms refer to a dish made of shredded raw cabbage often mixed with a dressing and other veggies.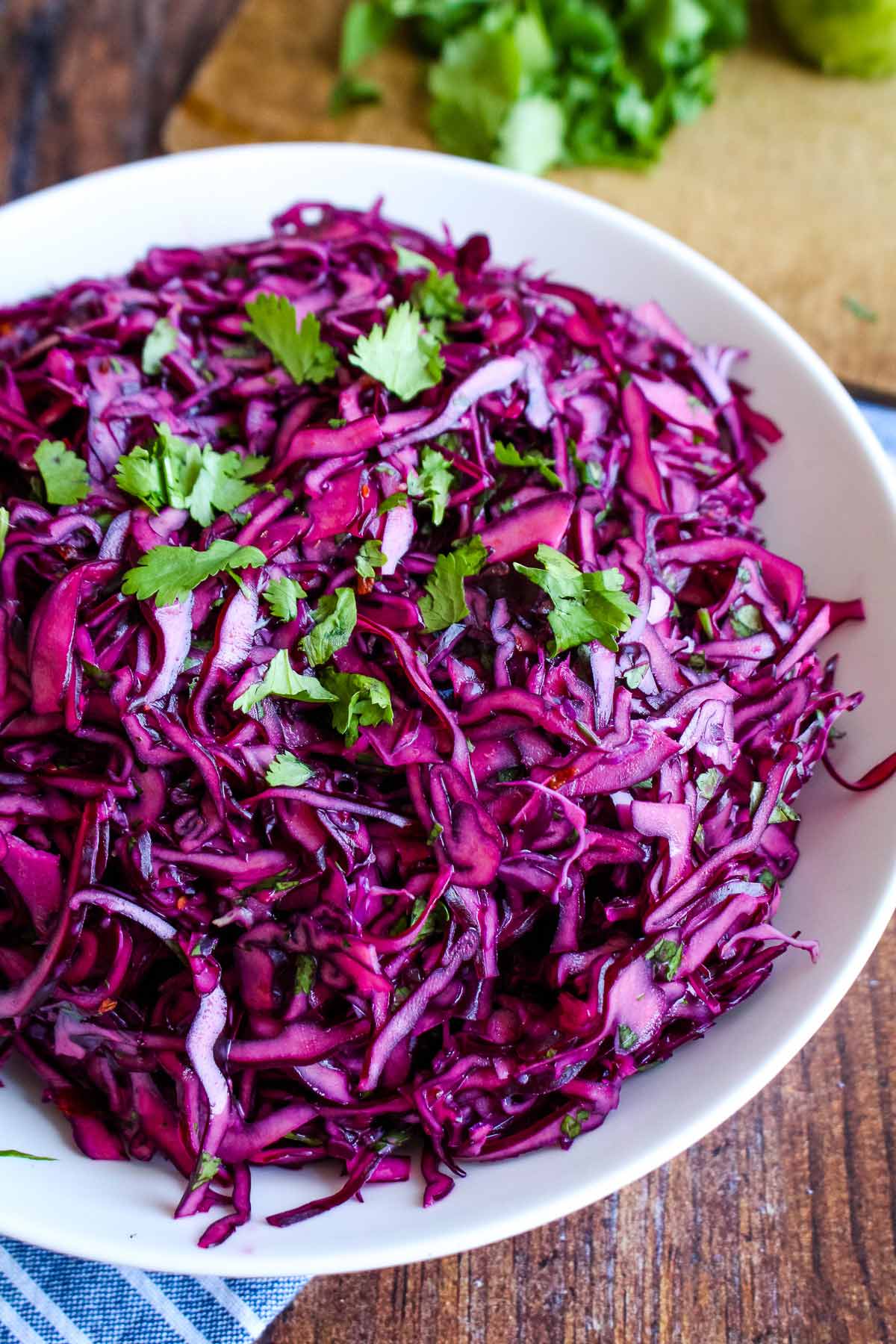 More Cabbage Recipes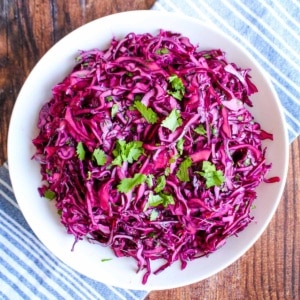 Purple Cabbage Slaw
Purple cabbage slaw makes the best side dish for all kinds of meals! Even better, it's only four ingredients and takes just minutes to make. Purple cabbage gets it's color from anthocyanin, a plant compound, which is also an antioxidant powerhouse. So not only is this purple slaw delicious, it's also good for you!
Ingredients
4

tablespoons

chipotle mayo

1

lime

zested

2-3

tablespoons

lime juice

½

head

purple cabbage

once shredded - 1 ½ pounds / 8 cups

½

bunch

cilantro

½ cup leaves, tightly packed

½

teaspoon

fine salt

½

teaspoon

red pepper flakes for spice

optional, for spice

Optional: 10 ounces canned tuna or other source of easy protein
Instructions
Zest the lime, set aside. Juice the lime in a small bowl, set juice aside.

Add the chipotle mayonnaise to a large bowl. Add the zest from 1 lime, and about 2 Tablespoons of the lime juice (I usually use all the juice, but start with 2 Tablespoons), and whisk together. Set aside.

Using a very sharp knife, the slice blade of your food processor, or my favorite - a mandolin - thinly slice the cabbage. You should get about about 8 cups.

Wash and dry the cilantro and finely mince it. I like to remove the sturdy stems but finely mince the smaller stems.

Add the cabbage and cilantro to the bowl with the mayonnaise sauce, along with ½ teaspoon salt. Stir this well using your hands or tongs. The cabbage will change from deep purple to a bright pink color. If using red pepper flakes, add here as well.

Garnish with extra cilantro, if you have it, and serve!
Notes
I like to enjoy this with homemade fish & chips, on fish tacos, or for a super fast lunch, with canned tuna salad and crackers.
I usually recommend Primal Kitchen's Chipotle Mayonnaise for convenience. You can also make Chipotle Mayonnaise homemade by combining 3 Tablespoons of mayonnaise and 1 Tablespoon of the sauce from canned chipotle in adobo. Alternatively, you can replace the chipotle sauce with sriracha.
Nutrition
Calories:
90
kcal
Carbohydrates:
7
g
Protein:
1
g
Fat:
7
g
Saturated Fat:
1
g
Polyunsaturated Fat:
4
g
Monounsaturated Fat:
2
g
Trans Fat:
0.02
g
Cholesterol:
4
mg
Sodium:
273
mg
Potassium:
193
mg
Fiber:
2
g
Sugar:
3
g
Vitamin A:
839
IU
Vitamin B1:
0.1
mg
Vitamin B2:
0.1
mg
Vitamin B3:
0.3
mg
Vitamin B5:
0.2
mg
Vitamin B6:
0.2
mg
Vitamin B12:
0.01
µg
Vitamin C:
45
mg
Vitamin D:
0.02
µg
Vitamin E:
0.4
mg
Vitamin K:
44
µg
Calcium:
37
mg
Copper:
0.02
mg
Folate:
15
µg
Iron:
1
mg
Manganese:
0.2
mg
Magnesium:
13
mg
Phosphorus:
26
mg
Selenium:
1
µg
Zinc:
0.2
mg
Choline:
16
mg
Resources
Antioxidant compounds: https://www.ncbi.nlm.nih.gov/pmc/articles/PMC2841576/
Cancer Prevention: https://journal.waocp.org/article_27493_5eeaa1bb2ed787201b772adfdf037cf4.pdf