Recipe: $12.69 | Per Serving: $3.17 | Yield: 4
Is there anything more satisfying than a rich and flavorful sheet pan dinner in the middle of a busy week? This simple gluten-free sheet pan dinner requires just three main ingredients: delicata squash, broccoli, and sausage!
I love making sheet pan recipes on weeknights so I can prep it in advance and get in some last-minute work while dinner cooks. And I especially love these meals in the fall and winter when the oven really helps to warm up my first floor!
This recipe is pretty straightforward. As you can see from this photo of the ingredients, it is just a few easy ingredients and no fussing around.
This sheet pan recipe is perfect any time of year, but it is best when delicata is at its peak from late August through October. I have been trying to understand delicata season for the past 4 years, and it seems to change from year to year (global warming? changes in demand?), but just make sure your squash has ripened to a mostly vibrant yellow with green stripes. Pale yellowish or greenish = an underripe squash, which can be bitter and unpleasant!
If you find yourself with an underripe squash, you can ripen it in a warm sunny spot as long as needed. I received 6 very underripe delicata once and ripening them in the warmest, sunniest spot in my house took 2-3 weeks.
This is a bit of a stable recipe in our house, so we have made a lot of versions of it. If you want to use sausage links, they'll work great. You can even use pre-cooked sausage, just add them whole or sliced on top of the broccoli in the last 10 minutes of cooking. We also love this with cabbage instead of broccoli, and potatoes instead of delicata.
Vegetarian: This recipe is not vegetarian
Paleo: Yes!
Low FODMAP: nope! Moderate FODMAPs are found in this recipe, so while it is not a high FODMAP dish, it is not totally Low FODMAP.
AIP: this recipe is AIP if you omit the red pepper flakes and smoked paprika.
PIN THIS RECIPE FOR LATER! :)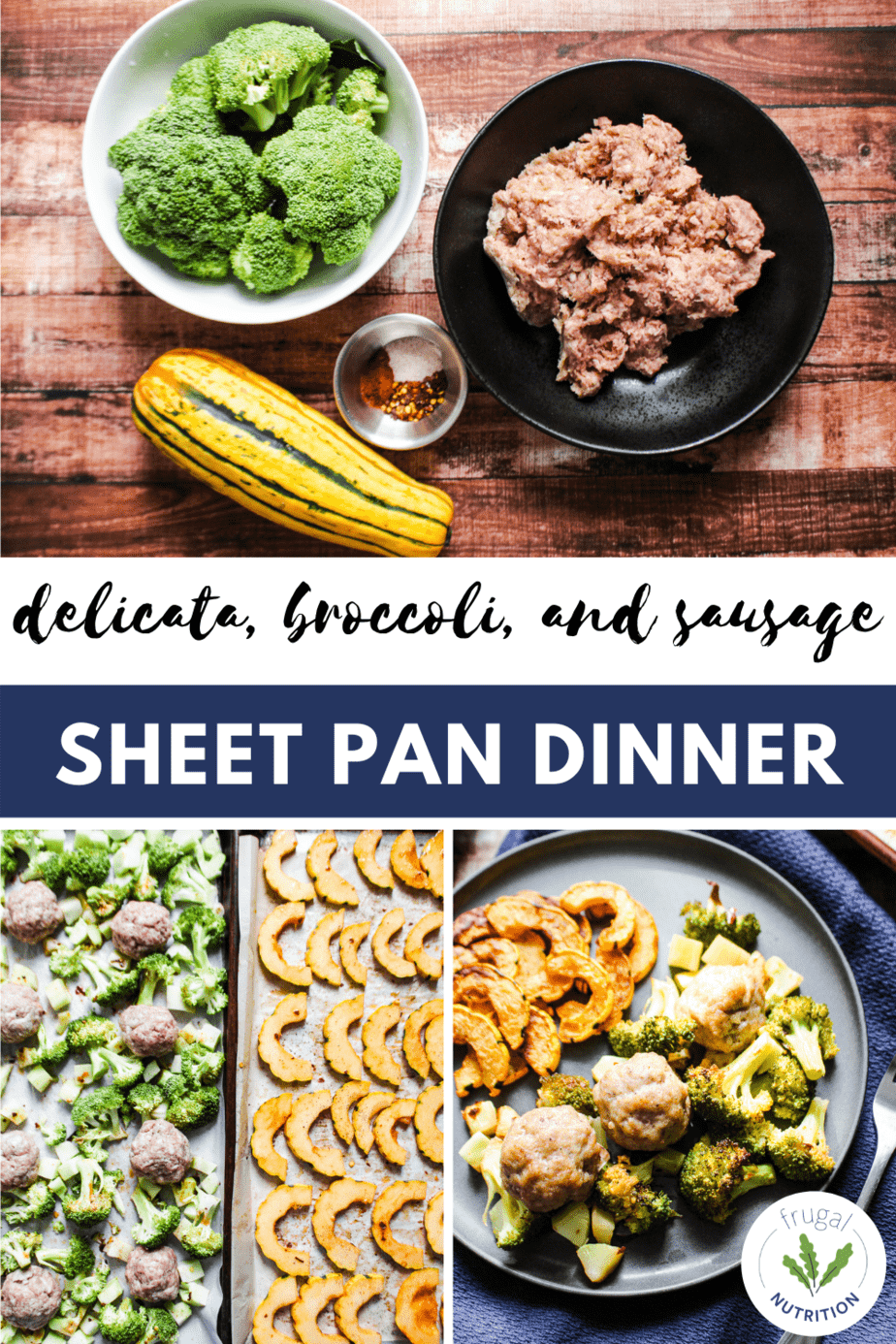 Sheet Pan Sausage, Broccoli, and Delicata Squash
Make this easy roasted sheet pan dinner with delicata squash, broccoli, and easy meatballs made from ground sausage!
Ingredients
1

pound

delicata squash

one medium-large

2

pounds

broccoli

florets and stems ok!

1

pound

ground pork sausage

I love Moink sausage here

2

Tablespoons

oil of choice

such as avocado oil

1

teaspoon

red pepper flakes

½

teaspoon

smoked paprika

½

teaspoon

salt

more to taste
Instructions
Preheat oven to 425ºF.

Line two large baking sheets with parchment paper (if desired); I highly recommend these

large baking sheets

(Amazon affiliate link). If using aluminum or nonstick sheet pans, line with parchment paper.

Prepare delicata squash: Cut the ends off the delicata squash to create a flat surface on either end, then cut the squash in half lengthwise. Scoop out the seeds and discard or save for roasting. Slice the squash into ¼-inch slices. Place on baking sheet (lined with parchment paper) and toss with half the oil, and half the red pepper flakes, salt, and smoked paprika. Spread the squash out on the large baking sheet in one layer.

Place delicata squash in oven for 25 minutes. After 25 minutes, you will flip each piece of delicata squash AND put the other sheet pan in the oven for the remaining 20 ish minutes of baking.

Prepare broccoli: cut or break away the florets from the stem of the broccoli, break or cut these into bite-sized florets. If you're left with a large, long broccoli stem, peel it with a potato peeler and chop it into bite-sized pieces. Place on baking sheet and toss with the remaining oil, red pepper flakes, salt, and smoked paprika. Spread the broccoli out on the large baking sheet in one layer.

Prepare sausage: Remove the pork sausage from its package and place in a bowl. Mix if needed to develop an even consistency, then divide into 12 meatballs. Roll each piece between your hands to smooth into balls, then place evenly on top of or nestle between the broccoli florets.

After the delicata squash has been cooking for about 25 minutes, remove the squash and flip each piece then return to the oven. Add the second sheet pan (with broccoli and sausage) to the oven.

Continue cooking both sheet pans for 20-25 minutes or until the broccoli is cooked through and the pork is cooked through and a meat thermometer reads 145ºF. The delicata squash is done as soon as it starts to crisp up and develop a darker brown color on the bottom, which should take another 20-25 minutes.
Notes
I recommend pork sausage here because it is fattier and more flavorful and harder to overcook and dry out. Feel free to try another sausage of choice!
Nutrition
Calories:
523
kcal
Carbohydrates:
25
g
Protein:
25
g
Fat:
38
g
Saturated Fat:
11
g
Polyunsaturated Fat:
8
g
Monounsaturated Fat:
15
g
Trans Fat:
0.3
g
Cholesterol:
82
mg
Sodium:
1100
mg
Potassium:
1410
mg
Fiber:
8
g
Sugar:
6
g
Vitamin A:
3320
IU
Vitamin B1:
1
mg
Vitamin B2:
0.5
mg
Vitamin B3:
7
mg
Vitamin B5:
2
mg
Vitamin B6:
1
mg
Vitamin B12:
1
µg
Vitamin C:
217
mg
Vitamin D:
1
µg
Vitamin E:
3
mg
Vitamin K:
246
µg
Calcium:
151
mg
Copper:
0.3
mg
Folate:
171
µg
Iron:
4
mg
Manganese:
1
mg
Magnesium:
81
mg
Phosphorus:
331
mg
Selenium:
6
µg
Zinc:
4
mg
Choline:
114
mg