Recipe: $10.19 | Per Serving: $5.10 | Yield: 2 (or 16 small appetizer toasts)
We are keeping it simple today with delicious smoked salmon toasts, paired with chive cream cheese and capers, and served atop pumperknickel (or GF "pumperknickel) bread. Make this as an easy appetizer for the upcoming holiday season!
If not an appetizer, serve this as lunch, snack, or an easy weeknight meal. It's filling and satiating, and packed with anti-inflammatory healthy fats.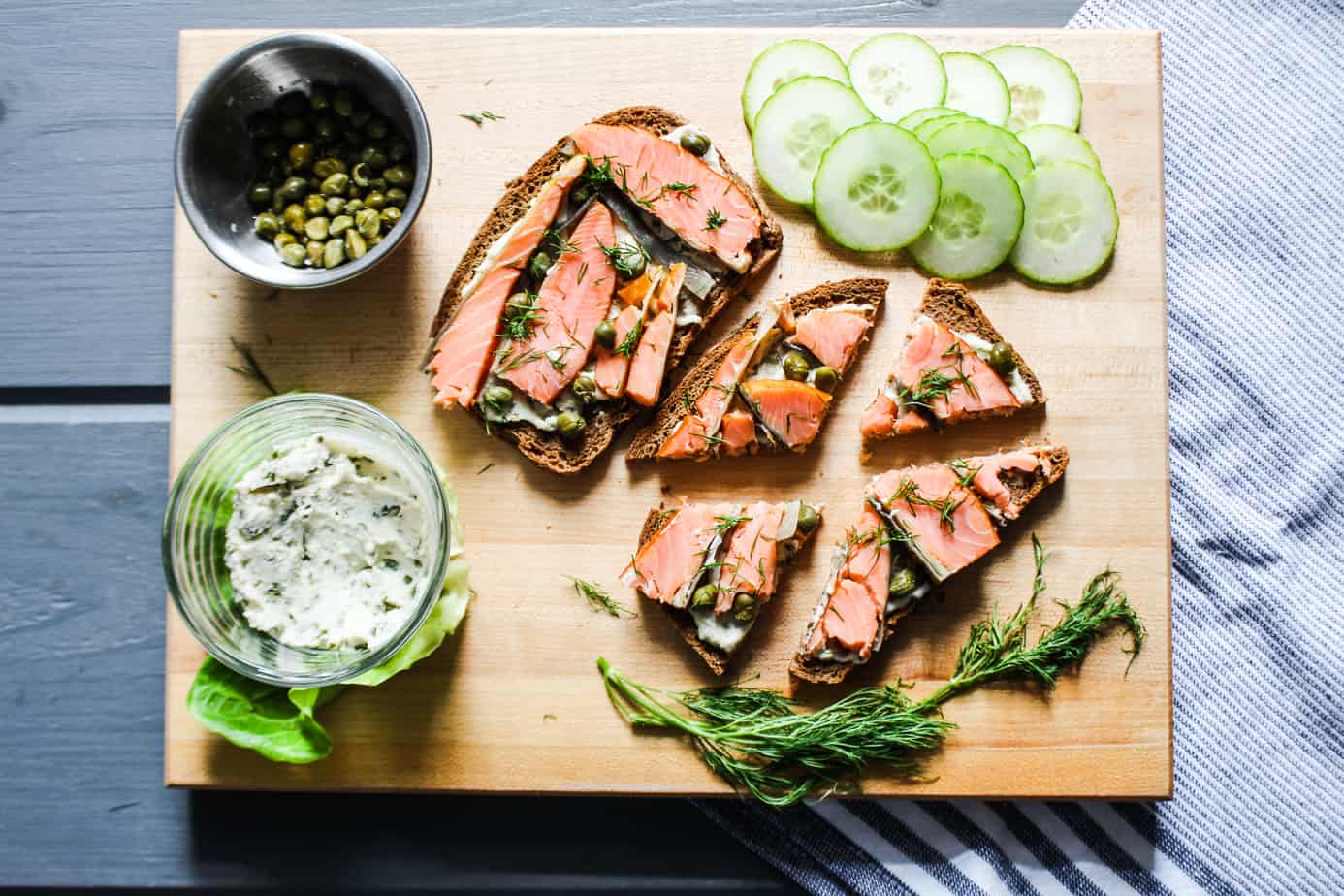 This is such a simple combination, but one that is time-tested and absolutely delicious.
This year and last year we participated in a seafood CSA by Sitka Salmon. We receive a box of sustainably caught wild seafood each month for either 4 or 6 months (depending on the length of the share you chose).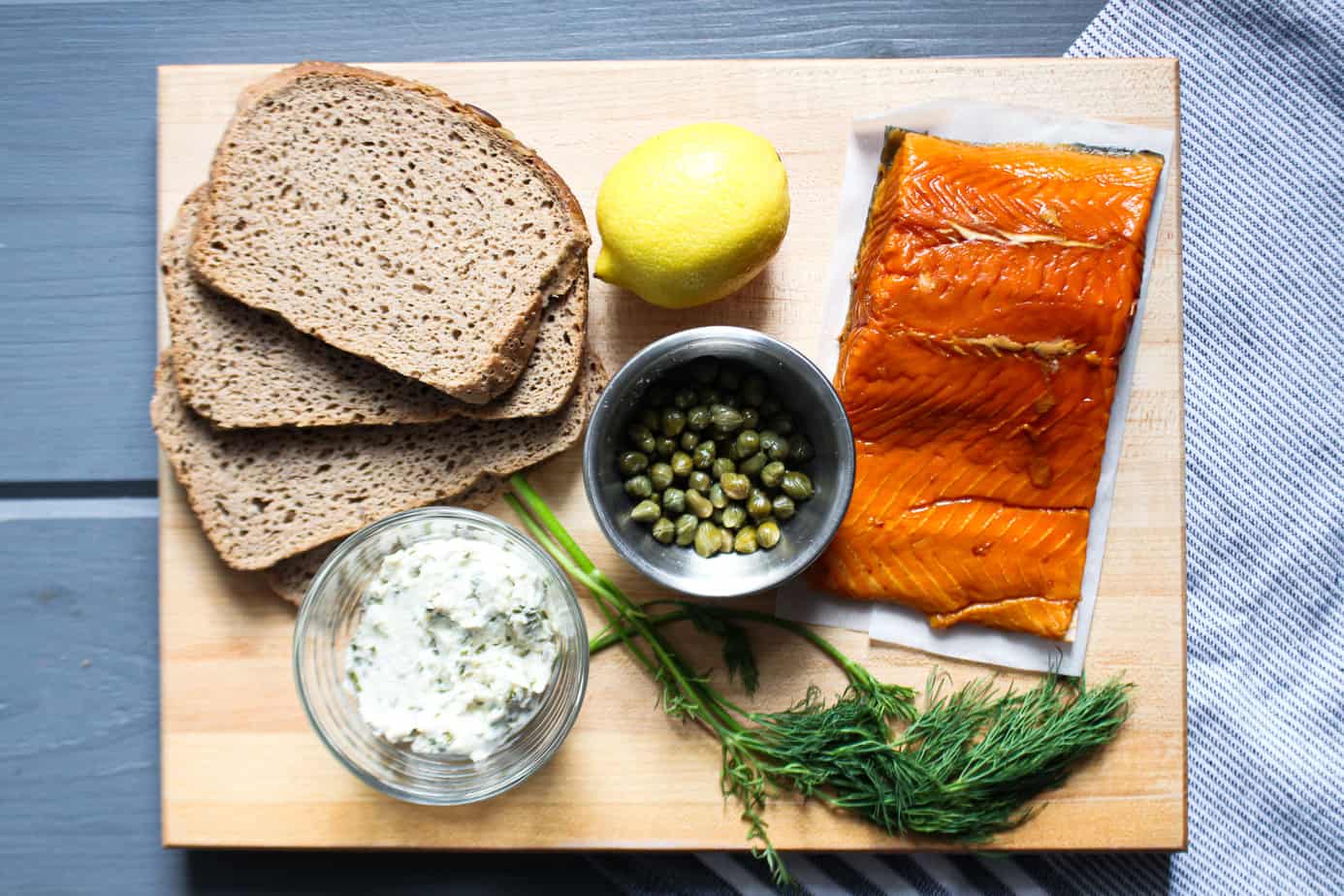 We love seafood, but we haven't gotten into the local seafood markets here in Baltimore. The Sitka CSA was a great way to expand the variety of seafood we got to try without doing a ton of research on the Monterey Bay Aquarium Seafood Watch app to check sustainability.
(Believe me, it can get depressing very quickly when you're in the store buying seafood and everything you check shows up as overfished on the app.)
This year in one of our boxes, we got a few large fillets of smoked salmon! As soon as I tasted it I knew I wanted some cream cheese and a hearty piece of rye or Pumperknickel-style bread.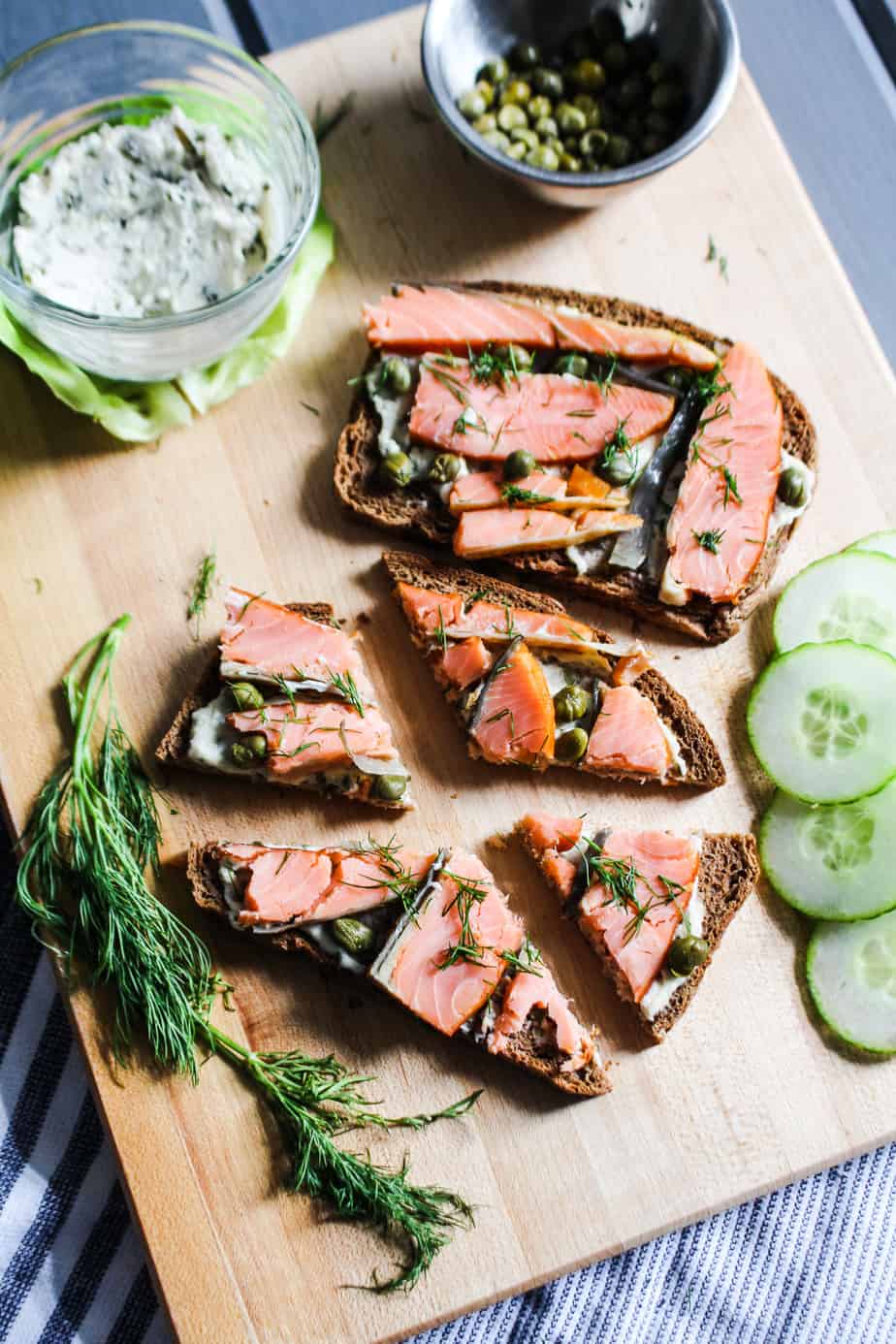 As a result, here we have these beautiful smoked salmon toasts on gluten-free "pumperknickel" for the perfect meal, snack, or appetizer. I have to admit that with each subsequent smoked salmon fillet we pulled from the freezer, I made this same exact meal, not even interested in trying something else!
The smoked salmon you see here is going to be quite different from what you find at the grocery store. Most smoked salmon is cured with salt, then dried and smoked and sliced into smooth tender strips, unlike the large flaky fillets you see here.
You can also use lox here in this recipe, but lox are not typically smoked. And because of this, lox is little more kid-friendly.
How to Make This Recipe Cheaper
Smoked salmon is on the expensive side - just 4 ounces accounts for $6.00 of the cost of this recipe! There are a few ways to make this cheaper, but it will come with a bit of a different flavor, and in some cases, more effort. You can:
use cured or salted salmon instead
use canned salmon with extra salt added
make your own cured salmon / gravlax!
if you use cured salmon, you can add a bit of smoked paprika to add that smokey taste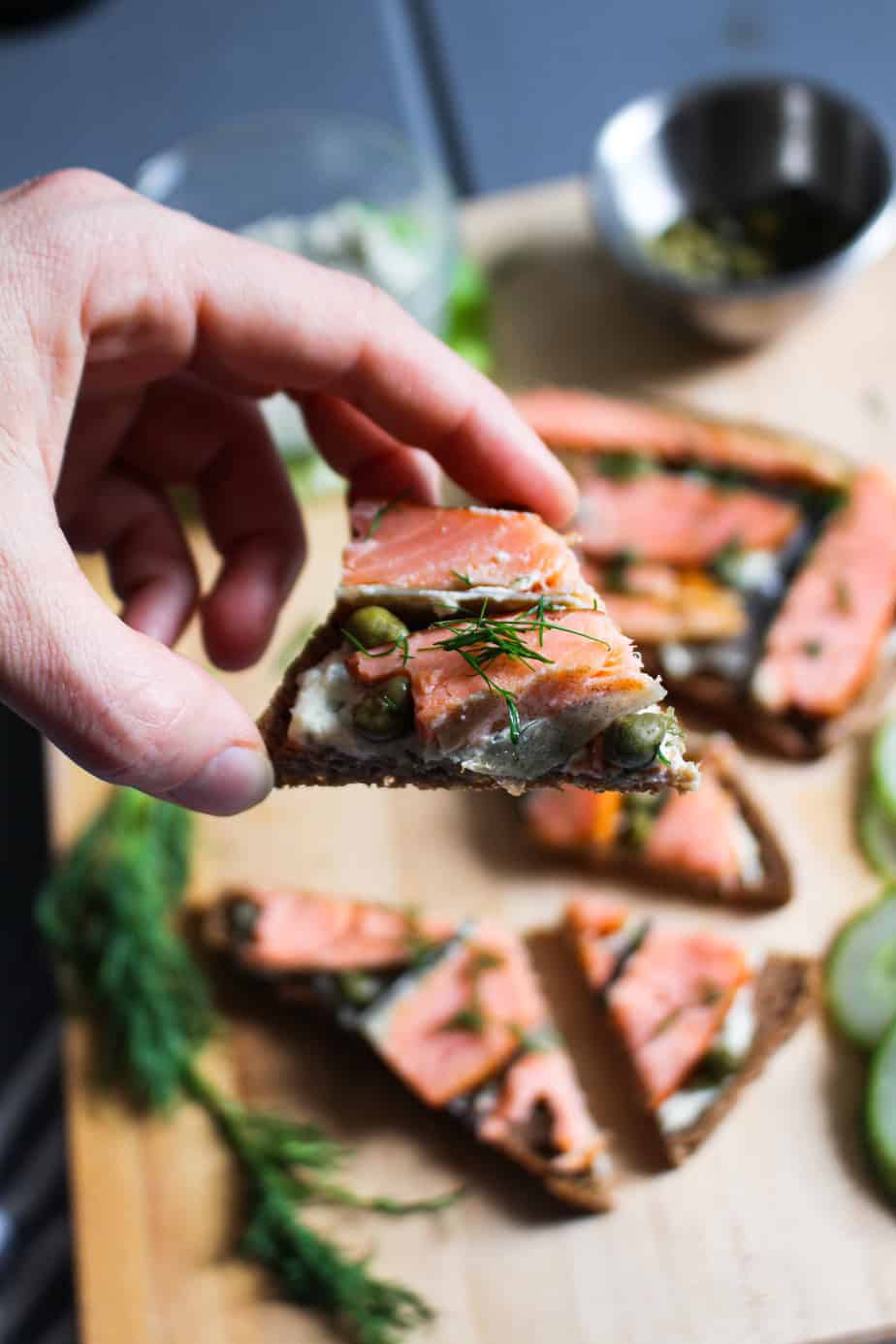 What is Pumperknickel Bread?
Pumperknickel is a rich, whole grain sourdough-style bread made from rye flour (which contains gluten). In our house, we are more likely to use the Simple Kneads Pumperknickel (not sponsored).
No gluten-free bread can truly be "pumperknickel" since you can't remove the gluten from rye flour, so if you see a GF pumperknickel, they have probably tweaked their recipe to have a richer, slightly sweeter, and more rye-like flavor, and perhaps used spices that are often seen in rye and pumperknickel breads, like caraway seeds.
When I was growing up, rye and pumperknickel were my absolute favorite breads! Even as an adult I've always liked whole wheat breads better than white flour. I find them to be so much more flavorful! They're often studded with various seeds, and sometimes sweetened with a touch of honey or molasses.
Vegetarian: No, but it is pescatarian
Paleo: No, but it is gluten free. Consider some nut-based crackers for a Paleo version.
PIN THIS RECIPE FOR LATER!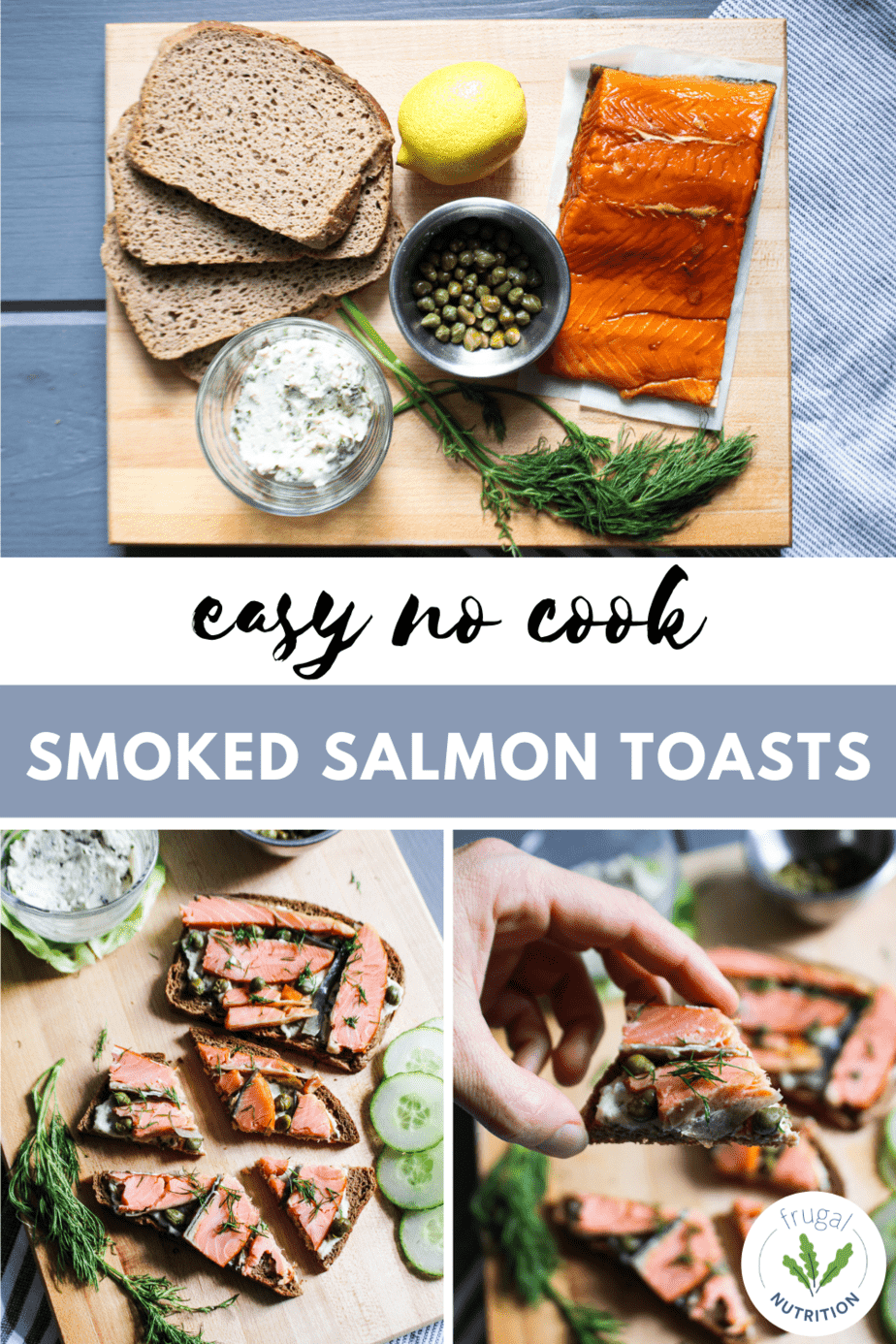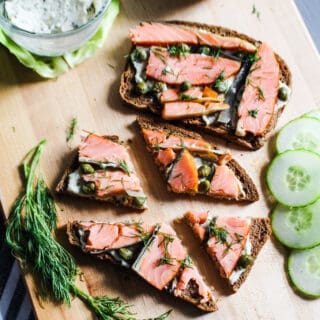 Smoked Salmon Pumperknickel Toast (gluten-free, dairy-free)
Make this easy toast, upgraded with anti-inflammatory ingredients such as chives, dill, and wild salmon. It's so easy, and so delicious. Perfect for a snack or light meal, or cut into toast points for a passed appetizer.
Ingredients
4

slices

pumperknickel bread

or other bread of choice

4

Tablespoons

cream cheese

or dairy free

1

Tablespoon

chives

fresh or dried

4

ounces

smoked salmon

2

Tablespoons

capers

2

lemon wedges

fresh dill

½

large

English cucumber
Instructions
Toast (GF or other) bread to your preferred doneness.

Combine (DF) cream cheese and chives in a small bowl and mix together.

If salmon is not sliced, thinly slice salmon. Remove dill from large dense stems. Mince if desired.

Spread chive cream cheese on each piece of toast. I like a solid base of cream cheese, so I recommend about 1 Tablespoon per slice.

Dot the cream cheese with some capers (ie place them into the cream cheese), I like about ½ a Tablespoon of capers per slice. Arrange salmon pieces atop the cream cheese.

Sprinkle with fresh dill and squeeze with lemon juice.

Cut into 4-6 pieces and serve with cucumber slices!

I like to place a cucumber slice atop each wedge of the salmon toast. The fresh cucumber balances all the salty tang provided by the other ingredients.
Notes
We have smoked salmon from our Sitka Salmon CSA, but there are plenty of other smoked salmon / lox options available. I would also try this with another cured or canned salmon, you'll just want to add salt to this recipe.
Nutrition label is just an approximation. The FDA allows for products to have up to 20% margin of error on their nutrition label, and this software pulls label information from the USDA database.
The nutrition label uses pepperidge farms pumperknickel bread, though I use the Simple Kneads "Pumperknickel" in my house.
Nutrition
Calories:
317
kcal
Carbohydrates:
31
g
Protein:
18
g
Fat:
14
g
Saturated Fat:
7
g
Polyunsaturated Fat:
2
g
Monounsaturated Fat:
4
g
Cholesterol:
42
mg
Sodium:
1069
mg
Potassium:
388
mg
Fiber:
5
g
Sugar:
3
g
Vitamin A:
598
IU
Vitamin B1:
0.2
mg
Vitamin B2:
0.3
mg
Vitamin B3:
4
mg
Vitamin B5:
1
mg
Vitamin B6:
0.3
mg
Vitamin B12:
2
µg
Vitamin C:
13
mg
Vitamin D:
10
µg
Vitamin E:
1
mg
Vitamin K:
19
µg
Calcium:
91
mg
Copper:
0.4
mg
Folate:
63
µg
Iron:
2
mg
Manganese:
1
mg
Magnesium:
55
mg
Phosphorus:
239
mg
Selenium:
34
µg
Zinc:
1
mg
Choline:
72
mg