Recipe: $6.29 | Per Serving: $0.52 | Yield: 12
Hello and welcome to dark chocolate almond butter scotcheroos! This easy no-cook recipe (just a little melting) is perfect for holiday gatherings and potlucks. It is one of the easiest recipes ever and is nearly impossible to mess up!
Midwesterners might not agree with this version of the old staple, but this is a grown up version using ingredients that are widely available these days, such as honey and dark chocolate, and with a better nutrient profile.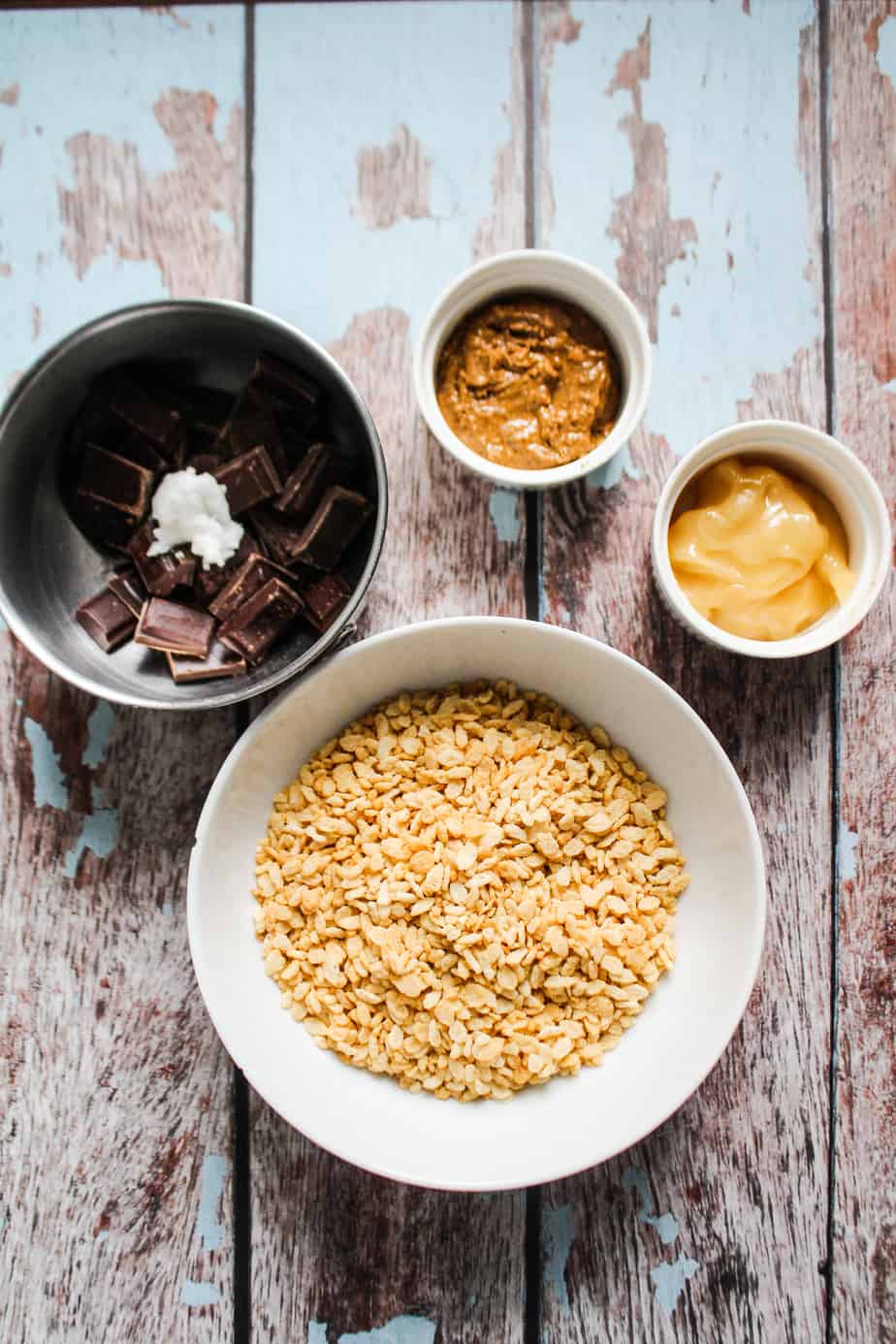 Note: I do NOT think you need to sacrifice flavor for nutrition in your favorite desserts, but I promise this recipe is absolutely delicious! I tested it 5 times and shared it with at least 5 taste testers and it received rave reviews. Really, I promise, these dark chocolate scotcheroos are delicious!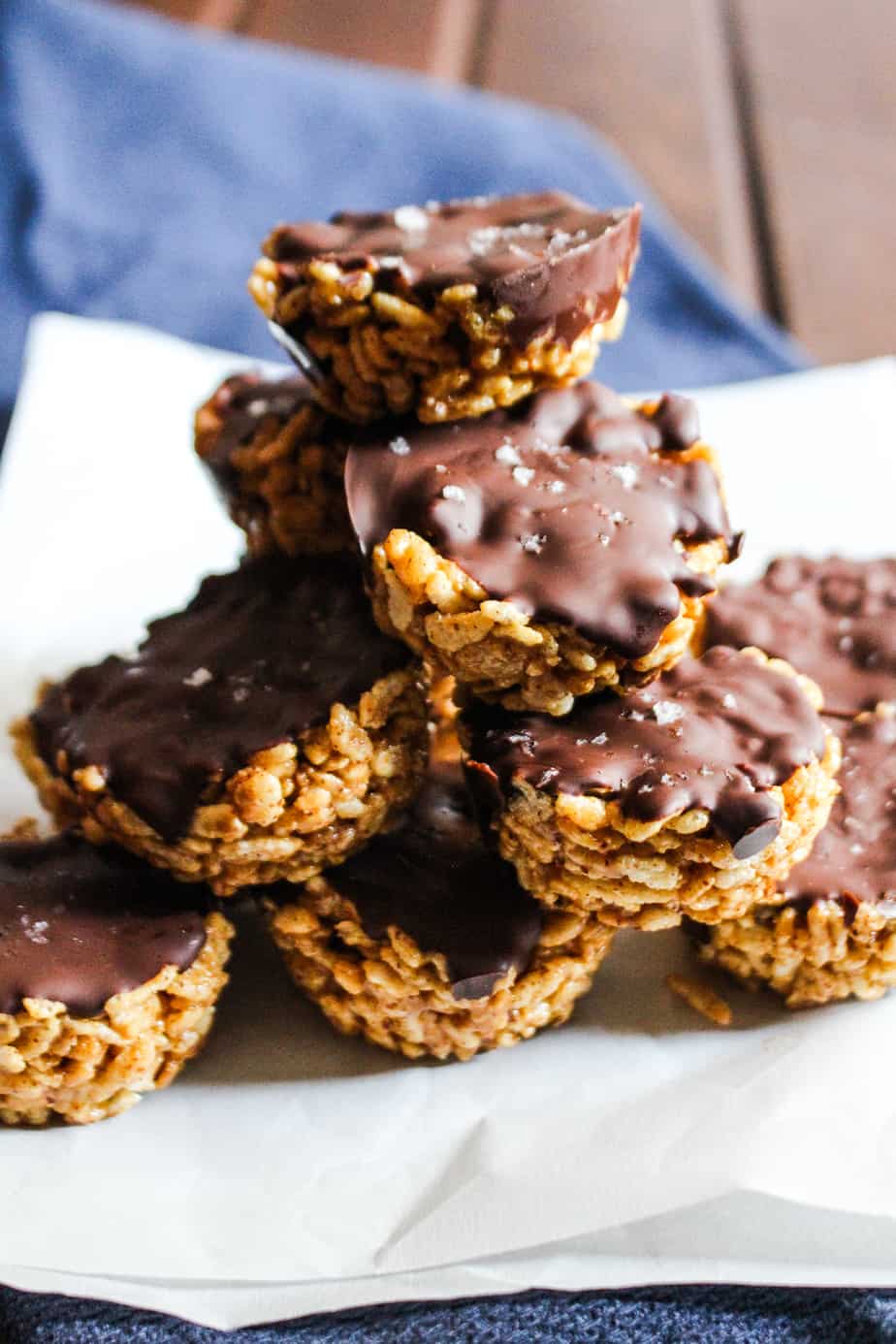 I always question the use of the term healthy (since the definition varies by individual), but dare I say there are generally healthier than the traditional counterpart as well as more delicious? Well, you'll have to decide!
Changes from the original:
we've got all dark chocolate here instead of the combination of milk chocolate and butterscotch
brown rice crispies instead of white rice krispies
almond butter instead of peanut butter (though PB is great here too)
about half the amount of sugar - coming from honey instead of corn syrup and sugar
individual muffin shapes instead of one large tray
flakey sea salt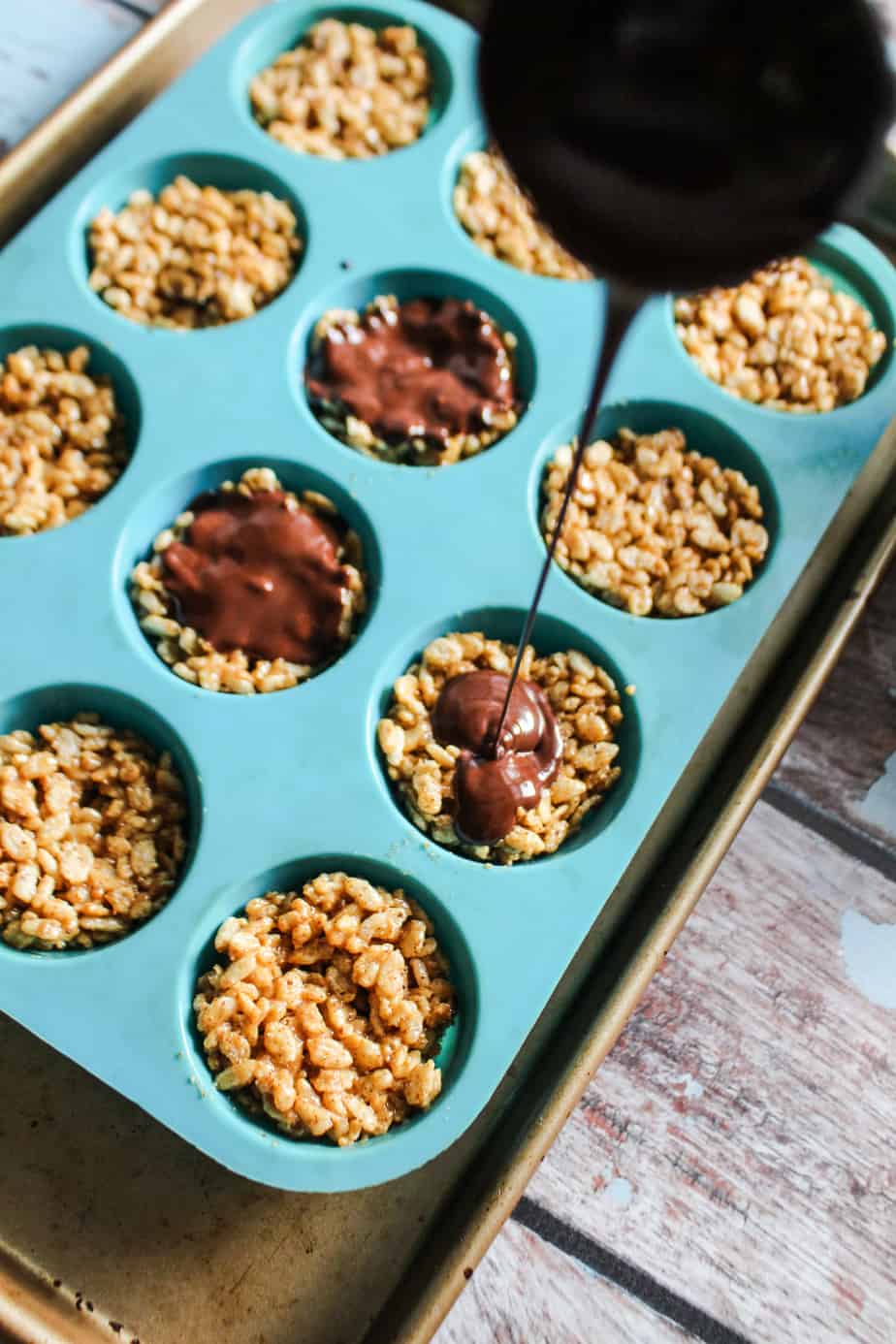 We've really simplified things here, and swapped out super highly processed ingredients in favor of moderately processed ingredients, so hopefully they'll feel better in your body as well.
Coconut Oil in this Recipe:
The coconut oil in this recipe helps make the chocolate softer when you're biting into it. I love this instead of a hard chocolate-bar coating.
Be aware that as these sit out, they are a little more prone to melting, since coconut oil melts at about 76ºF, while dark chocolate melts at about 86ºF. They aren't likely to melt at 76ºF because there is only a little coconut oil, but just be aware they will probably melt if left out sitting in a hot kitchen. Or if you put them on your passenger seat of the car without realizing the seat heater is on. 😬 😉
You cannot taste the coconut oil in this recipe! The other flavors are too strong, and there's just a measly 2 teaspoons of coconut oil for the whole batch.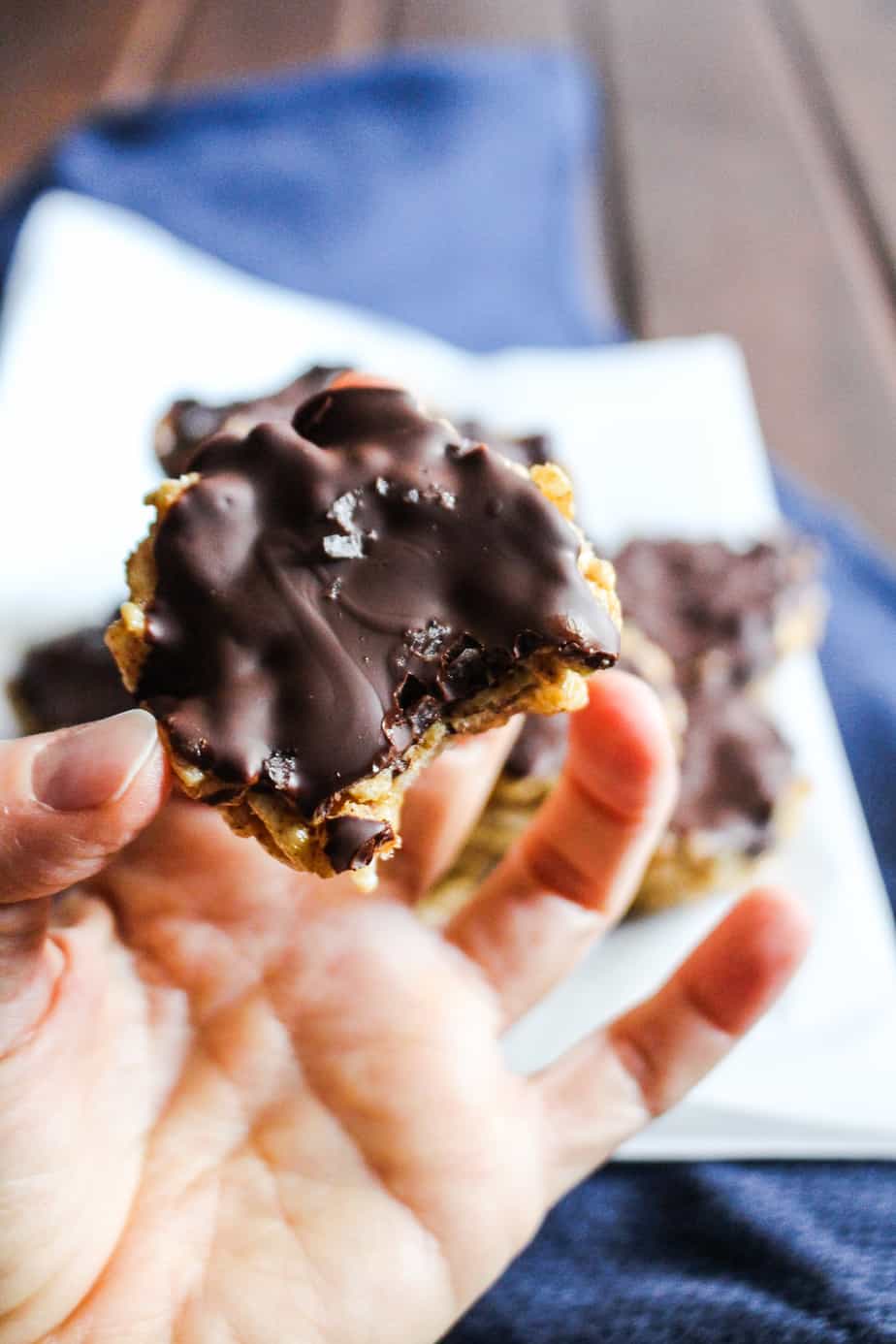 Paleo: Nope - because of the brown rice crisps.
Vegetarian: Yes!
PIN THIS RECIPE FOR LATER!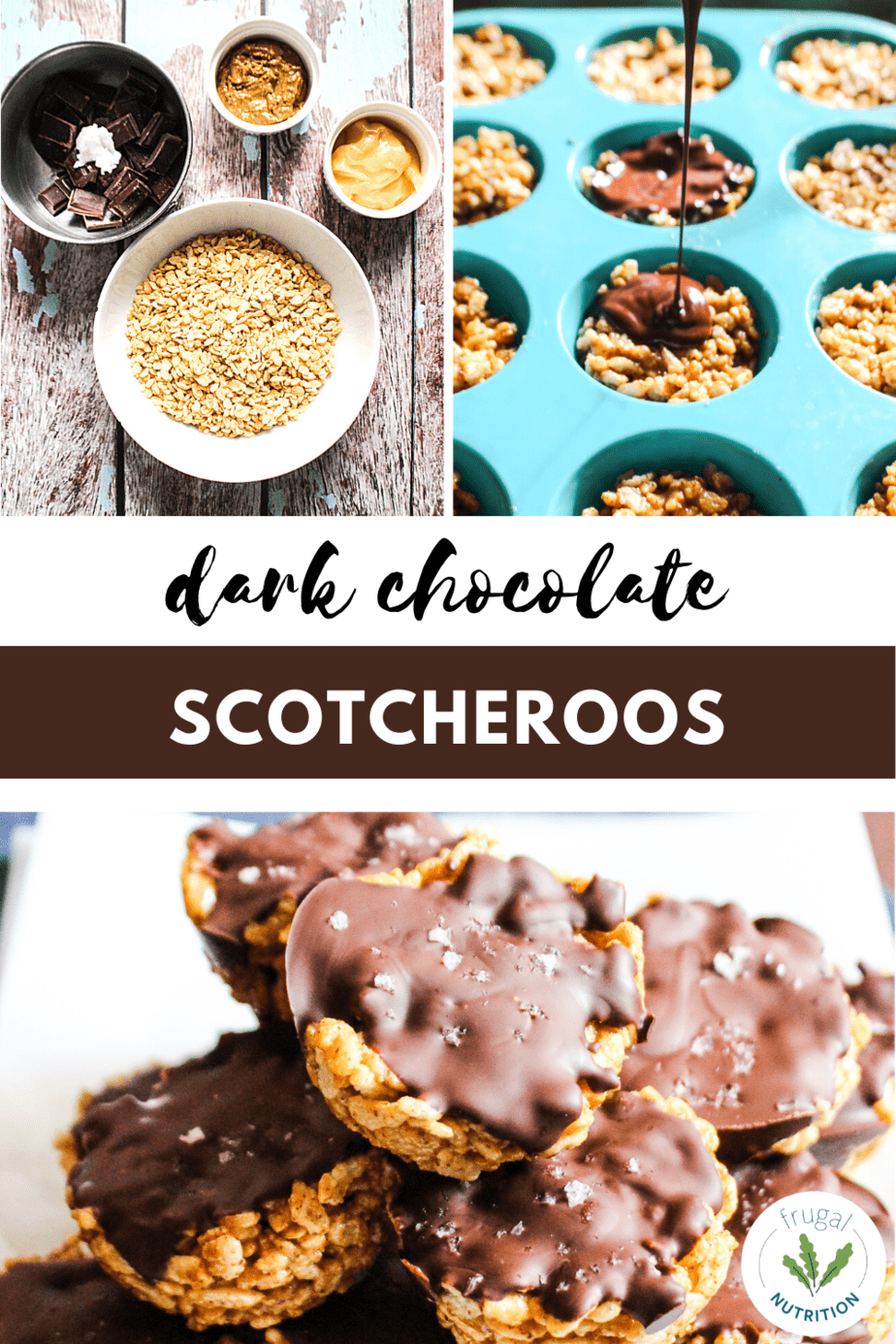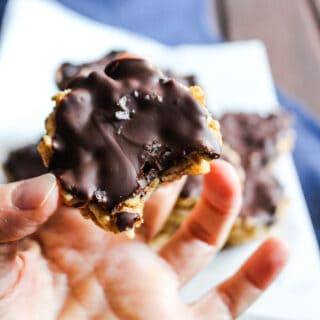 Dark Chocolate Almond Butter "Scotcheroos"
These delicious, simplified scotcheroos are a super easy dessert for holidays, potlucks, and backyard BBQs! Enjoy how fast and easy they are, and then devour!
Ingredients
Instructions
Melt the Chocolate: (DO NOT GET WATER INTO THE CHOCOLATE)

Stovetop: Place a small pot of water on the stove over medium heat (somewhere between a simmer and a boil). Fit a metal bowl into the pot. Add the chocolate and coconut oil to the bowl and stir until mostly melted. Remove from heat and stir to melt any remaining chunks, then set aside.

Microwave: Add chocolate chips to a medium-sized bowl then microwave in 30 second increments, stirring between increments, until the chocolate is smooth, about 1:30 - 2 minutes. Set aside.

In a large pot, melt together the honey and almond butter over low heat. Stir until well combined. (If using unsalted almond butter, add a little salt here.) Add all the brown rice crisps and stir until well combined.

Scoop crisps mixture into 12-cup muffin tins and very gently press to lightly flatten. This mixture is a little sticky, but not overly so.

Spread 1 Tablespoon melted dark chocolate mixture over each muffin cup, spreading gently to cover the top of each. Sprinkle with flakey sea salt and refrigerate to set, about 20 minutes.

Serve immediately or store in airtight container in the fridge. This recipe can be left at room temperature for about 1 day, but should otherwise be refrigerated.
Notes
You can use maple syrup here, but it has a higher water content than honey, which makes it less chewy and more likely to go stale after a few days or after storing in the fridge. If using maple syrup, I recommend consuming within a day or two.
I have tested this recipe with almond butter and tahini, and both worked well. I'm sure peanut butter and other nut/seed butters would also be tasty.
Nutrition
Calories:
174
kcal
Carbohydrates:
18
g
Protein:
3
g
Fat:
11
g
Saturated Fat:
4
g
Polyunsaturated Fat:
1
g
Monounsaturated Fat:
4
g
Trans Fat:
0.004
g
Cholesterol:
0.4
mg
Sodium:
4
mg
Potassium:
162
mg
Fiber:
2
g
Sugar:
11
g
Vitamin A:
6
IU
Vitamin B1:
0.02
mg
Vitamin B2:
0.1
mg
Vitamin B3:
0.5
mg
Vitamin B5:
0.1
mg
Vitamin B6:
0.01
mg
Vitamin B12:
0.04
µg
Vitamin C:
0.05
mg
Vitamin E:
2
mg
Vitamin K:
1
µg
Calcium:
35
mg
Copper:
0.3
mg
Folate:
9
µg
Iron:
2
mg
Manganese:
0.4
mg
Magnesium:
53
mg
Phosphorus:
83
mg
Selenium:
2
µg
Zinc:
1
mg
Choline:
4
mg