Recipe: $2.09 | Per Serving: $1.05 | Yield: 2 Servings
This is a super easy grown-up version of the old classic sandwich. Tuna fish salad, without the soggy bread or mayonnaise. And a super-light start to 2016. Happy New Year!
Tuna salad is one of those weird love-it-or-hate-it-but-don't-eat-it-at-school kind of things. Tuna fish sandwiches get so super soggy, and they were my least favorite sandwich as a child. Except for when my genius mother would to serve them up on toasted English Muffins. Then they were one of my favorite sandwiches! Go, mom!
Let's talk about Japanese mayo for a second. I've never been a huge mayo fan in general, but there are many cultures who love mayo. Exhibit A: mayo-loaded shrimp sandwiches in England. Exhibit B: macaroni salad in the U.S. Exhibit C: Japanese okonomiyaki and takoyaki. COVERED IN MAYO. Why, people? Why? At first, I was like, yeah, okay, Japanese people are awesome at food, so Japanese mayo is probably pretty awesome. No. It tastes like mayo. In fact, it tastes more mayo-like than any U.S. mayo I've ever had. Like concentrated mayo flavor. A little goes a long way.
Which is one reason why this recipe was developed.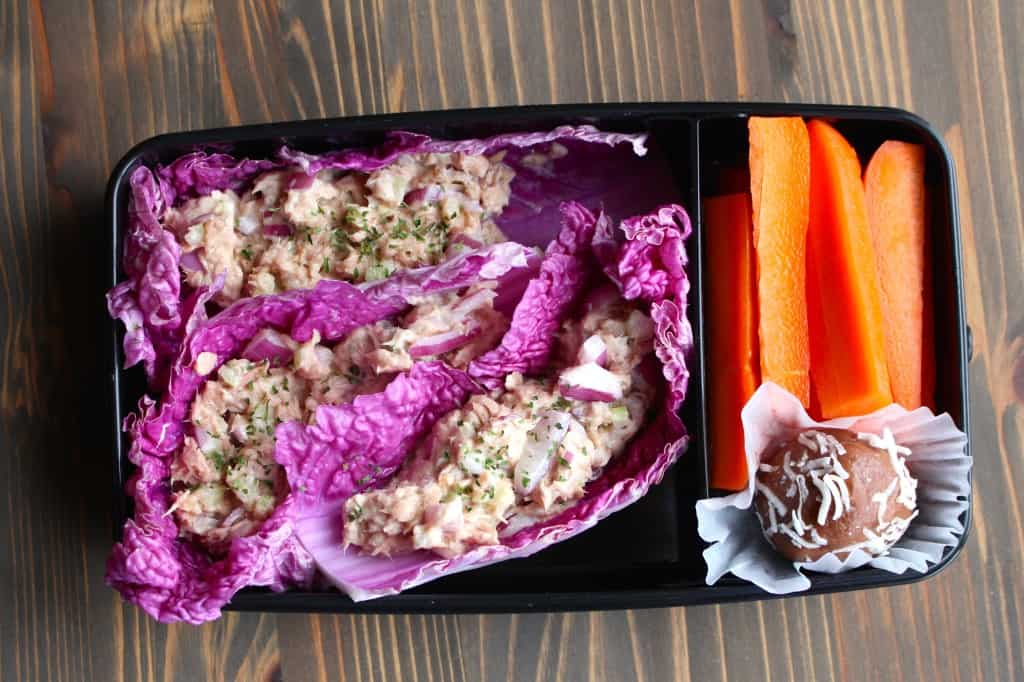 There's usually no mayonnaise in my fridge. Instead, I use things like mashed avocado and greek yogurt to replace mayonnaise. They're AWESOME. They have better flavor (in my opinion), and that same fatty texture you're looking for. I highly recommend Straus Creamery Greek Yogurt (when it's on sale!), or all the avocados you can get your hands on.
I've been making tuna fish with greek yogurt for years now, but I was recently inspired to pair it with cabbage, after this post by The Kitchn. While she makes a heartier salad with chopped cabbage, I decided to use the cabbage as the wrap, in place of bread. No more soggy tuna sandwiches!
No-Mayo Tuna Salad Cabbage Wraps
An easy low carb tuna salad wrap that swaps out lettuce leaves for cabbage. It's a healthy option for a quick lunch.
Ingredients
5

ounce

can of tuna

I like Trader Joe's Skipjack Tuna

3

tablespoons

Greek Yogurt

¼

cup

red onion

minced

¼

cup

celery

minced

salt and pepper

to taste, around ⅛ teaspoon each

4-6

leaves

cabbage

red pepper flakes

or hot sauce, optional
Instructions
Squeeze the water (or oil) from the tuna fish and place in a large bowl. Mix together with the yogurt, red onion, celery, salt & pepper, and optional spices.

Wash and dry the cabbage leaves and fill with tuna mixture. Should fill 4 medium cabbage-leaves.)
Nutrition
Calories:
88
kcal
Carbohydrates:
3
g
Protein:
16
g
Fat:
1
g
Saturated Fat:
0.2
g
Polyunsaturated Fat:
0.2
g
Monounsaturated Fat:
0.1
g
Cholesterol:
27
mg
Sodium:
175
mg
Potassium:
222
mg
Fiber:
1
g
Sugar:
2
g
Vitamin A:
100
IU
Vitamin B1:
0.04
mg
Vitamin B2:
0.1
mg
Vitamin B3:
7
mg
Vitamin B5:
0.2
mg
Vitamin B6:
0.3
mg
Vitamin B12:
2
µg
Vitamin C:
3
mg
Vitamin D:
1
µg
Vitamin E:
0.3
mg
Vitamin K:
5
µg
Calcium:
48
mg
Copper:
0.1
mg
Folate:
14
µg
Iron:
1
mg
Manganese:
0.1
mg
Magnesium:
22
mg
Phosphorus:
137
mg
Selenium:
50
µg
Zinc:
1
mg
Choline:
26
mg