Recipe: $3 (with Romaine)
Per Serving: $0.50
I know, it sounds a little weird. But when you don't keep mayonnaise around, and you don't feel like using raw eggs, and you're out of yogurt, avocado caesar dressing sounds like a damn fine idea. And let me tell you, it really really is.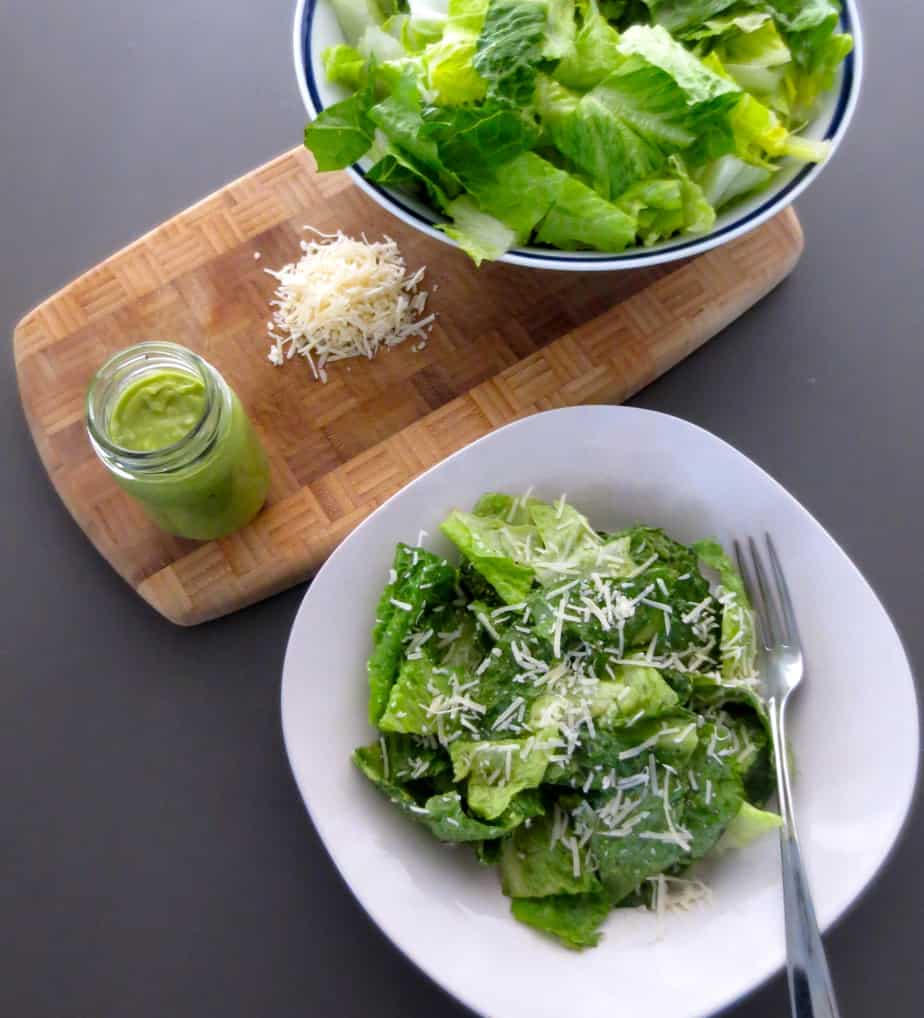 I'm really proud of this dressing because:
1) Anchovies
2) Zac loved it.
I waited for him to eat and rave about this salad twice before I told him about the anchovies. "With the bones and flesh all mashed up together? Ewwwwww! When did you get anchovies? Where are they? I don't want to see them."
I promise you guys, he's a real adult, not a three-year-old.
For a good 4 years of my life the only menu item I ever ordered at a restaurant was a caesar salad, often with chicken. I love the salty tang of caesar, and as I've mentioned before, I happen to really enjoy salads. Then I worked at a super delicious fancy restaurant in college and learned that there's so much more to good food and good salads so what the heck was I doing? Sometimes though, you still want that old comfort food, and one of my comfort foods is a crispy chicken caesar salad wrap. So far I've got the dressing down! Now I have to work on the crispy chicken and tortilla wrap.
P.S. Worried about browning? We ate this dressing over the course of three days and it was always green and always delicious.
Avocado Caesar Salad Dressing
A healthy caesar salad dressing made with avocado.
Ingredients
1

avocado

3

anchovy filets

or maybe about 2 teaspoon anchovy paste

2

cloves

garlic

2

Tablespoons

lemon juice

more to taste

¼

cup

parmesan

freshly shaved , plus more for garnish

2

tablespoon

olive oil

¼

teaspoon

salt

¼

teaspoon

pepper

optional: red pepper flakes

For salad: 1 head romaine lettuce

cleaned, chopped, and dry
Instructions
Put lemon juice in blender. Mince anchovies and garlic and add to blender. Cut open avocado and give it a quick dice. Add half to blender and blend together until smooth.

Add remaining seasonings (salt, pepper) and the other half of the avocado. Blend until smooth.

Add parmesan and olive oil and blend on low until combined, making sure most of the parmesan is broken up well. Taste and add more lemon juice, salt, or pepper to taste!

Mix with chopped romaine and top with parmesan and optional red pepper flakes. Enjoy!

*Note: I like mine tangy, so I actually squeezed a wedge of lemon juice over my salad.
Nutrition
Calories:
117
kcal
Carbohydrates:
4
g
Protein:
3
g
Fat:
11
g
Saturated Fat:
2
g
Polyunsaturated Fat:
1
g
Monounsaturated Fat:
7
g
Cholesterol:
4
mg
Sodium:
168
mg
Potassium:
184
mg
Fiber:
2
g
Sugar:
0.4
g
Vitamin A:
83
IU
Vitamin B1:
0.03
mg
Vitamin B2:
0.1
mg
Vitamin B3:
1
mg
Vitamin B5:
1
mg
Vitamin B6:
0.1
mg
Vitamin B12:
0.1
µg
Vitamin C:
6
mg
Vitamin D:
0.02
µg
Vitamin E:
1
mg
Vitamin K:
10
µg
Calcium:
59
mg
Copper:
0.1
mg
Folate:
29
µg
Iron:
0.3
mg
Manganese:
0.1
mg
Magnesium:
13
mg
Phosphorus:
52
mg
Selenium:
2
µg
Zinc:
0.4
mg
Choline:
6
mg