Recipe: $3.55
Per Serving: $0.45
You guys, I've discovered a new highly addictive snack. Well, it started as a way to use up my super ripe avocados and on-the-border cabbage before my week in Mexico. Also, I'M GOING TO MEXICO! Family beach week in Ensenada, Mexico. Baja. Beautiful beaches and awesomely delicious Mexican food will be my companions for 6ish days. Plus my 3 siblings, brother-in-law, and parents, but, you know, FOOD.
So we got 5 avocados from our latest CSA box, plus another 2 from work that ripened super fast. I love avocados on eggs and salads and toast and in the form of guacamole. But we didn't have any eggs, or salad greens, and toast and chips kind of defeat the point of super awesome healthy avocados sometimes. Enter: cabbage.
I think about cabbage a lot. I don't think I've written about it much, but since we've gotten 1-2 heads of cabbage in every CSA box, it is always on my mind. Yesterday I saw it nestled in the bottom of the crisper and almost panicked: "'We're leaving in 3 days how are we going to eat that head of cabbage??"
In avocado-cabbage slaw. It's such a fantastic solution I can't believe I didn't think of it sooner.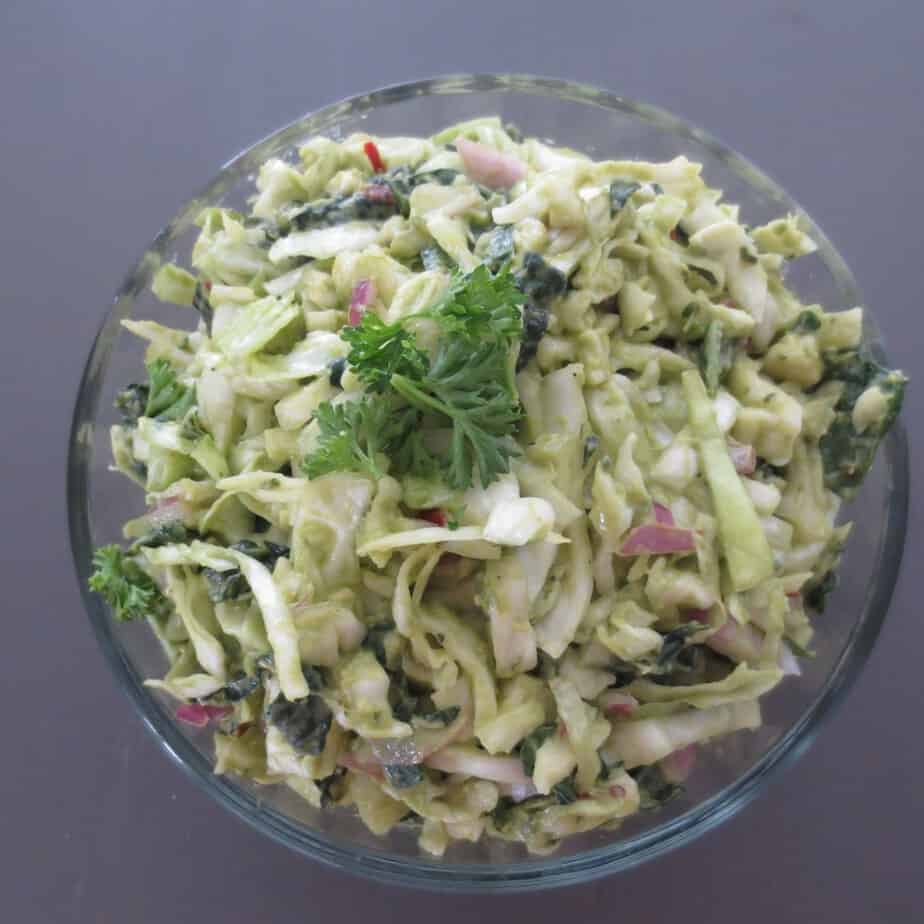 I think you've read enough of my babbling, so I'll just say this: it's pretty awesome, and just in time for Memorial Day! Now you can skip the mayonnaise and sugary vinegar and make avocado slaw instead. It's definitely not as wet as the cole slaw I grew up with, and comes with a hint of guacamole flavor, you know, cause of the avocados, but it's a great topping (or base) for a burger. I would even say the flavors are more suited to turkey burgers than beef burgers. Which is weird, but that's what I'm thinking. But, I've actually just been eating it straight. Or with chips. Dang it. This is why we can't have chips in the house!

Avocado Coleslaw (With Cabbage and Kale)
A quick and easy cabbage and kale slaw with a healthy avocado dressing.
Ingredients
1

small head

cabbage

shredded (about 4 cups)

2

cups

kale

shredded

½

cup

red onion

chopped , or more to taste!

3

ripe avocados

½

cup

parsley

3

tablespoon

lemon juice

1

tablespoon

apple cider vinegar

1

tablespoon

olive oil

1

teaspoon

crushed red pepper

optional

salt

pepper to taste
Instructions
Shred the cabbage and kale and set aside. (If you have a food processor, that's awesome, otherwise, you can shred it pretty easily with a knife. Bigger pieces, but that's okay!) Shredded Cabbage

Dice the onion and place in bowl with 1 tablespoon lemon juice.

Using a blender, blend together the avocados, parsley, remaining lemon juice, apple cider, and olive oil. You might want to add the avocados one at a time. (You can also use a fork, but just mince the parsley up so it mixes well.)

Pour the onion (with juice), over the kale-cabbage mix and cover with avocado puree. Add red pepper flakes, mix well and add salt and pepper to taste! Set aside for 1 hour, or overnight to let the flavors really meld together. Serve as a bed for bun-free burgers or grilled vegetables, on top of sandwiches and hot dogs, or as a dip! Avocado Kale Coleslaw With Grilled Veggies

Notes: Feel free to add more traditional flavors like shredded carrots if you want, or add more vinegar or honey for that sweet-tangy flavor.
Nutrition
Calories:
172
kcal
Carbohydrates:
14
g
Protein:
3
g
Fat:
13
g
Saturated Fat:
2
g
Polyunsaturated Fat:
2
g
Monounsaturated Fat:
9
g
Sodium:
37
mg
Potassium:
623
mg
Fiber:
8
g
Sugar:
4
g
Vitamin A:
2261
IU
Vitamin B1:
0.1
mg
Vitamin B2:
0.2
mg
Vitamin B3:
2
mg
Vitamin B5:
1
mg
Vitamin B6:
0.4
mg
Vitamin C:
64
mg
Vitamin E:
2
mg
Vitamin K:
212
µg
Calcium:
96
mg
Copper:
0.2
mg
Folate:
119
µg
Iron:
1
mg
Manganese:
0.4
mg
Magnesium:
42
mg
Phosphorus:
78
mg
Selenium:
1
µg
Zinc:
1
mg
Choline:
22
mg