Recipe: $6.50
Per Serving: $1.63
Disclaimer: Nest Fresh provided the eggs for this post, but all opinions are mine! Go team pasture-raised,/grass-fed!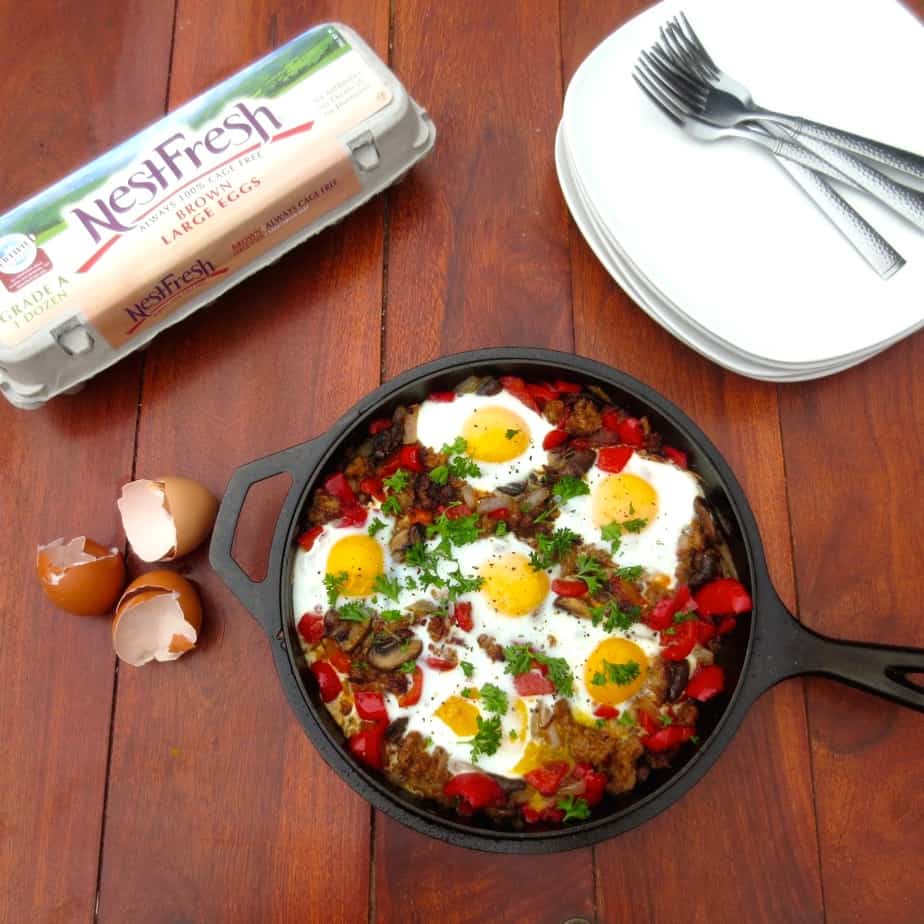 We all know that eggs are a cheap source of protein, right? Much like chicken meat,  ground turkey, or even the cheaper cuts of beef. Well, do you know how PROCESSED many of these things are? No, not necessarily ground into a fine powder until specific compounds can be chemically extracted, but actually processed by different people and machines? Do you know the pressures commercial hens are under when they're producing the eggs we're meant to eat? Based on journalists' descriptions, one look at a commercial hen house, feedlot/commercial animal feeding operation (CAFO), or chicken house is likely to turn even the strongest stomachs and minds into vegetarians. Commercial eggs are normally not very natural at all.
This post is about eggs, in case you haven't noticed. When we lived in Peru, we would buy whatever eggs we could find, and they were almost always brown. The shells were strong and hard, and the inside yolk was always bright yellow. I thought the eggs were much more flavorful, and they just seemed better, but I didn't know why. Before reading journalist Michael Pollan's Omnivore's Dilemma, I knew a bit about the standard buzzwords: free-range, cage-free, antibiotics, rBST hormones, and more. I knew enough to talk the talk, but that's about it. I'd been buying regular eggs and looking for the most natural-looking package for under $3.
Not anymore. The book opened my eyes, and I started researching eggs and chickens like it was an obsession, and I learned that the chickens and eggs in Peru are significantly better for you than what we buy at the grocery store here in the states. I love eggs. I think they're a perfect food. I never avoided the yolk (although I do really love egg whites), and I always considered them a beautiful vessel for morning vegetables. But the ones I was buying were actually falling short. I now know that chickens need to eat grass and bugs in order to create eggs that are high in omega-3 fatty acids. I know that a diet rich in grass is a diet rich in beta-carotene, which is why you see bright orange yolks. I know that those fed "vegetarian feed" are not eating scraps from other animals, but they're probably fed GMO corn and soy. I also know that organic eggs might not have GMOs, but they're not necessarily more nutrient-dense. It's all about the grass.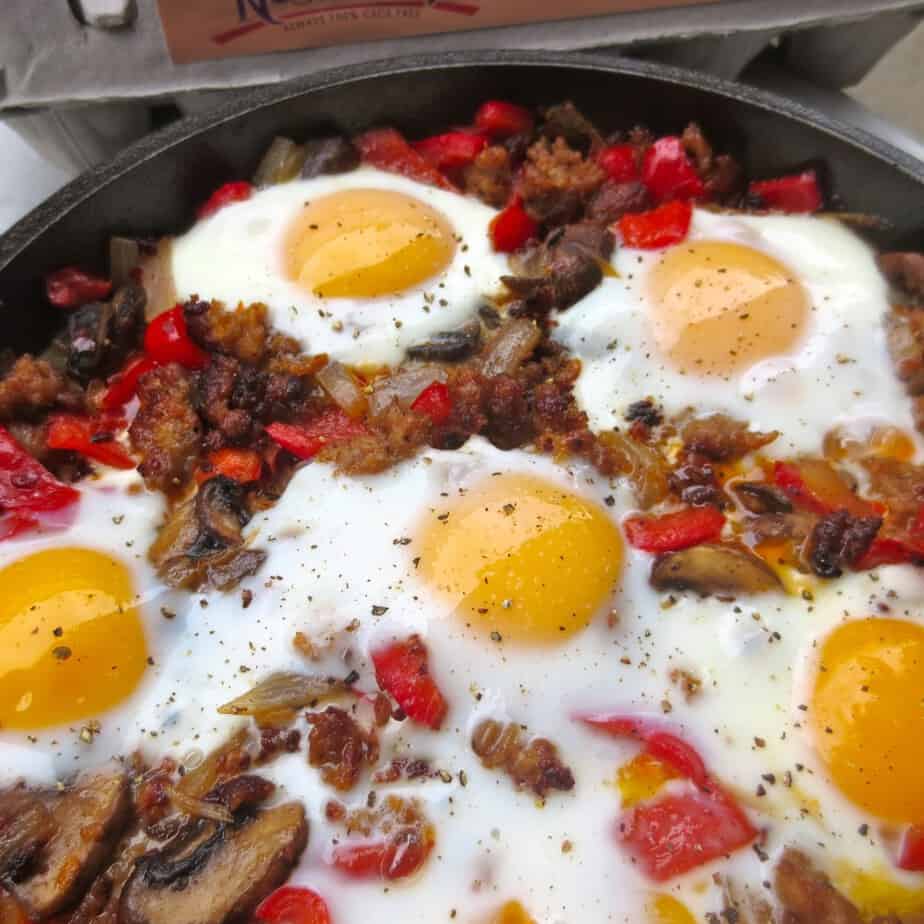 Now that you've allowed me my soapbox (thank you), I'd like to introduce Nest Fresh Eggs. After learning so much about eggs, I started hunting down pastured eggs at the farmer's markets, but they would often be out in the first couple of minutes! Some stalls had employees who couldn't tell me if their eggs were from pastured hens, or what kind of feed they were given in the off months. This was very off-putting, and I slowly found myself back at the grocery store, scrutinizing labels for pastured eggs.
Nest Fresh (under the brand Nature Fed at Whole Foods) has the tagline, "More Than Cage Free," on the Pasture-Raised section of their site, and that's exactly what I'm looking for. We want eggs from hens that are grazing in the grass and finding their own bugs. I also don't like the thought of 50 chickens squashed in a small area while I'm trying to enjoy my breakfast. So awful for the little chickens! If you want to learn a little more about Nest Fresh Pasture-Raised Eggs, please check them out! While I prefer to eat locally to reduce that ol' carbon footprint and to support my local farms, ,  Nest Fresh is a great option for when you just can't make it to the market, or you can't afford their $7 eggs. If you want more in-depth information about buying healthy eggs, check out Kristen's post at Food Renegade!
I'll leave you with this delicious breakfast recipe for a sausage and pepper skillet - topped with fresh pasture-raised Nest Fresh eggs of course! It's very simple, and you can easily modify it. I meant to add chopped kale this time but completely forgot until the skillet was ready to go in the oven! Oops! This serves about 6 me-sized people, but I'm serving it to Zac and my two brothers (yay for brothers visiting!!) so it only served the four of us!
Giveaway!
Now that you've learned all about the benefits of pasture-raised eggs, it's time for a giveaway!! Nest Fresh is giving away TWO MONTHS of free egg coupons as well as an egg prize pack! And just so you know, Nest Fresh Eggs are available at Albertson's here in San Diego, and under the Nature Fed brand at Whole Foods.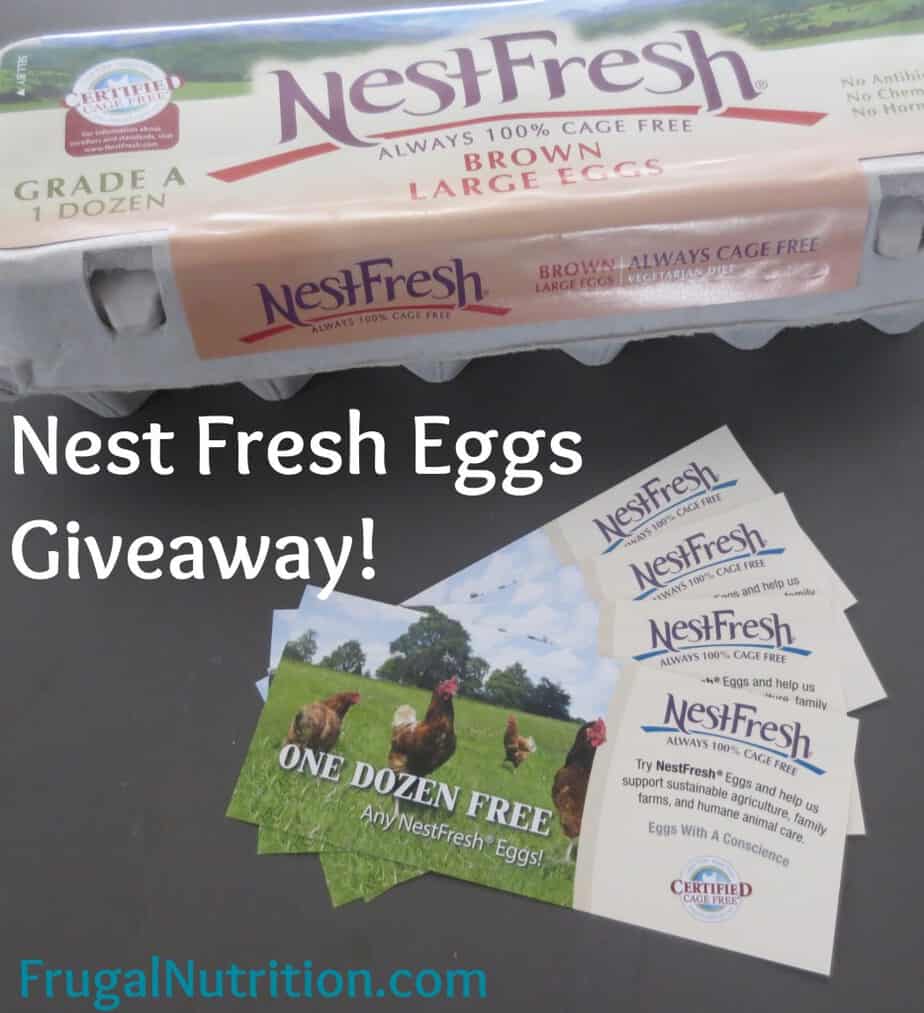 To Enter: Like Frugal Nutrition on Facebook, leave a comment on this post, and fill out the Rafflecopter below to enter! (Comments often take a few hours to show up, so please comment only once!) Let me know why you want eggs from pasture-raised hens and/or what your favorite egg dish is!
This Memorial Day weekend giveaway starts NOW and ends at 10pm (Pacific time) on Tuesday, May 27th. Good luck!(*Giveaway open to continental U.S. only.)
a Rafflecopter giveaway
Check out more recipes for Nest Fresh Eggs at the linkup below!
(Paleo) Sausage-Pepper Skillet With Nest Fresh Eggs + Giveaway!
An easy sausage, veggie and egg skillet meal that makes a healthy and hearty dinner or lunch.
Ingredients
1

red bell pepper

1

medium onion

4

ounces

mushrooms

2

sausages

pork sausage

6

eggs

¼

teaspoon

red pepper flakes

salt & pepper to taste
Instructions
In an oven-safe skillet, sauté sausage until cooked through. Remove sausage from pan (leave some grease in the skillet, do not train completely), and set aside.

Meanwhile, chop the onions, peppers, and mushrooms into bite-sized pieces. Sauté in skillet until softened and onions are somewhat translucent.

Mix in the cooked sausage, and add salt, pepper, red pepper flakes, and mix well. Create 6 little wells throughout the skillet (if you want - this is optional). If the skillet is dry, add a little coconut oil to the wells.

Carefully break the eggs, one by one, into a bowl and pour into wells in the skillet.

Bake on 375ºF for 15-20 minutes, or until the egg whites are set an the yolks are still runny. (or longer if you don't like over-easy eggs.)
Notes
I cooked this for 15 minutes the day before, and reheated it on 400ºF for 5 minutes.
Nutrition
Calories:
249
kcal
Carbohydrates:
6
g
Protein:
16
g
Fat:
18
g
Saturated Fat:
6
g
Polyunsaturated Fat:
3
g
Monounsaturated Fat:
7
g
Trans Fat:
0.1
g
Cholesterol:
276
mg
Sodium:
370
mg
Potassium:
392
mg
Fiber:
1
g
Sugar:
3
g
Vitamin A:
1357
IU
Vitamin B1:
0.2
mg
Vitamin B2:
1
mg
Vitamin B3:
3
mg
Vitamin B5:
2
mg
Vitamin B6:
0.4
mg
Vitamin B12:
1
µg
Vitamin C:
41
mg
Vitamin D:
2
µg
Vitamin E:
1
mg
Vitamin K:
2
µg
Calcium:
50
mg
Copper:
0.2
mg
Folate:
55
µg
Iron:
2
mg
Manganese:
0.1
mg
Magnesium:
23
mg
Phosphorus:
229
mg
Selenium:
23
µg
Zinc:
2
mg
Choline:
225
mg