Recipe: $7.80
Per Serving: $0.98
Disclaimer: The produce for this post was provided by Melissa's Produce, but all opinions are mine!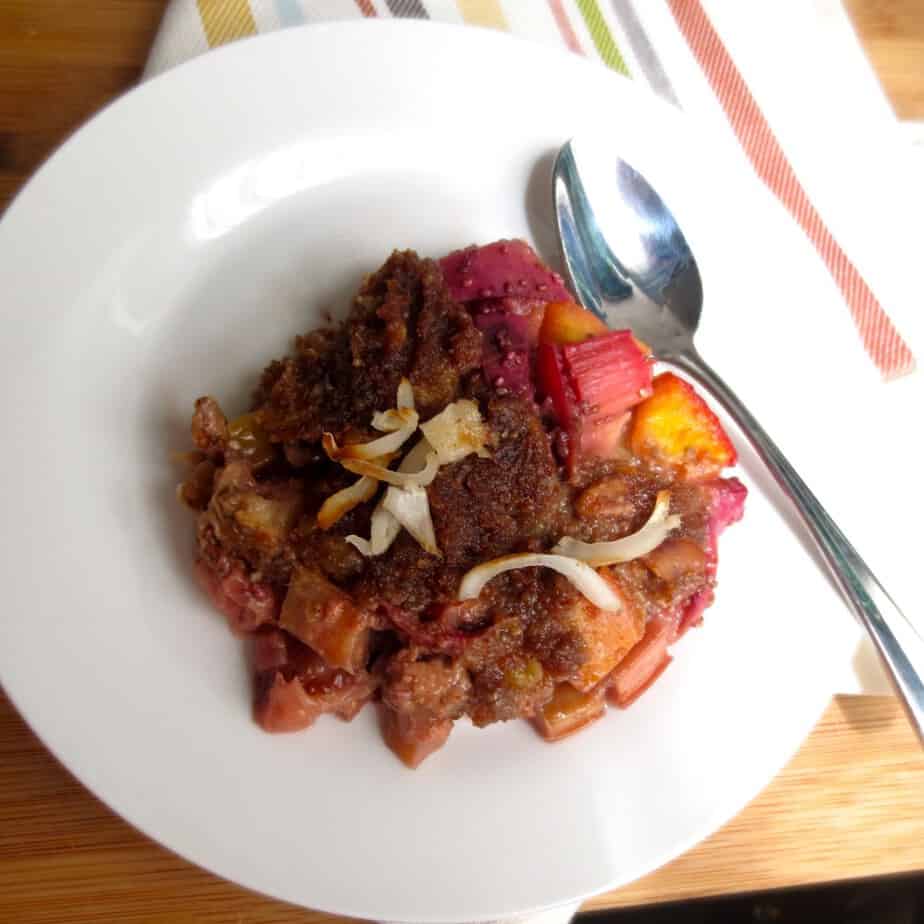 Do you guys watch Chopped? I don't particularly like that show, but it is on All.The.Time. 15 times a day maybe? No matter how much I say I don't want to watch that show, it's like Law & Order - I get sucked in after the first 30 seconds.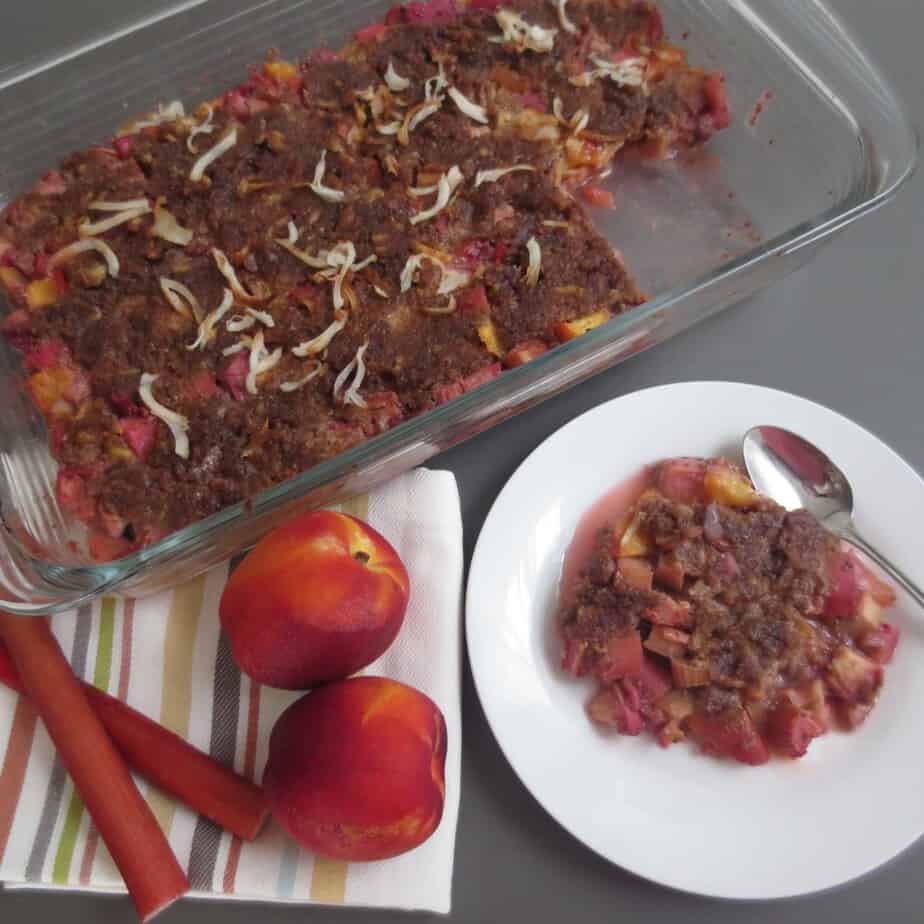 Well I got to participate in a Chopped-like challenge of my own last week. Melissa's Produce offered up this challenge to San Diego Food Bloggers, and I thought: 'Hah! I'm a pro at using everything from my CSA box! I GOT THIS.' But then, you have to use multiple items in a single dish! Not quite as easy as I thought, but man, it really came together beautifully.
Enter: cobbler-like dessert. And it is healthy enough for breakfast. I might be saying that because I ate it as my topping on french toast while on vacation, but it was good. I know some of you people out in the world are not into the cooked fruit thing, and I totally get that. But then, you mix together sweet peaches and nectarines with tart and crisp rhubarb and top it all off with date-maple-cinnamon streusel and then, suddenly, cooked fruit is delicious. Top it off with some toasted coconut if you'd like and we're in business.
I must apologize for the pictures in this post. And those onion-looking things? They're slices of toasted coconut. The challenge box included a coconut with a nifty opener to help you drink the water in it, and since I had the opportunity to eat many coconuts during my time in Asia and Peru, I was NOT letting that coconut meat go to waste. So, with very limited tools, and lots of dull knives, we cracked that baby open to get to the meat. And then I toasted some of it. But I didn't shave it thinly enough so it was only a so-so effort. You could just buy shredded coconut and toast it.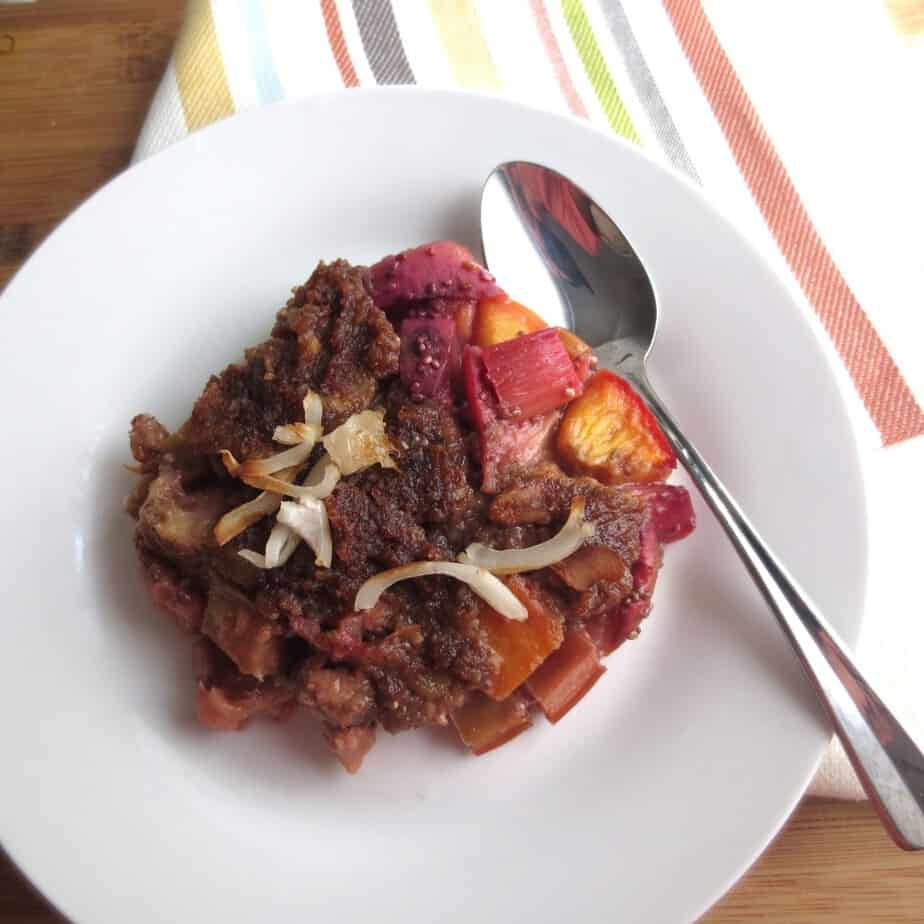 This dessert is PALEO and nutritiously delicious, and relatively moderate in sugar. I seriously ate it over french toast for breakfast in lieu of maple syrup.  Do it. Or just top it off with a scoop of ice cream and call it a day. Thickened with CHIA seeds instead of cornstarch or arrowroot powder, and topped with a super awesome date-cinnamon-maple streusel, it's an awesome real food, Paleo summertime dessert! And though it seems pricier, wait for peaches, nectarines, and rhubarb to come in season in your area and it's totally affordable!
And check out Melissa's Produce Link Up Below!

Print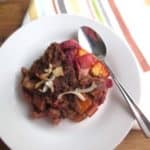 Rhubarb-Peach-Nectarine Cobbler With Date Streusel (Paleo)
---
Author:

Total Time:

45 mins

Yield:

6

-8

1

x
3 cups

rhubarb

2 cups

peaches (about 4-6)

1 cups

nectarines
lemon zest

1 teaspoon

lemon juice

5 Tablespoons

maple syrup

2 Tablespoons

chia seeds

1 cup

almond meal

3/4 cups

chopped nuts of choice (I used

1/2 cup

pecan pieces and

1/4 cup

walnut pieces)

1.5 tsp

cinnamon
pinch of salt
For Date Streusel:

4 Tablespoons

coconut oil + a little more for greasing the pan

6

dates, soaked (or about

1/3 cup

date syrup)

3 Tablespoons

water

1 teaspoon

vanilla

1/2 teaspoon

molasses (optional)
---
Instructions
Preheat oven to 350ºF.
Remove pits and stems and soak dates in hot water for 5-10 minutes, or until soft.
Dice and prep the peaches, nectarines, and rhubarb, and place in large bowl. Cover with maple syrup, lemon zest, and chia seeds. Mix well and set aside.
In another bowl, mix together the almond meal, nuts, cinnamon, and salt.
Once dates are soft, blend in blender, adding 3 Tablespoons of soaking water, until smooth. Mix in the vanilla (and molasses, if using), and transfer entire mixture to bowl with dry ingredients. Mix well, and add the coconut oil. You can "cut" it with a forgot get it to make a somewhat crumbly consistency.
Grease a large casserole dish and transfer fruit filling. Top with crumble, and spread to cover most of the surface.
Bake on 350º for 25-30 minutes (we did 33). You want the fruit to be bubbly. Remove and let set for 10 minutes. (This helps thicken the juices.)
Prep Time:

10 mins

Cook Time:

35 mins