Recipe: $11.43 | Per Serving: $2.85 | Yield: 4 servings (~20 Endive Boats)
Classic chicken salad gets a makeover here with curry powder and cilantro, and paired with bitter endives for the perfect finger food! Whether you're a diehard curry fan, or you're just experimenting with this spice blend for the first time, you're going to love this recipe!
Recipes that have been coming on the blog lately are those that have been a part of our regular meal rotation for the last several years, but that I've never sat down to write up for the blog. In part because some of them are a little less mainstream, and some are a little more expensive.
However, I'm realizing that the dishes I come back to time and time again - and recommend to clients regularly - are exactly what I should be sharing with the world.
This Curry Chicken Salad is the recipe that finally got Zac to like Indian-style curry blends. We wouldn't have popular recipes like Dairy Free Butter Chicken and 20-Minute Lamb Curry on this blog without this Curry Chicken Salad.
The first time I made it, I used just ½ teaspoon of curry powder, and a little extra turmeric and cayenne powder. This, paired with the sweet and juicy raisins was the perfect introduction. I slowly increased the curry powder, but then one day a few months ago (or years ago, who knows...it was sometime in quarantine...what is time?), I completely forgot Zac wasn't a huge curry fan and I put the full 2 teaspoons of curry in the dish - and he loved it!
(Me too, curry is delicious.)
What Curry Powder is Best in this Dish?
Here's the tricky thing for my international friends - Indian food isn't as ubiquitous here as it is in some other countries, such as England. We just have curry powder and garam masala (and Thai curry) at most grocery stores, with no further descriptions. I would use a yellow, Indian-influenced curry powder here, which is typically pretty mild, and contains things like turmeric, cayenne, fenugreek, paprika, coriander, cinnamon, and cloves. This blend usually doesn't contain onion, garlic, or shallot. This one is the first curry powder I ever used in this dish, and it works perfectly!
Why Belgian Endives?
We had a Christmas Afternoon Tea Party one year - I think in 2019 just before the pandemic? We'd been watching a lot of the Great British Baking Show that fall and my friend and I were very excited for little trays of little foods for everyone to have. It was adorable, and very mellow, and it inspired the use of endives here. I wanted an easy way to serve this afternoon-tea-style, but without sandwich bread, and endives were the perfect choice.
The Belgian endive pairs great with the crisp apple, sweet raisins, and rich curry flavors, and it's been the number one way I serve this salad ever since!
What is a Belgian Endive?
A Belgian endive is a species of bitter lettuce with tightly packed leaves that are usually white and yellow, but red/purple varieties also exist and are usually just called radicchio. Belgian endives are part of the chicory family, which also includes other bitter greens like escarole, frisee, and of course, radicchio.
What do Belgian Endives taste like?
They are a bit buttery, but mostly bitter. Not overly so, but they are definitely in the category of bitter foods. (Don't be scared - other bitter foods include coffee, chocolate, and grapefruit!) Their leaves are very tender at the tips, but perfectly sturdy for serving stuffed with curry chicken salad.
Health Benefits of Belgian Endives (and other bitter foods):
Let me just take a moment to talk about bitter foods - such as these fancy Belgian endives. Bitter foods are excellent for digestion (hi, SIBO friends). The bitter compounds bind to receptors throughout the body, which have several positive effects, such as stimulating digestive flow, and upregulating the liver, stimulating the gallbladder, and promoting detoxification.
Endives are also rich in an antioxidant compound call quercetin, that is most frequently used to mitigate histamine reactions and allergies, and is frequently recommended to take during allergy season.
The Belgian endive is also considered an excellent source of vitamin K. 👍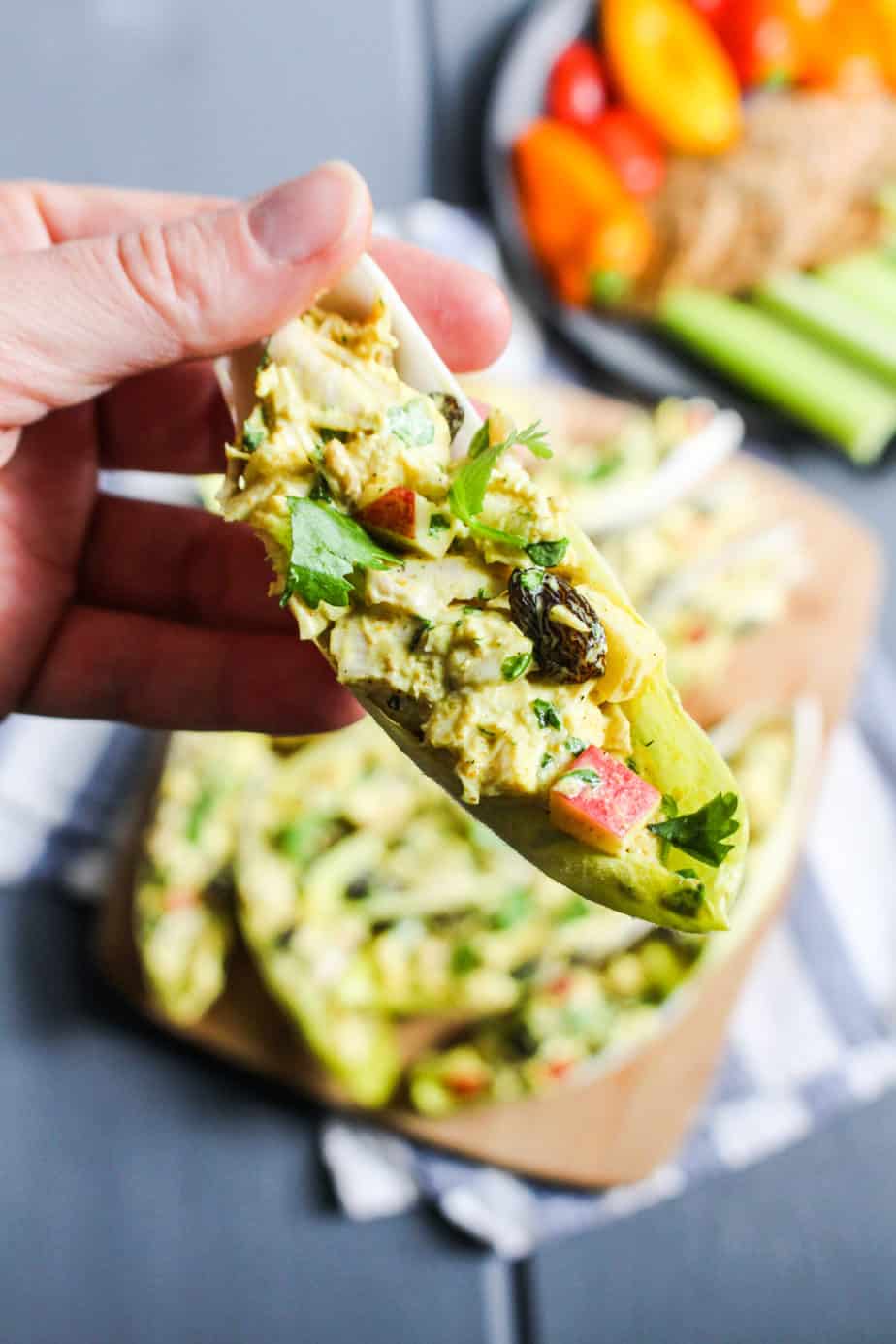 Other Uses for Belgian Endives:
For beginners, I recommend pairing raw endives with something sweet - like the raisins and cubed apples in this recipe - or roasting them to release their natural sweetness. You'll get all the same bitterness benefits whether you can taste the bitterness or not! But, if you want to retain the vitamin C, it's best to consume them raw.
How to Make this Recipe Cheaper:
This recipe is not one of the cheapest ones on my blog, but its one I have come back to time and time again, and it does have some therapeutic benefits so I think it's worth making when you can afford it. Here are some tips to make it cheaper when needed.
Chicken: replace half the chicken with chickpeas or white beans! You can mash them a bit and combine with the remaining ingredients.
Mayonnaise: make it homemade! You can make a nice batch of homemade mayonnaise with egg yolks and your oil of choice for cheaper than the big brands of avocado oil mayo on the market. (Or just use your favorite, affordable-to-you mayonnaise.)
Endives: I love the use of endives here, but they can sometimes be upwards of $4 each! Instead, you can serve this with a combination of endives, butter lettuce, crackers, crudité, or sandwich bread to make it cheaper. You can even chop up one endive and mix it in and then serve this with your favorite dippers.
Organic vs. Conventional: These prices are based on what I purchased, which included organic raisins and organic apples. Feel free to skip the organic produce if that isn't in your budget.
Paleo: Yep!
Vegetarian: No - but you could try it with mashed chickpeas instead of chicken.
PIN THIS RECIPE FOR LATER!
Curry Chicken Salad Endive Boats
This lightly spiced curry chicken salad gets a dose of sweetness from apples and raisins, and is paired with bitter endives for digestive health! Enjoy as endive boats or skip endives in favor of your favorite vegetables, lettuce wraps, tortillas, crackers, or bread.
Ingredients
2

teaspoons

curry powder

start with less if you're new to curry

½

lime

juiced (about 1-2 TBSP)

⅛

teaspoon

salt

½

teaspoon

black pepper

2

cups

cooked chicken

shredded (about 12 ounces)

½

medium

apple

minced (~¾ cup)

¼

cup

raisins

4

Tablespoons

cilantro

chopped

20

medium-large endive leaves

about 2 or 3 Belgian endives
Instructions
In a small bowl. combine the mayo, curry powder, and lime juice, and stir well.

In a large bowl, combine chicken, apple, raisins, and chopped cilantro. Stir in the mayo mixture, salt, and pepper. Taste and adjust flavor as needed.

Rinse the exterior of the endives and then gently pull the leaves and break them off from the root until you have about 20 endive 'boats'.

Scoop 2-3 Tablespoons of chicken salad mixture into each endive leaf and serve! Great for an appetizer tray or no-cook lunch. Eat with your hands!
Nutrition
Calories:
59
kcal
Carbohydrates:
3
g
Protein:
4
g
Fat:
4
g
Saturated Fat:
1
g
Polyunsaturated Fat:
2
g
Monounsaturated Fat:
1
g
Trans Fat:
0.01
g
Cholesterol:
12
mg
Sodium:
50
mg
Potassium:
71
mg
Fiber:
1
g
Sugar:
1
g
Vitamin A:
21
IU
Vitamin B1:
0.02
mg
Vitamin B2:
0.03
mg
Vitamin B3:
1
mg
Vitamin B5:
0.2
mg
Vitamin B6:
0.1
mg
Vitamin B12:
0.04
µg
Vitamin C:
1
mg
Vitamin D:
0.01
µg
Vitamin E:
0.2
mg
Vitamin K:
7
µg
Calcium:
6
mg
Copper:
0.02
mg
Folate:
4
µg
Iron:
0.3
mg
Manganese:
0.03
mg
Magnesium:
5
mg
Phosphorus:
32
mg
Selenium:
4
µg
Zinc:
0.2
mg
Choline:
2
mg