Recipe: $12.18 | Per Serving: $3.05 | Yield: 4-6
Forget takeout - this Easy Dairy-Free Butter Chicken (with chicken thighs) comes together quickly and tastes incredible! You can easily adapt classic butter chicken to be completely dairy-free by using coconut oil and coconut milk or keep it lactose-free with ghee. This is one of our favorite dinners in my house, and it pairs beautifully with rice or naan.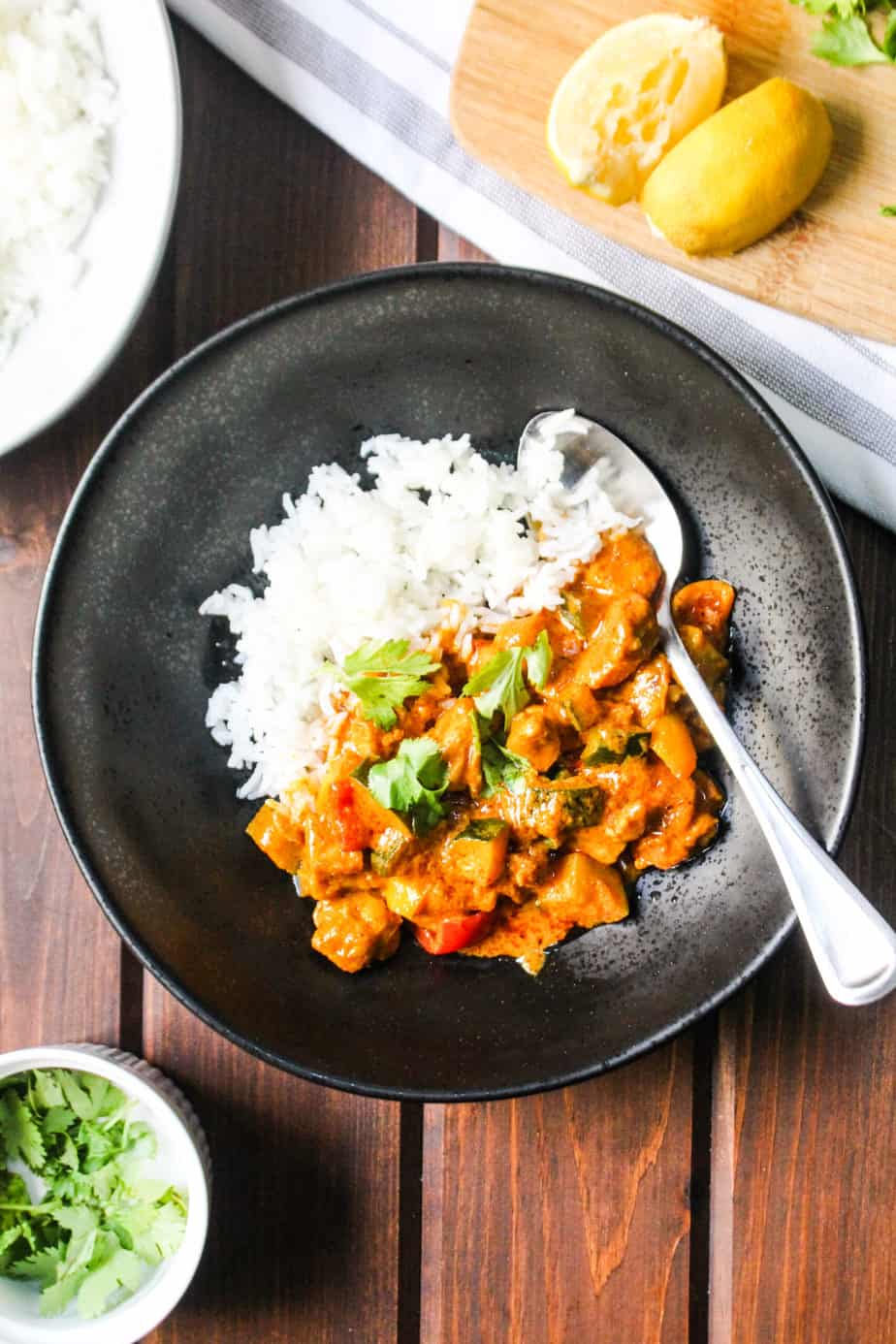 For those of you who know the Low-FODMAP struggle, I'm here to share a hot tip: expand your spice cabinet! While many of us dealing with SIBO and IBS feel much better by cutting back on onions and garlic, it's important to make sure your food still tastes amazing. In my SIBO journey, I found that moving away from European cuisines that rely on alliums (French, Spanish, Italian) and moving towards spices found in Indian and Mexican cuisines was a game-changer in the kitchen.
This delightful butter chicken is my perfect example of a dish that doesn't need onions or garlic because there's so much flavor from the garam masala and other spices. Not to mention the creamy, dreamy, luscious sauce thanks to our good friend coconut milk.

This Dairy-Free Butter Chicken is:
Low-FODMAP (no onions or garlic here!)
Fast (30-40 minutes MAX)
Hearty, cozy, and satisfying
A complete meal!
What is Butter Chicken?
Butter Chicken seems to have originated some time in the 1950's at a restaurant in Northern India. Originally it was marinated in yogurt for several hours before being simmered in a rich curry sauce with tomatoes and cream, then finished with copious amounts of butter or ghee.
If you wanted to make this more traditional, you could definitely marinate the chicken in yogurt (or coconut yogurt), but it is very rare I have the time/energy/capacity for marinating meat for a weeknight meal. This version uses canned coconut milk in place of the cream, and coconut oil or ghee instead of the butter.
We're taking a lot of short cuts here, but I promise this version of Healthy Butter Chicken is absolutely delicious and perfect for busy weeknight meals. Plus, vegetables. 🍛
Butter Chicken vs. Tikka Masala
While these dishes are very similar, there are two main differences I could find:
Onions: They use similar spices, but Tikka Masala has a lot of onions as a main part of the sauce base. Onions are not typically used in Butter Chicken.
Origins: Butter Chicken is definitely Indian - developed in northern India (originally titled Murgh Makhani). Tikka Masala was technically developed in England and is considered more of a British Indian dish. However, all the ingredients in Tikka Masala are Indian, the cooking method and the flavor profile are Indian, so it's basically a British take on an Indian dish, as far as I could tell.
How to Make Butter Chicken
We're starting with your fat of choice - I recommend either coconut oil or ghee - then toasting those spices and tomato paste and finally adding in chicken, veggies, and coconut milk and simmering to perfection. That's pretty much it!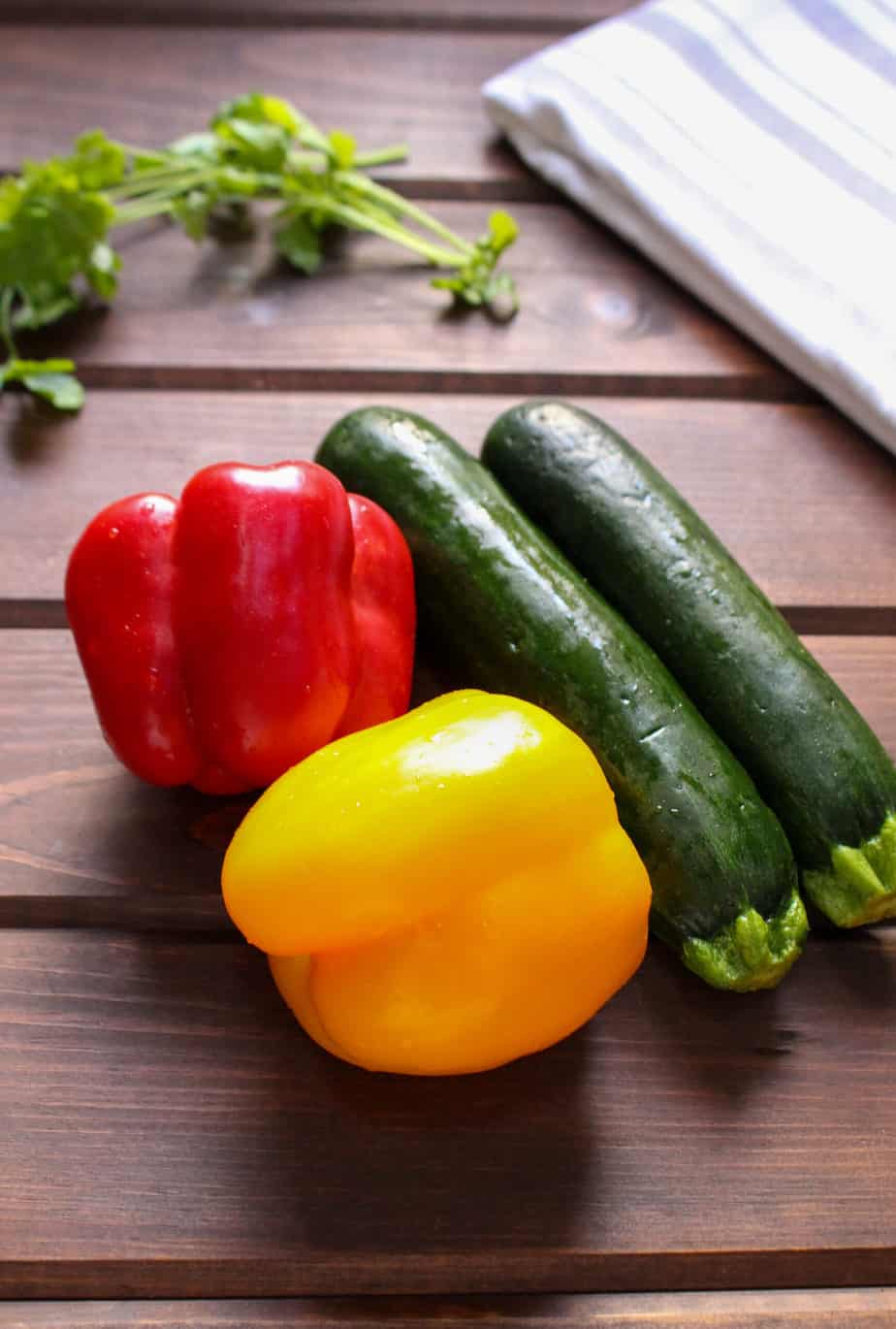 Should I Cook My Spices and Tomato Paste?
Yes! When you toast those spices in a little fat, the flavor is released and your resulting dish will taste better! And as for the tomato paste, cooking it directly in the base of the pot at the start of cooking actually removes any tinny flavor it might have acquired while sitting in a can or tube, and it softens the harsh tomato flavor so it melds better with your dish. It makes a difference!
What to serve with this butter chicken? Well I'm glad you asked! While I'm usually a short grain brown rice gal, I've determined that white basmati rice is the perfect combination with Indian curry - including this butter chicken. We've also had it with cauliflower rice and brown rice, both of which are delicious, but if you can handle some refined carbohydrates in your life, now is the time to let that white rice shine! The protein, fiber, and fat content of this dish *should* balance things out to prevent a blood sugar spike for most of us!
The nutrition label below includes 2 cups of cooked white rice, for my blood sugar-sensitive friends out there.
To make this dish cheaper: I recommend reducing the amount of chicken, which is the most expensive ingredient, and adding cooked chickpeas.
Vegetarian: Nope! But you could probably use this spice mixture to make a tofu or chickpea version in place of the chicken.
Paleo: Yes!
PIN THIS RECIPE FOR LATER!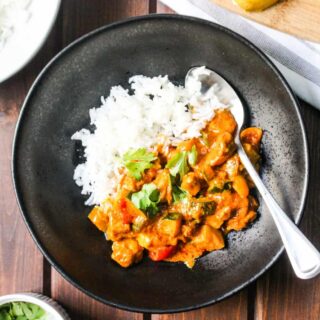 Easy Dairy Free Butter Chicken with Vegetables
This rich and flavorful Indian-inspired butter chicken is fast and easy to make, and includes vegetables to make it a complete meal! Bonus: it's Low-FODMAP!
Ingredients
4

Tablespoons

ghee or coconut oil

1

Tablespoon

garam masala

1

teaspoon

cayenne powder

1

teaspoon

ground cumin

1

teaspoon

ground turmeric

½

teaspoon

black pepper

3

oz

tomato paste

or about ⅓ cup

1

teaspoon

fine salt

1.25

pounds

chicken thighs

chopped into bite-sized cubes

1

Tablespoon

apple cider vinegar

1

cup

coconut milk

2

sweet bell peppers

sliced

2

medium zucchini

chopped into bite-sized chunks

2

cups

cooked basmati rice

For topping: lemon wedges and fresh cilantro

For serving: rice of choice!

Cauliflower rice, brown rice, basmati rice, etc. Or try some roti or naan!

Optional: this dish is often made with garlic

which you can definitely add in the step with the chicken if you'd like!
Instructions
In a large pot, melt the coconut oil or ghee (can use butter here if preferred)

Add in the spices - garam masala, cayenne, cumin, turmeric, black pepper - and the tomato paste. Stir and sauté gently for a 30-60 seconds, until fragrant and well mixed.

Add the chopped chicken to the pot, stirring well to cover with the spice mixture. Cook until chicken starts to brown, about 3-5 minutes.

Pour in the apple cider vinegar and stir to degalze the pan. This also cuts through the richness, so I don't recommend skipping it.

Add the bell peppers, zucchini, and the coconut milk to the pot and stir.

Cover and simmer for about 20 minutes.*note, you can simmer uncovered if you prefer a thicker sauce.

Top with a squeeze of fresh lemon (don't skip this step!!), and some fresh cilantro (optional) and serve with the rice of your choosing!
Notes
Nutrition Label includes 2 cups white rice (½ cup per serving), and is for 4 servings. However, this is more like 5 servings for many people. 👍
Feel free to toss in a can of drained chickpeas to stretch this dish to feed 5-6 adults.
Nutrition
Calories:
717
kcal
Carbohydrates:
36
g
Protein:
29
g
Fat:
52
g
Saturated Fat:
27
g
Polyunsaturated Fat:
6
g
Monounsaturated Fat:
15
g
Trans Fat:
0.1
g
Cholesterol:
177
mg
Sodium:
879
mg
Potassium:
1077
mg
Fiber:
4
g
Sugar:
8
g
Vitamin A:
2710
IU
Vitamin B1:
0.2
mg
Vitamin B2:
0.4
mg
Vitamin B3:
9
mg
Vitamin B5:
2
mg
Vitamin B6:
1
mg
Vitamin B12:
1
µg
Vitamin C:
99
mg
Vitamin D:
0.1
µg
Vitamin E:
2
mg
Vitamin K:
13
µg
Calcium:
65
mg
Copper:
0.4
mg
Folate:
69
µg
Iron:
5
mg
Manganese:
1
mg
Magnesium:
100
mg
Phosphorus:
389
mg
Selenium:
34
µg
Zinc:
3
mg
Choline:
93
mg