Recipe: $3.45 | Yield: 32-36 Cookies | Per Cookie: $0.13
These easy banana peanut butter oat cookies with chocolate chips are about to become one of your favorite easy recipes. We're using mostly pantry ingredients here, and is there any better combination than chocolate, banana, and peanut butter?
This post was originally published in March of 2014. Photos are new (except for the one just below), instructions have been updated for clarity, and minor tweaks have been made to the ingredients list. Thank you for supporting me and my blog!
I understand that the title of these cookies is quite a mouthful, but I need you to know that the title is the most cumbersome part of this process.
These cookies are:
One bowl
Impossible to mess up
Chewy and chocolatey and delicious
Basically 5 ingredients, but boosted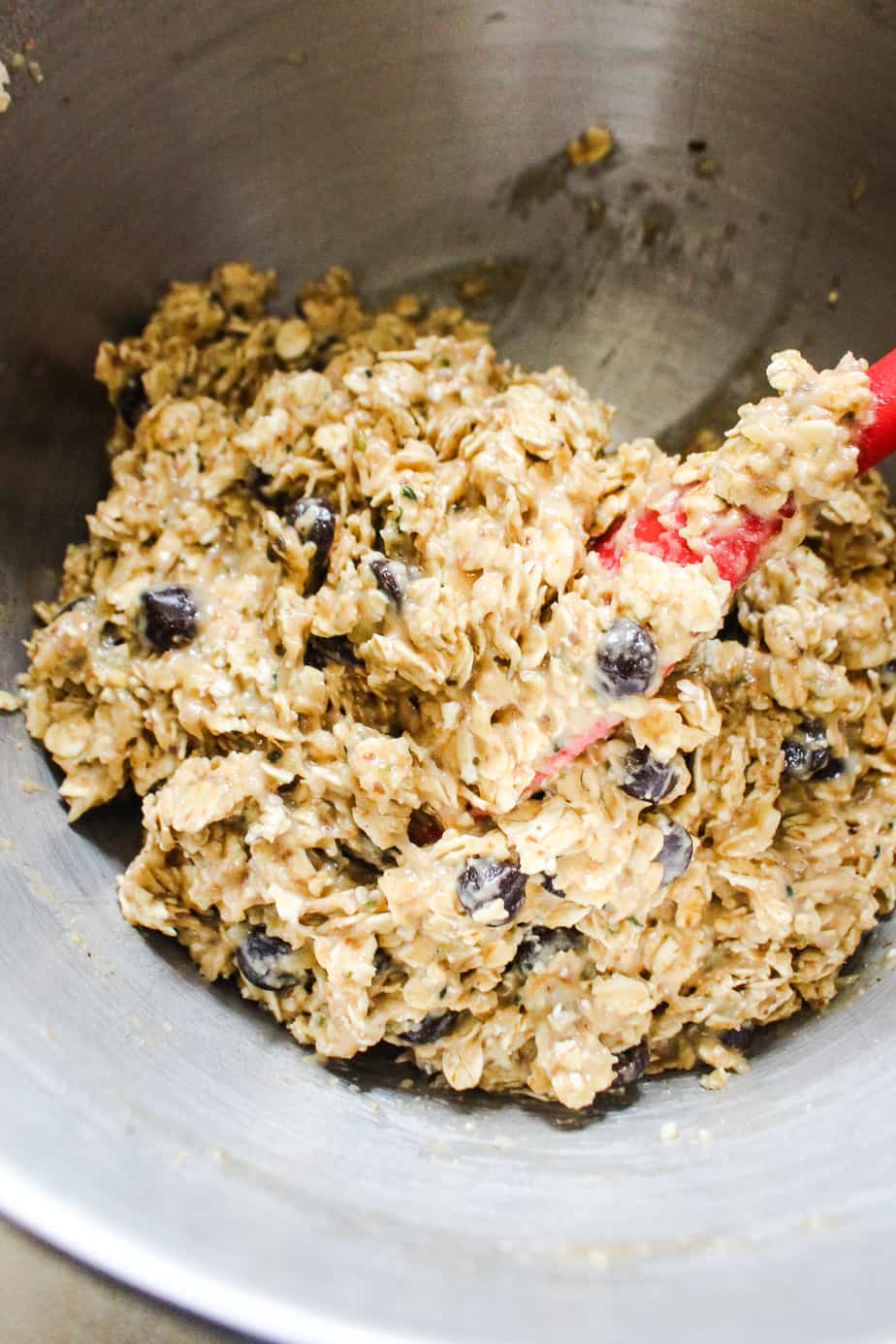 Back in 2014 when I first made these cookies, I probably made them at least once a month. I remember a specific day when we were going to a friend's house for an impromptu party and we asked what we could bring. We were about 1 hour out from the party and she said dessert.
Let me tell you - I don't care about dessert very much, and I'm also very picky about dessert. There's nothing at a grocery store bakery that I am willing to eat because I'm apparently a little bit of a snob and can't stand grocery cakes or pastries or that weird fluffy icing that comes on a sheet cake.
Please, please, if you love me, do not ask me to bring dessert to your house or you might just get 12 bars of dark chocolate. Luckily, this dessert story has a happy ending.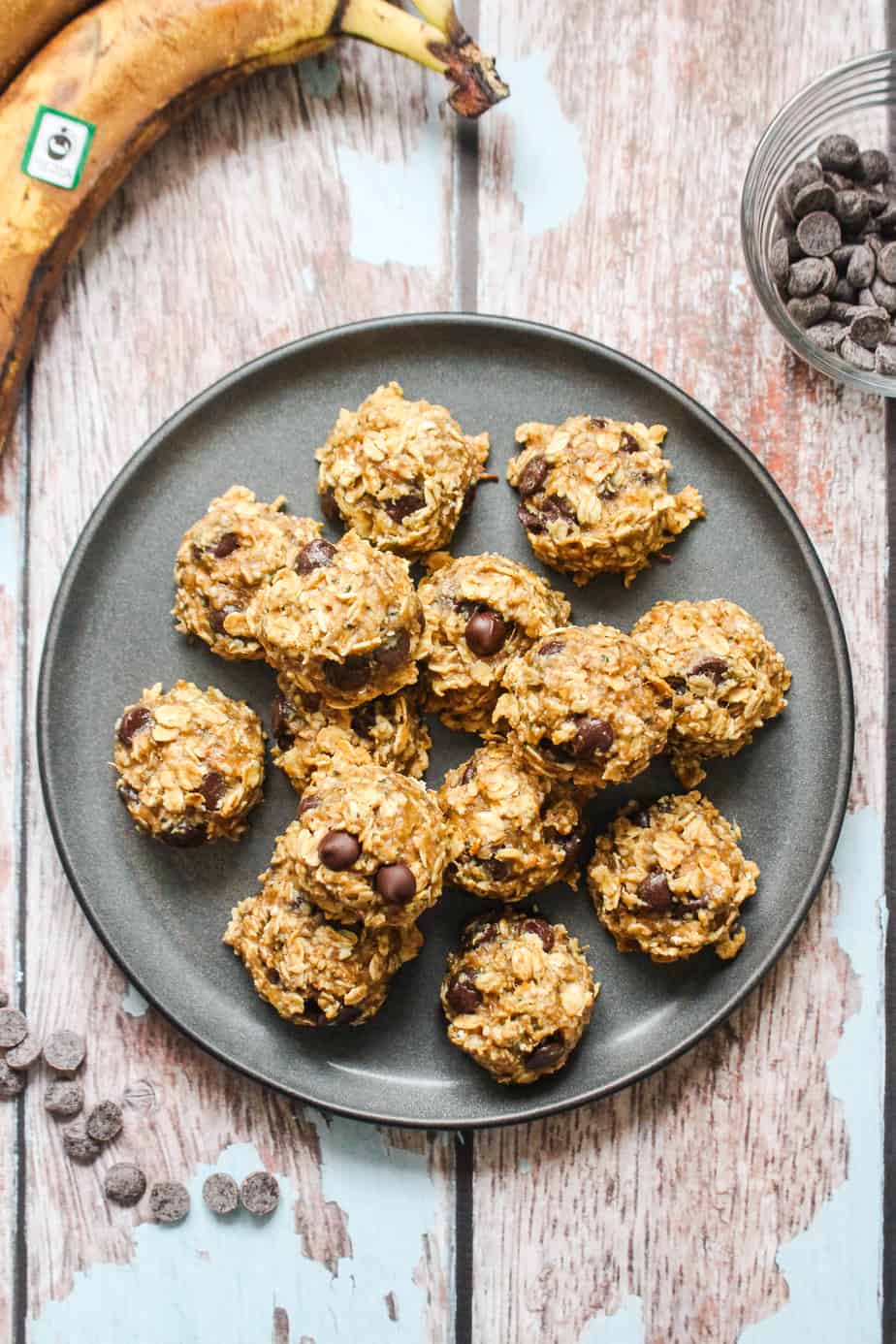 We were, back in 2014, quite flush with oats, peanut butter, and ripe bananas, so I kid you not, I whipped up this dough, got them in the oven, took a shower, put the cookies in the fridge to cool, and made it to the party on time with freshly baked cookies that were A HUGE HIT. People could not stop talking about the cookies.
My friend was slightly nonplussed that I brought homemade cookies though - she could not understand why I didn't just pick something up from Safeway. Friends, now you know. Please ask me to bring salad or wine or a cheeseboard or vegetable crudité if you want to save me from me baking fresh cookies 45 minutes before I'm supposed to be at your house.
Now that I'm a nutritionist, I am a fan of adding in things like fiber, protein, healthy fats, and super seeds to my snack recipes, which is why you now see the (optional) hemp seeds and flax in this recipe. But make no mistake, these are definitely still cookies. They're just, ya know, more of a food than a sugar bomb.
These cookies are sweet and satisfying, with a little protein and fiber and are a good fit for a lunch box or a midday snack.
If I'm craving chocolate chip cookies, this is one of my my go-to recipes. Sure, they're "healthier," but with just a hint of banana and peanut butter, they're super flavorful and delicious. Zac likes 'em frozen, and I like 'em nuked for 10 seconds in the microwave (if we happen to live somewhere with a microwave). Just enough to make the chocolate gooey!
For Baby-Led Weaning: you can definitely make these for babies and toddlers, but remember, honey is NOT safe for babies under 12 months. For children under 2 years old, I recommend skipping the honey/sweetener and skipping the chocolate chips (or use half the amount of mini chocolate chips).
Paleo: No! But they're gluten-free!
Vegetarian: Yes! And if you skip the honey, they're vegan!
PIN THIS RECIPE FOR LATER!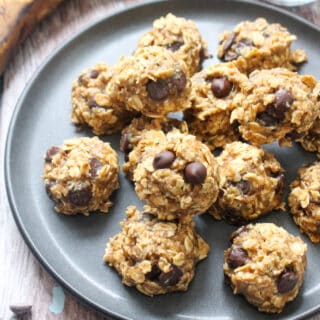 Banana Peanut Butter Oat Chocolate Chip Cookies (Gluten-Free)
These fast 5-ingredient banana oat cookies are boosted with super seeds - hemp hearts and ground flax - for added protein and healthy fats! These cookies are a healthy, well balanced, and delicious dessert or snack!
Ingredients
3

very ripe medium bananas

½

cup

creamy peanut butter

1

Tablespoon

honey

or date puree or maple syrup

1

teaspoon

vanilla extract

2 ½

cups

gluten-free rolled oats

3

Tablespoons

hemp seeds

2

Tablespoons

ground flaxseeds

1

teaspoon

baking powder

¼

teaspoon

sea salt

½

cup

bittersweet chocolate chips

like Enjoy Life
Instructions
Preheat the oven to 350 degrees F.

In a large bowl, mash the bananas well with a fork, then mix in the peanut butter, honey, and vanilla.

Add the dry ingredients – oats, hemp seeds, ground flaxseeds, baking powder, and sea salt - and mix well to combine.

Stir in the chocolate chips, saving a few to top the cookies with.

Mold cookies with spoons or your hands, and drop onto a silpat- or parchment-lined baking sheet. Press some remaining chocolate chips into any cookies that need more chocolate. Bake on 350 degrees F for about 12-15 minutes.
Notes
Sweetness level will depend on how ripe your bananas are. If they are not very overripe, you may want to use one additional Tablespoon of honey. Substitutions: These also work well with sunflower seed butter and almond butter. I have not tried other nut / seed butters. Nutrition label is for 1 cookie (1/32nd of the recipe), but please enjoy as many cookies as you'd like.
Nutrition
Calories:
75
kcal
Carbohydrates:
8
g
Protein:
2
g
Fat:
4
g
Saturated Fat:
1
g
Polyunsaturated Fat:
1
g
Monounsaturated Fat:
1
g
Trans Fat:
0
g
Cholesterol:
0.03
mg
Sodium:
53
mg
Potassium:
97
mg
Fiber:
1
g
Sugar:
3
g
Vitamin A:
15
IU
Vitamin B1:
0.04
mg
Vitamin B2:
0.03
mg
Vitamin B3:
1
mg
Vitamin B5:
0.2
mg
Vitamin B6:
0.1
mg
Vitamin B12:
0.01
µg
Vitamin C:
1
mg
Vitamin E:
0.4
mg
Vitamin K:
0.4
µg
Calcium:
23
mg
Copper:
0.05
mg
Folate:
8
µg
Iron:
1
mg
Manganese:
0.2
mg
Magnesium:
18
mg
Phosphorus:
55
mg
Selenium:
2
µg
Zinc:
0.4
mg
Choline:
6
mg