Recipe: $12.04 | Per Serving: $0.50 | Yield: 24+
Keep your cookies simple with these easy 4-Ingredient Paleo Gooey Butter Cookies. They're deliciously sweet and cakey, with a touch of classic gooeyness in the center.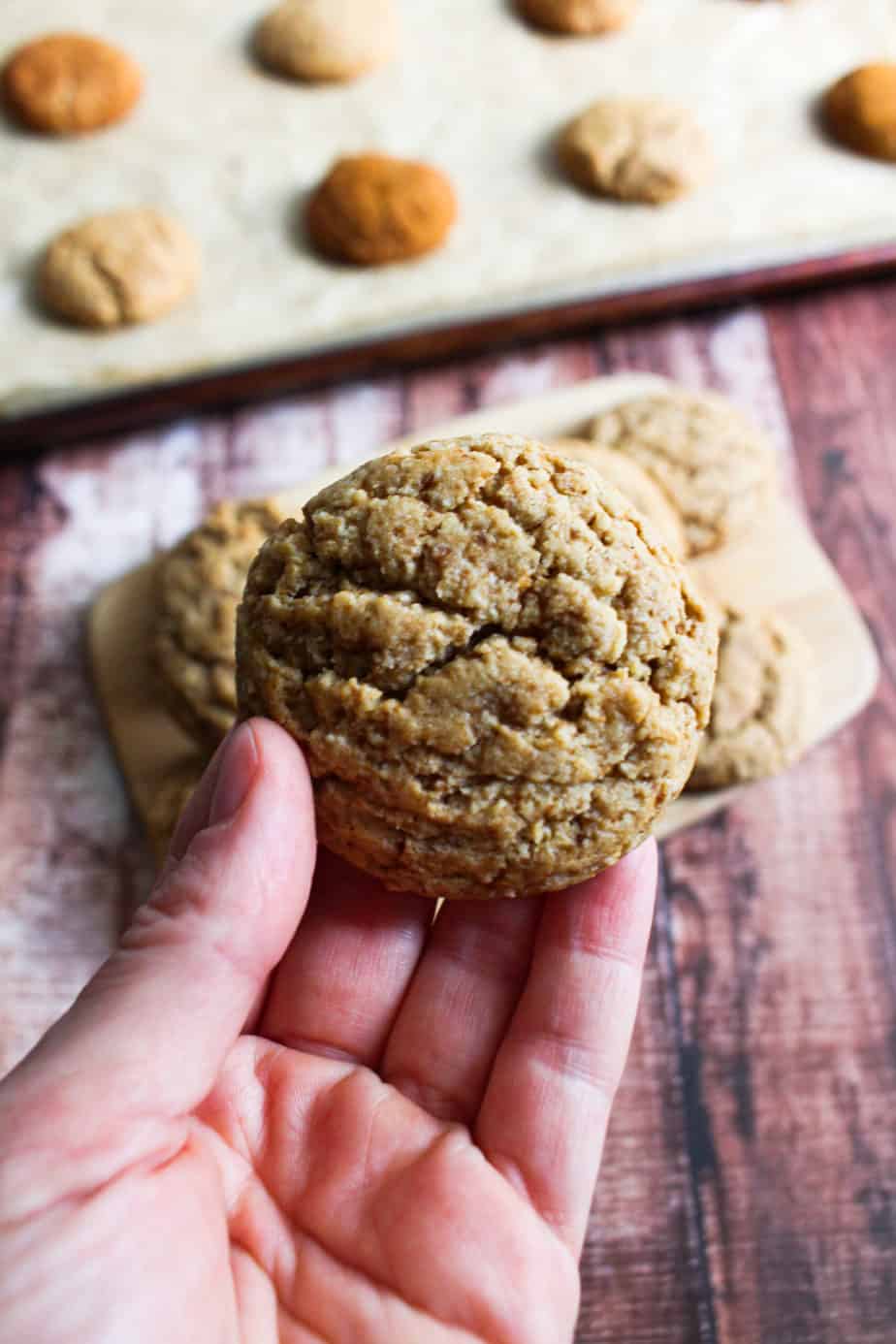 For those of you who hail from the midwest, or have passed through to visit friends and family, you'll know about the famous old-school Gooey Butter Cake and the slightly newer iteration as Gooey Butter Cookies.
My dad grew up outside of St. Louis, and when I first took Zac there back in maybe 2013, my aunt sent us off with a gigantic (really, gigantic) container of Gooey Butter Cookies and they were a hit! Gooey butter cookies are based on the gooey butter cake recipe that is even more popular in this region.
Last year, amidst my chronic pandemic procrasti-baking, I decided to remix them a la Paleo-style. While they're not the exact same cookie, these are definitely delicious. As you might be able to tell from my blog, I am primarily a chocolate chip cookie baker (and by primarily, I also mean prolific 🤩).
But, I actually love these cookies. I think they're especially great in the summer when laborious baking or keeping the oven on for several batches of cookies, isn't as appealing as the cozy fall and winter.
How to make Paleo Gooey Butter Cookies:
The traditional recipe, as my aunt makes, consists of a box of yellow cake mix, cream cheese, butter, and some powdered sugar. That's it! Instead of completely reinventing the wheel, I decided to recreate these cookies by using a pre-made Paleo-style cake mix. The only brand of cake mix I buy anymore these days is Simple Mills. In fact, we made our "wedding cake" from their chocolate cake mix.
For this recipe, you'll need:
1 box of Paleo vanilla cake mix
non-dairy cream cheese (also works with regular dairy cream cheese!)
non-dairy butter (also works with regular dairy butter!)
vanilla extract
powdered sugar or powdered coconut sugar, if desired, for coating!
I did test this with a few other Gluten-Free and Paleo cake mixes and the results weren't nearly as good. This is not a sponsored post, but this is the only gluten-free or Paleo vanilla cake mix I tried that worked with this recipe.
In most recipes, the balls of dough are hand-formed and then rolled in regular powdered sugar, which results in a cute crackled top with nice white/yellow contrast. I compared these plain, rolled in powered white sugar, and rolled in powdered coconut sugar. We honestly thought they were all tasty - so you can pick!
I think the cookies are quite sweet as is so I wouldn't usually roll them in additional sugar, but if you really like sweet flavors, coating them can provide that instant sweetness on your tongue when it makes contact with the outside of the cookie.
These cookies are:
cakey
sweet
rich with vanilla
...and very simple!
These are the cookies I would choose to make if I were on vacation or at an AirBnb. You only need to buy a few ingredients and you wouldn't have to worry about leaving behind a bag of flour. If you're cooking at all, you're likely buying some butter anyway (you can use regular or dairy-free here), and it's pretty easy to use the last few ounces of cream cheese.
Ways to Use Leftover Cream Cheese
PIN THIS RECIPE FOR LATER!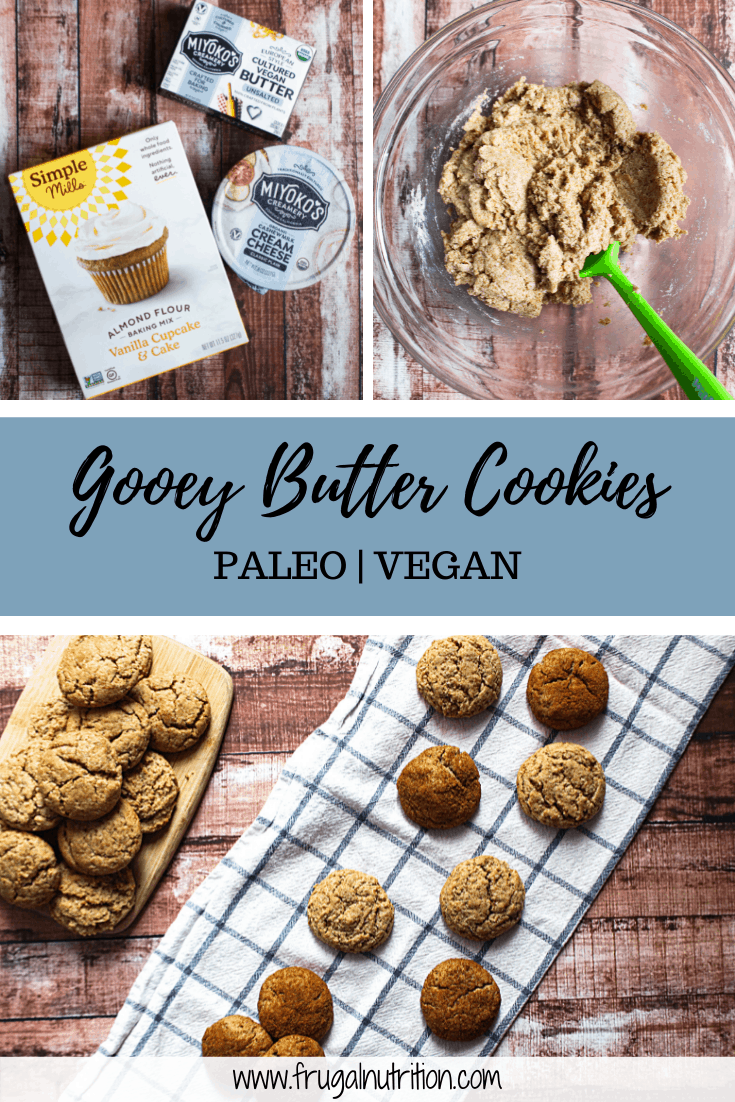 Vegetarian: yep!
Paleo: yep! But, be aware that this contains sugar and processed foods and multiple ingredients. So if you're doing better with simpler foods at this time, this Paleo cookie may not be the best fit.
4-Ingredient Paleo Gooey Butter Cookies
These super easy cookies have a slightly chewy, cake-like texture and a rich vanilla flavor. They're a vegan & Paleo homage to the St. Louis Gooey Butter Cookie!
Ingredients
5

ounces

cream cheese

this one!, slightly softened or dairy-free cream cheese

2 ½

ounces

butter

this one!, slightly softened or dairy-free butter

1

Tablespoon

vanilla extract

11.5

ounce

box of GF/Paleo vanilla cake mix

this is the only one I've found to work

2

tablespoons

powdered sugar

or coconut powdered sugar for coating cookies, optional if desired
Instructions
Preheat oven to 375ºF and prepare baking sheets by lining with parchment paper.

Combine the cream cheese spread and butter in a small bowl and mash with a fork until well combined. I often do this on my flat top stove (burners off) to let the residual heat from the preheating oven help soften the ingredients.

Stir in the vanilla until well combined.

Add the vanilla cake mix and stir until well mixed.

Scoop into 24 even-sized chunks of dough and roll between two hands to smooth.

Optional: you can roll these in some powdered sugar or powdered coconut sugar for that more classic crackle on top.

Place on two parchment-lined baking sheets (or can use one and do two batches). No need to press flat. Bake for about 11-13 minutes on 375ºF.
Notes
To make powdered coconut sugar: blend coconut sugar in a small food processor or blender until powdery. I use the small food processor cup for this, and the small sauce cup for this one works great too.
Nutrition
Calories:
95
kcal
Carbohydrates:
13
g
Protein:
1
g
Fat:
4
g
Saturated Fat:
3
g
Polyunsaturated Fat:
0.2
g
Monounsaturated Fat:
1
g
Trans Fat:
0.1
g
Cholesterol:
12
mg
Sodium:
132
mg
Potassium:
9
mg
Sugar:
8
g
Vitamin A:
153
IU
Vitamin B1:
0.001
mg
Vitamin B2:
0.02
mg
Vitamin B3:
0.01
mg
Vitamin B5:
0.04
mg
Vitamin B6:
0.003
mg
Vitamin B12:
0.02
µg
Vitamin E:
0.1
mg
Vitamin K:
0.3
µg
Calcium:
7
mg
Copper:
0.002
mg
Folate:
1
µg
Iron:
0.01
mg
Manganese:
0.002
mg
Magnesium:
1
mg
Phosphorus:
7
mg
Selenium:
1
µg
Zinc:
0.03
mg
Choline:
2
mg