This Mediterranean Chickpea Salad is super easy and flavorful and comes together in just a few minutes! This recipe is a favorite among my nutrition clients, and I know you're going to love it too!
Recipe: $9.75 | Per Serving: $2.44 | Yield: 4 servings with salad greens
Are you ready for the easiest plant-based chopped salad of all time? This Easy Mediterranean Chickpea Salad is loaded with flavor, plenty of vegetables, and just enough feta cheese to feel alive. 😉
No really, that feta tang is very exciting! But, I promise you can swap it for olives if dairy doesn't work for you.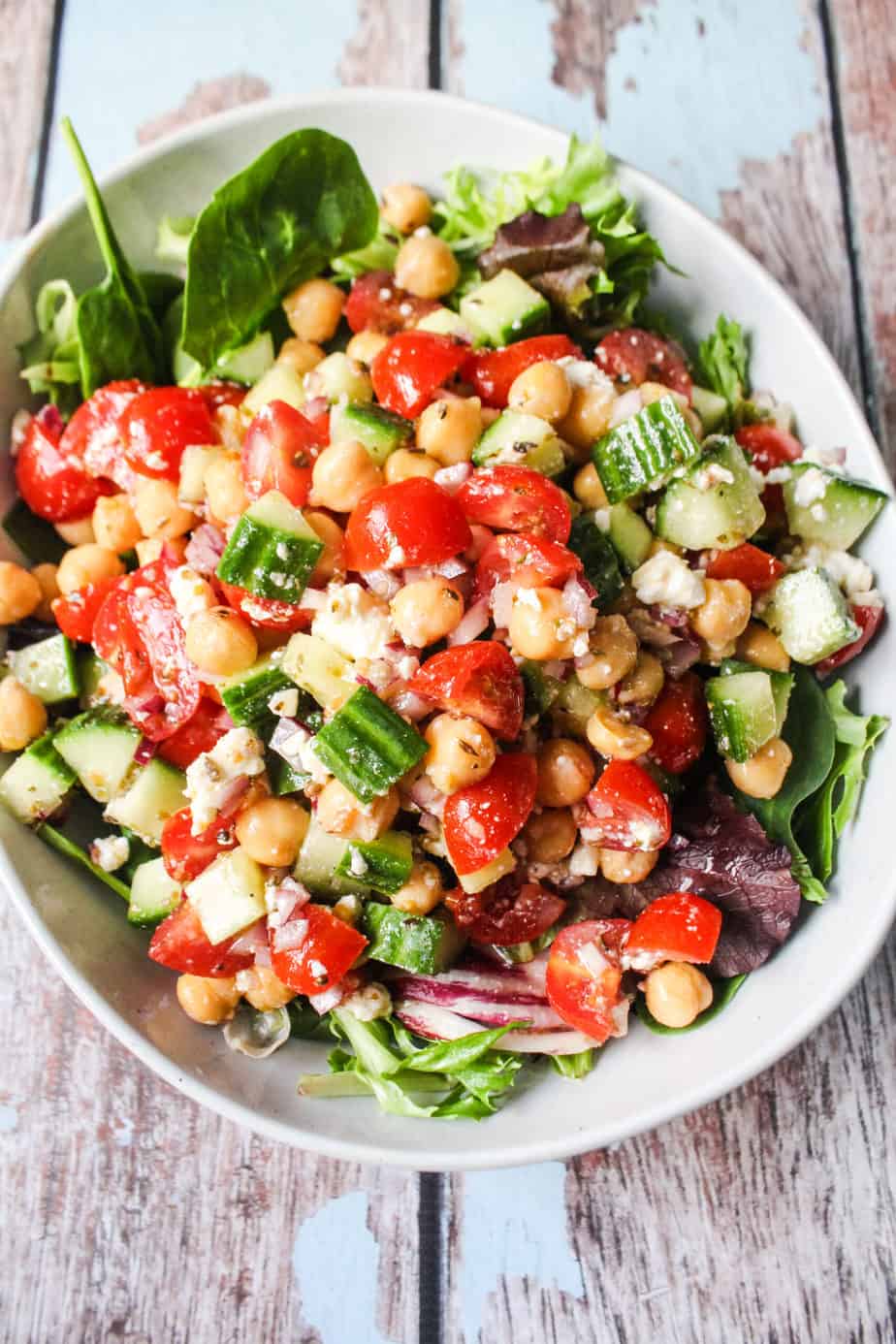 Look out 2021, we are coming in hot with a plant-based recipe to spruce up your lunches. I like feta, but as I mentioned, you can easily make this dairy-free without it! (Though feta is a bit of a staple in mediterranean cuisine.)
I am not sure why this recipe has taken so long (years?) to make it to my blog, but I've been making some version of this since 2016. It's basically a combination of chopped vegetables, chickpeas, greek salad dressing (but easier), and feta if you want it.
Eat this as just the salad swag, stuffed in a pita, or over some greens - arugula and baby mixed greens are my preference here.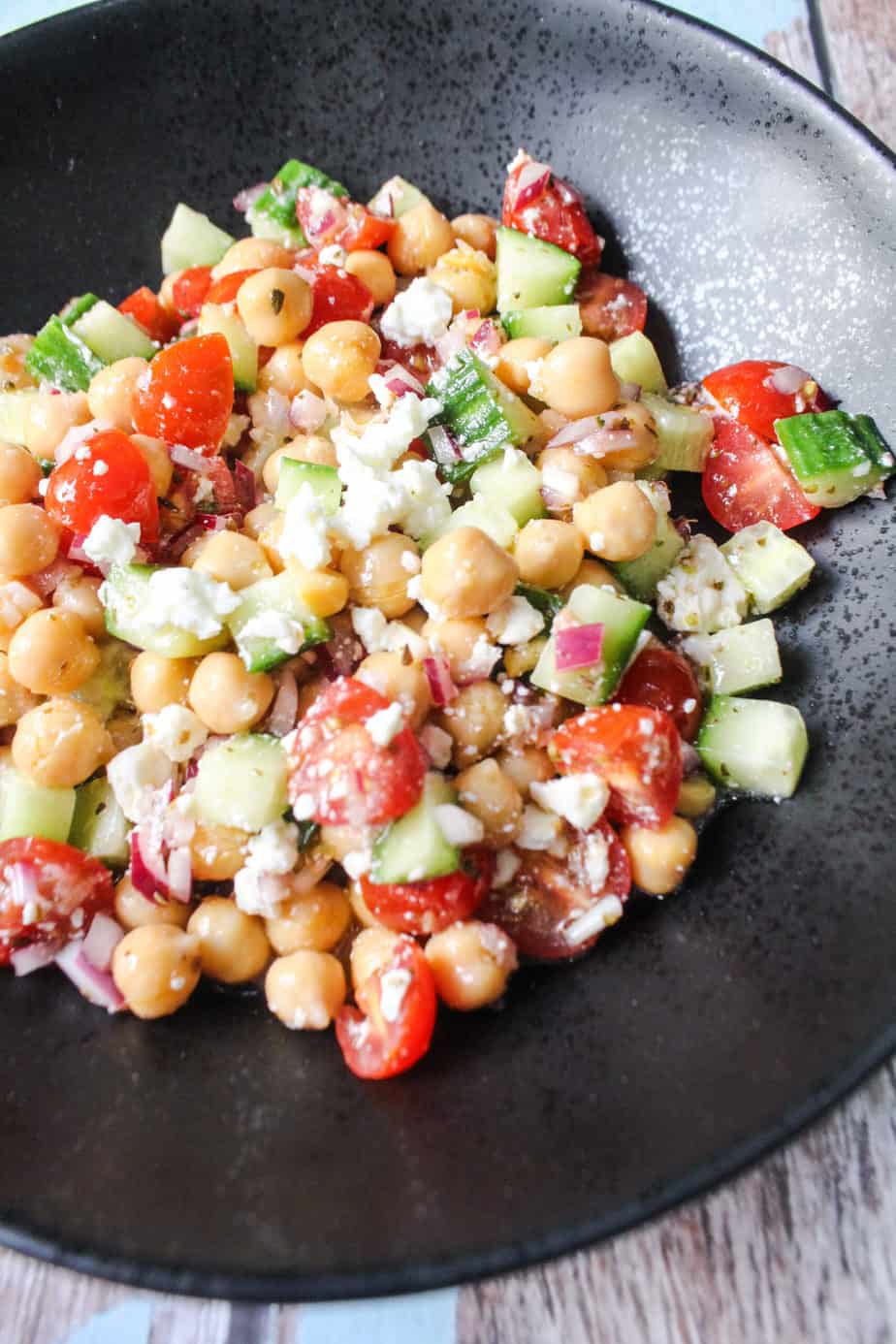 This Mediterranean Chickpea Chopped Salad is:
fast
easy
tangy and flavorful
vegetarian
gluten-free!
This is a great salad as is, with enough protein, fat, and fiber to be a suitable lunch for anyone! However, you can serve this as a side dish to an epic feast, pair it with some GF or whole wheat naan, serve it alongside grilled protein, or put it out as part of an tapas-style appetizer spread with things like hummus, olives, and maybe even grilled octopus!
Variations of This Mediterranean Chickpea Chopped Salad:
Canned Mackerel: I love adding a can of Wild Planet canned mackerel to this, either in addition to or instead of the chickpeas.
Chicken Thighs: Juicy grilled chicken thighs are a delicious addition. You can double the dressing and use half of it to marinate a few chicken thighs and then toss them on the grill before chopping and adding here. SO GOOD!
Grilled Halloumi: Friends, you can skip the feta and serve this with some grilled halloumi and it would be amaaaazing.
Tips for This Recipe:
This one is pretty straightforward, but here are a few tips to get it just right.
Drain and rinse canned beans. It's helpful to rinse off excess aquafaba to reduce compounds like phytates that bind to our nutrients, and to wash away some of the FODMAPs. I think aquafaba can be perfectly safe in moderate amounts, like in these all-star brownies, but there are some downsides of aquafaba to consider as well.
Or, if you're using homemade beans, make sure you cook them a couple of minutes longer so they're not too dry. Dry chickpeas don't work well in salad.
Marinate your onions! Soaking beans in water or marinating them in dressing, as I've suggested below, helps to soften them and make them less harsh, while also making them easier to digest. You won't regret it!
I've made this dressing much tangy-er than your average vinaigrette and I think that's the best way - trust - but be sure to keep a little extra olive oil on hand in case your tastebuds don't agree with mine.
One reason why this recipe is so popular, in addition to just being delicious, is that it is super versatile! The basic combination of a tangy red wine vinaigrette and fresh vegetables is a flavorful template for whatever dietary modifications you require. Check out the suggestions below to make this recipe Paleo, Vegan, Vegetarian, or Low FODMAP.
Dietary Modifications for this Recipe:
Paleo: To make this recipe Paleo, omit the chickpeas and the feta cheese. Instead, use olives, avocado, and either canned mackerel or crispy stovetop chicken thighs.
Vegetarian: Yep! This is vegetarian as written.
Vegan: Almost! I recommend omitting the feta cheese and adding olives instead! I would also recommend adding in ¼ cup of hemp seeds to replace some of the protein you lose by omitting the feta.
Low FODMAP: You may want to reduce or completely omit the red onions, grated garlic, and chickpeas in this recipe. Replace them with chopped olives and either canned mackerel or chicken!
PIN THIS RECIPE FOR LATER!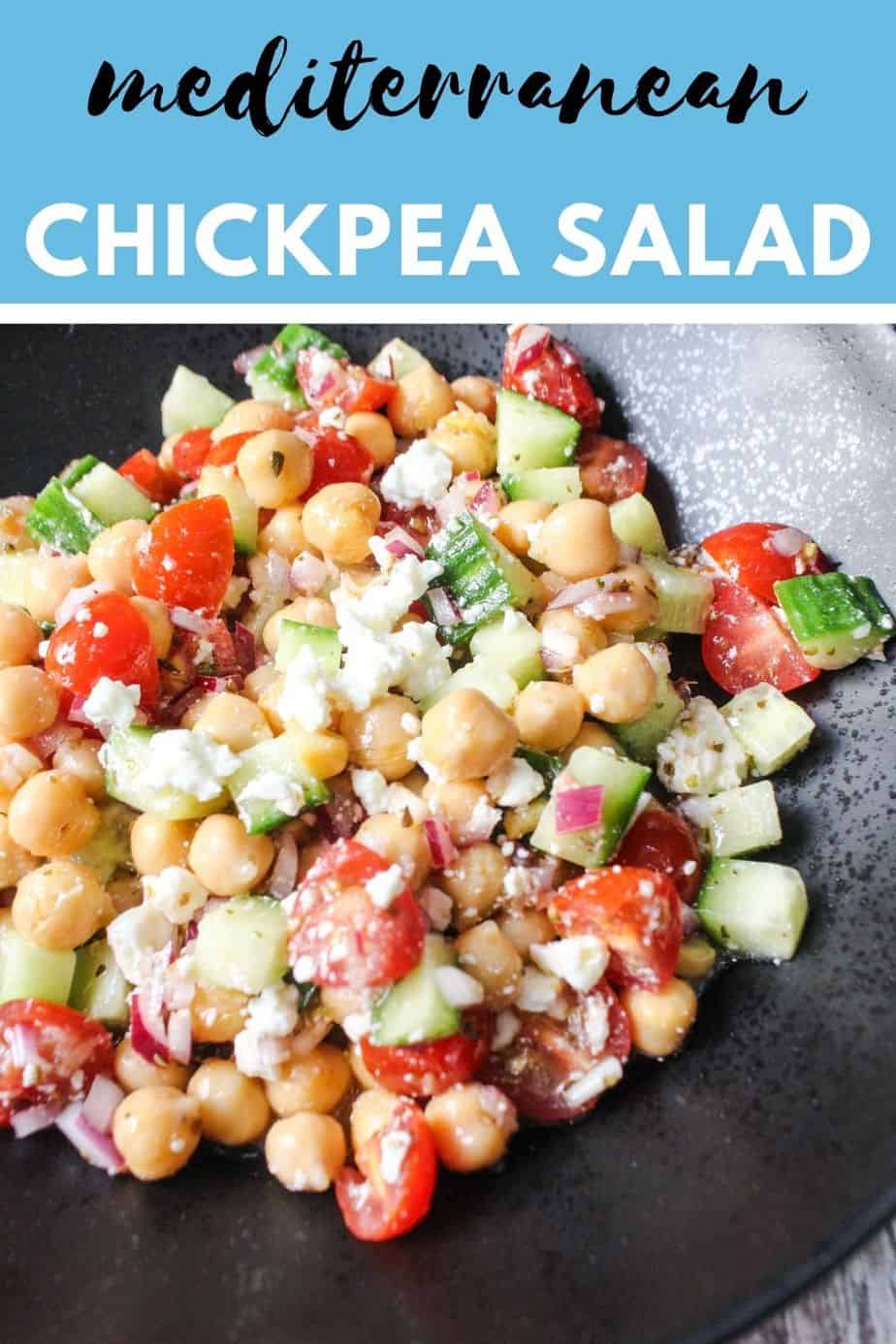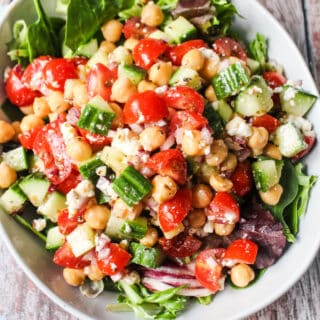 Easy Mediterranean Chickpea Salad
This easy plant-based chickpea salad has that classic Mediterranean flavor from the red wine vinegar, oregano, and feta cheese, and is a cinch to pull together for fast weekday lunches!
Ingredients
For the Dressing:
1

clove

garlic

minced or grated

3

Tablespoons

red wine vinegar

4

Tablespoons

olive oil

1

teaspoon

dried oregano

¼

teaspoon

salt
For the Salad: 
¼

red onion

sliced

1

can cooked chickpeas

1.5 cups

1

pint

grape tomatoes

halved

1

cup

English cucumber

½-inch quarter chunks (about half a cucumber)

½

cup

crumbled feta cheese

3.5 ounces

8

cups

baby greens

arugula, or other lettuce

Optional: ⅓ cup sliced black or green olives
Instructions
Mince red onion or slice red onion into thin ⅛th-inch wedges. 

In a large bowl, combine dressing ingredients. Whisk until well combined. Marinate onions in dressing to soften their bite. 

Drain and rinse chickpeas, set aside.

Wash and prepare all vegetables. Slice grape tomatoes in half. Quarter the cucumber and slice into ½-inch chunks.

Top with feta - crumbled or in a fancy block.

Serve everything together over mixed greens, as is, or with crackers or bread.
Notes
To make this Low FODMAP: omit the onion and garlic and use either shallot-infused olive oil or garlic-infused olive oil in place of the plain olive oil. To make this VEGAN: omit the feta cheese, replace with olives and / or chopped avocado! You can also add in a few Tablespoons of hemp seeds to boost the protein.
Nutrition
Calories:
318
kcal
Carbohydrates:
25
g
Protein:
11
g
Fat:
21
g
Saturated Fat:
5
g
Polyunsaturated Fat:
3
g
Monounsaturated Fat:
12
g
Cholesterol:
17
mg
Sodium:
703
mg
Potassium:
655
mg
Fiber:
7
g
Sugar:
4
g
Vitamin A:
2026
IU
Vitamin B1:
0.1
mg
Vitamin B2:
0.3
mg
Vitamin B3:
2
mg
Vitamin B5:
1
mg
Vitamin B6:
1
mg
Vitamin B12:
0.3
µg
Vitamin C:
36
mg
Vitamin D:
0.1
µg
Vitamin E:
3
mg
Vitamin K:
26
µg
Calcium:
170
mg
Copper:
0.3
mg
Folate:
86
µg
Iron:
3
mg
Manganese:
1
mg
Magnesium:
62
mg
Phosphorus:
224
mg
Selenium:
6
µg
Zinc:
2
mg
Choline:
50
mg