Recipe: $2.24 | Per Serving: $0.56 | Yield: 4
Kale chips are the perfect snack for salty cravings and are such a fun way to eat your vegetables. I've been making them since their heyday in 2012, and today I'm sharing my best tips to get the crispiest kale chips!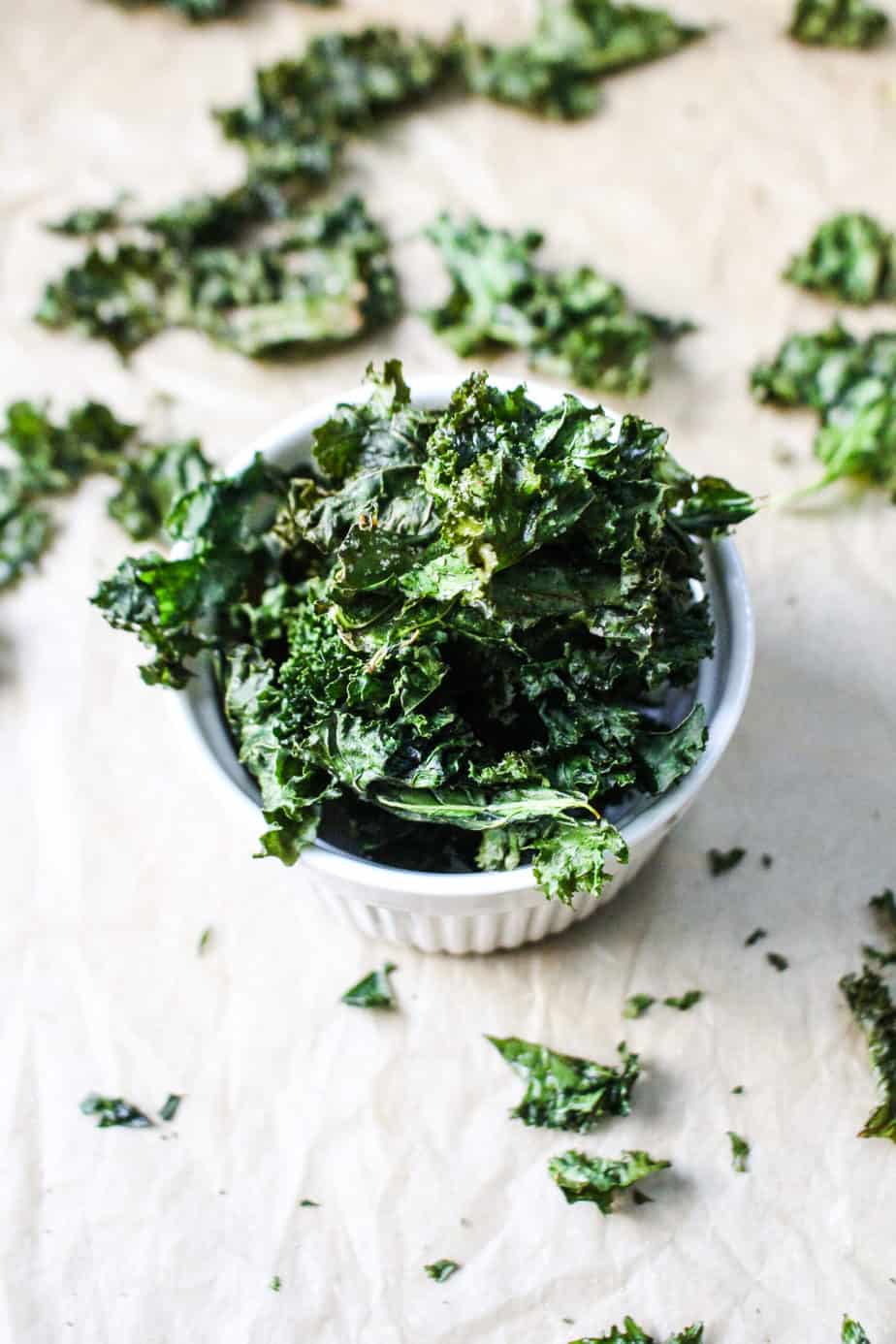 I have a few proud moments from my culinary classes in my nutrition program, and one of them involves kale chips. In one class, our group was tasked with making a snack with kale, and despite it being no longer on trend, we made kale chips. They were completely devoured by the class and the instructor and TAs deemed them the best kale chips that course had ever seen. Friends, that is a high compliment.
The reason for this success: my old roommate and I (hi, Shannon!) took on the task of perfecting kale chips back in 2012, so I had already spend a few weeks testing a bunch of variations long before I was in that kitchen classroom. We'd had soggy chips, excessively salty chips, and even completely burnt and inedible chips. We figured it out in the end though and now they're completely perfect.
So, I've decided to update this ol' post here with my top crispy kale chip tips.
This post was originally published in December of 2013 when kale chips were having their moment. Photos are new and the instructions have been updated for clarity but the recipe is otherwise the same. I also filmed a video! Thank you for supporting me and my blog!

Tips for Crispy Kale Chips
1) Give them space!
Don't crowd the sheet pan. If you crowd the kale, you may end up with chewy kale instead of crispy and crunchy chips. When vegetables are too close together in the oven, they can steam. The goal here is to evaporate the water in the kale to provide crispy chips. Spread them out for best results!
2) Dry your kale!
If you're getting chewy kale chips, try drying your kale thoroughly with a salad spinner and them blot them with a kitchen towel. If I know I'm making kale chips, I'll often wash and prep the kale in the morning and then store it in in a towel-lined bowl in the fridge until I'm ready to cook. It has time to dry out without spending time drying every single piece.
3) Consider your oil
While there's nothing wrong with olive oil, sometimes using avocado oil or even an avocado oil spray can get even crispier results. I recommend Chosen Foods 100% avocado oil because it was recently tested and found to be 100% pure (sadly, unlike many other brands). Thrive Market (affiliate link) and Primal Kitchens are options I've tried, but I don't know of their purity levels.
4) Coat EACH piece of kale with oil
This is time-consuming, but offers the best results. Coating each piece of kale with oil helps ensure even crispiness. DO it!
5) Skip the "dressing"
I've seen some recipes that season kale chips with dressings and liquid seasonings like aminos, but I say skip it! Unless you have a dehydrator, you are more likely to end up with soggy kale chips if you add liquid and are using a conventional home oven. (Remember what I said about DRYING your kale chips?)
6) Low & Slow + Check them early!
Cooking the kale chips low and slow makes it more likely you can truly evaporate the water with a lower risk of burning. However, I also recommend checking your kale chips starting around 18 minutes since every oven is different!
You can use any kale to make kale chips, but I find that the curly green kale provides the most consistently crispy results. I think it's all those craggly curls!
For me, kale chips satisfy my salty-crispy cravings when there are no plantain chips to be found, or when my stomach isn't up for something quite so starchy. I love having them as a snack or serving them on burger night. They're truly delicious!
Other Kale Chip Variations:
Consider adding lemon zest and parmesan cheese
Try everything but the bagel seasoning
Garlic and parmesan - such a good combination!
This is the best way to get some kale into your diet! Without further ado, I give you: EASY KALE CHIPS.
Paleo: Yep!
Vegetarian: Yep! (And vegan!)
PIN THESE TIPS FOR LATER!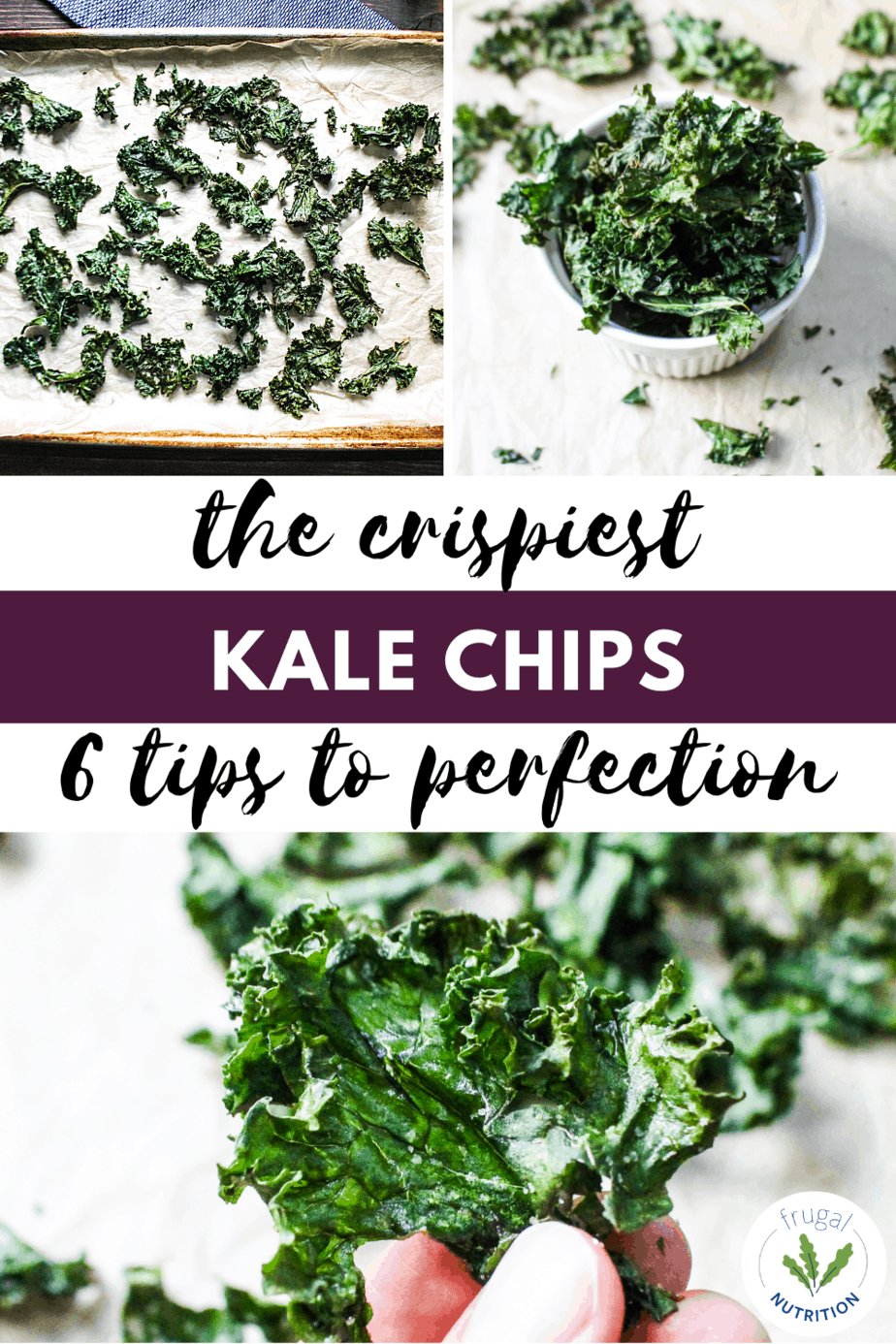 The Crispiest Kale Chips
Crispy kale chips are a snacker's dream! Follow these tips for salty, crispy, evenly cooked kale chips!
Ingredients
1

bunch

kale

1-2

tablespoon

avocado oil

or other oil of choice

¼

teaspoon

sea salt

optional - black pepper
Instructions
Wash kale. Remove the stem and rip or cut them into pieces. (About 1-2 inches across.)

THOROUGHLY dry the kale leaves.

Spread them out over two baking sheets and drizzle with olive oil. Massage oil into each piece of kale, on both sides. Every piece should be a little shiny with oil.

Sprinkle with a pinch of salt and (optional) pepper, and bake in pre-heated 300-degree (F) oven for 18-24 minutes. Oven times may vary, so keep an eye on them. I recommend checking them around 18 minutes.
Notes
Drying the kale and spreading it out prevents chewy or soggy kale chips. It's worth the extra steps, I promise.
Nutrition
Calories:
42
kcal
Carbohydrates:
1
g
Protein:
1
g
Fat:
4
g
Saturated Fat:
0.5
g
Polyunsaturated Fat:
1
g
Monounsaturated Fat:
3
g
Sodium:
163
mg
Potassium:
113
mg
Fiber:
1
g
Sugar:
0.3
g
Vitamin A:
3247
IU
Vitamin B1:
0.04
mg
Vitamin B2:
0.1
mg
Vitamin B3:
0.4
mg
Vitamin B5:
0.03
mg
Vitamin B6:
0.05
mg
Vitamin C:
30
mg
Vitamin E:
0.2
mg
Vitamin K:
127
µg
Calcium:
83
mg
Copper:
0.02
mg
Folate:
20
µg
Iron:
1
mg
Manganese:
0.2
mg
Magnesium:
11
mg
Phosphorus:
18
mg
Selenium:
0.3
µg
Zinc:
0.1
mg
Choline:
0.2
mg