Recipe: $4.36 | Per Serving: $1.09 | Yield: 4 | Jump to Recipe
Guys, it has taken me about 50 years, but I am now doubly on board with cauliflower rice. And whether you're trying Whole30 or not, I highly recommend testing out a few cauliflower rice dishes yourself. If you're doing Paleo or Whole30, cauliflower rice is a beautiful addition to the mix, and if you're just trying to increase your veggie intake, cauliflower is still AWESOME.
I'm no stranger to cauliflower rice, and sure, I've always loved it as fried rice, but other than that, I usually found it to be a little bland, and not really worth the effort to whip up without a real food processor. (Yes, I am still working with a dinky little mini food pulsing processor.)  However, Nom Nom Paleo's coconut cauliflower rice with pineapple and scallions is one of my favorite things I ate all month. What. A. Game. Changer.
After eating that at two of our Whole30 dinners with friends, I decided to get back on the cauliflower rice wagon, and came up with another favorite but surprisingly simple preparation: garlic and ghee. As you may know, I love a good garlic butter rice dish, so making those simple swaps yielded a familiar dish that could easily be dressed up with sausage, spinach, sun-dried tomatoes, and basil. Instead of taking the Italian route, we ended up eating this throughout the week as a side to steak and to stir fry, and then again at our weekly Whole30 friends dinner with Cuban Cilantro-Orange Chicken.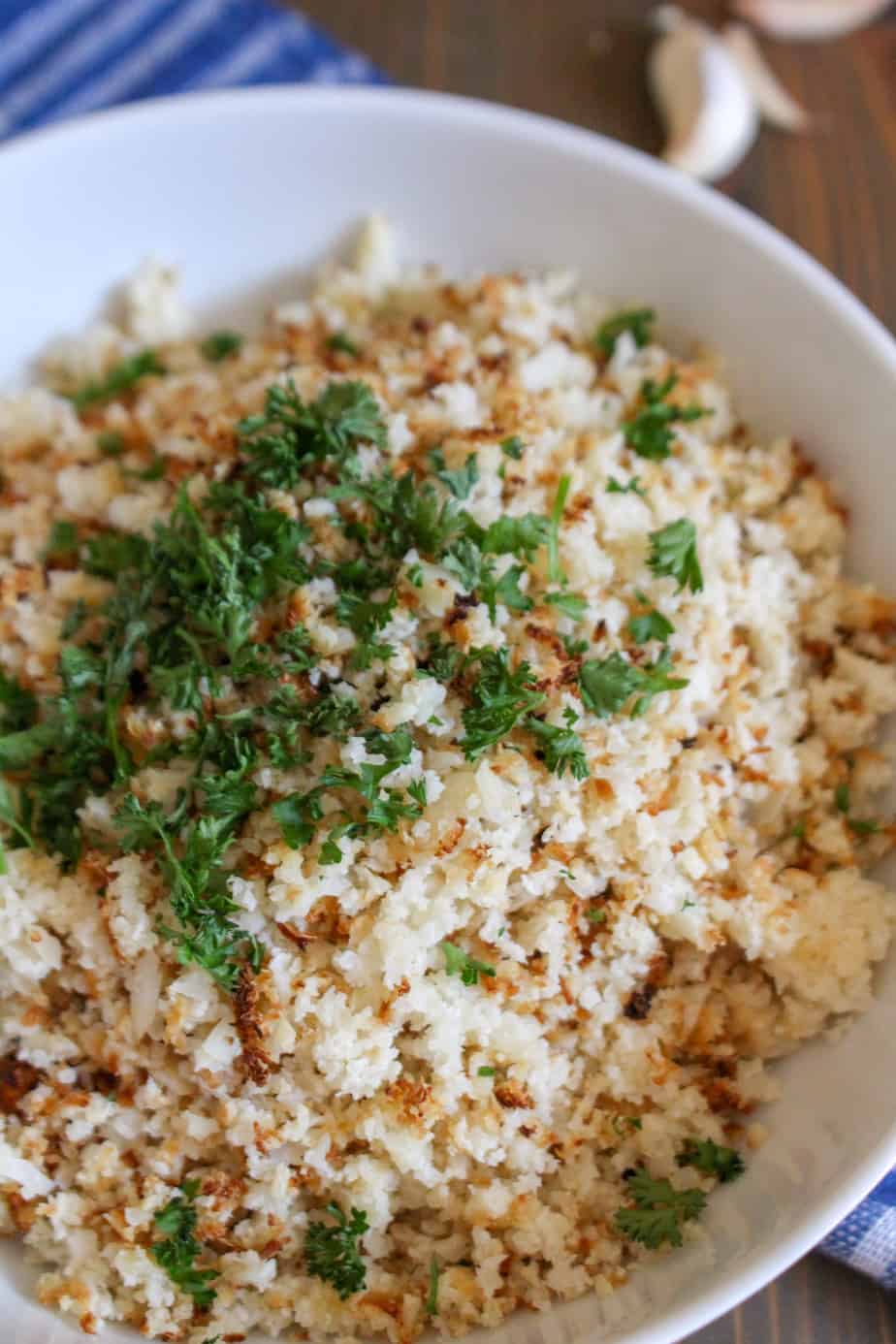 Before you run away because you also don't have a real adult-sized food processor, please know that there are a few ways to get your hands on cauliflower rice in the modern world, including the beloved food processor.
How to Make Cauliflower Rice
A hand-grater - yup, you can totally grate the cauliflower by hand. Yes, it is a bit tedious. Yes, you will get cauliflower all over your kitchen. Yes, it makes the best "rice."

Buy it. You can get it fresh or frozen from Trader Joe's, and I have also seen it both fresh ($5.99 a pound) and frozen (though often out of stock) at my local Safeway. I like to have a bag of frozen cauli rice in my freezer for emergencies.

And of course - a food processor - you just use the shredding blade and feed it through the top, or simply pulse it a few times in the processor base! I have a Ninja kitchen prep, which I've discovered can pulse vegetables to make "rice." Not as great as the grater, but totally worth it for the minimal time and effort.
Benefits of Cauliflower
You might be thinking that as a white food, cauliflower doesn't have a lot to offer nutritionally, but it actually has a pretty stellar nutritional profile. It is a non-starchy vegetable, after all. Just a cup of cauliflower provides 73% of the daily recommended intake of vitamin C! Not bad for a white vegetable. It also provides a decent dose of phytonutrients and antioxidants, as well as smaller amounts of folate, vitamin K, and a medley of B vitamins. (See The World's Healthiest Foods for more information.)
Now, cauliflower rice is not rice. It is its own delicious thing. You can toast/roast the "rice" in the oven to get a little of that roasty cauli goodness, or you can give it a saute with some fat and flavorings of choice. I am sure it is possible to use a microwave to steam it, but I don't have a microwave, so I can't speak to those methods. Check out these tips at One Good Thing By Jillee for three different ways to cook cauliflower rice. 
And just in case you're unfamiliar with ghee, it is basically strained clarified butter. When butter is melted, the milk solids fall to the bottom of the pot as the water evaporates. This first step results in clarified butter. If you strain out those milk solids, you've got ghee. If you don't strain the milk solids but instead cook the clarified butter a touch longer until the milk solids become brown and nutty, you've got browned butter. Easy! Ghee is great for people who can't tolerate dairy, as the milk solids are strained out, and for the rest of us, I will say that the major benefit of ghee is the higher smoke point. Without those milk solids (which can burn), ghee has a smoke point of about 485F, while butter's smoke point is lower, around 200-250F.
So technically you could use butter or clarified butter or ghee in this recipe, depending on your tolerance for dairy. Just keep an eye on it so the butter doesn't burn. Now that you've got the deets, who is with me?
More badass cauliflower rice recipes:

Cilantro-Lime Cauliflower Rice (SkinnyTaste)
Asian Cauliflower Fried Rice (Nom Nom Paleo)
Coconut Pineapple Cauliflower Rice (Nom Nom Paleo's first cookbook, shared here by Robin's Recipes N' Food Blog)
Vegetarian: Yep! (For vegan, use coconut oil.)
Paleo: Yep!

Garlic & Ghee Cauliflower Rice (Whole30)
A simple low carb side dish for meals! Cauliflower rice cooks up quickly with just a bit of garlic and ghee for great flavor.
Ingredients
1

pound

riced cauliflower

about 1 medium head

4-6

cloves

garlic

minced

2

Tablespoons

ghee

Salt

pepper to taste

Optional: red pepper flakes

or lemon-pepper
Instructions
In a large wok, melt the ghee over low to medium heat and add the garlic for about 30 seconds, or until it becomes fragrant.

Add the riced cauliflower and stir well, increasing the heat to medium-high. Give it a few cranks of your salt & pepper grinders and another stir, and cover. Let it steam-saute for about 6 minutes.

Remove lid and stir well. Taste to adjust seasonings and consistency. I like to let it cook another 2 minutes or so uncovered. Add optional seasonings to taste and enjoy!
Nutrition
Calories:
99
kcal
Carbohydrates:
7
g
Protein:
2
g
Fat:
8
g
Saturated Fat:
5
g
Polyunsaturated Fat:
0.3
g
Monounsaturated Fat:
2
g
Cholesterol:
19
mg
Sodium:
35
mg
Potassium:
351
mg
Fiber:
2
g
Sugar:
2
g
Vitamin A:
0.3
IU
Vitamin B1:
0.1
mg
Vitamin B2:
0.1
mg
Vitamin B3:
1
mg
Vitamin B5:
1
mg
Vitamin B6:
0.2
mg
Vitamin C:
56
mg
Vitamin E:
0.1
mg
Vitamin K:
18
µg
Calcium:
30
mg
Copper:
0.1
mg
Folate:
65
µg
Iron:
1
mg
Manganese:
0.2
mg
Magnesium:
18
mg
Phosphorus:
54
mg
Selenium:
1
µg
Zinc:
0.3
mg
Choline:
51
mg
Nutritional label is for 4 servings.