Recipe: $1.50 | Per Serving: $0.38 | Yield: 4
We are in RICE land.
AKA, Asia. Do you know what is not-so-cheap here in rice land? Rice. Since rice is a major crop for Japan, the Japanese government controls the price and limits imported rice. To be fair, Japanese rice is really good. Sorry bulk bins of short grain brown rice at Sprout's. You just don't compare. Still, it is cheaper than meat.
My affinity (SAT word alert) for rice waxes and wanes, but in Japan, I'm totally on board. While I still don't think a) you need grains at every meal, or b) grains are particularly nutrient-dense, they are certainly c) cheap and d) filling and e) safe. That's pretty much all I'm saying about that.
Also, Happy Golden Week! Here in Japan, Golden Week is in full swing/just ended. I'm not really sure. There are only 3 days off during this National Holiday, but it is called Golden WEEK for some reason. However, because my actual days off from teaching fall on Thursday and Friday, I am one of the few people who actually DID get a week off! Go me!
You'd think that with three days off, we would have taken a nice trip someplace far away, but this is still too early to be spending a lot of money. Instead we went to Mt. Takao to go hiking, went on a failed hunt for burgers and then made them at home, walked to the ferris wheel at Center Minami, made a lot of food, did computer work things, and decided to pay for Hulu Japan. HULU! Modern Family, here we come!
Mt. Takao is pretty sweet. In case anyone is wondering, we hiked up Trail 6, and then hiked halfway down Trail 1, which was super crowded because that is the main trail with all the temples and stuff. Including the gargoyle doing the Heisman (middle left). So when Trail 1 split, we jumped onto Trail 2, which was practically deserted and really awesome. (Bottom left picture.) We also bought those ice cream cones right before starting...so we hiked for about 3 minutes trying to eat ice cream at the same time. BAD IDEA! Impossible to breathe.
And now it is back to the daily grind for us. Parmesan Garlic Rice with Sun-Dried Tomatoes! Really really delicious garlicky rice with just the right amount of cheese.
Also - I bit the bullet and bought a piece of wood from Tokyu Hands for about $12.50 (1500 yen), plus some stain for around $5. We don't have any legs yet to make this an actual coffee table, but it is a nice background for future photos! I'm very excited. Can't believe I got almost the exact same thing for free in San Diego. (Left behind, of course.)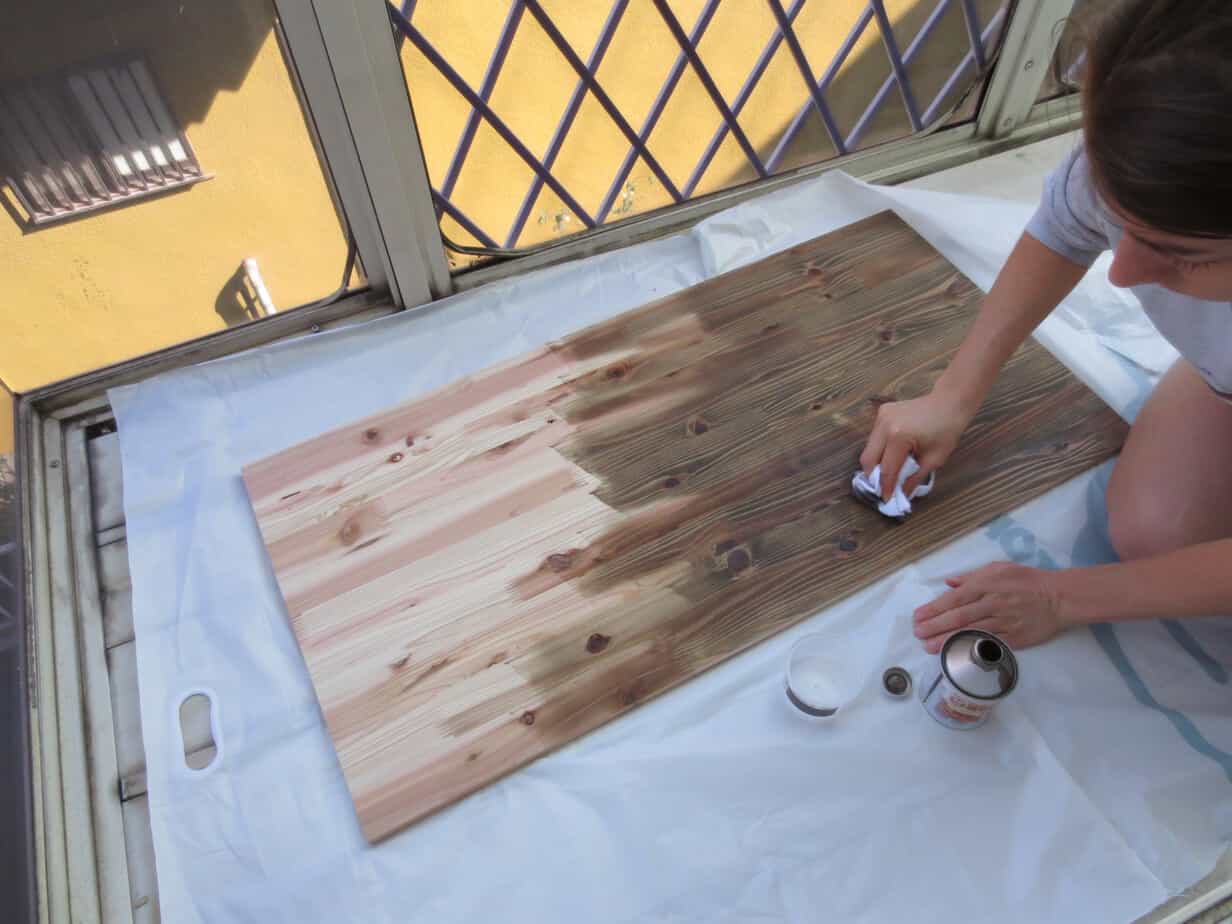 Paleo: No, but it is gluten-free!
Vegetarian: Yes! Enjoy it.

Parmesan Garlic Rice with Sun-Dried Tomatoes
An easy rice side dish flavored with parmesan, garlic and sun-dried tomato.
Ingredients
1

cup

rice

uncooked

2

tablespoons

butter

4

cloves

garlic

minced

¼

cup

sun-dried tomatoes

chopped (more to taste)

¼

cup

parmesan cheese

freshly grated

½

teaspoon

black pepper

basil

or spinach for topping

10

ounces

spinach

fresh or frozen , optional
Instructions
Rinse rice and check for any foreign objects. Cook according to package directions or in a rice cooker. (Place in a large pot with 2 cups water and bring to a boil. Immediately reduce to a simmer and cover. Simmer for 25-50 minutes over low-medium heat, or until rice is soft and all water is absorbed.)

Melt butter in a saucepan and add minced garlic. Simmer over very low heat, watching constantly. DO NOT WALK AWAY. If the garlic burns, it will be a sad, sad day. Remove from heat and add the sun-dried tomatoes.

To add Spinach: Stir the spinach in with the garlic butter until thawed or wilted.

Pour the garlic butter and sun-dried tomatoes over the cooked rice, then stir in the Parmesan cheese, and black pepper and serve!
Notes
I always serve this with about 10 ounces frozen spinach, or two bunches fresh spinach mixed in! It's a really easy side dish with starch and veggies and cheese!
Nutrition
Calories:
283
kcal
Carbohydrates:
45
g
Protein:
9
g
Fat:
8
g
Saturated Fat:
5
g
Polyunsaturated Fat:
1
g
Monounsaturated Fat:
2
g
Trans Fat:
0.2
g
Cholesterol:
19
mg
Sodium:
211
mg
Potassium:
707
mg
Fiber:
3
g
Sugar:
3
g
Vitamin A:
6931
IU
Vitamin B1:
0.1
mg
Vitamin B2:
0.2
mg
Vitamin B3:
2
mg
Vitamin B5:
1
mg
Vitamin B6:
0.3
mg
Vitamin B12:
0.1
µg
Vitamin C:
24
mg
Vitamin D:
0.03
µg
Vitamin E:
2
mg
Vitamin K:
346
µg
Calcium:
173
mg
Copper:
0.3
mg
Folate:
147
µg
Iron:
3
mg
Manganese:
1
mg
Magnesium:
85
mg
Phosphorus:
162
mg
Selenium:
10
µg
Zinc:
1
mg
Choline:
27
mg