Recipe: $6.90
Per Serving: $0.86 (3-4 meatballs each)
Wait! Eggplant haters! Don't run away!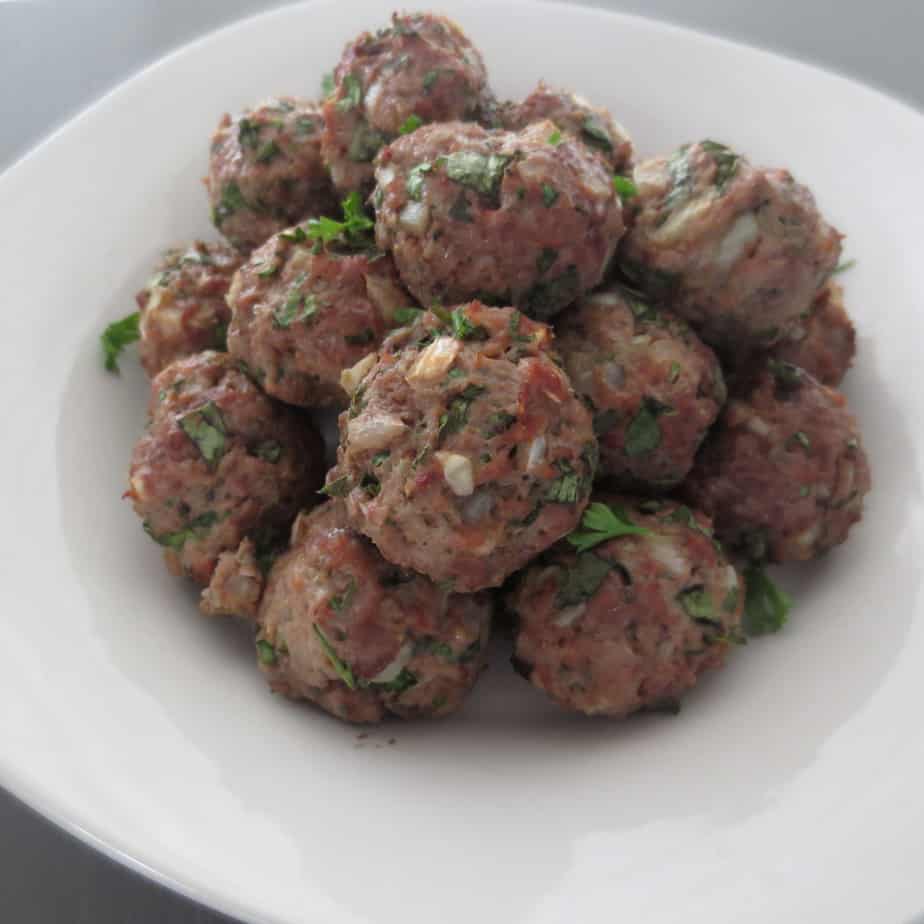 Seriously. I am an eggplant hater. Even though I'm posting this recipe with eggplant in the title. Growing up my mom tried to get eggplant to work in our family and not a single person could handle it. It is the only time I remember my mom allowing us to not finish our dinner. My mom and dad didn't even eat it!And my brother (the garbage can) probably cried. Which is what he did two times growing up when he tasted something he didn't like.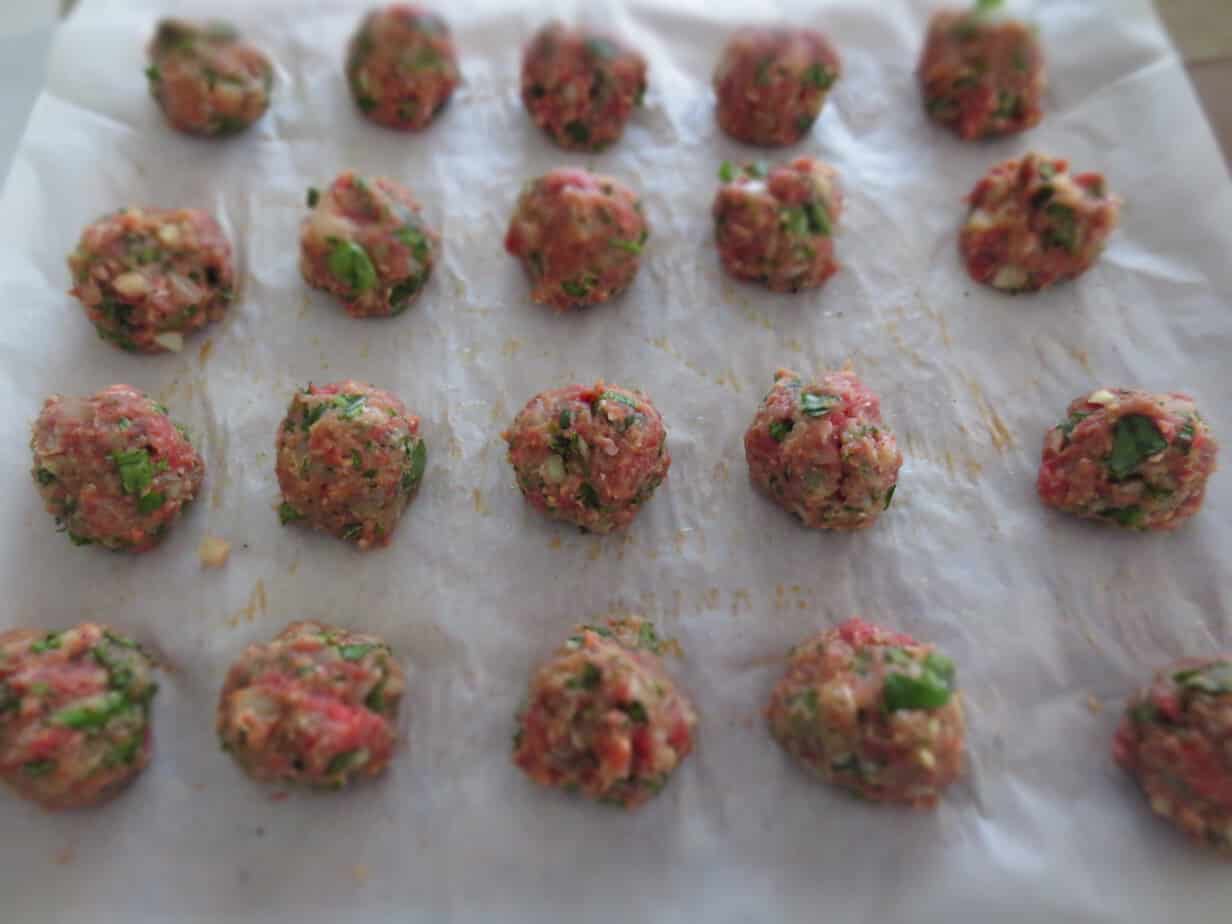 I've had eggplant multiple times since then and in the last 10 years, I've only ever liked it smothered in sauce and cheese at this awesome Italian restaurant in New Jersey. Until this summer, that is. I kept getting eggplant in my dang CSA box. I tried it sautéed, in stir-fry, and even as baked fries and I was not impressed. The fries were at least edible, but Zac and I both picked around the bitter eggplant pieces in every other form.
I also made Nom Nom Paleo's little lamb meatballs (with grass-fed beef), and loved her addition of cauliflower puree to bind everything together without breadcrumbs. I started thinking...
...and I had this extra eggplant. And I remembered seeing this recipe for eggplant meatballs at Lexi's Clean Food Kitchen. I combined the two and OH MY GOSH. The BEST meatballs I've ever had. So so good. Did I really need so many paragraphs to tell you that these are the best meatballs ever? Probably not, but I am good at burying punchlines.
TRY THESE BEEF & EGGPLANT MEATBALLS.
They will change your mind about eggplant, I promise you! You can totally fry them in ghee, or coconut oil, or rendered fat or something equally nutritious. You can also pan-fry them to get a delicious crust and then bake them for 10-12 minutes, or toss them in your pot of marinara to finish cooking!

Beef and Eggplant Meatballs
A tasty meatball with beef and eggplant make a great addition to your meals.
Ingredients
½

cup

cauliflower puree

from about 2 cups chopped cauliflower florets

½

medium

eggplant

1-2 cups chopped

1

pound

ground beef

¼

cup

onion

minced

2

cloves

garlic

minced

¼

cup

fresh parsley

¼

cup

fresh basil

1

Tablespoon

salt

black pepper

red pepper flakes

optional
Instructions
Make the cauliflower puree by boiling cauliflower florets in water for about 8 minutes, then draining them and blending them. Do the same thing with eggplant – either boil or steam the cubed eggplant until soft enough to mash together. (Alternatively, you can use all eggplant, but I preferred the texture of the eggplant & cauliflower combination.)

While the mashed veggies cool, chop up the onion, garlic, parsley, and basil and mix with the ground beef. Add the seasonings, eggplant mash, and cauliflower puree and mix gently with your hands.

Using your hands (or a mini ice cream scooper), roll the meatballs into 1 ½ inch balls and place on a parchment-lined rimmed baking sheet.

Bake on 400ºF for 20 minutes.

NOTE: The exact amounts are not super important, so if, say, you've got some extra eggplant and you're low on basil, you can definitely still make these!
Nutrition
Calories:
50
kcal
Carbohydrates:
1
g
Protein:
3
g
Fat:
4
g
Saturated Fat:
1
g
Polyunsaturated Fat:
0.1
g
Monounsaturated Fat:
2
g
Trans Fat:
0.2
g
Cholesterol:
13
mg
Sodium:
293
mg
Potassium:
87
mg
Fiber:
0.4
g
Sugar:
0.5
g
Vitamin A:
65
IU
Vitamin B1:
0.01
mg
Vitamin B2:
0.03
mg
Vitamin B3:
1
mg
Vitamin B5:
0.1
mg
Vitamin B6:
0.1
mg
Vitamin B12:
0.4
µg
Vitamin C:
3
mg
Vitamin D:
0.02
µg
Vitamin E:
0.1
mg
Vitamin K:
12
µg
Calcium:
7
mg
Copper:
0.02
mg
Folate:
6
µg
Iron:
0.4
mg
Manganese:
0.04
mg
Magnesium:
6
mg
Phosphorus:
34
mg
Selenium:
3
µg
Zinc:
1
mg
Choline:
13
mg