Recipe: $1.50
(Serving size varies based on use.)
As much as I love using dates and date syrup, I was always bummed by how much it costs for me to blend up a bunch of expensive Medjool dates every few weeks. Sure, you can grab them at Trader Joe's for a decent price, but how can you convince people to swap out their super cheap refined sugar for the more labor-intensive, slightly expensive dates? Well, in some cases, you just can't.
Enter: Prunes, also known as dried plums.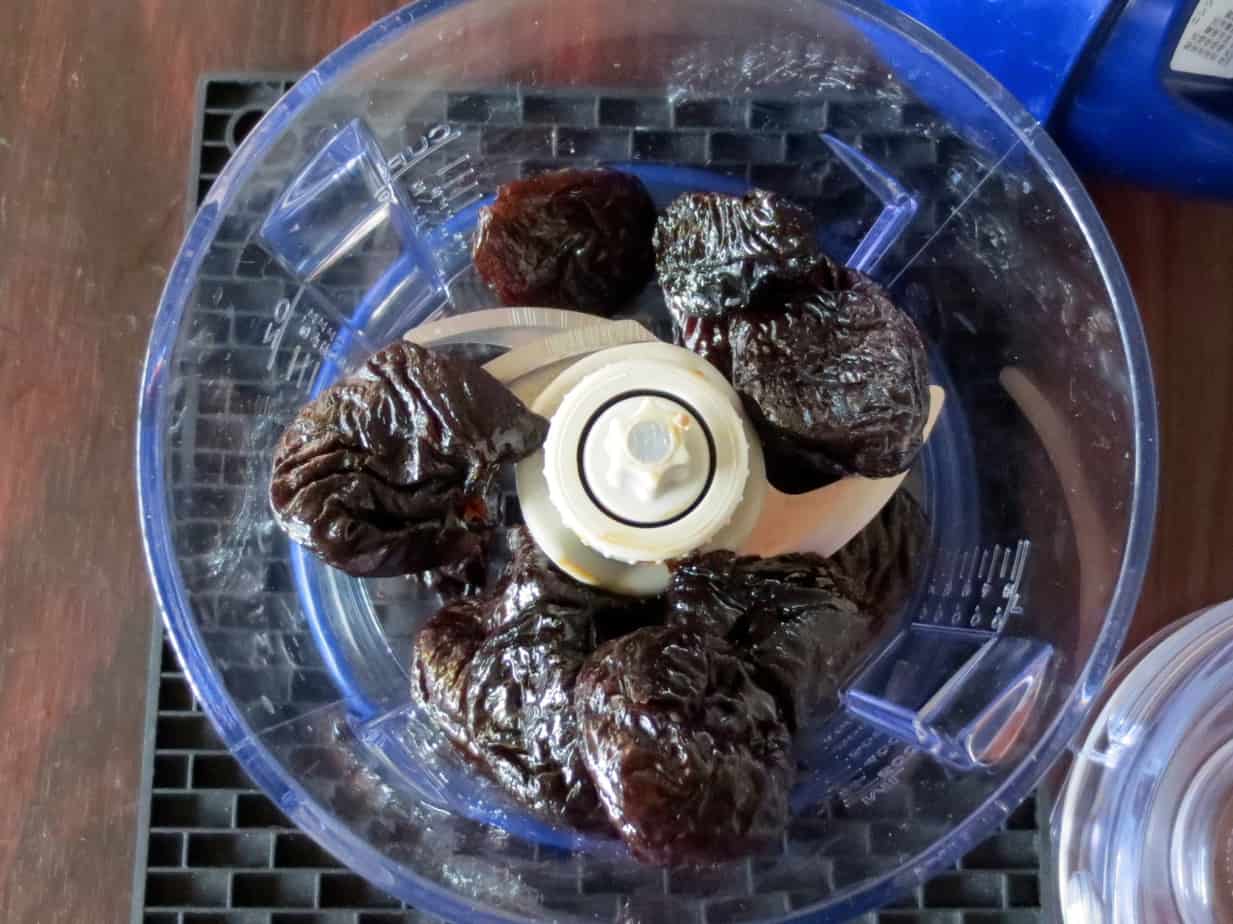 When compared to Medjool dates, they're way cheaper, way more available and accessible, and way softer, making them much easier to blend in a standard blender. You can find a bag of California Prunes for $1-$2, and even here in Japan they're cheap and relatively easy to find. (I've found them at Kaldi, Don Quijote, and my local Co-op store.)
Fun fact: California Prunes changed the company name to California Dried Plums because women ages 25-54 responded more favorably to dried plums than to prunes. Must be all those images of the older generation with digestive issues. Yes, prunes and prune juice are fiber-full ways to get things moving, but dates pack the exact same amount of fiber per cup, just without the reputation.
I randomly purchased a bag of California Prunes several weeks ago. I didn't have a game plan at first, but I figured they would make a decent replacement for date syrup. I ate a few straight from the bag and was surprised by their sweetness. They're stickier than dates, but also softer and sweeter. You can pretty easily blend them without soaking them first, which is really helpful for recipes like Larabars!
Here are some delicious things you can make with dried plum syrup:
I even mixed some up with almond meal to make these sort-of Larabars and the flavor was really good! I certainly recommend using actual nuts for the textural component in fruit & nut bars, but the dried plum flavor is delicious.

How to Make Prune Syrup (Cheaper Than Date Syrup)
Prune syrup is easy to make a budget-friendly option for date syrup.
Ingredients
1

cup

prunes

dried plums

1

Tablespoon

water

if necessary
Instructions
Add prunes to your food processor or blender and process for about 30 seconds.

Scrape down the sides, getting into the corners, and add the water if necessary. Process again until smooth and uniform.

Note: If you're using this for fruit & nut bars, it is best not to add the water. But for all other applications, the added water is fine!
Nutrition
Calories:
35
kcal
Carbohydrates:
9
g
Protein:
0.3
g
Fat:
0.1
g
Saturated Fat:
0.01
g
Polyunsaturated Fat:
0.01
g
Monounsaturated Fat:
0.01
g
Sodium:
0.4
mg
Potassium:
106
mg
Fiber:
1
g
Sugar:
6
g
Vitamin A:
113
IU
Vitamin B1:
0.01
mg
Vitamin B2:
0.03
mg
Vitamin B3:
0.3
mg
Vitamin B5:
0.1
mg
Vitamin B6:
0.03
mg
Vitamin C:
0.1
mg
Vitamin E:
0.1
mg
Vitamin K:
9
µg
Calcium:
6
mg
Copper:
0.04
mg
Folate:
1
µg
Iron:
0.1
mg
Manganese:
0.04
mg
Magnesium:
6
mg
Phosphorus:
10
mg
Selenium:
0.04
µg
Zinc:
0.1
mg
Choline:
1
mg